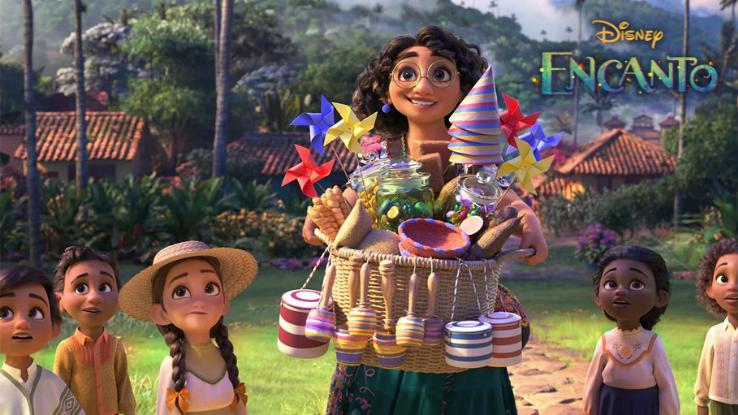 Rating: 8.5/10
Over the last decade or so, some of Disney's most outstanding animated films, from Moana (2016) to Wreck-It Ralph (2012) to Big Hero 6 (2014), have had a lot to say about family, both biological and chosen. What sets these movies apart from other Disney fare is that they don't shy away from examining the nature of trauma — the way it can be passed down, unwillingly, like a wristwatch. And, to put it simply, Encanto, which opens exclusively in theaters on November 24, certainly joins the ranks of these other lauded films.
Until now, it seemed pretty clear that Sony Pictures Animation's The Mitchells vs. the Machines was 2021's runaway animated hit. (Personally, I also stand by the severely under-promoted Raya and the Last Dragon, but that's a different article entirely.) As awards season approaches, it's clear that Encanto is an Oscar contender; although Mitchells' frenetic energy and beautiful stylization packed a punch and felt very of-the-moment, Encanto truly feels timeless. More than that, it tells a story we all need to see — no matter our age and no matter the makeup of our families.
Meet the Magical Family Madrigal
Nestled away in the mountains of Colombia is Encanto, a wondrous place with a vibrant town — and even more spirited inhabitants. While Encanto's protagonist is Mirabel, voiced by the always-charming Stephanie Beatriz (In the Heights, Brooklyn Nine-Nine), the film really tells the story of the Madrigals, a family that really does seem extraordinary upon first glance. Even their home, Casita, is a character — so alive and full of magic.
"This is our home — we've got every generation. So full of music, a rhythm of its own design," Mirabel sings when introducing the members of her family to the kids of Encanto (and the audience). "This is my family, a perfect constellation. So many stars and everybody gets to shine." Mirabel goes on to explain that the magic of Encanto blesses every child in her family with a unique, magical gift when they come of age. When the prying children prompt Mirabel to show off her gift, she skirts around the request. Every child of Madrigal blood has a gift — except Mirabel.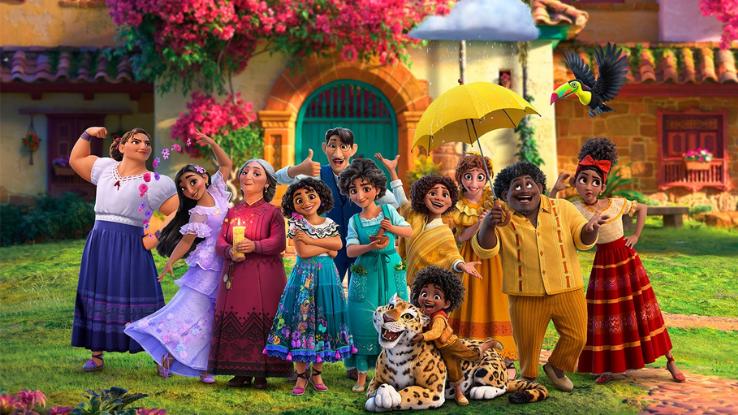 It's easy to feel for Mirabel; like so many of us, she's searching for a place to fit in, but she has the added bonus of being surrounded by an enchanted family. There's her oldest sister, Luisa (voice of Jessica Darrow), who's blessed with superstrength; another older sister, Isabela (voice of Diane Guerrero), who can conjure up flowers and plant life; her mom, Julieta (voice of Angie Cepeda), who can heal anyone with her cooking; her aunt, Tía Pepa (voice of Carolina Gaitán), whose moods control the weather; and cousins Dolores (voice of Adassa) and Camilo (voice of Rhenzy Feliz), who have super-hearing and shapeshifting abilities, respectively. Other need-to-know family members include Mirabel's M.I.A. Tío Bruno (voice of John Leguizamo), a seer — but we don't talk about him — and her youngest cousin, Antonio (voice of Ravi Cabot-Conyers), who is now finally old enough to receive a gift.
However, as Mirabel herself sings in the opening number, "Let's be clear — Abuela runs this show." After all, it was Abuela Alma (voice of beloved Colombian entertainer María Cecilia Botero) who led the family to Encanto many years ago. When Julieta, Pepa and Bruno were babies, Abuela Alma and her late husband, Pedro, fled their home. The movie makes it clear that white European colonizers displaced the Madrigals and killed Abuelo Pedro when he tried to protect his family. And this is the first of many moments when it's clear Encanto won't shy away from difficult conversations.
In the moments after her husband was killed on the banks of a river, Abuela Alma, babies in her arms, experiences a miracle. The candle she's holding burns bright, never to extinguish, and she's led to Encanto, a hidden place — a safe place. There, she builds a new home; the somewhat-sentient Casita houses the family and their new magic, creating enchanted doors for every Madrigal child when they come of age. The doors not only lead to wondrous rooms that reflect each Madrigal's power, but the door ceremony is when their powers first awaken. Unfortunately for Mirabel, her ceremony didn't pan out as expected.
The Animation in "Encanto" Proves to be the Real Showstopper
As one might expect, the music in Encanto is incredibly spirited and immediately transportive. But will the inventive, catchy lyrics and toe-tapping tunes be enough to see Tony-, Grammy- and Emmy-winner Lin-Manuel Miranda (Moana, Hamilton) nab an Oscar and finally clinch that coveted EGOT? It's hard to say.
The soundtrack has gotten even better with each re-listen, but, while watching the film, I was hard-pressed to point to a truly standout song. With Moana, for example, Auliʻi Cravalho's performance of Miranda's "How Far I'll Go" gave me chills. Here, the comparative song, "Waiting On A Miracle," doesn't quite resonate as deeply. Although technically great and performed beautifully by Beatriz, it might be the song's more passive voice that keeps it from being truly exceptional.
"Am I too late for a miracle?" Mirabel sings, knowing that all she needs is a chance to prove herself to a family that, at times, handles her with kid gloves — or blames her for things — purely because she doesn't have a gift. The song aims to capture her journey, one that sees her go from being unsure to more confident, but Mirabel's arc, and the story's as a whole, seem better served by the non-musical moments at times.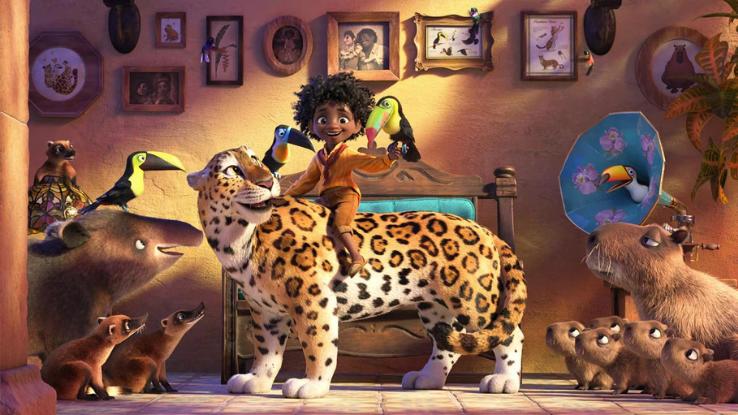 In fact, the real showstopper here wasn't a tune, but the astonishing animation and special effects work. Most of the film takes place at the Casita, which is always moving, always alive. "We looked at different ways that the house could be moving and thought, 'What if the stairs move out like a shelf?'" artist Lorelay Bové, the film's associate production designer, told Variety. "The one thing the directors said was that there needed to be truth to the materials. They didn't want to bend wood or metal; they still wanted to make it believable."
This approach certainly goes hand-in-hand with Colombia's tradition of magical realism, but it's also a feast for the eyes. The choreography, of both the characters and the house, is breathtaking, and you'll want to rewatch Encanto just to catch all of the impeccable detail and inventive artistry that went into the picture.
Intergenerational Trauma Reveals Cracks in the Madrigal Family's Foundation
In an effort to keep this review spoiler-free, I won't say too much more about the plot. But, as you'll likely know from the trailer, something is threatening the Madrigals' magic and, in turn, Encanto and its people. Early on, cracks start to appear in the walls and floors of the Casita; at first, Mirabel seems to be the only one who can see them, but it becomes clear that the threat is all too real.
Over the years, Disney has created some pretty memorable animated grandmas and grandma-like figures — Mulan's grandma, Moana's grandma, that old woman from The Fox and the Hound (1981). Abuela Alma is no exception, but she seems cut from a different cloth. Taking cues from Colombia's wealth of literature, Encanto is grounded in realism but employs magical elements to further explore this reality.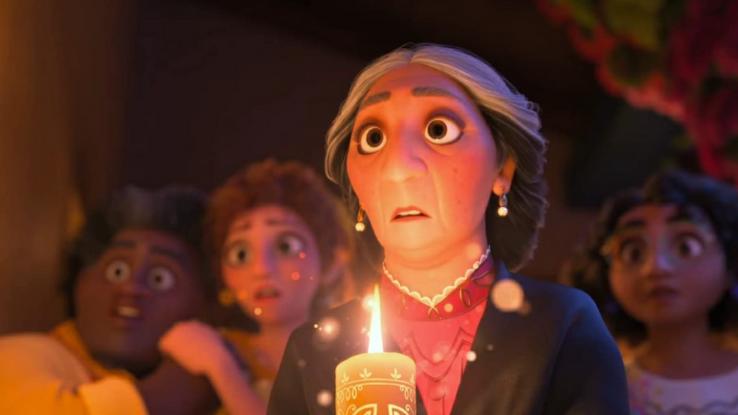 Abuela Alma's traumatic memory of losing her husband and home involves a miraculous conclusion, but everything, from the candle to the sheltered Encanto and the lively Casita, can be taken as a metaphor, too. While Abuela Alma is shown to be resilient and strong, it's clear her outlook on life has been shaped by trauma. More than anything, she fears losing another home. She fears that her family won't be enough — not strong enough or pretty enough or whatever-gift enough — to weather life's storms.
Again, I don't want to spoil how the story unfolds, but the rift between trying-her-best Mirabel and nothing's-good-enough Abuela Alma is immediately apparent. In trying to keep all of the world's threats out, Abuela Alma has unknowingly caused other sorts of cracks in the family's foundation. Personal, historical and cultural traumas can impact a survivor's children for generations; intergenerational trauma colors how one's kids (or grandkids) will see the world. The real "gift," then, might just be Mirabel's courage to face hard truths — and her desire to do so with her family.