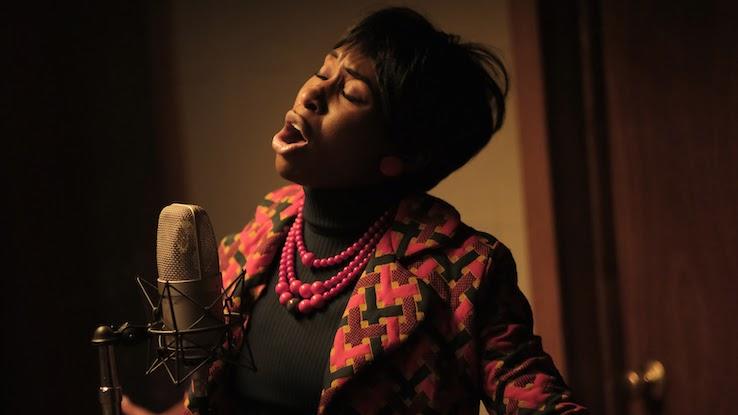 Rating: 6/10
You've seen two-time Academy Award nominee Cynthia Erivo before. She's played Harriet Tubman in Harriet, she was in Steve McQueen's Widows and she portrayed a very perceptive detective in the HBO miniseries adaptation of Stephen King's The Outsider. Yet you won't recognize Erivo in Genius: Aretha.
The Tony, Grammy and Emmy award winner completely transforms herself into the Queen of Soul, Aretha Franklin, in the eight-episode National Geographic anthology series. Genius: Aretha is the third season of this TV show about historical figures; the first season was dedicated to physicist Albert Einstein and the second to painter Pablo Picasso.
The first two episodes of Aretha will premiere on National Geographic on Sunday, March 21, and the episodes will be available the next day on Hulu. The whole season will be released in double episodes over four consecutive nights. It'll be ready to binge in its completion on Hulu on March 25.
Pulitzer Prize-winning playwright Suzan-Lori Parks (Topdog/Underdog), who this year also wrote the screenplay for the other musical biopic The United States vs. Billie Holiday, serves as showrunner and executive producer.
Cynthia Erivo's Queen of Soul
Genius: Aretha begins the night Franklin was crowned Queen of Soul after a performance in Chicago in 1967. From there, the show dabbles in a constant back and forth between that moment onwards and different times in Aretha's past. I know recent biopics have opted for that convoluted structure and prefer to stay away from conventional narration told in chronological order, but Genius: Aretha's many backwards and forwards jumps in time are disorienting.
Almost every episode of the show — seven of them were available for review — shifts between two time periods in Aretha's life, with Shaian Jordan playing the singer in her teenage years. And each episode tries to be self-contained and hold a specific plot: Aretha's coronation as Queen of Soul; Aretha's involvement with the civil rights movement after meeting Dr. Martin Luther King, Jr.; Aretha's time spent recording her protest album "Young, Gifted and Black"; Aretha's time spent recording her gospel album "Amazing Grace." Each one of those plots is interwoven with some story of Aretha's past that informs her situation as an adult.
Even if the persistent time leaps are hard to follow, Aretha has two strengths: Erivo's powerful performance and the show's soundtrack.
"There's only one Aretha and she gets to sing what she wants." "I can't sing something that I can't feel." "My singing has always been my guardian angel. It's keeping me safe." Those are some of Franklin's impassioned words throughout the show. Erivo delivers them with an almost delicate and soft-spoken tone that contrasts with the force of the character she plays. Her Aretha is a woman who commands a whole recording studio and its musicians with just the faint movement of a hand.
But Erivo's performance isn't limited to that. The Londoner awes while singing all the songs that she performs in the series — the show also uses a few of Aretha Franklin's original masters but only in musical montages and not when Erivo's character is singing on screen. The show wisely portrays full performances of songs like "Rock Steady" and "Amazing Grace" sung a capella. We can also bob our heads to Aretha's versions of "Son of a Preacher Man," The Rolling Stones' "Satisfaction" and Diana Ross' "Reach Out and Touch (Somebody's Hand)."
And that musical element is the other real strength the show has. That familiar music is particularly welcome in a year when our longing for live performances and concerts makes the experience of seeing this artist singing and recording at the studio more special than ever.
"Genius: Aretha" Scratches the Surface
Genius: Aretha seems to be wanting to tell us Franklin was a flawed person — the fierce and at times even disloyal competitiveness that she had with her two sisters, who were also singers, is hinted at throughout the show. But the series attempts to tackle so many different moments in the singer's life, instead of just focusing on a specific period of time, that it portrays the shiny veneer without really getting to scratch the surface of who Aretha was.
"She doesn't give up," says her second husband Glynn Turman (Luke James) at one point during the show, while Aretha is once again trying to professionally reinvent herself. And perhaps that's what Genius: Aretha is all about. I wouldn't have any problem with a show solely focused on the artist's drive. I'd have enjoyed a series that just presented Franklin as an ambitious musician with a complicated relationship with celebrity who couldn't give up being on top. She'd kept chasing the next success, the next Grammy, the next platinum album.
But Genius: Aretha also seeks and fails to define the character as a mother; that side of her is barely a subplot. The romantic interests and husbands come and go with a bit more screen presence, but not much development. Her fraught relationship with her father (played brilliantly by Courtney B. Vance) and sisters Erma (Patrice Covington) and Carolyn (Rebecca Naomi Jones) is the one with more room to breathe. Yet I didn't understand why these people continued staying in each other's lives, other than for the fact that they're kin.
The anthology series also tries to touch on the balance between art and commerce, authenticity and the need to be commercial. There's even race-related commentary throughout the episodes, addressing Aretha's involvement in the civil rights movement and depicting separate water fountains for white and Black people during Aretha's childhood. But yet again, the themes are alluded to — hinted at — but not sufficiently elaborated upon.
This won't be the last time that Franklin's life unfolds on the screen this year. The movie Respect, with Oscar winner Jennifer Hudson taking on the role of the singer, is expected to be released August 13, 2021.
Watch Genius: Aretha for the music, the vibrant production design, the wigs and the colorful 1960s and '70s outfits Erivo dons to play her character throughout different moments of her career. The show will make you want to listen to the Queen of Soul's music, but it has too much respect for the legend to give away who the real Aretha was.