Since landing her breakout role on The X-Files in the '90s, Gillian Anderson has proven to be one of the most versatile actors in television history. While many of us will always first associate her with FBI Agent Dana Scully, Anderson's incredible range translates to everything from period-piece dramas to witty comedies to unsettling thrillers.
Even as recently as last year, the Emmy- and Golden Globe-winning performer stunned audiences by transforming into Margaret Thatcher on The Crown. But Anderson has also received acclaim for another Netflix series: the irreverent, brutally honest Sex Education marks an incredibly comedic turn for the seasoned actor. So, with the third season of Sex Education hitting Netflix, we're taking a look at some of Anderson's most memorable TV and film roles. (And we want to believe we've rounded up the best of the best.)
Dana Scully | The X-Files (1993-2002)
We had to start here, right? Undoubtedly, Gillian Anderson is most well-known for her portrayal of Agent Dana Scully in in Chris Carter's sci-fi drama The X-Files. After all, the show — and her standout performance — put her on the map. If you've somehow never seen an episode of the classic series, we'll catch you up to speed.
Anderson's Scully, an FBI agent and doctor, is partnered up with a fellow agent, Fox Mulder (David Duchovny), and the duo is tasked with investigating unsolved cases that (seemingly) involve paranormal phenomena. While Mulder is ready to believe in otherworldly explanations, Scully is the skeptic — at least at first.
The show ran for 10-seasons, spawned two movies, and was revived briefly with a limited-run sequel series of sorts. Much of The X-Files success can be attributed to Anderson's Scully; witty, confident and determined, Scully broke the mold for women characters on TV. Moreover, fans have said that seeing that onscreen representation has led them to pursue STEM careers of their own. In 1997, Anderson won a Golden Globe, a SAG Award, and an Emmy for her performance.
Lady Dedlock | Bleak House (2005)
The BBC drama Bleak House brings Charles Dickens' classic novel of the same name to life like never before. In it, Anderson plays Lady Dedlock, a cold woman with a tumultuous past. Her intense acting style not only captured the Gothic mood of the work, but it earned her wider recognition as an actor beyond her role in The X-Files.
Writing for TheaterByte, reviewer Brandon A. Duhamel praised Anderson, noting, "Although Gillian Anderson's screen time and lines are limited, her portrayal as the mysterious and listless Lady Dedlock is truly classic and timeless, deservedly moving her into the higher class of actors where she obviously belongs." All of this to say, check out her Emmy-nominated performance here if you haven't already.
Media | American Gods (2017)
American Gods brings Neil Gaiman's beloved novel of the same name to the screen. If you aren't familiar with the source material, it centers on Shadow Moon (Ricky Whittle), an formerly incarcerated man who roams the country after his wife's death. One day, he meets the enigmatic Mr. Wednesday (Ian McShane), who's in need of a bodyguard. Soon enough, Shadow learns that magic is real — and that the Old Gods, those we know from myths, are battling the growing power of the New Gods, deities like Technology and Media.
Anderson plays Media, the personification of television. Kind of confused? That's okay. "I'm the TV, I'm the all-seeing eye and the world of the cathode ray," Media says to Shadow in the novel. "I'm the boob tube. I'm the little shrine the family gathers to adore." On screen, this translates to a lot of fun. Since Media is the personification of TV, Anderson captures the likenesses of pop-culture icons, portraying everyone from Lucille Ball and Marilyn Monroe to David Bowie. Needless to say, she really displays a stunning range here when capturing the many faces of Media.
Gaiman, who was also involved with the show, told IndieWire, "We forget how good [Anderson] is because she plays characters who are a bit like her. And somebody that good — somebody that brilliant — it's so amazing… seeing her, a pop culture icon, taking the shape of other pop culture icons was a treat for us."
Dr. Bedelia Du Maurier | Hannibal (2013-2015)
Near the end of Hannibal's first season, Anderson appeared in a recurring role. And, rather quickly, Dr. Bedelia Du Maurier, the psychiatrist to Hannibal Lecter (Mads Mikkelsen), became a fan-favorite character. Since the character didn't originate in Thomas Harris' novels, the role was unique, and Anderson really digs into the full range of emotions — resentment, anger, fear, hope — that Maurier experiences.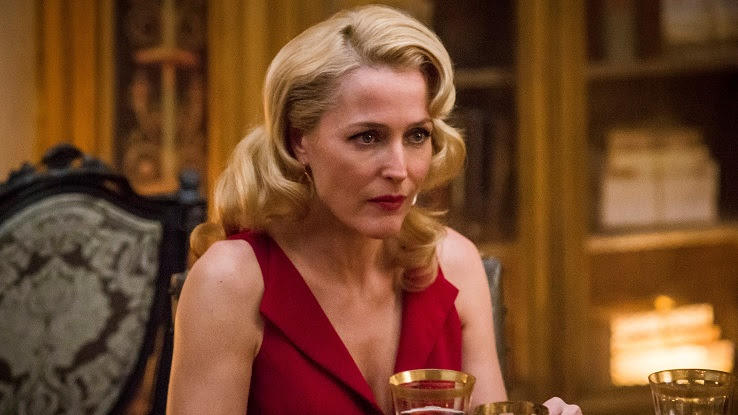 Screenwriter Bryan Fuller spoke highly of Anderson's part in the production. "A striking presence on stage and screen, [Anderson] brings wit, grace and intelligence to every role she embodies," he said in a 2014 announcement that Anderson would be joining the third season as a series regular (via TVLine). "Screenwriting is so much easier when you're inspired by a great actor and Gillian has filled the Hannibal writers room with wonderful inspiration."
Moro | Princess Mononoke (1997)
Although there's nothing like watching a subtitled version of a Studio Ghibli film, the English dub of Princess Mononoke stands out, boasting the talents of Claire Danes, Billy Crudup, Minnie Driver, Billy Bob Thornton, Tara Strong, John DiMaggio, Jada Pinkett Smith, and, of course, Gillian Anderson. The epic fantasy film — which portrays the struggle between the deities and spirits of the forest and the humans who are bent on consuming the forest's resources — was also Anderson's first stab at voice acting. 
In
Princess Mononoke
, she voices Moro, an enormous wolf god and adopted mother to the human girl San (Danes). Even before signing onto the film, Anderson was a fan of the creator
. She expressed this admiration at the film's
, saying, "His films are very spiritual and very beautiful, and very reverent, and there's a great deal of respect for nature… there's something very visceral about his work… [Princess Mononoke] is such a beautiful film."
Stella Gibson | The Fall (2013-2016)
In The Fall, Anderson played Stella Gibson, an emotionally-complex detective in Belfast tasked with tracking down an elusive serial killer (Jamie Dornan). The actor shined in the multi-dimensional role, delivering riveting performances in all three seasons of the show's run.
The Evening Standard offered a glowing review of Anderson's acting, writing, "The Belfast-set series was an all-round work of genius…its lead character, Detective Superintendent Stella Gibson, who, in Anderson's hands, became one of the most nuanced and breathlessly compelling television cops ever seen on screen… The Fall was never boring, thanks to Anderson's ability to communicate a thousand words through one troubled stare."
Margaret Thatcher | The Crown (2016—present)
Gillian Anderson simply shined in the fourth season of The Crown, securing a 2021 Golden Globe for her performance. In the show, Anderson plays Margaret Thatcher, the longest-serving prime minister of the 20th century, and an incredibly contentious figure in British history. When Anderson's Thatcher squares off with Olivia Colman's Queen Elizabeth II, it's easy to forget you're watching such a well-known actor — Anderson truly disappears into the role.
And it's clear that Anderson's dedication paid off. In addition to nabbing the Golden Globe, she also won Best Supporting Actress in a Drama Series at the Critics' Choice Awards and Outstanding Performance by a Female Actor in a Drama Series at the Screen Actors Guild (SAG) Awards. To top it all off, Anderson also brought home the Emmy for her definitive portrayal of the "Iron Lady."
Dr. Jean Milburn | Sex Education (2019—present)
Anderson's ongoing role as Dr. Jean Milburn, sex therapist and mother to the awkward teenager Otis (Asa Butterfield), marks some of her wittiest work on television. For those who haven't seen Sex Education, the series kicks off with a rather hilarious premise: Otis, having begrudgingly learned quite a lot about sex from his incredibly blunt mother, starts giving out sex advice to his peers. Of course, this business goes a bit sideways eventually — and hilarity ensues.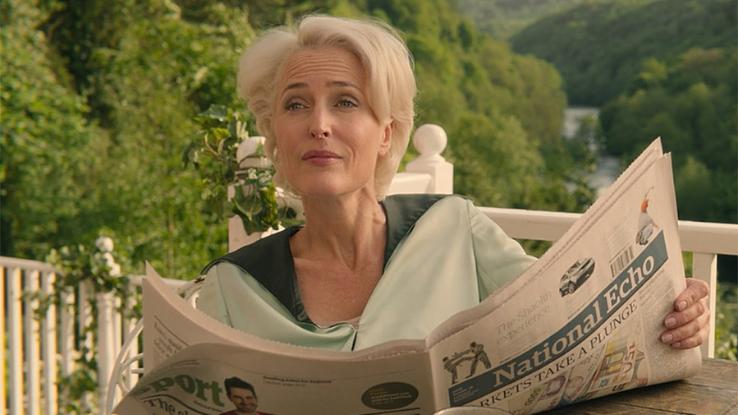 Outrageously funny and unexpectedly empathetic, Anderson's deadpan performance has earned her plenty of critical praise. Variety noted that, "Anderson, displaying solid comic timing with Jean's clipped line delivery, seems to be having a great time doing comedy for a change." And we can't wait to see what she has in store for us in Sex Education's third season.