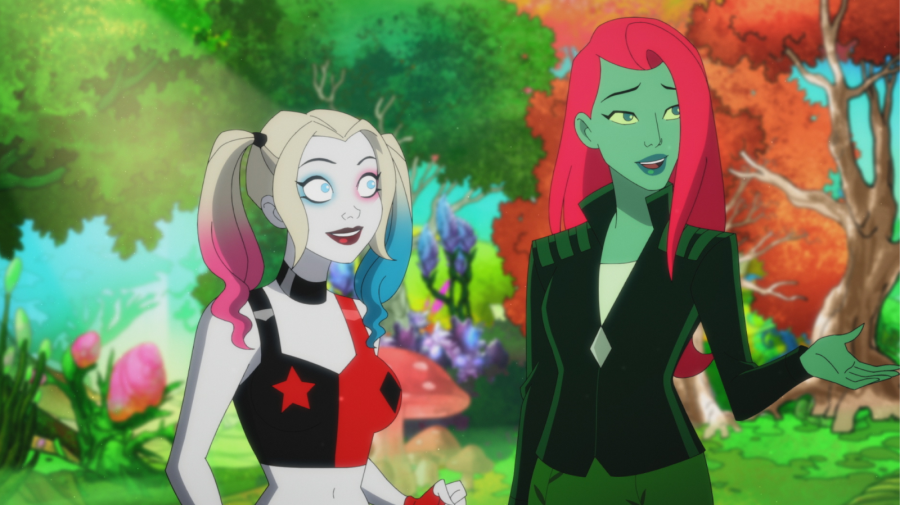 Rating: 9/10
It's a truth universally acknowledged that a queer person in search of onscreen representation will sit through seasons and seasons of a show — no matter how terrible — with the payoff of seeing a queer couple kiss once. Maybe twice.
Maybe there's even a somewhat-relationship. If all goes according to plan, the show will end before that relationship really happens. And if it's going the classic route, one of the queer characters will die. Thankfully, shows like Harley Quinn (2019–) are here to say, "F-ck no!" to tired tropes, queerbaiting and burying gays.
If you'd rank Cathy Yan's Birds of Prey (2020), starring Margot Robbie as Harley Quinn, in the top tier of the DC Extended Universe (DCEU) movies, you'll easily fall in love with this adult animated comedy. The series leans into dark and irreverent humor, loads of over-the-top violence and, yes, its titular character's bisexuality. Much like in Birds of Prey, Harley Quinn (voice of Kaley Cuoco) is newly single. Alongside Poison Ivy (voice of Lake Bell), Harley hopes to leave her toxic ex, Joker (voice of Alan Tudyk), in the past — and make Gotham City her b-tch.
Originally on the DC Universe streaming platform, Harley Quinn moved to HBO Max, which is where its third season will premiere on July 28 with three episodes. After that, we'll get one new episode a week through the September 15 finale. Of the 10 episodes, nine were made available for review.
Here's What You Missed On Season 2 of Harley Quinn (Mostly)…
The first season saw Harley struggling to leave Joker in the past — and reclaim her self-worth and independence. Even if she couldn't impress the Legion of Doom, Harley found confidence in herself. She also found a ride-or-die in Poison Ivy. And an appropriately bizarre found family/criminal gang in King Shark (voice of Ron Funches), an anthropomorphic tech-savvy shark, and Clayface (also the voice of Alan Tudyk), a shapeshifting mound of clay with a penchant for The Theater.
In Season 2 of Harley Quinn, Harls was at war with her ex, Joker; Batman (voice of Diedrich Bader); a slew of other supervillains from the Bat-verse; and, of course, a very pathetic version of Commissioner Gordon (voice of Christopher Meloni). But Harley was also at war with herself. (Insert "eye-opening moment" musical cue here.)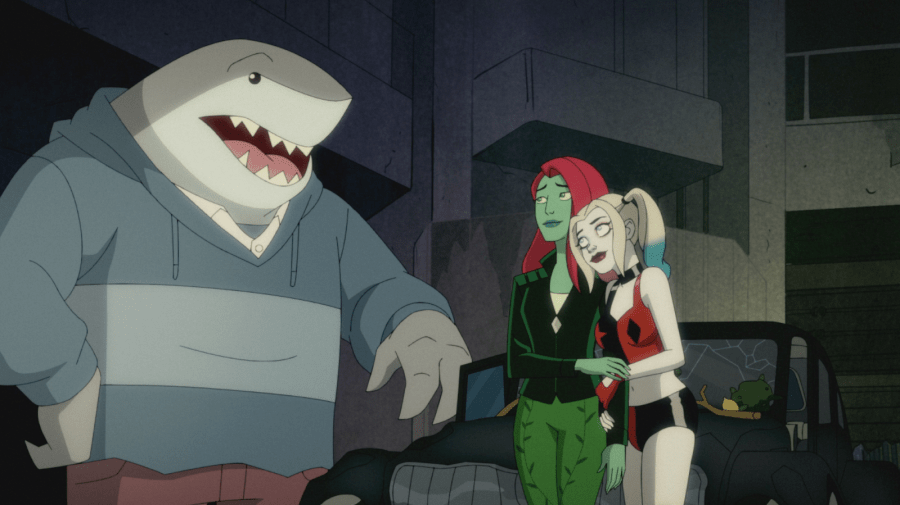 Sure, Season 2 involved an amnesiac Joker, Darkseid and the Mother Boxes, mind control, and New Gotham's Injustice League — Penguin (voice of Wayne Knight), the Riddler (voice of Jim Rash), Two-Face (voice of Andy Daly), Mr. Freeze (voice of Alfred Molina) and, my personal favorite, Bane (voice of James Adomian). But, somehow, the most explosive part was Harley and Poison Ivy's evolving relationship.
The two kiss, kind of unexpectedly, after a death-defying escape. The problem? Ivy is engaged to Kite Man (voice of Matt Oberg), a kite- and chili-loving himbo and D-list villain. Harley tries to put her feelings aside; she even throws Ivy a bachelorette party on Themyscira, Wonder Woman's home island.
After several drunken hookups, it becomes clear that Ivy and Harley have more than chemistry — they've both caught feelings. Without a doubt, it's one of the most nuanced depictions of a queer romance out there, filled with all the messiness of friends-turned-coworkers-turned-lovers. In the end, the Kite Man/Ivy wedding devolves into flamethrowers and cold feet. But Harley and Ivy do something groundbreaking: they ride off into the sunset, together.
Harley Quinn Finds Refreshing Queer Representation in the Mundane
The third season picks up with Harley and Ivy in the middle of what the former dubs their "Eat Bang Kill Tour". The road trip around the globe sees them dodging Commissioner Gordon (and stealing his credit card info for drinks on the beach); flying the Invisible Jet into (more) birds; and generally creating (bloody) havoc.
Harley's version of U-Hauling — moving fast, making grand gestures of love, etc. — involves kidnapping Queen Elizabeth II and bringing Ivy to Eden, a plant paradise that the eco-terrorist considers her biggest failure. Harls, on the other hand, thinks what Ivy created is amazing. She even suggests Ivy lead their ragtag team and unleash her diabolical (?) plot to help plants reclaim Gotham.
In other shows, we wouldn't get to see this sapphic couple post-ride-into-the-sunset. For reasons that are beyond me, it's hard for writers to imagine what happens in the day-to-day for queer couples. Here, though, things are refreshingly different.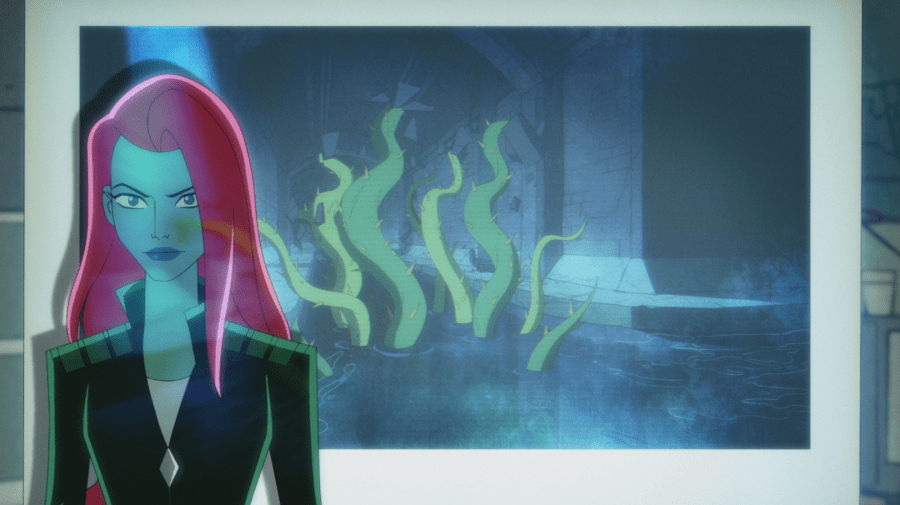 In fact, the friction Harley and Ivy deal with as a couple is refreshingly mundane. Much of the show's interpersonal tension comes from the fact that, although Harley and Ivy love each other a lot (and have the chemistry to prove it), they're very different people.
Harley starts to get twitchy if she doesn't knock some heads every few hours, and she rather spend her weekend attending the Villys — an iconic sendup of Hollywood awards shows — to claim the title of Best Supervillain Couple. Ivy is content hanging at home with her plants or tinkering in her lab, even on a — gasp! — Sunday night. While Harley showers Ivy with unbridled affection, Ivy holds back; in the past, she was burned by a casual fling with Catwoman (voice of Sanaa Lathan).
"After it finally ended, I felt so pathetic," Ivy explains to Harley, while an Eyes Wide Shut-style cult orgy takes place around them. "Harley, it wasn't even a real relationship, because when we got together I knew I'd finally found what I'd been pining for — for all these years." The couple kiss passionately in the dark. And, somewhere behind them, a naked Bane tries to carbo-load with a three-foot-long sandwich.
An Homage to the Characters We Love — and Love to Clown On
There is a lot to love about Harley Quinn Season 3. While lesser shows would start to falter, this one maintains its momentum and high-caliber of writing, animation and voice acting. Part of the reason it excels? The clear affection the show's creators hold for this universe, its characters and its storied history.
In Season 2, they aren't afraid to drop niche jokes about things like Batman's shark repellant. This time around, the writers continue that tradition of lovingly clowning on characters and comic-book (and cartoon) storylines they grew up on. For example, Dick Grayson (voice of Harvey Guillén), the original Robin, turns up in Gotham under his new alias, Nightwing. Performatively brooding, Nightwing is eager to be the misunderstood loner; Batman, meanwhile, asks Dick why he's putting on a fake-deep voice.
Originally, the character of Harley Quinn was meant to be a villain-of-the-week with a one-and-done appearance in Batman: The Animated Series in 1992. Voiced by Arleen Sorkin, Harley Quinn became more than just one of Joker's (voice of Mark Hamill) goons. A year later, she and Poison Ivy teamed up to one-up the Joker in an episode called "Harley and Ivy". Soon enough, Harley Quinn became a '90s icon.
Given the character's roots in animation, it's fitting that Harley Quinn provides such homage, while also staying fresh. The eighth episode of the season, in particular, is a real treat for DC fans: it features artwork from Batman: The Animated Series — and we get to see Bruce Wayne's parents get killed — again! Pearls and all.
Raunchy, Irreverent Humor and Sharp Writing Help Harley Quinn Top the Competition
If this is your first foray into the DC Comics world (beyond some blockbuster films), that's also totally fine. You probably won't be lost if you jump right into Season 1. These characters and tropes have saturated pop culture so much that you kind of know the gist of things.
The well-timed, flippant, dark, raunchy, non sequitur humor of it all makes you feel in on something; maybe you do get the references, but maybe you don't. It doesn't matter, really, because the show is just really f-cking funny.
When suggesting Harley Quinn to friends, I always make sure to emphasize how well-written it is; it's got humor and heart. Against the odds, the series captures the progression of Harley and Ivy's relationship beautifully — that sense of wanting something so badly, but being afraid to mess up what you already have.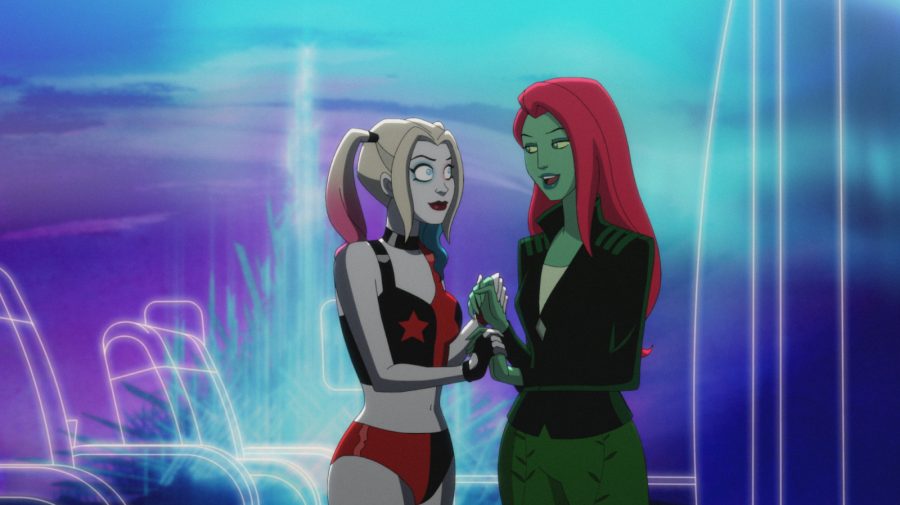 "I trust you with my life," Ivy tells Harley in Season 2 when she's waffling about their romantic connection. "But not with my heart." After all, Harley is impulsive — and the show doesn't forget it. Still, it took the pair over two decades to kiss on the pages of a comic book, and now they're up for a Villy. That's really something.
The one-two punch of jokes that always hit and a creator-led perspective that calls out the rampant sexism, homophobia and racism in the fandom, the lore and pop culture at large makes Harley Quinn a must-watch series. In the words of esteemed bachelorette party host Queen Hippolyta, "We're going to have a f-cking rager", and marathon all three seasons ASAP.