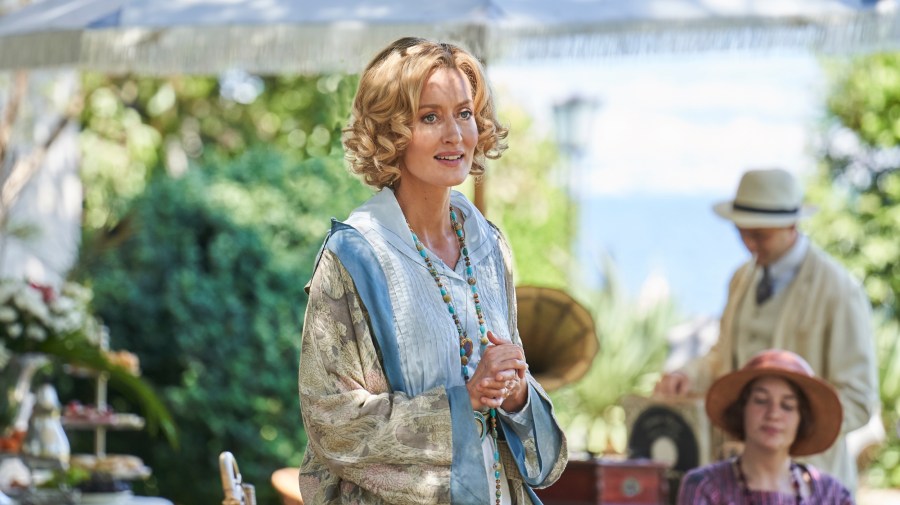 Rating: 6/10
Welcome to Hotel Portofino, an upscale establishment in the Italian Riviera that caters to posh English-speaking guests and commits to a relaxing and enlightening stay. The matriarch, Bella Ainsworth (Natascha McElhone), runs the resort with the awareness of how important first impressions are: bedrooms are perfumed, breakfast trays are garnished with lavender sprigs, flowers carefully chosen and vased, and the food is lovingly prepared with copious amounts of olive oil — of course.
The six-episode first season of the PBS Masterpiece Hotel Portofino debuts Sunday, June 19, on PBS and streams on all PBS platforms (including PBS.org, the PBS Video app, PBS Passport and the PBS MASTERPIECE Prime Video Channel.)
It's easy to get carried away by Hotel Portofino's brand of escapism and melodrama, which is punctuated with hints of a light whodunnit. It employs the tried-and-true formula of the English fish out of water in a seaside Mediterranean town during the interwar period, much like The Durrells in Corfu (2016–2019) did.
Set in 1926, Hotel Portofino stars the dysfunctional Ainsworths. Bella is a free-spirited woman who's moved her family to Italy in the search of a fresh start. Cecil (Mark Umbers), her husband, doesn't necessarily support her entrepreneurial endeavor with the hotel but sees it as a means to possibly make some easy cash. Funds are indeed a big issue for these upper-crust Brits. "I know you hate talking about money," Bella tells her husband in one of their frequent chats about their dire financial situation. "I don't hate talking about it. I hate all of the unpleasantness that comes with not having enough of it!" he replies. They have two grown children: the widow and very uptight Alice (Olivia Morris) and the WWI veteran Lucian (Oliver Dench).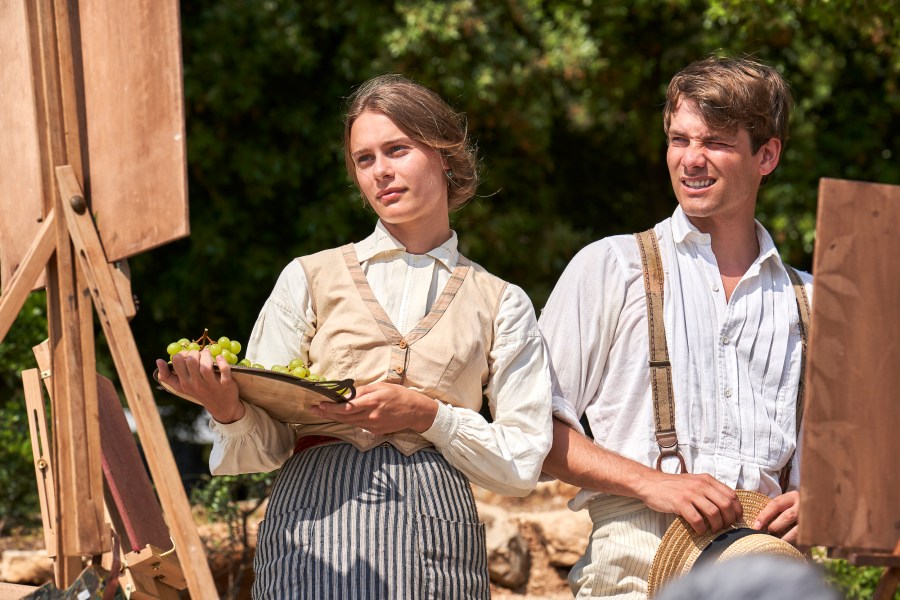 The ensemble show also stars Anna Chancellor (Four Weddings and a Funeral) as the old-fashioned guest Lady Latchmere. Lucy Akhurst is the domineering mother and never-too-impressed-or-pleased guest Julia Drummond-Ward. Claude Scott-Mitchell plays her submissive daughter, Rose Drummond-Ward. The Drummond-Wards are staying at the hotel so that Rose and Lucian get acquainted. Some of their family members would like for the two of them to get engaged. Elizabeth Carling plays Betty, a British cook having to learn her way with an assortment of Italian ingredients and unknown beef cuts. And Louisa Binder is Constance, the new nanny to Alice's child and Lucian's other romantic interest.
There's an attempt not to make Hotel Portofino yet another British period show with a mostly non-diverse cast. Assad Zaman plays Anish Sengupta, Lucian's close friend. Lily Frazer portrays the empowered American dancer Claudine Pascal. And there's an array of Italian secondary characters, with Daniele Pecci as the always solicitous Count Albani, Pasquale Esposito (Gomorrah) as the corrupt municipal leader Danioni and Carolina Gonnelli as Paola, a maid at the hotel.
As a Mediterranean native myself, I felt the show couldn't resist some exoticization of Italy — olive oil does wonders for food, shellfish is served with the head on to the Brits' puzzlement, lemons are said to be growing everywhere, and limoncello does wonders for a certain character's temper. The Italians veer on the cliché and are mostly one-noted. Paola in particular is the most severely underwritten, portrayed as the pretty dark-haired young woman who falls for Lucian and eases his pain. Even though, from the show's beginning, you know she's not the one meant for him.
Besides all the romantic intrigues and family drama, the show also packs some political content. Italy was already led by Benito Mussolini at the time and the series depicts how Fascism was crawling into even this small and paradisiac Italian town. "There's no place in their world for people like us," says an antifascist queer character played by Rocco Fasano and, as a contemporary viewer, you know how true he is and what's ahead for Europe and the rest of the world.
But, in a way, Hotel Portofino is also the kind of glitzy guilty pleasure I needed this summer. It transports the viewer to the turquoise waters, white-sand beaches and narrow cobblestone streets of the Ligurian fishing town (the show was filmed on location in Portofino as well as the Croatian coastline). It depicts the changing customs and fashions of the Roaring Twenties — swing music is all the rage; the younger men are transitioning from white-tie attire to the less formal black tie for dinner; some women wear not-that-revealing-but-still-daring swimsuits to the beach.
There's a sequence laced with mystery and intrigue in which all the guests are forced to remain outside of their rooms, having a communal breakfast at the hotel's dining room while still wearing their pajamas and nightgowns. The police are investigating a theft. And I can only say it was a delight to see the array of different, colorful style choices when it came to the guests' 1920s sleeping attire.
Plus, I immensely enjoyed McElhone's performance as the headstrong and independent Bella and Chancellor as the very demanding but still surprisingly tolerant Lady Latchmere. She's someone who cannot possibly abide sand and fears nudity is something she'll never grow accustomed to, yet she decides to summer by the beach and even likes it.
Hotel Portofino premiered earlier this year on Britbox in the U.K. and it's already been renewed for a second season ahead of its U.S. debut. And even though I thought this first season had issues, I can't wait for a second summer in Portofino.