Rating: 9/10
If you haven't watched activist Monica Lewinsky's 2015 TED Talk on cyberbullying and the price of shame, I recommend you check it out. She talks about how in 1998 and at the age of 24 she was "swept up into the eye of a political, legal and media maelstrom." It sure gives you a whole different perspective on the so-called Clinton-Lewinsky scandal. With that speech and a 2014 Vanity Fair essay Lewinsky was able to tell her story — and the circumstances that changed her life and made her into an instantly recognizable face and name — in her own terms for the first time.
And that's exactly what Impeachment: American Crime Story does as well. It gives voice to Lewinsky, who's one of the producers of the show. "To have been silenced and really culturally banished for 20 years, there was no way we could make this show and not give her a voice. It would have felt utterly wrong," veteran executive producer Nina Jacobson explained in a recent virtual panel in front of the Television Critics Association (TCA) about Lewinsky's involvement in Impeachment.
The new 10-episode installment of the Ryan Murphy anthology franchise American Crime Story (ACS) premieres on FX on Tuesday, September 7 at 10 p.m. ET, and focuses on Bill Clinton's impeachment as told from the perspective of not only Lewinsky but also the other women caught up in it. Seven episodes were available for review.
Beanie Feldstein (Booksmart) plays the wide-eyed Monica, who starts off filled with youthful energy and naiveté. The actress, who met Lewinsky personally, describes herself as her bodyguard. And saw it as part of her job to protect the woman she was playing on screen. "I had the great gift of that when I received the scripts, I knew that every word that I was saying was approved and had been to Monica first," Feldstein said at the same TCA panel.
Frequent Murphy collaborator Sarah Paulson is Linda Tripp, Monica's friend from her time working at the Pentagon and the person who betrayed her confidence in the hopes of signing a tell-all book deal. No matter how many iterations of American Horror Story or ACS you've seen Paulson in, you won't be able to recognize her at first in Impeachment. She's all pantsuits, prosthetic makeup, glasses and '90s bangs. She transforms herself in a way — from her speech pattern to the way Linda exasperatedly reacts to everything — that'll make you forget about the glamorous Paulson. You'll only be able to see office lady and chunky-heels-wearing Tripp.
"There's a lot of controversy around actors and fat suits, and I think that controversy is a legitimate one. I think fat phobia is real. I think to pretend otherwise causes further harm," Paulson said in a recent interview with the Los Angeles Times regarding the additional padding she wore to play Tripp. The actress also gained 30 pounds for the role. "I think the thing I think about the most is that I regret not thinking about it more fully. […] Should I have known? Abso-f—ing-lutely. But I do now. And I wouldn't make the same choice going forward."
The Other Women in "Impeachment: ACS"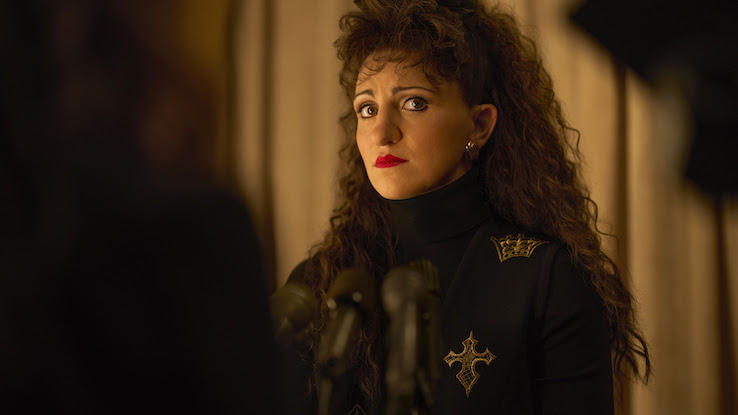 Annaleigh Ashford (Masters of Sex) rounds out the main trio of women protagonists as Paula Jones, who sued Clinton for sexual harassment. Like Paulson, Ashford dons not only period-appropriate wigs and garments but also prosthetic makeup to make her resemble Jones a bit more. "​​The way that these women were treated publicly for the way that they looked was such an important part of this story," Ashford explained to the TCA, discussing the need for prosthetics in this show. "Sometimes your imagination goes to what that person looks like. But, in this instance, it was really important to show the physical shift that some of these women made to themselves."
Ashford, Paulson and Feldstein are far from the only actresses in the mix. There are a few more of Murphy's usual collaborators as well as some new names. Judith Light (The Politician) is the self-described conservative feminist Susan Carpenter-McMillan, who advises and media trains Paula. Margo Martindale (Mrs. America) plays literary agent and Linda enabler, Lucianne Goldberg. Mira Sorvino (Hollywood) portrays Monica's mom, Marcia Lewis. Cobbie Smulders (How I Met Your Mother) simply metamorphoses into Ann Coulter. Rae Dawn Chong (The Color Purple) is the long-suffering Betty Currie, Bill Clinton's personal secretary. And TV royal Edie Falco (The Sopranos) is Hillary Clinton.
But even with such an impressive cast of women, there are times in which you'll notice their absence on screen. And that's something that's been done deliberately. Like when officers from the FBI and Independent Counsel descend on Monica and bring her to a Ritz Carlton suite full of agents, who try to harass her into taking a deal and talk her out of calling her lawyer.
Other scenes in the show might cause you to cringe, like the first sequence with Lewinsky and Bill Clinton (Clive Owen) alone in a room. He says he likes her sweater. She tells him she has a crush on him. She was 22 and an intern; he was 49 and the leader of the free world. And while the show makes very clear they had a consensual relationship — "Having sex with an office lady is not a high crime or misdemeanor," one of the many conservative lawyers trying to get Bill Clinton impeached says when the affair is first revealed — the show makes a case for the great imbalance in the power dynamics between them.
Don't expect a salacious or titillating take on the events, though. Impeachment: ACS is more a meticulously narrated political intrigue than a recollection of Bill and Monica's office romance. The show provides all the historical context you need to understand the events that led to Bill Clinton's impeachment trial in 1999 — from the rise of conservative media and the inception of the online news aggregator Drudge Report to Judge Ken Starr's (Dan Bakkedahl) investigation of the Whitewater scandal and Bill Clinton's friend Vernon Jordan (Blair Underwood) being on the board of directors of Revlon to the loneliness in Linda and Monica's lives that drove them to form a somewhat improbable friendship.
How Accurate Is Impeachment?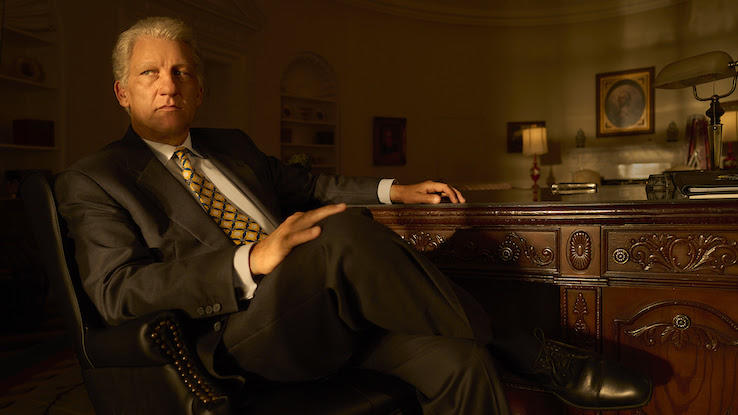 Watching Impeachment, I found myself surprised at how much access and how many details about her emotions Lewinsky offered and allowed to be put on screen. You'll see Monica portrayed as an impressionable young woman who gets incredibly hurt. But I guess that when your whole life has been aired so publicly and without your permission, there's no reason to try and hide any longer. And with Impeachment, Lewinsky makes sure to get her side of the events out there.
While Impeachment: ACS's head writer Sarah Burgess might have had full access to everything Lewinsky said and went through, a part of this story is still fictionalized. We don't really know the kind of conversations Bill Clinton had with his advisors, lawyers or Hillary Clinton.
"Monica was incredibly mindful of not wanting to speak to rooms she had not been in," Jacobson said. "She had a very smart and sophisticated understanding of what felt right to her or not."
But even with that lack of first-person access when it comes to certain situations and characters — the series is also based on Jeffrey Toobin's A Vast Conspiracy — Impeachment shows a side of the events that'll keep any political junkie or fan of juicy, well-written dramas hooked. "Do you honestly think he decided to risk his presidency on a complex perjury scheme involving a 24-year-old and the Revlon corporation?" the senior advisor to Bill Clinton, Sidney Blumenthal (Patrick Fischler), asks in the show when the scandal is first reported. And this story does seem too absurd to be true sometimes.
But if Impeachment excels at something it's at showing the deeply misogynistic attitudes of the decade, which particularly materialized in the ways the media treated these women. They were made fun of for the way they looked or talked. They were made to believe women's harassment were non-issues. They were called stalkers and liars. They were transferred and pushed around at work. They were the targets of jokes on Leno, Letterman and SNL.
Executive producer Jacobson says that what really makes an American Crime Story season is that it highlights "a crime that we are guilty of collectively as Americans." This show made me think about how many things have changed since 1998 — and about how many things still need to transform.
Impeachment: American Crime Story will be available to stream on Hulu beginning March 7, 2022.