Beans, a Canadian independent movie that premiered at the Toronto International Film Festival (TIFF) in 2020, was my first encounter with films (or TV shows) led by, written, produced and directed by Indigenous people.
But in terms of representation, as it often happens, TV has taken the lead when it comes to narratives centering Indigenous Peoples. Beans, which follows the 1990 conflict between the Mohawk First Nation and the Canadian government in Québec during the Oka Crisis, stars Kiawentiio, D'Pharaoh Woon-A-Tai and Paulina Alexis. Kiawenttio will be seen next in Netflix's upcoming and very anticipated show Avatar: The Last Airbender.
Woon-A-Tai and Alexis are, of course, two of the leads in FX's Reservation Dogs. The coming-of-age dramedy was created by Sterlin Harjo and Taika Waititi, and also stars Devery Jacobs and Lane Factor. It follows a group of Native American teenagers and friends growing up in rural Oklahoma. Some of them dream of fleeing to California. The show boasts an all-Indigenous writers' room; it's also completely directed by Indigenous filmmakers and stars Indigenous people. It was one of my favorite shows of 2021 — its first season debuted on Hulu in August of last year — and I still can't understand why the Emmys snubbed it so blatantly.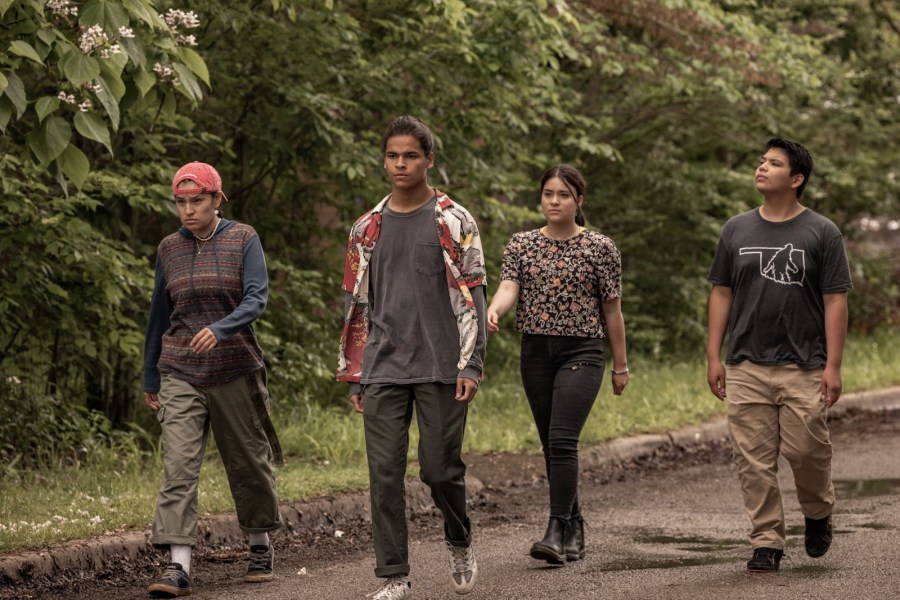 The 10-episode second season of Reservation Dogs just started airing on Hulu on August 3 and so far — I've seen the four episodes available to critics — it shows no signs of decline. It's still a riotous and very specific story that manages universality in its idiosyncrasy.
"It struck a chord even with non-Natives," co-creator and showrunner Harjo said during a recent virtual press conference with the Television Critics Association (TCA). "The level of love that has come back in return from creating this show. And it was made with love. So it was like this boomerang that was sent out to the universe, and it's been coming back to us, and I'm just very grateful."
Harjo would add that there's been a difference in response between Native and non-Native audiences. "Non-Natives recognize through the show's DNA that it's truthful and they also aren't used to the world, so they lean in a little bit more to it," he said. "But there's so many Easter eggs for Native audiences in the show. There is so much subtle humor that only Native audiences or people familiar with Native audiences would get. And sometimes that humor still translates over."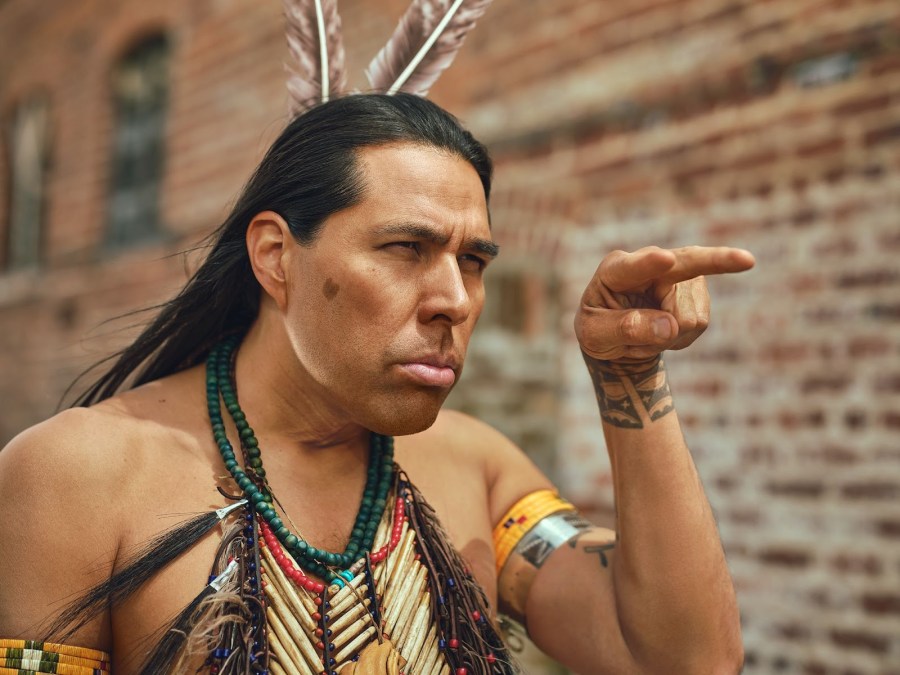 To help bridge that gap between Native and non-Native audiences Harjo and the writers devised the character of the Spirit (Dallas Goldtooth), a sort of guide not only for Woon-A-Tai's character, Bear — he's trying to find his place in the world as a young man — but also for everyone who needs a little bit of cultural translation laced with comedy. Humor doesn't mean cynicism, though. "[This show] It's made with love, and there is a heart that runs through this show that I think all audiences respond to," explains Harjo.
Breaking Ground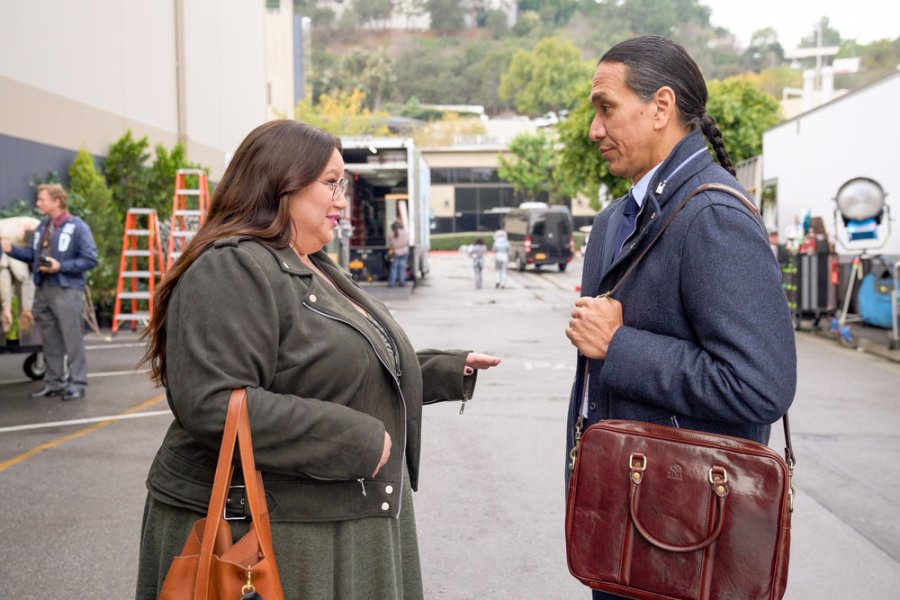 Reservation Dogs wasn't the first show to break ground when it comes to Native American representation on the small screen. The history-making Rutherford Falls premiered on Peacock a few months earlier.
The sitcom is co-created and executive produced by Ed Helms, Michael Schur (Parks and Recreation) and Sierra Teller Ornelas (Superstore). The Mexican American Teller Ornelas is Navajo and the showrunner of the show. She would become the first Native American person to run a TV comedy. "There are five Native writers on staff. We had a Native director for four of the episodes, and this is really a reflection of our shared experience as Native people from nations all over the country," Teller Ornelas told NPR when the show debuted.
Indigenous representation is also a big part of Rutherford Falls in front of the cameras with actors Jana Schmieding and Michael Greyeyes playing members of the fictional Minishonka Nation. Its diversity effort doesn't end with Indigenous representation though. Jesse Leigh plays Bobbie Yang, a non-binary Zoomer and the most efficient of executive assistants to Helms' character, Nathan Rutherford.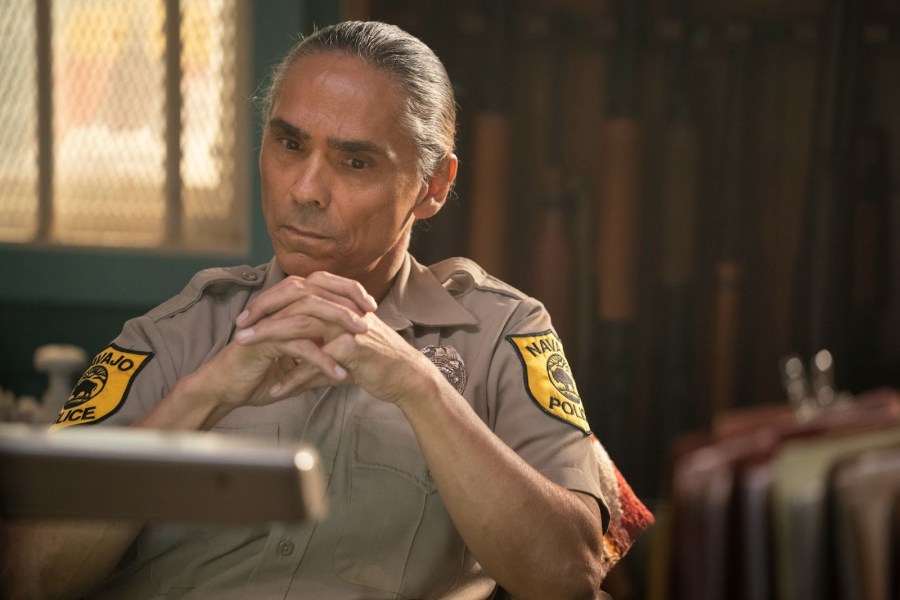 And perhaps because 2021 saw a whopping 559 adult scripted original series premiering on broadcast, cable and streaming services — so far, in the first half of 2022, it's been 357 series, according to FX estimates — Rutherford Falls and Reservation Dogs aren't alone. Of course, it's also not like Native American representation is at all proportionate to the number of shows currently airing either. But you can add AMC's Dark Winds to the list of productions made by Indigenous people, both in front of the camera and behind it.
Based on the Leaphorn & Chee series of novels by Tony Hillerman, the show follows Navajo Tribal Police Lieutenant Joe Leaphorn (Zahn McClarnon), newcomer Deputy Jim Chee (Kiowa Gordon) and Leaphorn's right-hand ​​Bernadette Manuelito (Jessica Matten) as they investigate a double murder in Navajo Nation as well as a nearby bank robbery. The show, which shot on location in Monument Valley, is created by Graham Nolan and has an all-Native American writers' room, which includes three Navajo writers. Chris Eyre (Smoke Signals), who's also Native American, directed four episodes.
"What I hope to see from Dark Winds is just more doors opening, not only for Indigenous talent in front of the camera, but also behind the camera," said star McClarnon during a virtual press conference with the TCA in February of this year. "And I think we're kind of in a unique time right now with Native representation in media."
Dark Winds' six-episode first season debuted in June 2022. The show has already been tapped for a second season. Fortunately, it's not the only Indigenous-centric show on the horizon, especially while we hope for third seasons for both Reservation Dogs and Rutherford Falls. Alaqua Cox will reprise her Hawkeye role, Maya Lopez, in Marvel's upcoming Echo for Disney+. We don't know much else about this 2023 show other than the fact that Dark Winds' McClarnon will also be starring, reprising his role as Maya's father, William Lopez.
Shared Talent
That's the thing with the still-limited number of TV shows starring, and being made by, Indigenous people: there's a lot of shared talent among them. McClarnon actually also plays a tribal cop in Reservation Dogs — albeit one much more prone to believing in conspiracy theories than his character in Dark Winds.
Rutherford Falls star and writer Schmieding guest stars in Reservation Dogs as the local clinic receptionist, who's always chewing gum and looking at other people with hilarious disdain. Goldtooth, Reservation Dogs' Spirit, shows up in Rutherford Falls' second season as an experienced museum curator and Schmieding's character's romantic interest. Elva Guerra plays NDN Mafia leader and the Reservation Dogs nemesis Jackie but also the enigmatic, young pregnant woman Sally in Dark Winds. And the list goes on.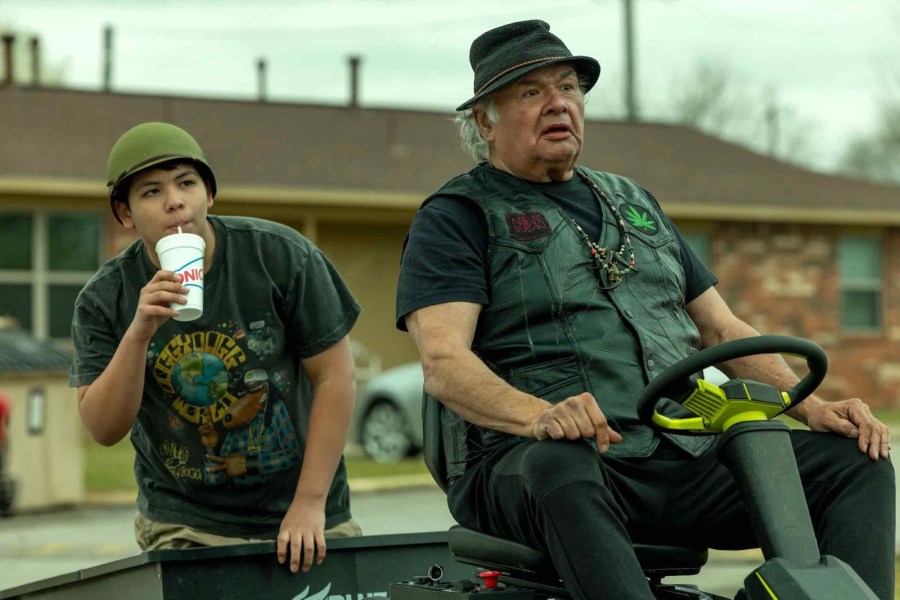 Plus, you'll recognize some faces from older titles as well. The Last of the Mohicans' Wes Studi stars in Reservation Dogs as the erratic but indispensable person when trying to break a course Bucky. Veteran actor Gary Farmer (Smoke Signals) plays the hippy Uncle Brownie in Reservation Dogs and also shows up in Rutherford Falls.
More Representation
During Reservation Dog's promotional tour last year, Alexis spoke about the TV film DreamKeeper (2003) and the movies Smoke Signals (1998) and Dance Me Outside (1994) as some of the titles that inspired her growing up. But the list where she could see other First Nations or Native Nation people in starring roles was — and remains, for now — limited.
"Movies like Smoke Signals are great. It was inspiring; but, also, it was, like, 25 years ago, you know," Harjo told the TCA when asked about those films. The filmmaker spoke about his time at the Sundance Labs in 2003–04 — where he met Reservation Dogs co-creator and self-described "Polynesian Jew" Waititi — and then moving to Los Angeles and trying to get a film made. "No one wanted to make those films. I heard things like: 'Native films don't sell,' 'There's no name-actors'. And then streaming and TV changed that."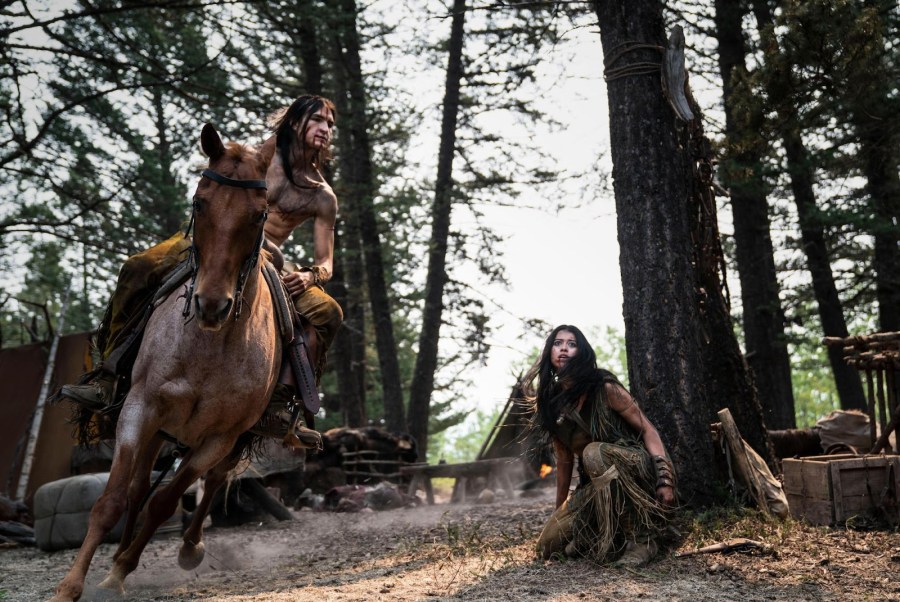 You could be thinking about films like The Last of the Mohicans (1992), Dances With Wolves (1990) or The Revenant (2015) as examples of films with Indigenous representation but all of them are framed through the experience of white men.
Beans, 2021's Wild Indian (which stars Rutherford Falls' Greyeyes) and the recently released Prey, an entry in the Predator franchise with an almost entirely Native and First Nation cast, hint at a movement toward representation in movies as well as TV shows. Especially considering that Prey just became the number one premiere on Hulu to date, including all film and TV series debuts. Let's hope for many more titles in years to come.