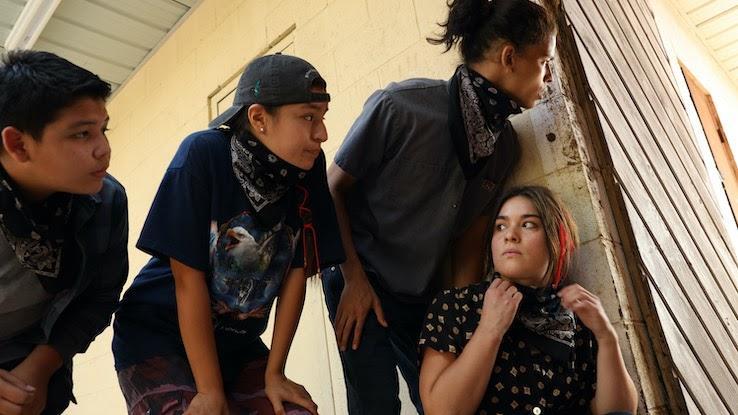 Rating: 9/10
Shot on location in Okmulgee, Oklahoma, and completely written, directed and starring Indigenous people, the new Reservation Dogs is not the kind of show we've gotten used to watching on TV.
It stars a group of Native American teenagers who share the dream of leaving rural Oklahoma and searching for a brighter life in California. The FX on Hulu (FX-produced content available exclusively on Hulu) eight-episode, half-hour comedy premieres with the first two episodes of the season this Monday, August 9, and has a new-episode-per-week rollout pattern after that.
The show was co-created by New Zealand filmmaker Taika Waititi (What We Do in the Shadows, Jojo Rabbit) and Oklahoma native Sterlin Harjo (Mekko), who is Seminole/Muscogee Creek. They both met through the Indigenous program at Sundance Labs and have remained friends for years. Waititi, by far the most prominent name on Reservation Dog's team, co-wrote the pilot episode with Harjo and is an executive producer but mainly allowed his co-creator to tell this story. "My involvement really is to kind of push this thing out into the water, and Sterlin was the one who paddled the boat and made sure that there weren't any holes in the bottom of it," explained Waititi during a virtual press conference he and the team of Reservation Dogs held in front of the Television Critics Association (TCA) on August 4.
This is not the first show centering Native Americans we've seen this year. I've already told you about Peacock's Rutherford Falls starring Jana Schmieding and co-created by Sierra Teller Ornelas, who is Navajo and one of the five Native writers on that show. But other than the fact that both these series are comedies, tell Indigenous American tales and share some talent — Schmieding plays a hilarious and indifferent health clinic receptionist in episode two of Reservation Dogs — they don't have that much in common. Reservation Dogs is more intimate, more meticulously crafted, and it lacks any traces of Rutherford Falls' broad humor while still being genuinely fun.
A Triumphant Team of Little-Known Young Actors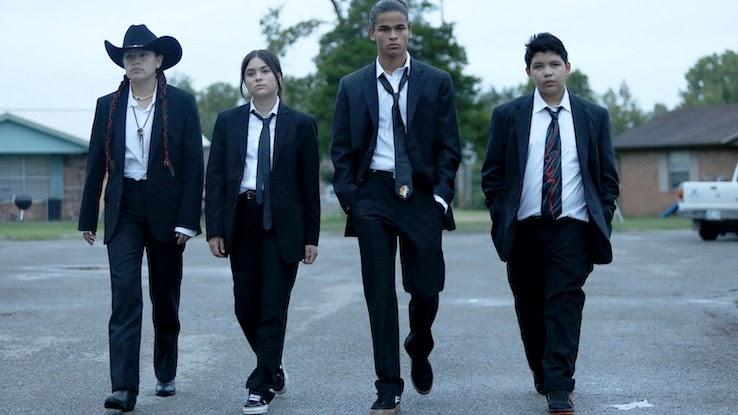 Reservation Dogs stars Devery Jacobs (Rutherford Falls, American Gods) as Elora Danan, named after the baby in the 1988 movie Willow — even though the show is set in a COVID-free present-day Oklahoma, the production design, the choice of wardrobe, and even the jokes and references in it have a very late-eighties-early-nineties feel to them. Also, these teenagers are so cool they barely use cell phones. Elora Danan is the leader of the group; she's a warrior, even though she's not aware of it, and she's the one laser-focused on the objective of fleeing to California. "It doesn't scream bad-ass if you have to f*cking buckle up before jacking a car," she screams while getting ready to drive a truck the gang is stealing.
Then there's D'Pharaoh Woon-A-Tai (Beans) playing Bear. He's the one intent on Elora Danan putting her seat belt on. He's also the warrior and leader apparent, even though, from the beginning of the show, the viewer realizes he's not. He's a good kid, the kind of 16 year old who shows remorse after stealing a truck and who puts money in his mom's wallet instead of taking it.
Paulina Alexis (Beans) plays Willie Jack, the soul in this team of oddballs. Lane Factor is Cheese, the sort of woke and sensible adolescent who doesn't talk much and introduces himself using his pronouns.
They want to leave and go to California because the fifth member of the group, Daniel, died a year ago. They blame Oklahoma for it and have since been trying to save money by ripping copper out of street lamps, stealing cars in the neighborhood and doing other questionable deeds. They're supposed to be the best thieves in a very small town. But don't be fooled by the petty crimes; Reservation Dogs is not a drama, not even a dramedy. "I consider it a comedy with some dramatic elements to it," Harjo told the TCA. "Having an all-Indigenous [writers'] room helped us not be afraid to go hard and tell the truth and also to be funny and
push the envelope."
Harjo spoke about the need for the show to entertain and make people laugh. And he insisted Reservation Dogs is not trying to explain who Native people are but to portray a very specific community.
The show does feel very precise in its representation. It takes its time to let the viewer get to know these kids. It spends one episode at a health clinic after Bear has been beaten up by a rival gang. It spends another episode with Elora Danan's uncle (Gary Farmer), who is trying to sell his antique weed in a community already used to the legal dispensary. The grownups teach the teenagers some valuable lessons from time to time.
"That's how Indigenous people teach: you listen, you learn. A warrior has to take a beating sometimes," says Elora Danan's uncle after the gang asks him to teach Bear how to fight. "We're Indian women. We have to deal with reality when they want to get out and play. And at the end of the day, we're the ones who have to make it work," Rita (Sarah Podemski), Bear's mom, tells Elora Danan when the young one starts realizing Bear may not be as serious as she is about chasing their dream.
Among the four episodes that were available for review, there was room for coming-of-age stories but also Native rappers, crafty beads, frybread, a tribal cop with a thing for conspiracy theories and a night out that goes weird. And I'd be careless not to mention Lil Mike and FunnyBone playing Moose and Mekko, a pair of very gossipy twins who always know everything that's cooking in town and inform the viewer and our teens about it.
As someone who moved to California myself, I'm intrigued to know whether this group of teenagers will ever make it to their dream land. And I hope TV keeps betting on representation and plural voices. Reservation Dogs is exactly the kind of unexpected, quasi-retro and heartening show I needed in the second half of a very trying 2021.