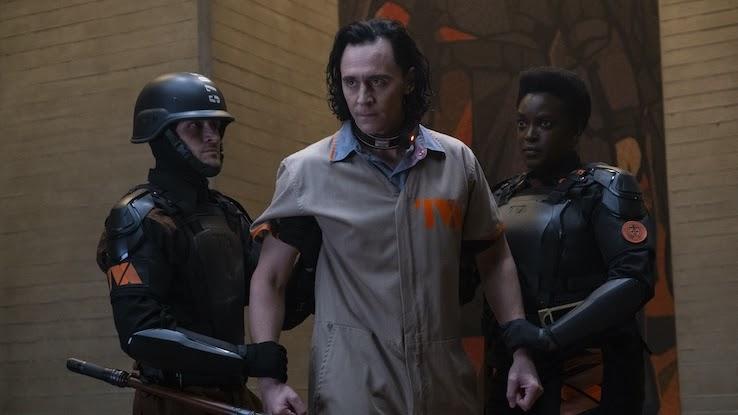 Rating: 7/10
First, it was WandaVision. Then came Falcon and the Winter Soldier. This Wednesday, June 9, the six-episode series Loki premieres on Disney+.
After playing the God of Mischief in six Marvel Cinematic Universe (MCU) movies, Tom Hiddleston dons the jet black-haired wig and signature smirk once again as the star of Loki. The fan-favorite character finally gets to be the protagonist — although you could argue he already did it in all of the Thor movies — with a series devoted to him. The show is part workplace buddy comedy, part time-travel adventure and part procedural crime investigation, with a side of Marvel superhero panache.
Michael Waldron (Rick and Morty) serves as head writer and Kate Herron (Sex Education) directs the show, which will be released on a weekly basis. But considering Loki's fatal denouement in Avengers: Infinity War, you might be wondering, "How is this title even possible?"
What You Need to Remember to Follow "Loki"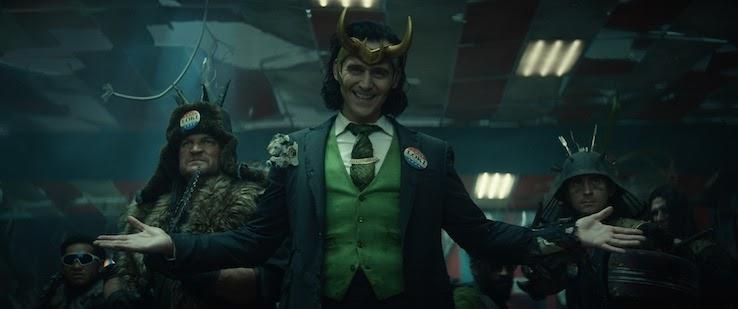 Yes, Thanos did kill Loki in Infinity War in 2018. But you may recall that the 2012 version of the character popped up in Endgame when the Avengers were pulling off the Time Heist to try and get all the Infinity Stones and revert the Snap. The mischievous, self-obsessed god took advantage of the chaos and escaped with the Tesseract.
Loki kicks off at that crucial point and finds the titular character once he's evaded the Avengers. He'll soon be apprehended by the so-called Time Variance Authority (TVA) and charged with committing crimes against the sacred timeline.
The show uses Loki's outsider perspective to inform him and the viewer about the nature of this mysterious agency. The TVA takes care of protecting time and ensuring there's one single timeline, as opposed to a chaotic, warring multiverse. We're informed three ominous timekeepers dictate the proper flow of time.
As it tends to happen whenever time travel is in the picture, the laws of said phenomenon can be questionable. Why is Loki charged as a time criminal but none of the Avengers are? TVA's judge Ravonna Renslayer (a very authoritative Gugu Mbatha-Raw) simply explains to our antihero that the Time Heist was actually supposed to happen. Loki's escape wasn't, hence his outcome as time criminal, or "variant" in TVA's parlance. But don't worry about the lexicon; once the show quickly establishes the nature of this place and its function, Loki is easy enough to follow even if you haven't watched or rewatched all 23 films of the MCU recently. Familiarity with the latest Avengers installments and a few of the Thor movies seems more of a requisite, though.
The first two episodes of Loki available for review are a lot of fun. Hiddleston seems to be enjoying himself as much as always with the character that fast-tracked his career and made him a star. But he's playing a slightly different version of the Loki we last saw. For one, this is the 2012 variant of the God of Mischief. He still has to repent and atone for most of his transgressions. Also, because of the particular rules that govern the TVA, none of Loki's graces seem to work there. He can't use his powers and he can't just charm his way out of any situation. He'll still try, though, and it's a delight to watch him.
Owen Wilson Goes Toe to Toe With Tom Hiddleston
Even though this is called Loki, the show should have actually been titled Loki and Mobius. Owen Wilson (Midnight in Paris) plays Mobius, a TVA analyst who decides to enlist Loki's help because of his unique insight. Mobius is fully aware you can't really trust "history's most reliable liar," someone "insubordinate, stubborn and unpredictable," and someone as cunning and deceitful as Loki. But the god's cooperation could lead to the apprehension of a very dangerous variant.
They both share some of the best and sharpest dialogues in the show. It's actually quite entertaining to see their workplace-comedy rapport when they're in the quasi-midcentury modern offices of the TVA. Loki's desk-bound attire consisting of skinny slacks, slim shirt and tie truly looks almost out of a fantasy version of Mad Men.
And a sequence with the both of them visiting a particular time in history that results in Loki speaking Latin was one of the highlights of the show for me so far.
Wunmi Mosaku (Lovecraft Country) as the TVA officer Hunter B-15, Sasha Lane (American Honey) and Sophia Di Martino (Yesterday) round out the cast of new characters. Richard E. Grant (Can You Ever Forgive Me?) has also been confirmed for the show, and I can't wait to see who he'll be playing.
I'm still not sure whether Loki is going to be as unique and surprisingly good as WandaVision was — I think shorter episodes would have benefitted Loki to achieve more of a WandaVision or The Mandalorian satisfactory result — but this already looks like a more balanced and satisfactory show than Falcon and the Winter Soldier.