On February 10, Lucasfilm released a statement noting that Mandalorian actor Gina Carano's remarks on social media were "abhorrent and unacceptable." As a result, the Star Wars production company cut ties with the actor. A Lucasfilm spokesperson stated, "Carano is not currently employed by Lucasfilm and there are no plans for her to be in the future." Of course, this is just the most recent example of a celebrity using their platform to express hateful views and spread misinformation. Still, that doesn't make it any less harmful.
Over the past year, the most high-profile instance of a celebrity eroding their goodwill and spreading hate came in the form of Harry Potter author J.K. Rowling's anti-transgender tirades. Not only did Rowling dig her heels into her bigoted, TERF — trans-exclusionary radical feminist — viewpoints, but she also refused to be held accountable, decrying "cancel culture" in an open letter. Hannah Giorgis of The Atlantic perhaps described the situation best, writing, "Many prominent writers and thinkers seem invested in the notion that simply facing strong public criticism is a threat to free speech." Moreover, it's difficult to understand how someone with over 14 million Twitter followers and an estimated net worth of $1 billion can feel their voice is being stifled. In fact, it's that massive platform that makes Rowling especially harmful.
In spreading hate, violence and misinformation, Rowling has done irreparable damage to so many with her words. And not just with the words that compose her transphobic tweets and essays. That is, Rowling's bigotry is ingrained in her books, in how she depicts people of color and queer folks, and in how she appropriates cultures she doesn't belong to (and, frankly, shouldn't be writing about). "As a YA author, I know books save lives," Kacen Callender writes in their article Harry Potter Saved My Life. J.K. Rowling Is Now Endangering Trans People Like Me. "I also know how dangerous and painful Rowling's transphobia is for millions."
Ray Fisher, Charisma Carpenter Speak Out Against "Abusive" Joss Whedon
In the wake of Rowling's continued hate, former fans have shelved the Potter books for good — much in the same way cinephiles have shelved films like Annie Hall and Rosemary's Baby for good. However, even when there is a hateful author or criminal director to point to, the discussion around boycotting media with problematic participants seems to become more complicated if said media is a TV show or franchise film — something that seems to be more than the sum of its parts.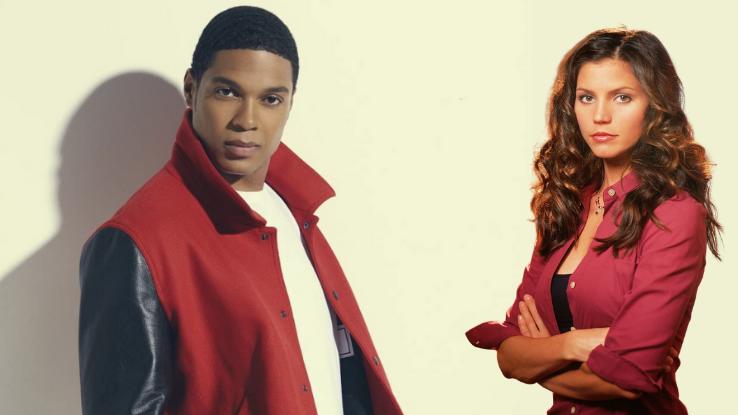 For example, Joss Whedon, the creator of Buffy the Vampire Slayer and director of Marvel's The Avengers (2012), has been called out on his abusive behavior for years — but he's still landing big-name projects. Recently, former Buffy actor Charisma Carpenter tweeted out her support for actor Ray Fisher, who came forward publicly during the summer of 2020 about Whedon's abusive, unprofessional behavior during Justice League reshoots. "For nearly two decades, I have held my tongue and even made excuses for certain events that continue to traumatize me to this day," Carpenter said in a post on Twitter. The former Angel actor went on to cite examples of Whedon's inexcusable behavior and the toxicity of his sets.
Since then, several of Carpenter's former coworkers have spoken out to lend their support, including Buffy's star, Sarah Michelle Gellar, who posted the following on Instagram: "While I am proud to have my name associated with Buffy Summers, I don't want to be forever associated with the name Joss Whedon." Amber Benson, who played Tara Maclay, retweeted Carpenter's original post, adding, "Buffy was a toxic environment and it starts at the top. […] There was a lot of damage done during that time and many of us are still processing it twenty plus years later."
"'Casually cruel' is a perfect way of describing Joss," Firefly writer Jose Molina posted in reference to Carpenter's words. "[Whedon] thought being mean was funny. Making female writers cry during a notes session was especially hysterical. He actually liked to boast about the time he made one writer cry twice in one meeting." Writer Jessica Ellis (@baddestmamajama) tweeted in response to Molina's remark, "It's so insidious that he built this all on the back of being a gold-star feminist."
Notably, Whedon has made his mark in part by creating "feminist" works, like Buffy and Dollhouse — action-packed shows that center women. But, in the same way Rowling's books are full of her biases, Whedon's shows and films are packed with misogynistic threads — just look at Avengers: Age of Ultron (2015) — and, on set, Whedon's behavior, as described by Justice League's Fisher, is "gross, abusive, [and] unprofessional." Now, it seems, Whedon may finally face a real reckoning.
What Led to Gina Carano's Firing?
While Carano, as an actor, was in a much different position of power than Whedon, Lucasfilm and Disney's decision to fire the Mandalorian actor sets an important precedent as other allegations come to light in Hollywood. The day before Lucasfilm's February 10 statement, Carano, who plays Cara Dune in the Emmy-nominated Mandalorian, posted a series of offensive, conspiratorial and harmful remarks on her Instagram account.
Before the posts were removed, Carano had dug her heels into the conspiracy surrounding Jeffrey Epstein and mocked the idea of wearing masks to mitigate the spread of COVID-19 — a pandemic that has killed upwards of 480,000 Americans as of mid-February. But the actor didn't stop there: She issued a statement that compared the treatment of conservatives in the United States to the treatment of Jewish people in Nazi-era Germany.
It should also be noted that these disturbing posts come in the wake of a recent history of harmful tweets. Not only has Carano continued to support former President Donald Trump's disproven allegations of voter fraud and disparaged the Black Lives Matter movement, but she has also made unapologetically transphobic remarks, going so far as to mock the practice of displaying one's pronouns on their social media accounts.
Mandalorian star Pedro Pascal attempted to educate Carano on the use of pronouns, but she continued to dig her heels into bigotry. In fact, she defended her 2020 tweets, saying, "People need to be ok with having conversations. With having difficult conversations, with having different opinions. What's wrong with having a different opinion?" But a difference of opinion is much different from spreading misinformation and hate.
Why De-platforming Harmful Creators and Actors Is a Must
What Carano was doing was decried as irresponsible by a large portion of the Star Wars fan base, with folks taking to Twitter to get #FireGinaCarano trending. When that initial #FireGinaCarano movement began around November 2020, one fan tweeted, "It's really disgusting how John Boyega and Kelly Marie Tran were viciously attacked by racist and sexist people, resulting in reduced roles and zero support from Disney, and Gina Carano gets a major role while associating herself with those very same people. #FireGinaCarano."
As fans may remember, Tran, who played Rose Tico in the Star Wars sequel films, was bullied off of social media by alleged fans, which led to her New York Times op-ed, "I Won't Be Marginalized by Online Harassment." Boyega, who played Finn in the same sequel series, has slammed Lucasfilm parent company Disney, saying, "[But] what I would say to Disney is do not bring out a Black character, market them to be much more important in the franchise than they are and then have them pushed to the side. It's not good. I'll say it straight up."
There's no question that Disney and Lucasfilm need to be held accountable for not doing right by actors of color, like Boyega, Tran and Naomi Ackie. But on-screen representation isn't the only element that needs to be addressed. That is, studios need to foster safe, diverse and healthy work environments too — which brings us back to Carano.
Unlike the other bigoted or abusive creators mentioned earlier, Carano is a small part of something larger. At the same time, she's creating an unsafe environment for her colleagues — and, online, for viewers. Additionally, the former MMA athlete's platform has become so massive, so mainstream, thanks in large part to Star Wars.
"While many people are suggesting 'cancelling' Carano is indicative of Disney's catering to liberal audiences, it likely has much more to do with her being a liability for the studio going forward," an article on ScreenRant points out. "…To keep Carano under their employment might signal insincerity regarding the studio's stated commitment toward wider representation; representation that many audience members have been waiting on for far too long."
In firing Carano, Lucasfilm has opened the door to a more widespread de-platforming. In the ensuing days, Hasbro cancelled the production of Cara Dune action figures — and, even more substantially, United Talent Agency (UTA) has dropped Carano as a client. The bottom line? When you have a platform as massive as Carano's, your remarks don't just stay in some galaxy far, far away. They have a lasting impact on those who see them — and, therefore, the consequences should be just as lasting.