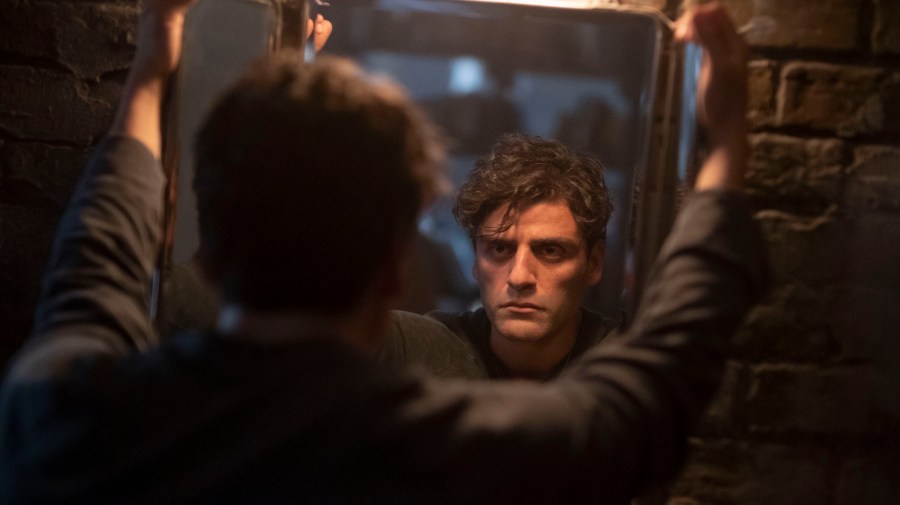 Rating: 5/10
If I had to choose between Steven Grant — a vegan and upbeat enthusiast of Egyptology with a charming British accent — and Marc Spector — a broody former mercenary who can get out of almost any situation unscathed — I'd have to go with the first one. Even if he's often a little bit unreliable and confused.
In Moon Knight, the Marvel Cinematic Universe's (MCU) latest limited series on Disney+, both characters are played by Oscar Isaac. The first episode of the six-episode series — four of which were made available for review — premieres on the streaming platform this Wednesday, March 30.
To further my Steven vs. Marc case, let me add that Steven is the kind of person who attentively calls his mom and leaves her a long message. He also distractedly falls asleep on a fellow red bus passenger on his way to work at the gift shop of the National Art Gallery in London. As it turns out, he has a reason for being so tired. Just as he does for waking up with a restraint around his ankle and secured to his bed.
Steven will discover the hard way that he has Dissociative Identity Disorder and shares Oscar Isaac's body with Marc, who also happens to serve the Egyptian god of the moon and vengeance, Khonshu (voiced by F. Murray Abraham). Marc is forced to do Khonshu's bidding and he can summon a fancy white suit whenever he needs to deliver some godly justice.
The agreeable Steven will do anything in his power not to fall asleep. When he does, he has blackouts and wakes up days later, unable to remember what happened. It's difficult to keep a steady job that way — or venture into the world of dating. As it happens, Marc is the one who takes over the body on those occasions Steven can't recall.
I was a bit lost at the beginning of Moon Knight while trying to figure out how everything fell into place. Besides watching Steven grapple with mental illness and getting introduced to Marc — they can talk to one another through mirrors or other reflecting surfaces — you'll also meet Ethan Hawke's Arthur Harrow. He's sort of a cult leader looking for a golden object, a scarab that happens to be in Marc's possession. Harrow hopes the object will lead him to the tomb of Ammit, a goddess who specializes in eradicating the choice of evil.
Then there's Layla (May Calamawy), a woman from Marc's past who finds her way into Steven's present. I started warming up to Moon Knight the first time I saw Steven looking at Layla. The show finds its heart with her, and I wished it could just have been about the unique triangulation of this relationship and the character's adventures in Egypt. Because yes — eventually you'll find yourself there.
The show transports you from the busy streets of London to the pyramids and deserts of Egypt — even if it was mostly shot in Budapest, Hungary, and the Wadi Rum desert in Jordan. Besides the cinematography, which is filled with those arresting landscapes, Moon Knight's team also uses music to lead the viewer into the geographical transitions. The show kicks off with the notes of "Every Grain of Sand" by Bob Dylan and "A Man Without Love" by ​​Engelbert Humperdinck. But, in subsequent episodes, adds the sounds of Middle Eastern DJ KABOO and the Egyptian rapper Wegz.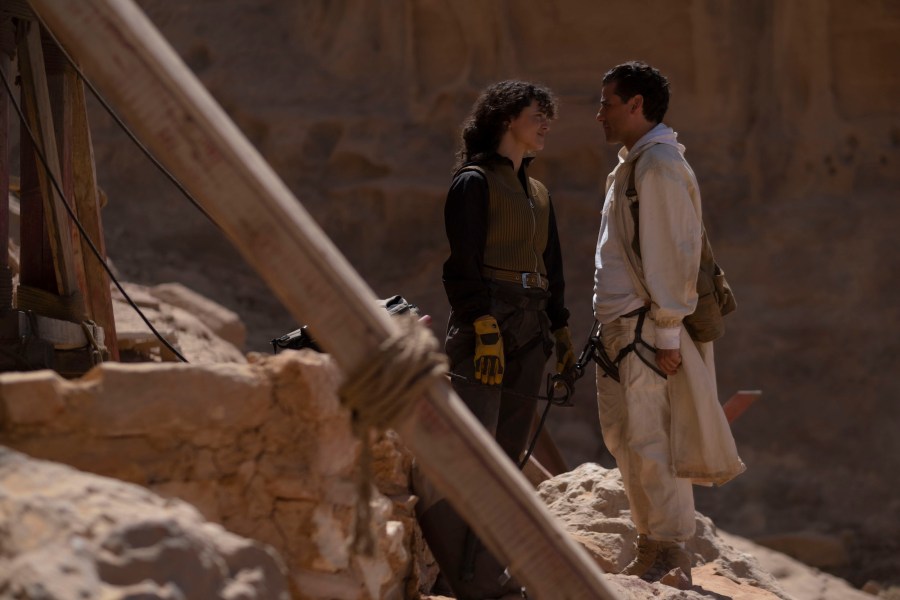 As much as I enjoyed watching Marc and Steven argue with each other in some Gollumesque fashion, I kept getting lost when the storyline switched from one character to the other. I felt in a way that this was done on purpose: the audience is introduced to Moon Knight from Steven's perspective and he too is missing a lot of stuff. On the other hand, and even with all the ellipses, I could feel the bloat that tends to grace many Marvel properties these days. And once again, as is the case with most of the MCU's TV adaptations — except for the perfect-for-TV WandaVision — I kept wondering if this story would have been better told as a movie with a tighter runtime.
Did I want to like the latest MCU show? Not necessarily. I've been lukewarm about other recent Marvel adaptations. Did I want to like the latest Oscar Isaac project? Very much so. And no, that gratuitous scene in episode two where we can see him shirtless doesn't make up for the storytelling jumble. 
One of the aspects of Moon Knight that I did dig is its sense of humor. But that only tends to surface if Steven is the one in control. He says things like: "What am I doing? I don't even have my license!" after stealing a cupcake truck and being chased down by assassins. When the HR representative at the museum tells him that he's not alone — meaning he doesn't have to deal with his problems on his own — his brilliant reply is: "Yeah, that's part of the problem. Innit?". Plus his British-accented "Bollocks" just made me laugh out loud every time.
From the get-go, I was ready to love everything this show was selling: the scene in which a heartbroken Steven eats chocolates out of a heart-shaped red box or the one where he gets transported to the interior of the Ginza pyramid, for instance, sum up the best parts of the show. (Even the behind-the-scenes stuff, like reading about Hawke and Isaac jogging together in Budapest, was appealing.) But it's when you start putting together all those parts that the show doesn't seamlessly add up.
One thing is for sure: even if Khonshu calls him "pigeon" and "idiot", I'd take Steven over Marc any day.