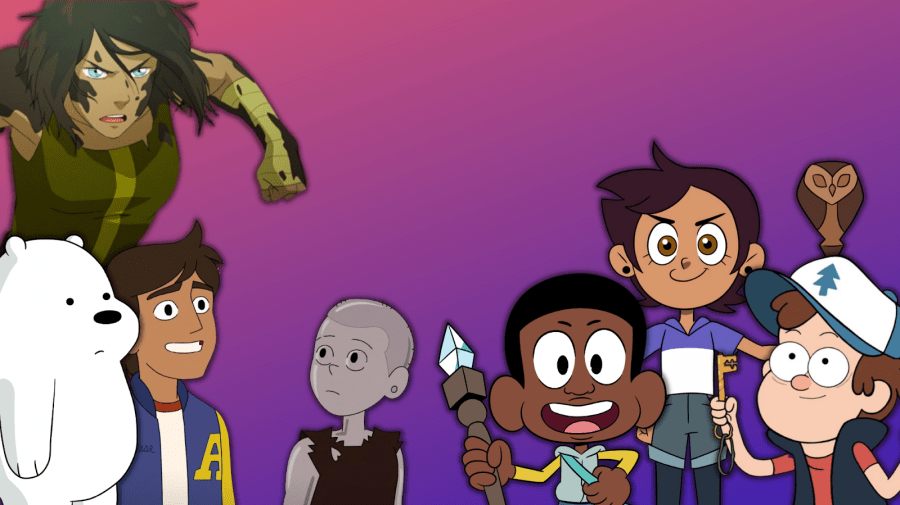 Contrary to whatever nonsense the Oscars were spouting, animation is an incredible medium — not a genre — and it can be used to tell some of the most compelling stories out there. And that's not limited to film either (though, just this year alone, there are some great big-screen hits worth adding to your queue). 
While there's nothing wrong with episodic cartoons that are geared more toward a "Saturday morning with cereal" kind of vibe, it's also important to recognize the animated shows that are really pushing the envelope, both in terms of representation and storytelling. Although there are certainly other titles worth adding to this roundup, we've narrowed it down (for now) to 13 of our favorite must-watch animated TV shows that the whole family can enjoy — with or without that bowl of cereal.
Kipo and the Age of Wonderbeasts (Netflix)
Considered a young adult animated series, Netflix's Kipo and the Age of Wonderbeasts is a must-watch show you might've slept on — until now, hopefully. Set in a post-apocalyptic world, the series follows a girl named Kipo Oak (voice of Karen Fukuhara) who's forced to leave the safety of her underground burrow. As a result, she traverses the dangerous surface world, which is ruled by all manner of strange beasts, in search of her father, scientist Lio Oak (voice of Sterling K. Brown).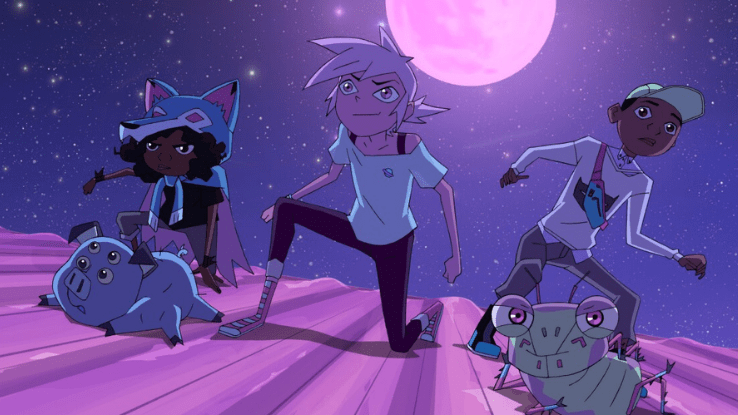 Every hero needs some helping hands, though. Or paws. For Kipo, those friends include human survivors Wolf (voice of Sydney Mikayla), who was in fact raised by wolves, and Benson (voice of Coy Stewart), a more happy-go-lucky survivor, as well as mutant animals, the always-molting insect Dave (voice of Deon Cole) and the six-legged pig Mandu (voice of Dee Bradley Baker).
Kipo really scores tens across the board. Everything about the three-season show, from the transportive music to the beautiful art and animation to the great representation of queer characters and characters of color, gives it so much appeal for viewers of all ages.
The Owl House (Disney+)
It's no secret that Disney's big-screen representation has been sorely lacking. In addition to queerbaiting fans or playing queerness for laughs or cutting queer characters entirely, the company has really failed when it comes to supporting LGBTQ+ fans and employees in the wake of Florida's hateful "Don't Say Gay" bill. That's why it does come as somewhat of a shock — but a welcome shock — that one of Disney's animated TV leads, Luz Noceda (voice of Sarah-Nicole Robles), is queer.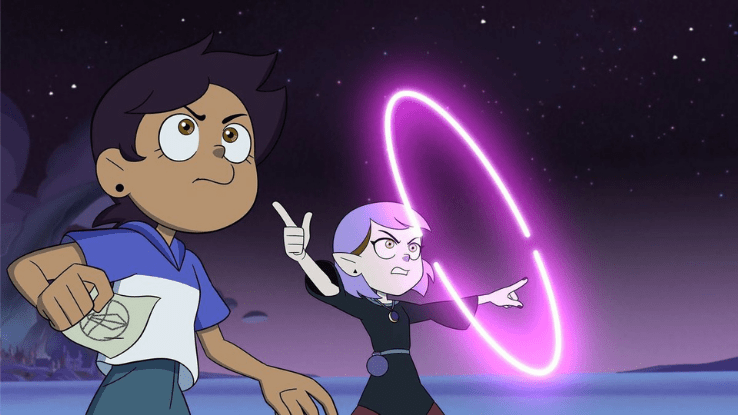 There are plenty of reasons to love The Owl House. In it, Luz, a human teenager, stumbles through a portal to another (more magical) world and becomes a witch's apprentice. Since its debut, the GLAAD Media Award-nominated show has received praise for featuring several LGBTQ+ characters.
Front and center is the romance between Luz, who creator Dana Terrace has confirmed is bisexual, and the prodigious young witch and lesbian Amity Blight (voice of Mae Whitman). Full of humor, inventive magic, and memorable characters, The Owl House is giving us a new (and queer-affirming!) school of witchcraft to love.
She-Ra and the Princesses of Power (Netflix)
Created by Eisner Award-winning comic writer and artist ND Stevenson, She-Ra and the Princesses of Power is a reboot of the 1985 series She-Ra: Princess of Power — itself a spinoff of He-Man and the Masters of the Universe. The series' protagonist is Adora (voice of Aimee Carrero), a teenager who trained alongside her gal pal Catra (voice of AJ Michalka) under Lord Hordak (voice of Keston John) in the evil Horde army.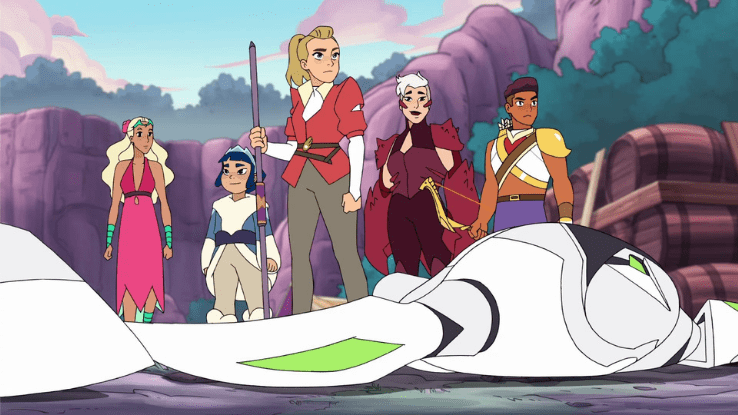 In the pilot, Adora gains the power to turn herself into the show's titular heroine and, together with a group of other magical princesses, vows to defeat Hordak. The Emmy- and GLAAD Media Award-nominated show has been praised for taking on difficult topics, such as the complex best friend-turned-archenemy-turned-lover relationship between Adora and Catra, and the long-lasting scars that come with being raised in an abusive environment.
With a diverse cast of queer characters, fat characters, characters of color — yes, those are all "characters," plural — and a great mix of action, humor and feels, She-Ra is an epic romp you won't want to miss. For me, it was one of 2020's best shows — not just one of the best animated shows. Plus, that finale is a real Moment™  for sapphic representation on TV. 
Craig of the Creek (HBO Max)
If you're anything like me, you immediately dove into the Cartoon Network hub of HBO Max when the platform went live. In addition to all of the familiar faces from the early 2000s — Blossom, Bubbles, Buttercup, Samurai Jack and Courage, to name a few — there were a bunch of cartoons I hadn't seen yet, or managed to keep up with as a cable-less adult. One of those great finds was Craig of the Creek.
Created by Matt Burnett and Ben Levin, the show is set in the fictional suburban town of Herkleton, Maryland. There, Craig Williams (voice of Philip Solomon) and his best friends, J.P. (voice of H. Michael Croner) and Kelsey (voice of Noël Wells) embark upon all sorts of adventures in the "kid utopia" that is the creek.
Across its four seasons, the show really captures that sense of possibility that goes hand-in-hand with being an imaginative kid playing in the woods with friends — something that feels rare in a medium often full of the fantastic.
In addition to on-screen representation — from centering a Black protagonist and his family to including several prominent characters or color as well as queer and non-binary characters — Craig of the Creek has been praised for the diversity of its writer's room. Jeff Trammell, the lead writer, told Insider that he's been in rooms where he's the only person of color, but, with Craig, it's a "room of 40-plus people, all with different backgrounds and different experiences." All of that adds up to a show that's a true joy — and one that many viewers can see themselves reflected in.
Infinity Train (HBO Max)
Aside from Craig of the Creek, the other Cartoon Network offering that I (thankfully)stumbled upon in the earliest days of HBO Max was Infinity Train. Created by Regular Show's Owen Dennis, the four-season anthology series' installments all revolve around a mysterious — and seemingly endless — train. Although it travels across a barren landscape, this out-of-space-and-time locomotive's cars all contain wondrous impossibilities — sometimes whole worlds, other times bizarre puzzles.
Although each season of Infinity Train focuses on a different set of main characters, familiar faces and interrelated plot points crop up now and again, only adding to the intrigue. In the first season, 13-year-old Tulip Olsen (voice of Ashley Johnson) ends up on the train while trying to get to game-design camp — something that became complicated in the wake of her parents' divorce.
Tulip realizes there are glowing, green numbers on her hand — and that the numbers change depending on the actions she takes. Her goal? Get the number down to zero and (hopefully) disembark.
While each season is a bit different, this numbers mechanic generally comes into play, with passengers moving from train car to car by completing tasks. Often, these obstacles are related to some kind of trauma they're not quite facing. The self-contained nature of Infinity Train's four "books" make it an easily digestible watch, but the sharp writing, point-and-click adventure game vibes, and character-driven stories are why it really stands out.
Steven Universe + Steven Universe Future (HBO Max, Apple TV+)
I've written about Steven Universe, and its sequel series Steven Universe Future, a few times before, but the fact remains that it's a must-watch series. Created by Rebecca Sugar for Cartoon Network, Steven Universe tells the coming-of-age story of the titular boy (voice of Zach Callison). Although Steven's dad is a car wash-owning rock musician, his mom, Rose Quartz (voice of Susan Egan), was a Gem — a magical, humanoid alien from outer space.
Years ago, Rose led her team of rebel Crystal Gems in a war against their alien Homeworld, all in an effort to protect Earth. Now, Steven has inherited her powers, life-force, drive to protect Earth — and, as it turns out, Rose's not-so-sterling legacy. He's also being raised by a chosen family of sorts — those Crystal Gems who fought alongside Rose — which consists of Garnet (voice of Estelle), Amethyst (voice of Michaela Dietz) and Pearl (voice of Deedee Magno Hall).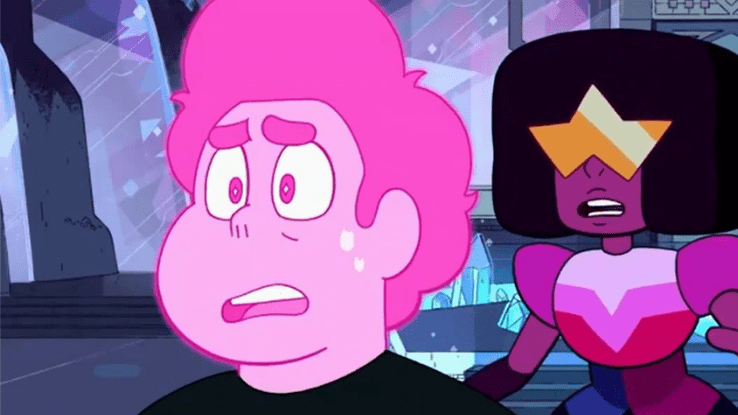 There are so many things worth mentioning when it comes to praising Steven Universe, from the gorgeous background art to the catchy tunes to the fully realized characters. Most often, the series is touted for its groundbreaking queer representation — and rightfully so. Not only did the show feature a high-profile intersex character (shout-out to Stevonnie!) and a  history-making same-sex proposal (and, later, wedding), but it consistently centers on queer relationships and non-binary characters. 
While both series illustrate how important it is to care for your mental health, Steven Universe Future, the spin-off series, made truly revolutionary strides. In it, Steven has saved the world(s), so he's trying to figure out where he fits in, especially when he's been conditioned to be in fight-or-flight mode. Steven pushes aside his own needs to help others, but all of that builds up into an unbearable pain.
As I noted in our roundup of TV shows and movies that depict mental illness well, this leads to him receiving a post-traumatic stress disorder (PTSD) diagnosis, which is a pretty groundbreaking moment — even for a series that's made so many strides already. 
Adventure Time: Distant Lands (HBO Max)
If you're a fan of animation, chances are you've seen at least one episode of Pendleton Ward's Adventure Time, which ran for 10 seasons (and eight years) on Cartoon Network. If you've been living under a Rock, the Emmy-winning show follows the adventures of Finn (voice of Jeremy Shada) and his best bud Jake (voice of John DiMaggio), a shape-shifting dog, as they travel across the post-apocalyptic Land of Ooo.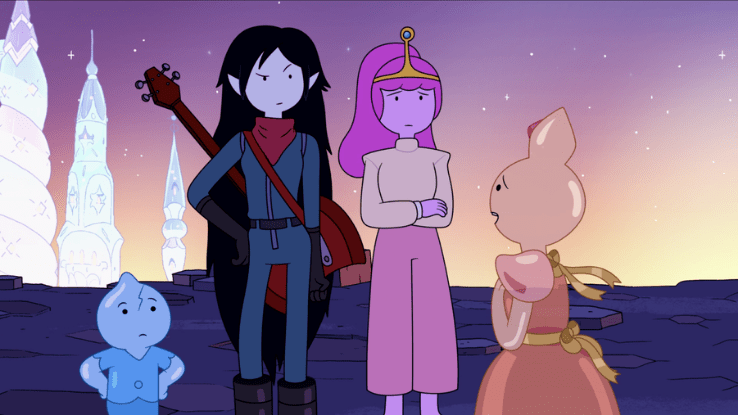 Other stand-out characters include Marceline (voice of Olivia Olson), a vampire with a penchant for playing guitar; Princess Bubblegum (voice of Hynden Walch), ruler of the Candy Kingdom and scientist extraordinaire; BMO (voice of Niki Yang), an anthropomorphic Game Boy-like device who lives with Finn and Jake; and Ice King (voice of Tom Kenny), a bumbling villain with a truly heartbreaking backstory.
Although Adventure Time wrapped up in 2018, HBO Max has played host to the Fionna and Cake spin-off as well as the various Distant Lands specials, which each center on different denizens of Ooo. The Distant Lands specials are really fan service at their finest, touching on threads that weren't fully explored in the series or simply giving more screen time to beloved characters we miss. And, much like the original run, these one-shots have that same surreal humor-meets-coming-of-age vibe that makes Adventure Time perfect for viewers of all ages.
Gravity Falls (Disney+)
Inspired in part by David Lynch's Twin Peaks, Gravity Falls went off air all-too-soon after just two seasons — though creator Alex Hirsch has said it was his choice to end the series after 40 episodes. And there's no denying that the story reaches a compelling conclusion, even if we selfishly want more Gravity Falls.
The mystery-comedy series sees twins Dipper (voice of Jason Ritter) and Mabel Pines (voice of Kristen Schaal) venturing to Gravity Falls, Oregon to spend the summer with their great uncle, Grunkle Stan (voice of Hirsch), who runs the Mystery Shack. While Stan's business is something of a scam/tourist trap, there are paranormal happenings in Gravity Falls, something Dipper starts to unravel with the help of a mysterious journal he finds in the woods.
From ciphers in the end credits to a full-on apocalyptic finale, Gravity Falls serves up adventure-style thrills, laugh-out-loud surreal comedy, and a wholly immersive world I want to keep visiting.
The Hollow (Netflix)
If you've finished watching Gravity Falls, The Hollow might serve as a good substitute. Much like Gravity Falls, it offers a compelling adventure mystery set in the woods — and it's just two seasons, though, sadly, The Hollow was outright canceled by Netflix. Created by Vito Viscomi, the series kicks off with teens Adam, Mira and Kai waking up in a room not knowing each other or themselves.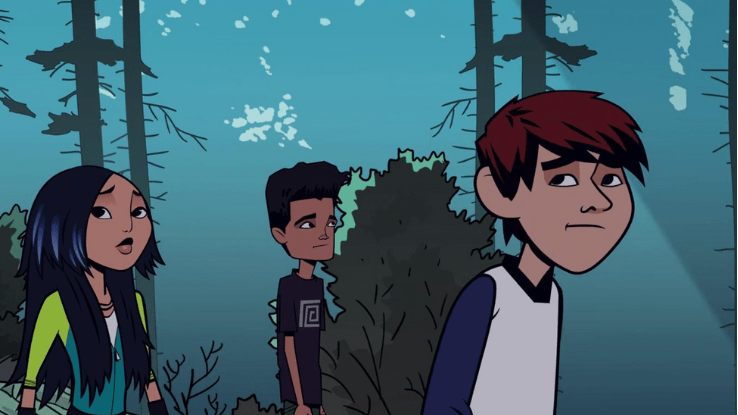 Common Sense Media's Joyce Slaton wrote that The Hollow "plays like Lost for tweens," which is pretty apt. When the trio emerge from the underground bunker — see, it's Lost-like already! — they woke up in, they find themselves deep in a forest. Each teen discovers that they have powers, like fire-casting or talking to animals, and, soon enough, a talking tree sends them on a quest to retrieve her branches, which are going to be fashioned into a weapon of sorts.
Without giving too much away, I'll just say that fans of sci-fi adventures like .hack//Sign, Paprika (2006) or Summer Wars (2009) will find a lot to like here.
Avatar: The Last Airbender + The Legend of Korra (Netflix, Paramount+)
No list of must-watch animated shows would be complete without Avatar: The Last Airbender or, in my opinion, its sequel series, The Legend of Korra. In the first series, people can bend (or control) one of the four elements — fire, water, earth and air. For the most part, Benders are also split up geographically into four Nations, each corresponding to one of the elements.
The original show centers on Aang (voice of Zach Tyler Eisen), the titular Avatar and last Airbender. As the Avatar, Aang can bend all four elements — and he's also responsible for being a bridge between the human and spirit worlds. Before Aang could master each of the four elements and bring balance to the world, however, he ended up frozen in an iceberg. Bad timing, too, because the world was on the verge of war thanks to the Fire Nation.
A century later, Water Tribe siblings, Katara (voice of Mae Whitman) and Sokka (voice of Jack De Sena), awaken Aang and join him on his quest to save the world from the century-long war — and escape the clutches of Zuko (voice of Dante Basco), a banished Fire Nation prince who's also the only villain with a redemption arc that truly works. (Fight me.)
I could wax poetic forever about Avatar's many, many merits; with sharp writing, character-driven storytelling, impressive world-building, and an epic scope, it's really top-tier TV.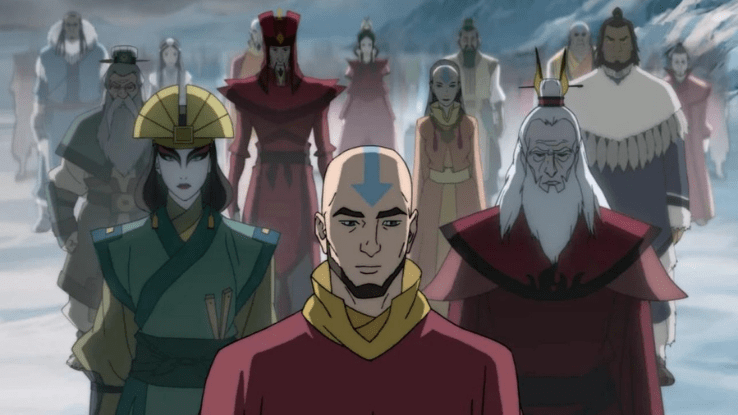 Since the Avatar spirit is reincarnated into a new host after the previous host passes away, you can probably guess where The Legend of Korra heads. Korra (voice of Janet Varney), who is born the Avatar after Aang passes away, is tasked with carrying on his weighty legacy.
While topping The Last Airbender is a near-impossible task, Korra really does shine on its own. Bolstered by breathtaking animation, the show delves into Korra's trauma and mental health struggles in a way other "chosen hero" shows simply don't dare. Plus, the finale of the four-season hit was a real win for queer representation at the time. 
We Bare Bears (HBO Max)
Created by Daniel Chong, We Bare Bears is an animated sitcom that'll have you laughing out loud and bugging all of your friends to watch some cartoon bears deal with some of life's more stressful problems. For example: the unique pain of forgetting your reusable tote bag and being shamed into oblivion at the grocery store.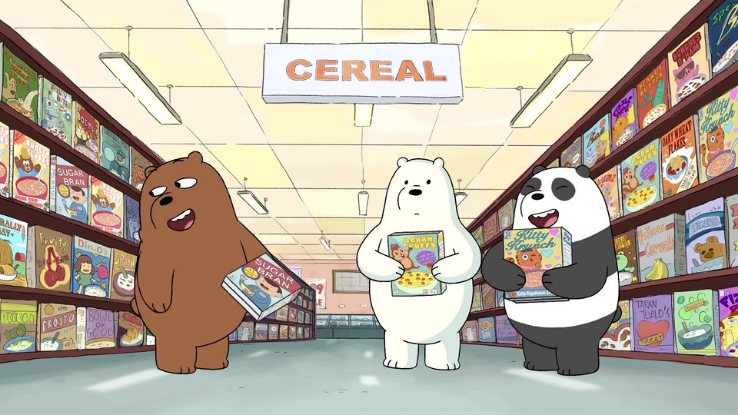 If you don't know, the Cartoon Network series follows three anthropomorphic bear brothers, Grizz (voice of Eric Edelstein), Pan-Pan (voice of Bobby Moynihan) and Ice Bear (voice of Demetri Martin). The brothers travel around in a bear stack — it's very cute, please look it up — and try their best to integrate into the human world of the San Francisco Bay Area.
Equal parts hilarious and heartwarming — yes, there's an episode about a burrito and childhood trauma that'll make you feel all the things — We Bare Bears is a gem. Plus, the four-season show also spawned several shorts, a feature-length film and the (painfully adorable) spin-off, We Baby Bears.