Rating: 5/10
I loved Big Little Lies. The HBO series based on Liane Moriarty's bestselling novel made for a hilarious yet laced-with-murder first season and gave us Reese Witherspoon's character bickering with Meryl Streep's in season two. Recently, my cravings for limited series with a whodunit/mystery twist have been satiated with The Undoing, Mare of Easttown and The White Lotus. Two of those shows — Big Little Lies and The Undoing — star Nicole Kidman and are written and run by veteran producer David E. Kelley (Ally McBeal). They both also executive produce.
Kidman and Kelley collaborate again in the new eight-episode Hulu limited series Nine Perfect Strangers, which debuts this Wednesday, August 18, with the first three episodes of the season. One new episode will be released after that every week. Like Big Little Lies, Nine Perfect Strangers is based on a Moriarty book.
Because I take book adaptations very seriously — especially if they're thrillers written by and starring women — I read Moriarty's novel in anticipation of its release in TV format. But I wasn't wowed by the six episodes available for review.
The thing is, not much happens in Nine Perfect Strangers' book version. It lacks the kind of big reveal Big Little Lies packs. Nine Perfect Strangers is a character study about nine guests, two caregivers and the magnetic director at the boutique health resort Tranquillum House. Each episode in the novel is written from the perspective of one of those characters, telling us how they found their way to this luxury wellness center in search of healing during a 10-day stay. As those days go by, the author untangles their pasts and their demons.
And precisely because there are a lot of introspective chapters in which we simply learn what someone is thinking, adapting Nine Perfect Strangers wasn't an easy task.
The Many Differences Between "Nine Perfect Strangers" in Book and Series Format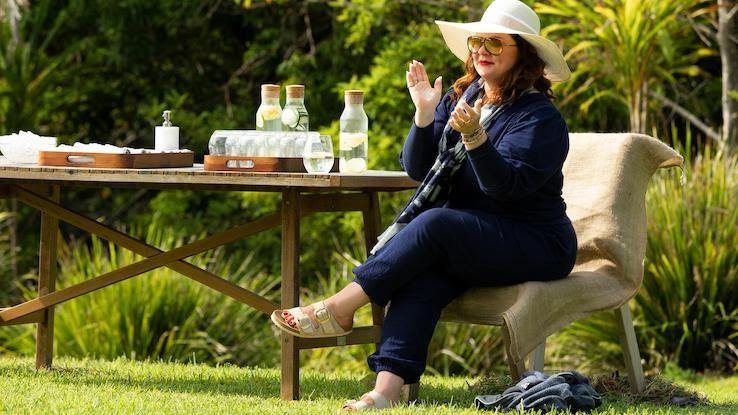 Melissa McCarthy and Bobby Cannavale are the two main reasons why you should watch this show. She plays Frances, a romance writer ailing from a deceitful relationship and battling negative critics. She goes to Tranquillum in search of relaxation. He plays Tony; he's another one of the guests, but the less I tell you about him the better. The show, like the book, gives us a few tidbits of information about certain characters but prefers to reveal the backstories of others in due time and as the plot progresses.
Nicole Kidman's character is probably the juiciest of them all in a glittery cast rounded out by Michael Shannon, Regina Hall, Luke Evans, Manny Jacinto and Samara Weaving. Kidman plays Masha, a self-made woman and the director at Tranquillum House. Reading Nine Perfect Strangers, I couldn't help but think that Moriarty wrote her character with Kidman in mind, especially when she describes Masha's luminous beauty and her athletic figure. Kidman is the perfect fit for this unrestrained, ethereal role. The Australian Academy Award-winner speaks in the show with a flawless mix of Russian and American accents and wears perfectly fitting and flattering garments in muted colors while meditating, swimming or providing therapy to clients.
Kidman, whose Masha is as damaged as any of the guests at Tranquillum, stayed in character the whole time while filming and only related to her co-stars as Masha. It's palpable how much she's relishing the opportunity to inhabit this succulent character.
The show is set in the fictional town of Cabrillo, California. But because of the pandemic, the production had to move to Byron Bay, in Australia. The book was actually set in Australia. As much as I believe Australian coastal towns and Californian coastal towns can be interchangeable sometimes — they share the sun, ocean and healthy lifestyle habits — there's no way you'll think the lush landscape and trees depicted in this show could be found anywhere in California.
But where Hulu's Nine Perfect Strangers ultimately fails is in its constant search for higher stakes. Several characters' backstories are significantly different from the book, similar to who they are on the page but much more dramatic or just plain melodramatic. Anonymous threats, painkillers addiction, brutal beatings, vengeance, shootings, investigative reporters and polyamorous relationships are some of the many plot devices the show uses to spice things up.
The novel kicks off with a five-day silence break for the guests. But silence doesn't really make for good TV. Instead of that, the writers of the series come up with other ways of entertaining these nine perfect strangers who find themselves at Tranquillum: They dig ditches, participate in potato sack races and even have to fend for themselves by foraging and hunting for food.
The Next Must-Watch Series?
It's difficult not to draw some parallels between Nine Perfect Strangers and HBO's The White Lotus. This, too, is a show about mainly white people seeking solace in a sumptuous resort. "Wellness retreats are another concept to separate rich people from their money and make them feel good in the process," Luke Evans' character, Lars, quips at one point during the first episode.
But I'm not sure Nine Perfect Strangers is going to fill the void The White Lotus' finale left. For one, this show is much more "trippy," for lack of a better term. That's how Kidman herself described Nine Perfect Strangers during a recent Zoom panel with the Television Critics Association. "When people say: 'Define what it is.' We still can't. I dare you to ask any of us what genre this is," the actress and producer said.
I wish the series had more of a clear idea of what that genre was, other than crazy and trippy. Taking things a little bit lighter could have helped. Nine Perfect Strangers is at its best when Cannavale and McCarthy are allowed to display all of their comedic aptitude on screen.
And while I didn't enjoy the way this material was adapted, I still think McCarthy's character having a session of facial acupuncture or social distancing at the pool in a full-body swimsuit — Frances has spent so much on dermatological treatments her skin can't see the sun — are some of the most memorable and hilarious moments TV has given us so far this year.