Rating: 8/10
Had I watched Only Murders in the Building in a different period of my life — and by that I mean in my pre-pandemic cynic days — I might have found its brand of humor too broad and its acting unsubtle.
Yet, the 10-episode, half-hour Hulu comedy — which premieres this Tuesday, August 31, with three episodes and follows a weekly rollout pattern after that — has proven to be the exact kind of comforting murder mystery wrapped in lots of humor and peppered with a bit of real estate voyeurism that my soul needed.
Co-created by Steve Martin and John Hoffman (Grace & Frankie), Only Murders in the Building stars Martin himself, Martin Short and Selena Gomez. They are three perfect strangers and nosy neighbors living in a posh Upper West Side building, The Arconia. When their neighbor Tim Kono (Julian Cihi) turns up dead, the trio — who meet by chance and bond over their love of true crime podcasts — decide to investigate. The police seem to believe the deceased committed suicide, but the group is convinced someone must have killed Kono. They even end up launching their own true crime podcast about the affair. Their maxim is to focus only on crimes perpetrated in the building — hence the podcast and show's title.
A Guiltless Brand of Humor
The premise might sound a bit over-the-top, but Short, Martin and Gomez make it work. It's no secret that Martin and Short have great chemistry together and are able to complete each other's jokes on and off screen; they've been doing it for decades. But Gomez feels perfectly integrated into their comedic routine as the hip, young daughter or granddaughter figure with whom the older ones need to figure out how to communicate. She's Mabel, a fashion-conscious woman in her 20s, and we don't know how she ended up being able to afford a place in The Arconia.
Martin plays Charles, a former actor who found fame and the money to buy a very sumptuous apartment by playing a TV detective in a '90s procedural show. Short is Oliver, a Broadway director with one too many flops in his career — he advised against investing in Hamilton because he considers him the founding father with no pizzazz — and a dip enthusiast strapped for cash.
The show also explores the relationships of the characters with Manhattan: Charles hasn't left the island in five years, while Mabel is actually from out of town. And their apartments — from a massive kitchen island in one of them to books and screenplays scattered all around in another — also tell you a lot about the residents at The Arconia.
But bear in mind that, in true whodunit fashion, no one in Only Murders in the Building is who they seem to be at first sight.
The generational differences between Charles and Oliver, on the one hand, and Mabel, on the other, abound. And the show exploits all of them brilliantly. "Let's see if Mabel is free. I'll call her… Or should I text her?" Charles asks at some point. "Calls bother them for some reason," replies Oliver. It's not his only jab at the younger generation. He complains about the promise of an ice cream that ends up being vegan and sea salt flavor. "When did ice cream become hand lotion? F*cking millennials, they're so boring!" he says.
"They have a sense of humor that doesn't exist anymore," Gomez said about co-stars Short and Martin in a recent virtual panel in front of the Television Critics Association. "I love that they have a sense of humor that's not the typical crass or kind of dark. It's very light."
Precisely that light, guiltless humor — where Charles and Oliver mainly make fun of themselves and their different ways as people of a certain age desperately trying to stay relevant — is one of the most appealing ingredients of Only Murders in the Building.
Then there's the fact that, after having watched the eight episodes available for review and with only two left in the season, I still don't know who the killer is.
The Meta Ingredient Keeps You Hooked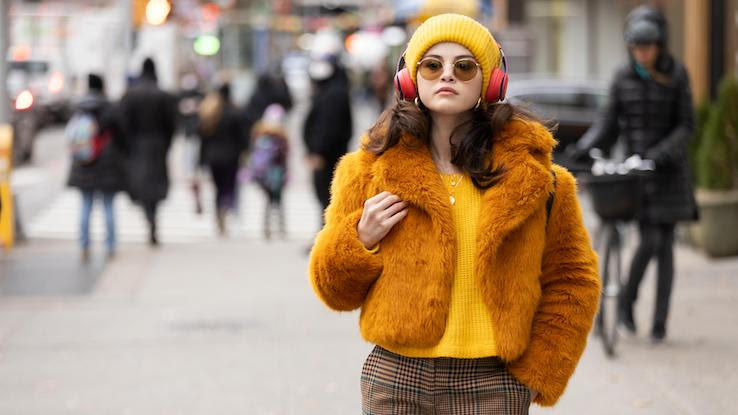 Other than not giving us all the information about our characters at once, the show uses some additional genre tropes. Red herrings throw the viewer and our protagonists into lines of investigation that end up being moot, and there seems to be a new suspect every other episode. But the less I tell you about the mystery at the center of this story, the better.
The series follows a nonlinear storytelling structure in which flashbacks inform the viewer about the characters' present situation. Each episode is narrated by the voice of one of the characters of the show — in the same way podcasts have narrators — and every episode sheds new light on Mabel, Oliver and Charles, but also Tim and the rest of the tenants at The Arconia.
Only Murders in the Building does have an impressive ensemble. Nathan Lane (The Birdcage) plays a hummus millionaire. Amy Ryan (Gone Baby Gone) is a very sexy bassoonist. Tina Fey (30 Rock) is the queen of murder podcasts. Da'Vine Joy Randolph (High Fidelity) is the detective in charge of Tim Kono's investigation and someone I wish had some more screen time. And Sting cameos as himself, and not "the guy from U2" — Mabel has the two '80s pop icons mixed up, and that makes me feel old.
This is a very meta show. It not only references podcasts in a very specific and informed manner — even the kind of commercials in the show's podcasts sound like the ones you could listen to on NPR or Gimlet Media's productions — but it's also self-referential when it comes to TV storytelling.
"No one wants a murder podcast about real estate!" quips Oliver when they think the possible murderer may be Tim Kono's next-door neighbor in search of more square footage. And that rings true both for true crime podcasts and scripted TV shows.
If you're craving an unassuming TV comedy that's actually funny, but feel like Ted Lasso's season two is veering on mawkishness, give Only Murders in the Building a try. It could have to do with pandemic fatigue and my need to surround myself with entertaining light stuff, but I found dialogues like Oliver's "You do not age. I need the name of your witch!" delightfully hilarious.
Love whodunits? Check out our selection of murder mystery movies and TV shows for a perfect cozy evening at home.