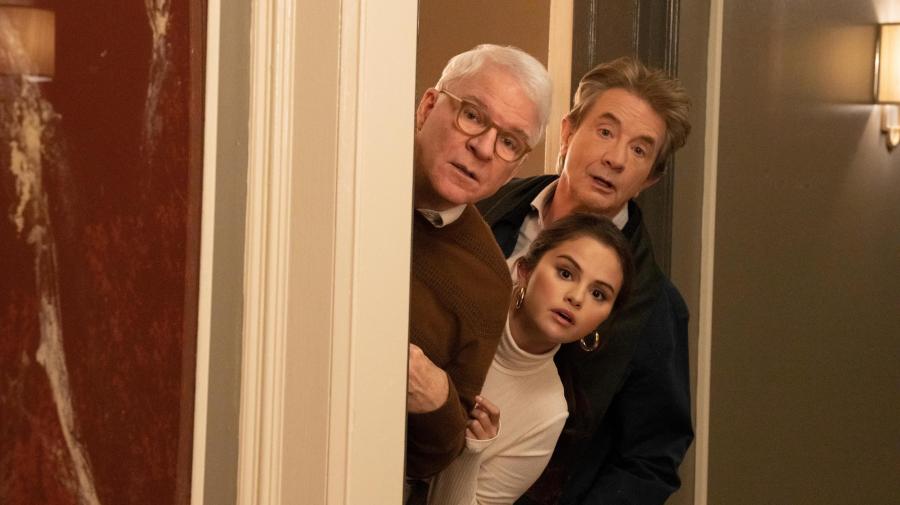 Rating: 8/10
As much as I enjoy cozy mysteries and whodunnits, I'm often fearful of sequels and second seasons of my favorite watches. And even though murder sleuthings tend to lend themselves well to serialization — there's always a new murder to investigate, after all — there's also the chance that the new installment of my favorite detective story of choice won't be as fresh, inspired or simply warranted as when it first premiered.
After having binged the eight episodes available for review of the 10-episode second season of Hulu's Only Murders in the Building (OMitB), I sighed with relief — I also laughed out loud frequently while watching the show. Season two debuts on Tuesday, June 28, with two episodes, then goes to a one-episode weekly release after that. Elaborate and specific as the series' premise is — the amateur podcasters and equally inexperienced murder investigators Mabel (Selena Gomez), Charles (Steve Martin) and Oliver (Martin Short) dissect killings committed inside of their Upper West Side building, the Arconia — season two works just as seamlessly as the first. And I liked Only Murders in the Building's first season a lot.
The thing is that this show, which was created by Steve Martin and John Hoffman (Grace and Frankie, Looking), wrapped up not one but two mysteries — the deaths of Tim Kono (Julian Cihi) and Zoe Cassidy (Olivia Reis) — by the end of its first season. But it also managed to produce a third violent death: that of Arconia Board President Bunny Folger (Jayne Houdyshell), leaving things perfectly untied for a new batch of episodes.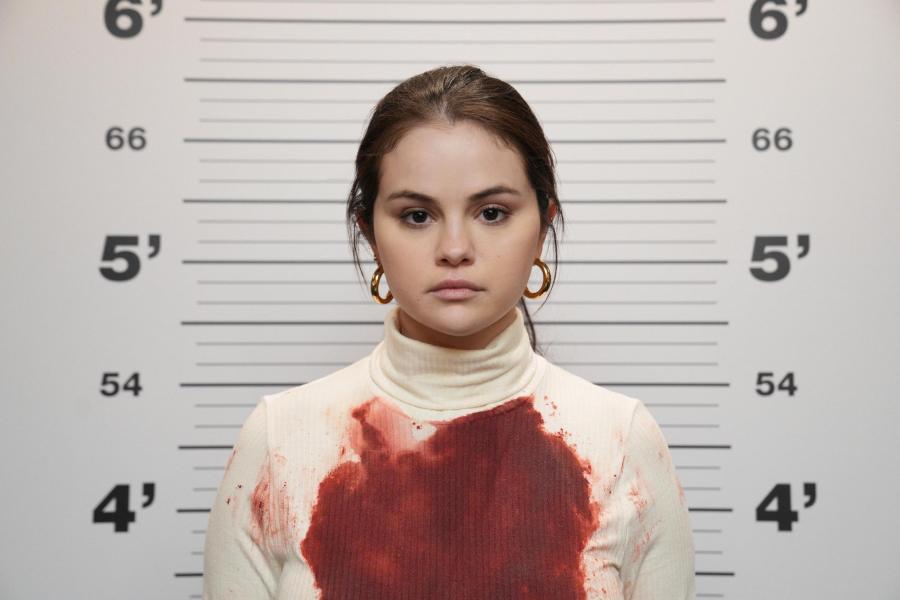 Bunny appeared murdered in Mabel's apartment and was apparently stabbed with one of Mabel's knitting needles. When season two kicks off, the police are questioning not only the young woman but also her besties and podcasting associates Charles and Oliver. There are a lot of holes in Mabel's story and she's seen wearing a very incriminating — and bloody — white turtleneck. Mabel, Charles and Oliver are considered persons of interest in the investigation. They're advised to stop podcasting about this crime. But you know they won't be able to resist.
Besides the winning chemistry between Short, Martin and Gomez, the show returns to its cameo formula. This season boasts a once again star-packed cast rivaled only by that of The Gilded Age. Da'Vine Joy Randolph returns as Detective Williams and wears the most stylish tie-dye sweatsuit while doing it. Cara Delevingne plays the hip London artist Alice. Amy Schumer does a hilarious version of herself; she's moved into Sting's former apartment at the Arconia. Nathan Lane returns as the dips' emperor Teddy Dimas with James Caverly playing his son, Theo. Tina Fey is once again the podcasting queen Cinda Canning. Michael Cyril Creighton and Jackie Hoffman return as nosy Arconia residents Howard and Uma. Jane Lynch repeats as Charles' body double, Sazz. Shirley MacLaine also drops by the show, but I'm not allowed to tell you who her character is yet.
There's also a new police detective looking into our trio. Michael Rapaport plays Detective Kreps. He's not exactly friendly — or politically correct. "I don't do podcasts," he unabashedly tells our protagonists. "I like Howard Stern. Old Stern, before he started doing therapy and got all gentrified and sh*t."
I was quickly intrigued by Bunny's tragic demise and loved all the drama surrounding the different residents at the Arconia, but the humor was once again OMitB's main allure for me this season. It's still light, guiltless and self-deprecating. Short's Oliver — a broke theater director who is limelight thirsty and a bit delusional — was my favorite pun deliverer. He'd have Timothée Chalamet playing his character in an 8-10 episode streaming adaptation of the podcast. He considers showmanship and desperation the twin helixes of his family's DNA. And he schools Charles — who's surprised at Mabel having a girlfriend after dating a guy last season — on how "hip" bisexuality is these days. "Back in the '70s I had to hide the fact that I had a lesbian lover," Oliver quips. Then there's his joke about New York traffic: "Rush hour is approaching and the tunnel will be as packed as Orson Welles' colon," he says. The thing about this Manhattanite is that he truly hates the subway.
Of course, he's not the only one with juicy lines. Charles has his fair share too. "It's like watching Squid Games without subtitles!" he says when describing how he feels when talking to his teenage ex-stepdaughter. At first, I couldn't understand a word of what she said either.
Gomez is flawless once again as the straight woman to her comedic co-hosts, having not only to deal with Oliver and Charles' cluelessness and good intentions but facing the trauma of yet another murder getting thrown into her path. "I need a life away from death! We should all let ourselves be a little boring again," she tells her neighbors and podcasting accomplices. Oliver, though, would rather be dead than boring.
If season one was very meta in its references to podcasts, but also self-referential when it came to TV storytelling, season two doubles down on that. It does so with new specific details about our protagonists' hobby — like switching to a subscription formula for the podcast this season — but also with frequent callbacks to season one: the fans are back, so is the tie-dye sweatshirt and there's even a moment in which our three protagonists are inside the elevator of the Arconia once again like when they first met. Oliver even mentions the red Beats.
Like in season one, each episode is narrated by a different character and several suspects are considered and dropped in the process of finding the killer. All three protagonists of Only Murders in the Building get an episode that briefly explores a moment from their past, but these flashbacks don't deviate from the main investigation — they somehow inform it. And fatherhood is the one big thematic element to envelop and ground this season, giving it some heart on top of all the laughs and inquiring.
Now, if all this hasn't made you want to check out the new season of Only Murders in the Building, let me add one last thing: there's a comedic bit involving this memorable Daniel Day-Lewis line in The Last of the Mohicans and a bag full of free dips.