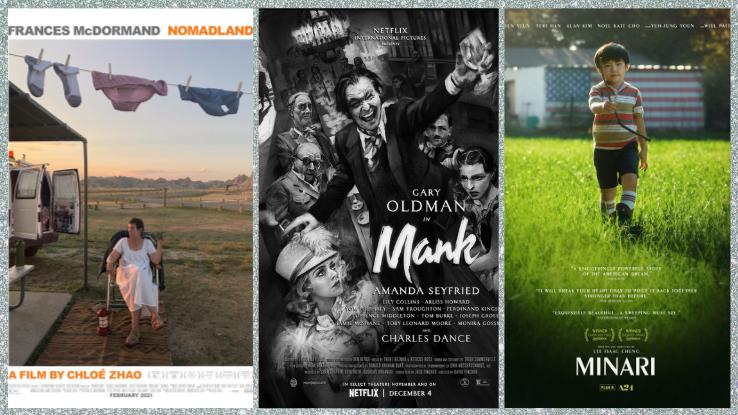 Even though we'll have to wait until April 25 to be able to watch the 93rd Oscars, there's no need to sit around until then. We can already start speculating about what might be in store for the next Academy Awards ceremony. We've already told you everything we know so far about how the 2021 Oscars might look.
Since some of the significant Oscar predictors like the Golden Globes, Critics Choice (CCA) Awards or Screen Actors Guild (SAG) Awards have already announced their nominations, it's time to start talking Oscars forecasts for the big awards categories.
And while surprises — like last year's Parasite sweeping the most coveted awards or 2017's Moonlight and La La Land epic mix-up — are impossible to prognosticate, there are already some titles, filmmakers and performers leading the 2021 Oscars race.
2021 Oscars Best Movie Predictions
Chloé Zhao's Nomadland and Lee Isaac Chung's Minari are two of the strongest contenders in the Best Picture race. Starring Frances McDormand, Nomadland won the People's Choice Award at the Toronto International Film Festival (a solid Oscar predictor in the past). The movie about how a woman in her sixties is forced to leave everything behind and live in her van as a vehicular nomad has been recognized as the best picture at the Gotham Awards and has amassed a bounty of critics circles' accolades.
American director of Korean descent Lee Isaac Chung gets personal with Minari, the story of a Korean-American family who settles in rural Arkansas in the 1980s in search of the American dream. With dialogue in English and Korean, Minari juxtaposes the cultural differences within a family whose several generations were born and raised in different countries.
Also hot in this category are Aaron Sorkin's historical drama The Trial of the Chicago 7 and the black-and-white ode to cinema Mank from filmmaker David Fincher. Both stories have benefited from dependable casts, are based on true events and have two recognizable names at their helms. In years past these two would probably be the titles to beat, but Parasite's 2020 victory could signal the Academy favoring new voices. In any case, both The Trial of the Chicago 7 and Mank have all the right ingredients to get Best Picture nominations.
2020 was a remarkable year for movies, which makes this list full of possibilities. Black stories could have sizable representation thanks to Spike Lee's Vietnam War commentary drama Da 5 Bloods. There's also Regina King's fictional account of a real 1964 day in the life of Malcolm X and Cassius Clay, One Night in Miami. And we can't forget the adaptation of August Wilson's play, Ma Rainey's Black Bottom, about the Mother of the Blues.
The quirky revenge tale Promising Young Woman was released at the end of 2020 and has managed to become a very buzzy latecomer. It could make a surprise entrance among the nominees, especially in the Best Picture category, which can have up to 10 entries.
Also fitted to become a possible surprise nominee is Florian Zeller's The Father, in which Anthony Hopkins plays a patriarch with dementia — and a very unreliable narrator.
2021 Oscars Best Director Predictions
We're expecting great things from the Academy in terms of director nominations this year. The Golden Globes and the CCA nominated three women — Regina King, Chloé Zhao and Emerald Fennell — in this category, so let's hope the Academy takes the hint. There's certainly plenty of titles to choose from in a particularly good year for women filmmakers.
Zhao (Nomadland) and King (One Night in Miami) not getting nominations would be seen as a big snub, as could the absence of newcomer Emerald Fennell (Promising Young Woman).
Veteran filmmaker Spike Lee has been nominated five times for his work as a producer, director and writer. He won a Best Adapted Screenplay Oscar in 2019 for BlacKkKlansman and an honorary statuette in 2015. He's also one of the leading contenders in this category for his film Da 5 Bloods.
Oscar-winner Aaron Sorkin is a leading contender as well. He's been nominated as a writer three times and won Best Adapted Screenplay in 2011 for The Social Network. This could mark Sorkin's first director nomination.
David Fincher — another The Social Network alum who received Best Director nominations for that movie and for The Curious Case of Benjamin Button — could also be in the running for a director's nomination for his work in Mank.
And then there's Lee Isaac Chung. He has less of an established relationship with the Academy compared to Lee, Sorkin, Fincher or even King, who won a Best Supporting Actress statuette for her role in If Beale Street Could Talk last year. Nevertheless, Chung is also on the shortlist of leading directors for his breakout work in Minari.
2021 Oscars Best Actress Predictions
This category is also full of veteran competitors — and total novices.
Among the seasoned favorites are Frances McDormand and Viola Davis. McDormand has accumulated five Oscars nominations as a performer and has managed to bring the prize home twice, most recently in 2018 for Three Billboards Outside Ebbing, Missouri. Her once again flawless performance this year in Nomadland should grant her another nomination and put her ahead of the pack.
Then there's the three-times nominated, one-time Oscar-winner Davis. She won in 2017 for her role in Fences, an August Wilson play adapted for the big screen. Her role as the unsympathetic Ma Rainey could mark her second nomination for a Wilson play adaptation.
Carey Mulligan is a relative veteran as well, having been nominated for her role in 2009's An Education. She could make Oscars history again this year with a second nomination for her role as the former Promising Young Woman and present woman in search of vengeance, Cassandra.
The Crown's Vanessa Kirby is also among the favorites to get a nomination for her role in Pieces of a Woman, in which she plays a pregnant woman. A harrowing single-shot sequence of her character giving birth at home lets Kirby shine in an otherwise uneven film.
McDormand, Davis, Mulligan and Kirby all look like safe shoo-ins, but we could see surprises in that fifth slot of nominees. The SAG Awards chose the eternally nominated — she has six Academy Awards nominations — Amy Adams for her work in Hillbilly Elegy.
Other strong contenders in the category are Nicole Beharie for her role in Miss Juneteenth and Zendaya in Malcolm & Marie. We could also see recognized the work of Sidney Flanigan in Never Rarely Sometimes Always or singer Andra Day making her feature debut in The United States vs. Billie Holiday.
2021 Oscars Best Actor Predictions
Black Panther's Chadwick Boseman is certainly one of the favorites in this category for his role as a musician in Ma Rainey's Black Bottom, which was also his last movie. The late star could also get a second nomination for his supporting role in Da 5 Bloods.
Two of the other stronger contenders in the Best Actor category are Riz Ahmed as a drums player battling hearing loss in Sound of Metal and Steven Yeun as a father trying to make a living for his family in Minari. Both actors have strong TV trajectories — you might have seen them in The Night Of and The Walking Dead, respectively — and have cemented their cinematic careers with these roles.
He has five Oscar nominations and won in 1992 with Silence of the Lambs, the movie that launched him to fame. Anthony Hopkins returns this year with The Father, an impeccable performance that should secure him another Oscar nomination.
Two-times nominated and one-time Academy Award-winner Gary Oldman — who has an Oscar for his role in Darkest Hour playing UK Prime Minister Winston Churchill — could get another nomination playing a real-life character for his role in Mank.
The surprises in this category could be decided between Delroy Lindo in Da 5 Bloods and Tahar Rahim in The Mauritanian. More unlikely would be the inclusion of Ben Affleck for his work in The Way Back or Tom Hanks in News of the World.
Editor's Note: This story will be updated with new information as we get closer to the Oscars' celebration date and new announcements are made by the Academy.