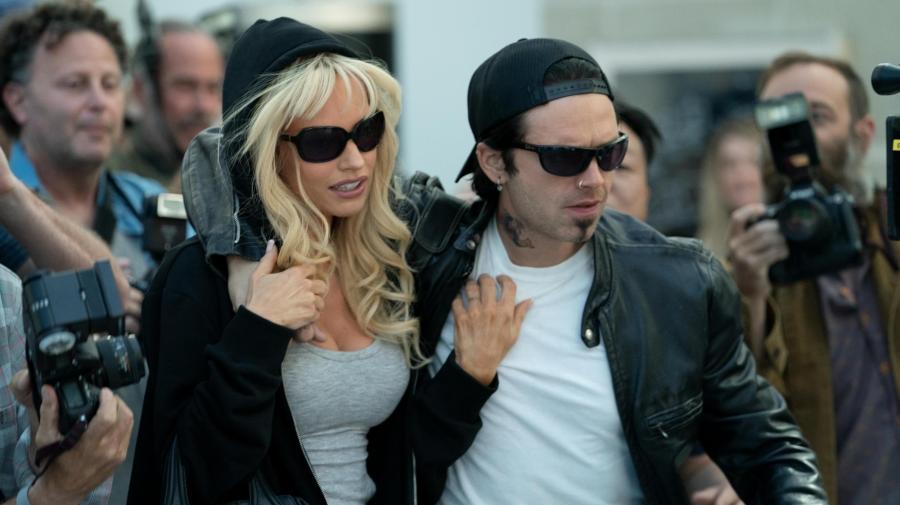 Rating: 7/10
Forget the titillating headlines or the very sexy promo pics of actors Lily James and Sebastian Stan as perfect look-alikes of Pamela Anderson and Tommy Lee. Pam & Tommy, Hulu's new eight-episode limited series premiering on Wednesday, February 2, and based on Anderson's and Lee's story of a stolen sex tape is, above all, a love story. In fact, Hulu's very fittingly chosen tagline for the show is: "The greatest love story ever sold."
This is the tale of how the Baywatch actress and the Mötley Crüe drummer met in 1995, fell instantly in love, got married almost as quickly, got pregnant and looked very much in love and in lust. They made two very big mistakes though. The first one was being famous and extremely photogenic. The second was taping themselves while having sex and during other intimate moments, putting the tape inside of a safe in their home and thinking there's such a thing as safety or privacy.
Things are a bit more complicated than that, of course. The show, which is based on Amanda Chicago Lewis' 2014 article "Pam and Tommy: The Untold Story of the World's Most Infamous Sex Tape", portrays Lee as a volatile and temperamental character a bit self-absorbed when it comes to everyday life and adulting. He can come off as a jerk. After parading himself in nothing but a leopard-printed g-string in front of the contractors renovating part of his Malibu mansion and changing his mind several times, he fires them without pay.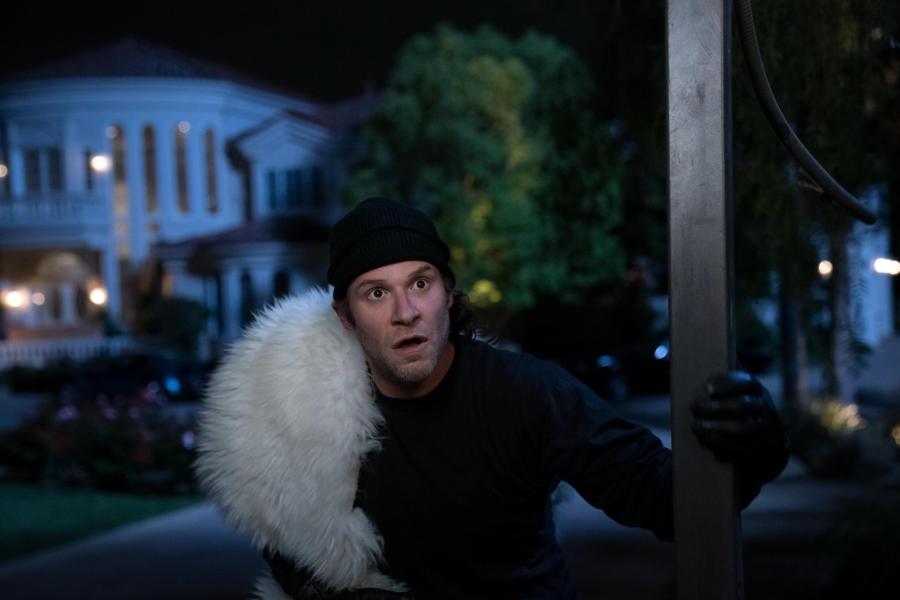 Enter here one of my least favorite parts of this show: Seth Rogen with a mullet playing Rand, one of the men fired by Lee and who was owed thousands of dollars. He'll be the one going to the couple's home and stealing their safe. You could argue he had some reasons to do it, and the show will tell you about them. But, once he finds the sex tape inside of the safe, Rand will contact an acquaintance who's a porn producer (Nick Offerman), shop Pam and Tommy's sex life all around the San Fernando Valley and ultimately sell VHS copies of the tape himself via the nascent internet, disregarding the subjects' consent or right to privacy.
Pam & Tommy devotes too much time to Rand, especially in its first episode. It almost made me quit the series (the last thing I need on TV right now is the story of another cisgender heterosexual white man outraged because he believes the world has plotted against him), but I gave the show a second episode just because I assumed if it was called Pam & Tommy, it had to focus on them. It does.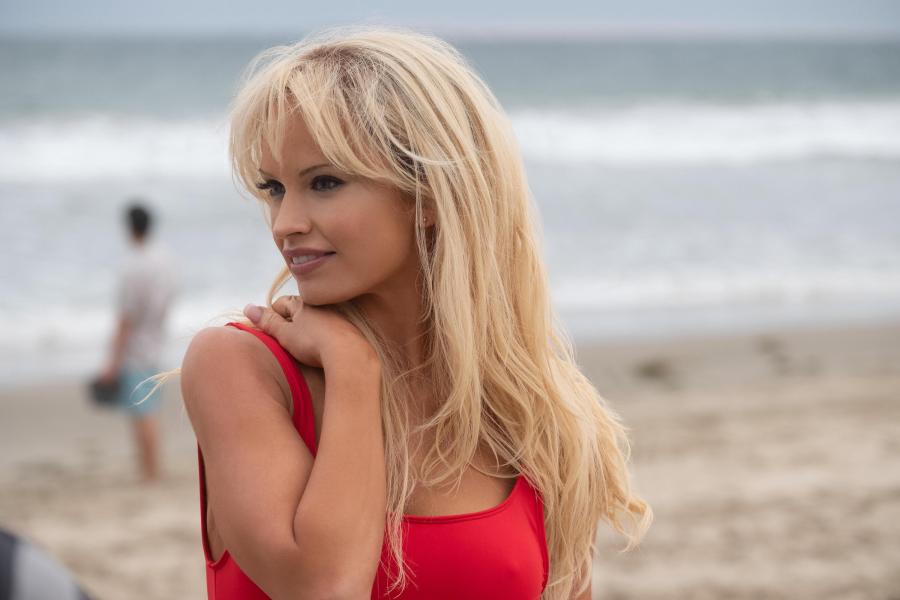 Maybe because that first episode can feel a bit off-putting, Hulu is launching the show with the first three episodes for a weekly release after that. But the one episode that's already generating lots of conversations is number two. It features Tommy's talking penis, voiced by actor Jason Mantzoukas, as Tommy and his dick have a conversation when the former realizes he's falling in love with Pam. To portray the genitals, the production used an animatronic penis operated by four puppeteers. As wild as that sounds, Pam & Tommy's writer and co-showrunner Robert Siegel adapted the whole thing from a chapter in Lee's memoir, Tommyland.
Nudity is much less common here than you may expect and mostly limited to that second episode where, besides the chatty fast-moving penis, we also get a glimpse of Pam's prosthetic breasts. Not that long gone are the days when actress Emilia Clarke asked for nudity equality between men and women in Game of Thrones. Pam & Tommy achieves that balance. It was important for the show to do it.
You can watch Pam & Tommy as a companion piece to last year's Impeachment: American Crime Story, which gave a voice to Monica Lewinsky. Here we get to learn more about Anderson. We witness a taping of the hit series Baywatch: She's dressed in the iconic but minimal red bathing suit, a camera framing her buttocks, while three male producers decide how much butt cheek to show. We cringe as we see The Jay Leno Show's writers' room made solely of men. When Anderson is invited to the program, Leno asks her how it feels to have the kind of exposure she has due to the sex tape. 
"People are gonna think you're cool for this. They're gonna treat me like a slut," Pam tells her husband when they realize the tape is being commercialized. She's trying to make him understand that, even if both of them are in it, the price to pay is much steeper for her because she's a woman. She's not just any woman but an actress and a model, someone who's posed several times for Playboy. "Sluts don't get to decide what happens to pictures of their body," she says in one of the more devastating moments of the show.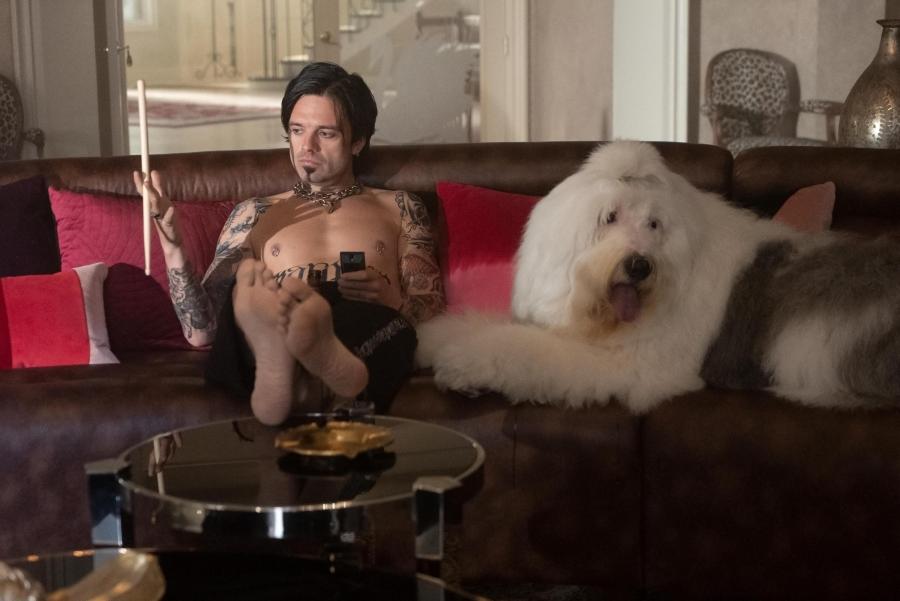 After last year's Framing Britney Spears, we're more equipped as an audience to understand that no celebrity deserves the level of scrutiny and total erasure of their privacy Anderson and Lee endured.
Then of course there's the technology component. "More people are now watching movies at home on VHS than in theaters," Offerman's character tells Rogen's while talking about the transformation of the film and porn industries. But the real tech revolution was online. The internet in 1995 wasn't like today. What took months between the tape being stolen and ending up online and the story getting picked up by the mainstream media would now take a matter of hours, minutes even. But it was difficult at the time to understand the internet's capacity to reach everywhere.
I should mention Stan and James' superb performances. They transform themselves into their characters. He's all tattoos, earrings, nipple piercing, goatee, eye-liner and constant shirtlessness. I no longer saw the protagonist of The Falcon and the Winter Soldier, but a rock star. She's all bleached hair, bronzed skin, and perfectly sculpted arms and legs. There's no trace of the British actress whose career skyrocketed after Downton Abbey; she's simply Pam. 
Pam & Tommy is a good portrait of the decade it depicts. There's a grunge version of the '90s that has been captured in Yellowjackets. And then there's a more mainstream and even sleazy version of the '90s that's perfectly encapsulated here. 
I could write a whole piece on this show's music. I feel it was chosen not only to faithfully sketch the soundscape of the period but also to contrast with Mötley Crüe's brand of glam rock. You'll hear the indie pop sounds of The Cardigans ("My Favorite Game," "Lovefool"), 4 Non Blondes ("What's Up?") and Alanis Morisette ("You Oughta Know"); the electronic beats of Fatboy Slim ("Praise You"); and the punk side of Iggy Pop ("Real Wild Child").
By the end of Pam & Tommy, I couldn't help but wonder how different Anderson's career would have been had the world not decided to judge her for a sex tape she never gave permission to first release. I also pondered how things between Anderson and Lee could have been had their lives not been thrown into the most stressful of situations.