Rating: 9/10
Let me just start by stating my Janeite status. I have read all of Jane Austen's novels — some of them more than once or twice — and watched a fair share of adaptations. Austen's source material is so insightful and solid in its structure and writing that I've hardly encountered an adaptation I didn't enjoy. 
But one thing is to enjoy — like the 2005 movie adaptation of Pride and Prejudice with what I felt was a miscast Mr. Darcy (Sorry, Matthew Macfadyen, I really love you in Succession) — and the other to relish — like the 1995 Pride and Prejudice miniseries or Emma Thompson's movie adaptation of Sense and Sensibility that same year. When it comes to the film adaptation of Persuasion starring Dakota Johnson, I'm more on the relishing side. Be advised, though, this is not a faithful version of the novel.
The movie is directed by Carrie Cracknell and co-written by Ron Bass (My Best Friend's Wedding) and Alice Victoria Winslow after Austen's novel. It streams on Netflix on July 15. Johnson plays the protagonist, Anne Elliot, who's the middle daughter of a family of snobs who don't care much for her and are on the brink of bankruptcy. Fortunately, she's a favorite with her late mother's best friend, Lady Russell (Nikki Amuka-Bird). Being a favorite has its drawbacks though. Anne was advised to give up Frederick Wentworth (Cosmo Jarvis) when they both fell in love and he proposed. He was deemed too poor and lacking any rank. They were very young.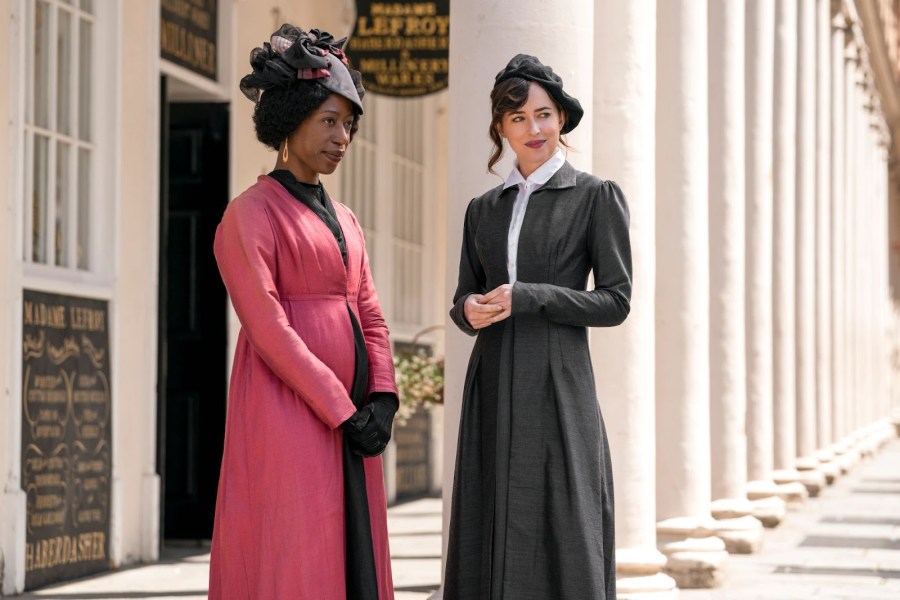 "Marriage is transactional for women. Our basic security is on the line," Lady Russell justifies her advice. Eight years have gone by since Anne said no to Wentworth after being persuaded to do so. He's now a navy captain — and rich. She's still very much pining for him.
She tells us about it in plain words. The movie manages to capture Austen's three main literary-style staples: romance, study of manners, and free indirect discourse. That last one is channeled through Anne's narration; she often breaks the fourth wall while telling the viewer what's going on or how she's feeling. She's extremely plain-spoken in a way Austen's narration isn't in the books — at least not for contemporary readers.
"Is it true that he actually listens when women speak?" the young Louisa Musgrove (Nia Towle) asks Anne about Wentworth. "He listens — with his whole body. It's electrifying," Anne replies.
One thing to be said about this version of Persuasion, Anne is not only pining for Wentworth. She's very much horny for him. She's nursing her heartbreak by drinking red wine alone and going through the mementos she's kept of the relationship they shared all those years ago. He even made a playlist for her — a booklet of music sheets.
The first time Anne and Wentworth meet after those eight years of being apart, it's simply electrifying. They can't take their eyes off each other. The longing is almost palpable. It's the same every time Jarvis and Johnson share a scene. He looks at her with adoring puppy eyes. But you can see he's been deeply wounded by her past rejection.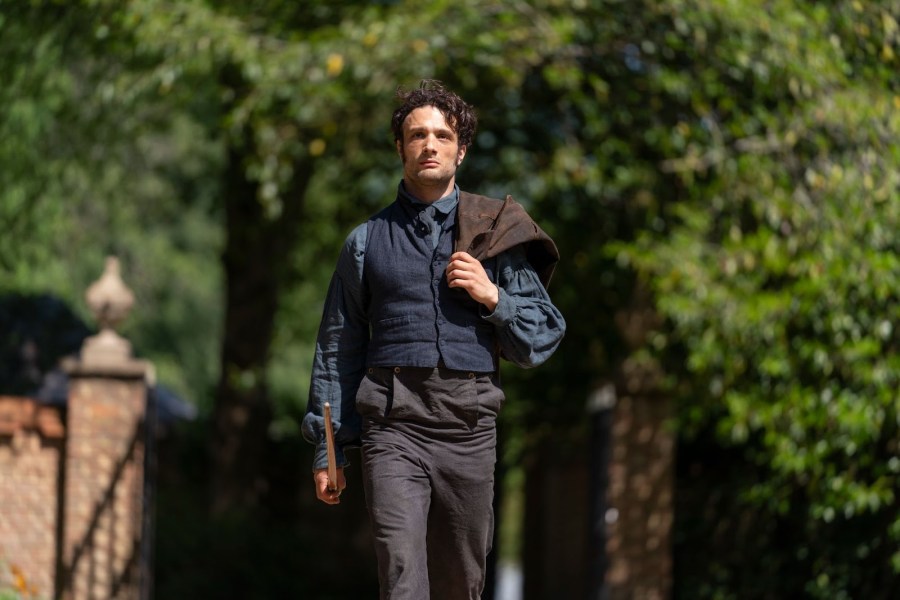 Persuasion's team has kept this adaptation in Austen's Regency era but otherwise modernized it. Not only is Persuasion, the movie, a lot more comedic than the book, but it also carries a few more modern views. So the Austenian study of manners is done more with a 21st-century prism and considering the many ways in which things have changed in the two centuries since Austen's books were written.
In the book, Wentworth declares himself ready to make a foolish match. After years of serving in the navy — he enlisted as a way of coping with Anne's rebuff — he's now back on land and wants to marry. "Anybody between fifteen and thirty" may have him. He only asks for a little beauty, a few smiles, and a few compliments to the navy. In the movie, he wants a little kindness, a strong mind, the same few compliments to the navy — and he'll have anyone between the ages of 18 and 80. Slight changes, but important ones.
"Why must everyone always assume that all women want is to be chosen by any eligible bachelor?" protests Anne at one point during the film, and it certainly sounds like an opposing and more updated argument to Austen's opening line in Pride and Prejudice, "It is a truth universally acknowledged, that a single man in possession of a good fortune, must be in want of a wife." Reacting to that very iconic statement seems to be one of the 2022 trends when it comes to Austen adaptations, by the way. Hulu's Fire Island did the same. "No offense to my girl Jane but that sounds like some hetero nonsense," Fire Island's Noah (Joel Kim Booster) tells the viewer at the beginning of that film, also using voiceover.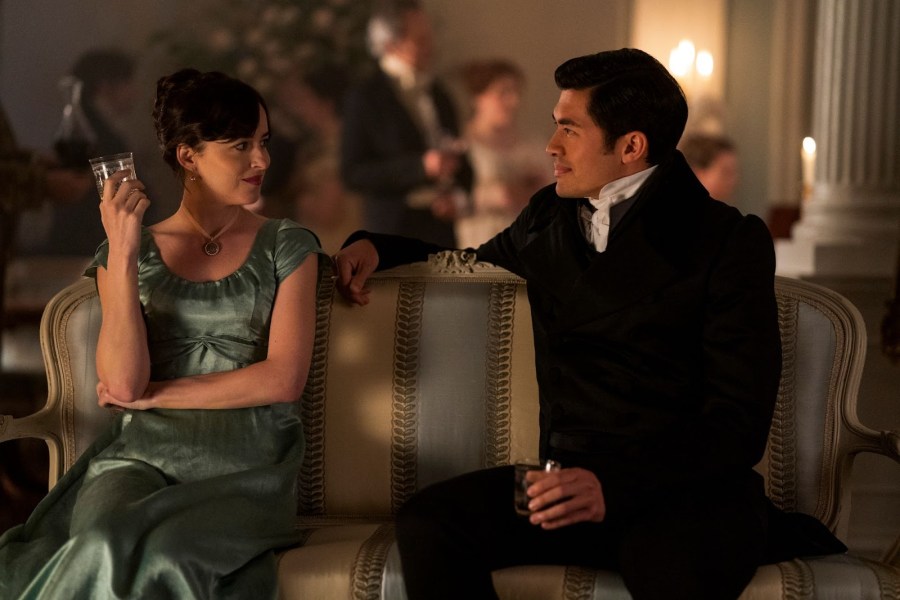 This version of Persuasion not only has upgraded its feminism, but it has also upgraded its humor. "I never trust a ten," Anne says about the swoony and charming Mr. Elliot (Henry Golding). He seems to have an interest in her but she deems him too attractive to be reliable. That doesn't mean they can't get acquainted though. "Imagine my luck, a flirt and a hard worker," Anne tells Mr. Elliot, describing two of his personality traits. "Don't forget rich," he quips.
Most of the time, Johnson is doing half the work in the movie just with her facial expressions, always being there on the joke with the viewer. The other half of the way is carried by sharp and smart dialogue.
Following the growing trend of simply employing actors who are right for the part, the movie opts for color-blind casting. It does it in a slightly different way than the also Regency era-set and recently released Mr. Malcolm's List. In that movie, actors were cast regardless of race even if they played family members. Here, family members look alike and the laws of genetics are followed when it comes to relatives but you still get someone like Amuka-Bird (Luther) playing Lady Russell or Golding (Crazy Rich Asians) playing the very dashing Mr. Elliot. He would never have been cast for this role had the producers of this film decided to be color-conscious about the period. I'm glad they didn't because he's perfect in this part.
Besides all of Persuasion's winning elements, Netflix's production notes for the movie inform me that "roughly 7,400 cups of tea were consumed during production." And I can only support a film so teainated. Plus, when it comes to fandom, I still am very much in favor of a Jane Austen Extended Universe (JAEU).