If you're anything like me, queer coming-of-age shows, like Netflix's Heartstopper, and young adult (YA) novels, like Leah Johnson's You Should See Me in a Crown, got you through some of the last few years' bleakest moments. Sure, the primary audience of these stories is teens, but, for queer adults who didn't have these touchstones growing up, there's something so joyful — and almost healing — about knowing these stories exist in books and on screen now.
But Heartstopper isn't the only coming-of-age show or movie that centers LGBTQ+ characters and allows them the novelty of happiness. To celebrate LGBTQ+ Spirit Day, we're spotlighting 16 queer coming-of-age shows and movies to add to your must-watch queue.
Do Revenge (2022)
Okay, so maybe Do Revenge seems like a surprising pick for this list, but it is a coming-of-age comedy — albeit one that was inspired by Alfred Hitchcock's Strangers on a Train (1951). Co-written by the film's director Jennifer Kaytin Robinson (Someone Great) and Celeste Ballard (Sweet/Vicious), Do Revenge centers on soon-to-be high school seniors Drea (Riverdale's Camila Mendes) and Eleanor (Stranger Things' Maya Hawke).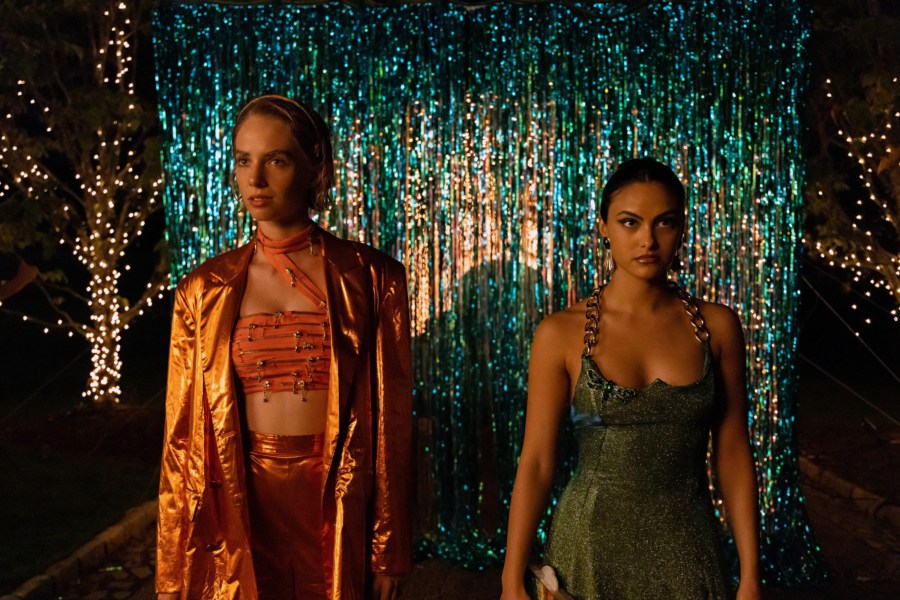 Drea attends Rosehill Country Day High School on a scholarship — something she tries her best to make her wealthy peers forget — and finds herself an outcast when her boyfriend, Max (Dash and Lily's Austin Abrams), anonymously releases an intimate video of her. Over the summer, Drea works at a tennis camp, which where she meets Eleanor, who's transferring to Rosehill in the fall.
When Drea's car breaks down, Eleanor offers her a ride; the conversation lands on what happened to Drea, prompting Eleanor to share that she was made a pariah too when a girl, Carissa (Love, Victor's Ava Capri), spread a rumor about her. That rumor? Well, when Eleanor came out to Carissa, the latter told everyone that Eleanor held her down and forcibly kissed her.
And that's when the duo have an idea: no one at Rosehill knows that Drea and Eleanor have met, which means Drea can get revenge on Carissa, on Eleanor's behalf, and Eleanor can Mean Girls it — get close with the popular kids who were once Drea's friends — to get back at Max on Drea's behalf.
Darkly funny and self-aware, Do Revenge is also a fun homage to iconic teen films and comedies of the last few decades. In true sendup fashion, the high school is absurdly, laugh-out-loud ritzy, and the uniforms make everyone look like Cher (Alicia Silverstone) from Clueless (1995). But that's not the only movie this one references. You'll catch nods to everything from Mean Girls (2004) and Romy and Michele's High School Reunion (1997) to 10 Things I Hate About You (1999) and Cruel Intentions (1999) — and that includes a surprise appearance from Sarah Michelle Gellar, who plays the school's headmaster.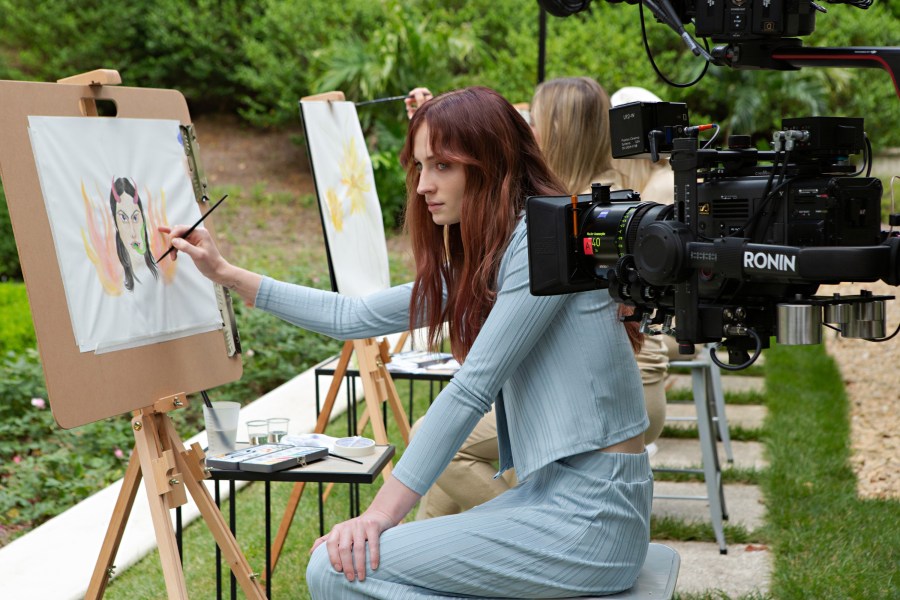 Full of exciting twists, strong performances and admirable wit, Do Revenge also manages to be a distinct film — one that's sure to be a generation-defining classic, much like the films it takes cues from. Oh, and we should mention that Sophie Turner (Game of Thrones) pops up a few times to absolutely steal the show.
Heartstopper (2022–)
Heartstopper's eight-episode first season really taps into some of our favorite romance tropes, including the unlikely friendship between a self-identified nerd and lauded jock that blossoms, a little nervously but always sweetly, into something more. And while the rugby-playing Nick (Kit Connor) is figuring out his sexuality in real time, Heartstopper doesn't revolve around coming out, nor does it frame sharing your identity as a one-time, tear-filled moment.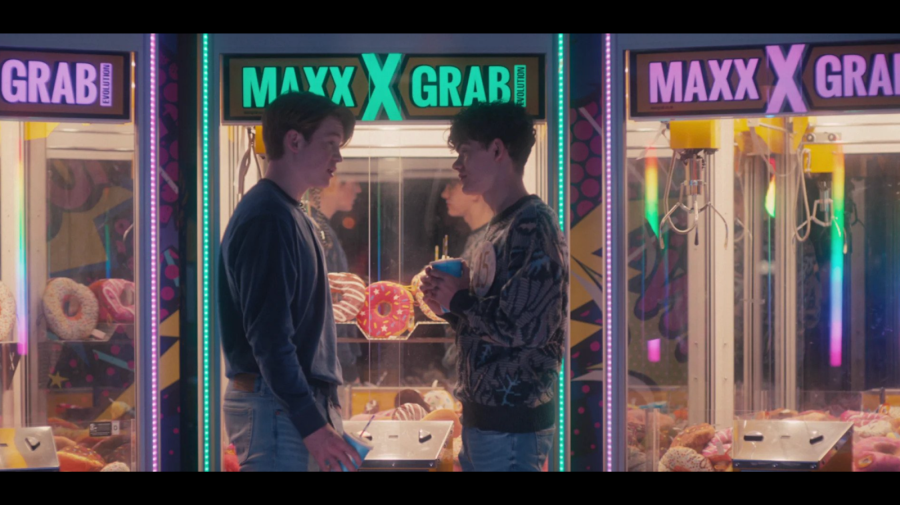 Here, Charlie (Joe Locke), the other half of our favorite couple, has been out for a bit. It wasn't necessarily by choice — bullies made his life hell the year previous — and his love life isn't yet what he deserves. At the show's onset, Charlie meets up with Ben (Sebastian Croft) several times in secret, but it's clear they're in different places. Ben, digging deep into his well of internalized homophobia, puts Charlie down and hurts him. But Charlie finds the strength to put himself first and break things off.
An incredibly fast runner, Charlie is recruited for the school's rugby team by his new home room seatmate, Nick. Sparks fly immediately — and literally, thanks to the show's cute bits of animation that swirl around the characters' heads and add a bit of first-love dreaminess to select scenes.
While some of Charlie's friends tell him not to get his hopes up — that Nick is straight and he should stop crushing on the straight boy — it's clear to the audience that a few things are dawning on Nick. An entire camera roll's worth of photos of him, Charlie and the family dog frolicking in the snow are quite the giveaway. Substituting Ask Jeeves and Quizilla for Google and Buzzfeed quizzes, Nick tries to search the internet for answers to what he's feeling for Charlie. Let's just say, Keira Knightly and Orlando Bloom make Pirates of the Caribbean (2003) both immensely enjoyable and confusing for him.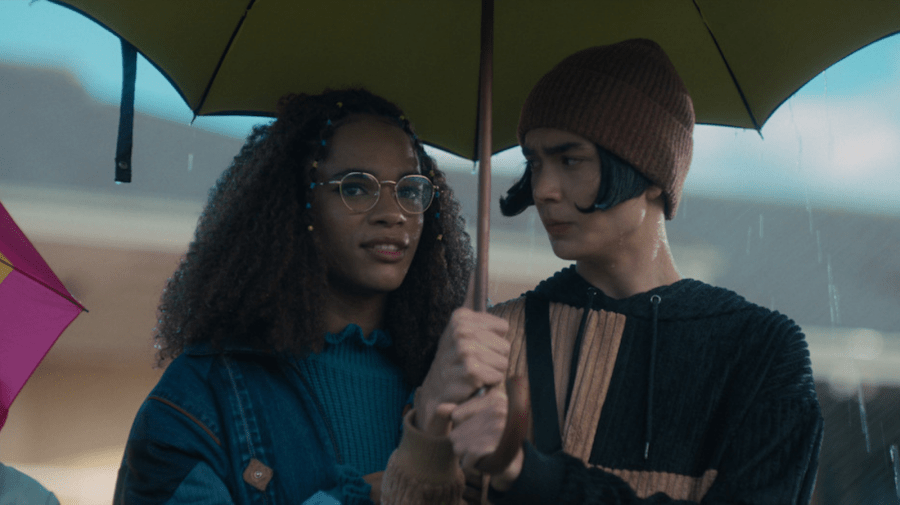 Relatable and incredibly sweet without being saccharine, Heartstopper would be worth it for Nick and Charlie alone. But it also has a delightful ensemble of characters, many of whom are part of the LGBTQ+ community — from the "school lesbians," girlfriends Tara (Corinna Brown) and Darcy (Kizzy Edgell), to one of Charlie's best friends, Elle (Yasmin Finney), who's trans. There's also Olivia Colman as Nick's mom, and, as we know from The Favourite (2018), Colman is nothing if not an ally.
Like I said, Heartstopper is exactly the kind of show so many queer now-adults needed — even if they didn't know it at the time. But it's also just one of the many queer coming-of-age stories out there these days. After all, one story, no matter how good, can't encapsulate all queer folks' experiences, which is one of the many reasons you should add these shows and movies to your must-watch queue.
Anything's Possible (2022)
Penned by burgeoning screenwriter Ximena García Lecuona, Anything's Possible marks Billy Porter's (Pose) directorial debut. This coming-of-age rom-com centers on high school classmates Kelsa (Eva Reign) and Khal (Abubakr Ali). Kelsa is openly trans at a less-than-welcoming school; she can't wait to go off to college and start fresh, in a place where no one knows her. In the meantime, Kelsa posts videos on her fairly popular YouTube account, much to her mom's (Renée Elise Goldsberry) dismay.
And then there's Khal. He's not sure what he wants to do after graduation and finds himself not really on the same pages anymore as his parents and long-time friends. What he is sure of? Khal wants to be brave enough to ask the ever-confident and assured Kelsa out. Reign and Ali have great chemistry; both are charming, funny, sharp and, most of all, relatable.
Hearts Beat Loud (2018)
One of the most important things to notice when you're watching a young adult film or show is the soundtrack. Often, it'll be either incredibly cringey or unbelievably good. There's really no in-between state. Hearts Beat Loud, thankfully, falls into the second camp. As a movie that hinges on music, and centers on a young musician, Sam (Kiersey Clemmons), and her has-seen-better-days Brooklyn rocker dad, Frank (Nick Offerman), that's kind of a must.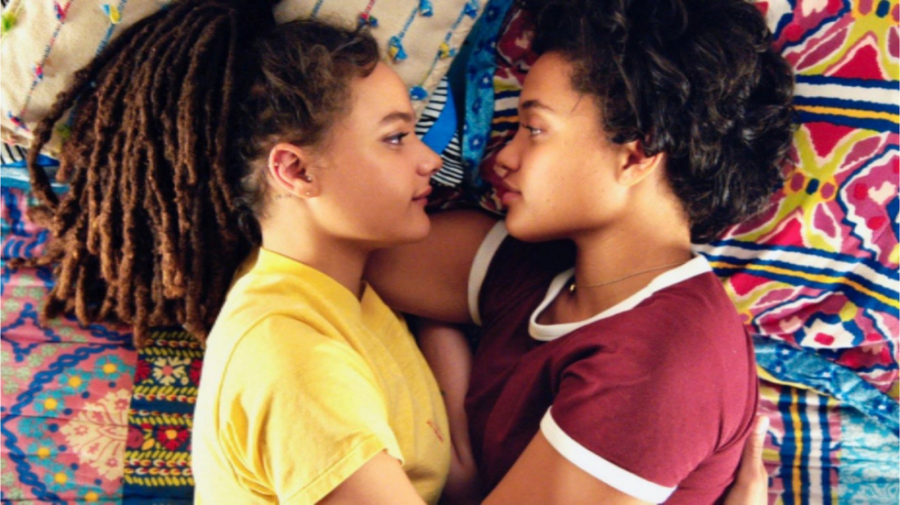 Before you swipe over to Spotify, though, give this movie a watch. There's a cute queer romance between Clemmons' Sam and Sasha Lane's Rose; the actors' chemistry is undeniable, and their relationship feels to develop so naturally, from nervous first hangouts to soul-deep conversations in bed. Not to mention, Hearts Beat Loud puts two queer women of color at the core of this young love story.
While Sam comes of age and into her own, so does her dad, Frank, who owns a record store and connects with his daughter best during their jam sessions. In a sense, Hearts Beat Loud kind of flips the script; after a viral hit, Frank is the one who wants the two of them to pursue music more than anything else. One of the best parts of this one is both how fresh and how comfortable it feels, simultaneously.
Dating Amber (2020)
Originally titled Beards, this Irish dramedy is set in the '90s, and, as you might guess, follows the story of two queer teens, Eddie (​​Fionn O'Shea) and Amber (Lola Petticrew), who decide to date each other. The goal? Ward off any lurking suspicions that they're both gay — making it through high school, after all, is enough of a burden in rural Ireland.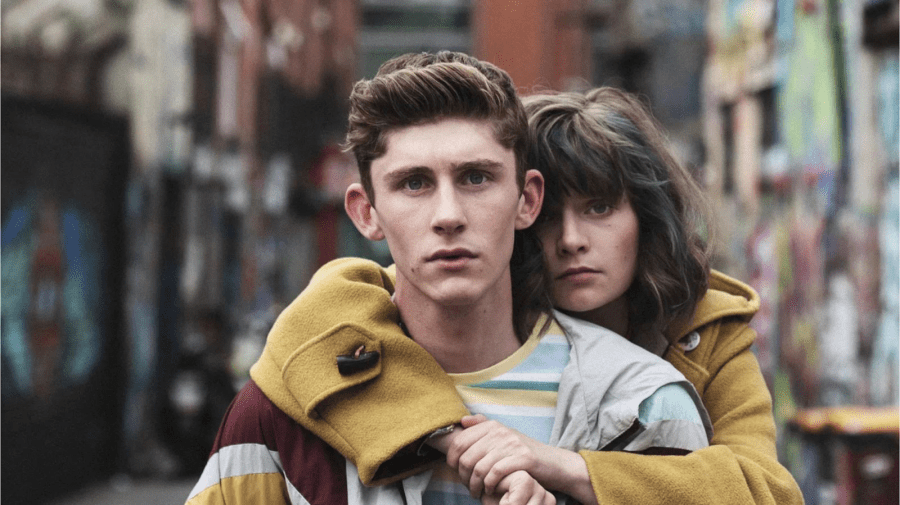 The leads have great energy — especially since their characters are coming at the fake heterosexual relationship, and their true identities, with such different approaches. For Amber, who experienced a difficult loss, getting out of their small town and living a punk, lesbian life in a place like Dublin would be a dream come true. Eddie, meanwhile, is less comfortable about being openly gay, even after high school ends, and he feels pressured by his family to join the military. (Cue toxic masculinity.)
While Dating Amber could've felt a bit outdated or "been there, seen that," it manages to be a lovely little film. Eddie and Amber's friendship will feel particular to queer folks, who know the weight of coming of age on your own until you meet that one person who, maybe, gets it. There's also an incredibly tender scene at a Dublin queer bar that'll stick with you and feel like that warm hug you needed when you were 18 years old.
Sex Education (2019–)
If you've watched Heartstopper, the odds are good that you've delved into Netflix's other British coming-of-age hit, Sex Education. Still, it's certainly worth shouting out here. While Sex Education is a bit more bold, perhaps, than Heartstopper, it also shines a light on the complexities of discovering yourself and your sexuality.
The cast of queer characters expanded with the most recent season's inclusion of Cal (Dua Saleh), a nonbinary student — "I don't really see that many nonbinary characters depicted in ways that are authentic and true to a whole person," the musician said — and one of its main characters, Eric (Ncuti Gatwa), has been a beacon of queer joy since the first season.
Normally, I'd be hesitant to endorse the homophobic-bully-is-actually-gay-and-now-the-love-interest trope, but Adam (Connor Swindells), Eric's love interest, is someone you end up rooting for. In the latter part of the latest season, Eric confronts what it means to be with a white partner and, after a night with a fellow Black queer person, wonders if Adam can ever fully be with him. There's young-love joy here to be sure, but it's also so refreshing to see Sex Education tackle not-often-discussed threads with such thoughtfulness.
Love, Victor (2020–22)
This Love, Simon (2018) spin-off certainly captures a lot of the same sweetness as Heartstopper. Although, much like Love, Simon, it feels like a more sanitized version of a coming-of-age story at times. Often, you think Love, Victor is really going to go there — and then it holds back. (Maybe that has to do with its Disney connection.)
In a review for the show's first season, IndieWire noted "The sweet gay Latinx teen love story is candy for the soul" — and that captures it perfectly. And that's all well and good; we need our fluffy, sweet stuff every now and then. Plus, the young cast of the three-season Hulu show — including Michael Cimino and George Sear, who play love interests Victor and Benji, respectively — brings a lot of charm to the (lunch) table.
And, when the show returns for its third and final season, we'll be curious to see if Victor knocked on Benji or Rahim's (Anthony Keyvan) door.
The Half of It (2020)
You may be familiar with director Alice Wu's debut, Saving Face (2004), which remains one of the greatest rom-coms of all time. The Half of It, which is just Wu's second feature, is a "different kind of love story"; at first glance, that love story is a loose retelling of the Cyrano de Bergerac tale — with a queer twist — but, as the film progresses, it's clear that The Half of It is a love story between friends. And, yes, a self-love story, too.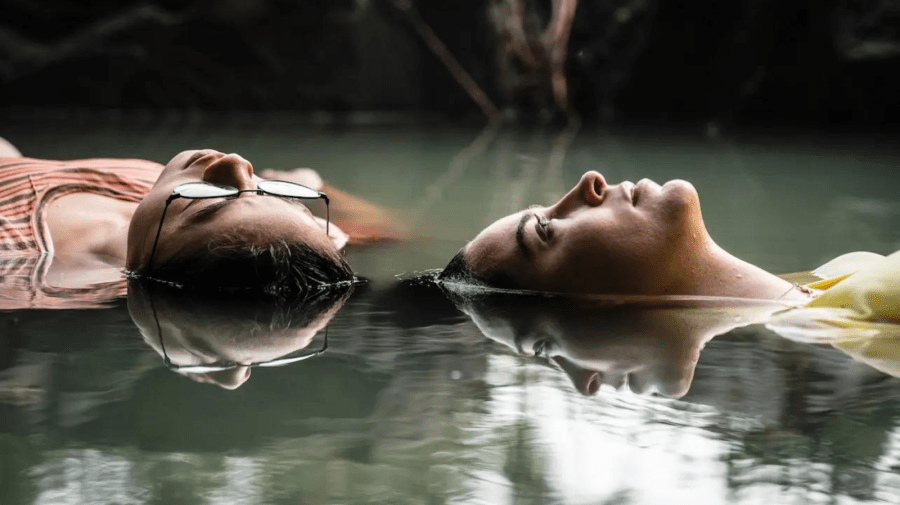 The film's queer protagonist, Ellie Chu (Leah Lewis), lives in the small town of Squahamish, and she spends her free time writing papers for her peers in exchange for money. When she meets Paul Munsky (Daniel Diemer), a well-meaning but inarticulate jock, Ellie writes letters on Paul's behalf to Aster Flores (Alexxis Lemire), his crush — and, as it turns out, Ellie's crush, too.
While this one is more far-off longing than Heartstopper-style butterflies, it's quietly moving and, like Saving Face was a decade ago, refreshing.
Princess Cyd (2017)
Princess Cyd is that little slice-of-life, gem of a movie that you stumble upon when it feels like Netflix is just suggesting the same options to you again and again. Or maybe that was just my experience. At first, I thought it might be a bit too cheesy: 16-year-old Cyd (Jessie Pinnick) is sent to spend the summer with her estranged aunt, Miranda (Rebecca Spence), an academic and author.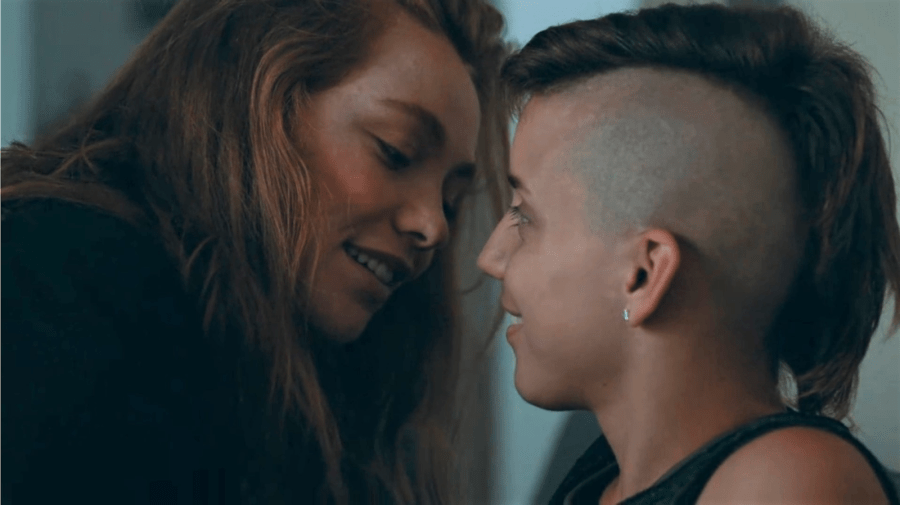 Things are awkward between Cyd and Miranda; they have no idea how to be around each other, no blueprint for their configuration of family. Eventually, the two help each other grow. While Cyd learns more about art and the world, Miranda learns to relax a bit. Princess Cyd also sees our protagonist exploring her sexuality with both a neighborhood boy and Katie (Malic White), a local barista with a killer queercut.
Show Me Love (1998)
Released in Sweden under the controversial title F-cking Åmål, Show Me Love is a queer cult classic. It centers on Agnes (Rebecka Liljeberg) and Elin (Alexandra Dahlström), two teens living in the small town of Åmål. While Elin is popular, but bored with life, Agnes lives with depression and feels she has no friends. After her birthday party goes awry, Agnes finds herself embarrassed, once again, when Elin kisses her on a dare.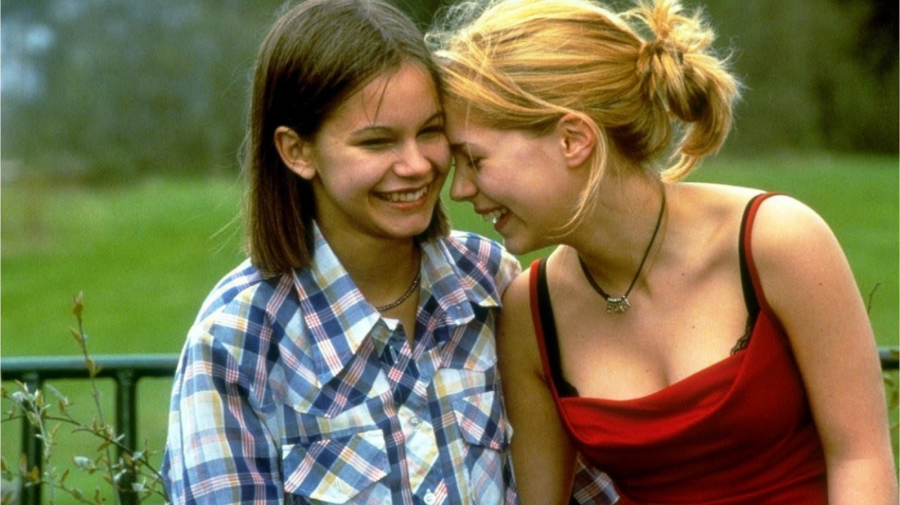 That does lead to some dark moments for Agnes — and we'd like to note a content warning for self-harm — but the film doesn't linger too long there. Elin ends up comforting Agnes, and the two decide their problems could all be solved if they leave "f-cking" Åmål and live in Stockholm instead. While adventuring together, Elin realizes she does have feelings for Agnes, but she doesn't know how to express them. Show Me Love really is a bona fide classic.
Pariah (2011)
Executive-produced by Spike Lee, Pariah marks acclaimed director Dee Rees' debut feature-length film and was adapted from her award-winning 2007 short of the same name. The film stars Adepero Oduye as Alike, a 17 year old from Brooklyn who's eager for her first sexual experience — and to discover what it means to be her whole queer self.
Alike's parents (played by Charles Parnell and Kim Wayans) love their daughter deeply, but mistrust — and fail to really understand — her in the wake of her self-discovery. Praising the raw, tender film, critic Dana Stevens wrote, "Just when you think every coming-out-as-coming-of-age story has been told, along comes Pariah. Adepero Oduye is incandescent as she's forced to code-switch between the ladylike conduct expected by her churchgoing parents and the mystifying rituals of the gay nightclub she frequents."
Crush (2022)
Released on Hulu around the same time Heartstopper debuted on Netflix, Crush is another feel-good (and queer) coming-of-age flick. Much like Heartstopper, the film features several casually queer central characters. In fact, no one really comes out here. Well, our protagonist Paige (Rowan Blanchard) technically comes out in a cute flashback sequence, telling her mom (Megan Mullally) that she's gay while wearing a Tegan and Sara shirt and helping her parent fix the sink. (Classic.)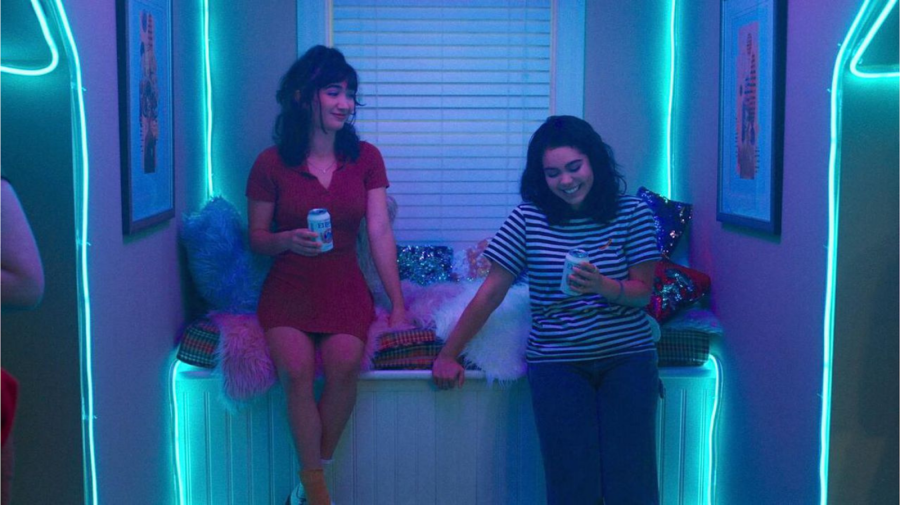 While it's not perfect, and while some of the "teen talk" feels a bit more forced than colloquial, Crush is a cute film on par with a To All the Boys I Loved Before (2018) or a Love, Simon (2018). Paige, a teen artist who desperately wants to get into CalArts, finds herself being blamed for art that's graffiting the school. But it wasn't Paige; she's too consumed with her application, and with crushing on popular girl and track star Gabriela (Isabella Ferreira).
Soon enough, Paige is not only tasked with solving the graffiti mystery, but joining the track team. However, it's not Gabriela she finds herself getting closer to, but Gabriela's twin sister and track co-captain, A.J. (Auliʻi Cravalho).
Water Lilies (Naissance des Pieuvres) (2007)
Directed and written by Portrait of a Lady on Fire filmmaker Céline Sciamma, Water Lilies also stars (a young) Adèle Haenel as Floriane — the girl who the closeted Marie (Pauline Acquart) is enamored with. Louise Blachère, meanwhile, plays Marie's straight friend, Anne, who's also desperate for young love and a summer romance.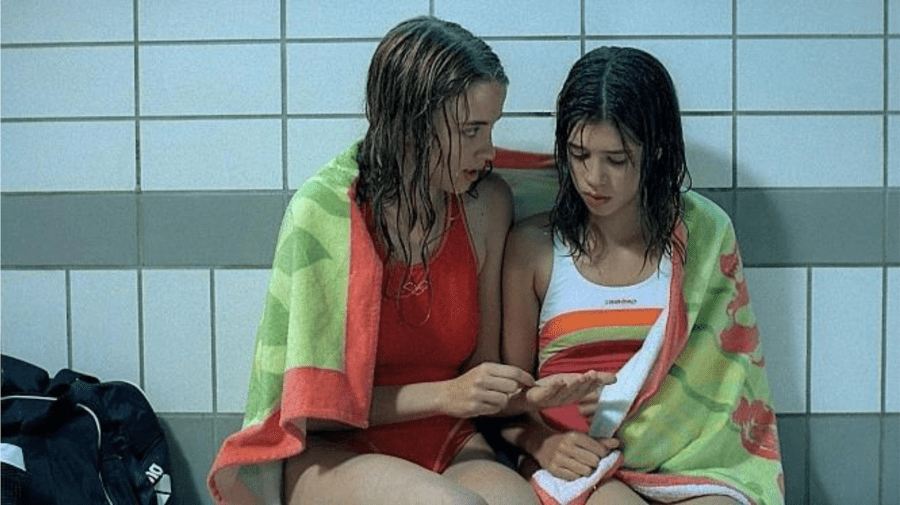 Taking place over the course of a summer in a French suburb, this provocative and deftly written queer coming-of-age film explores the power of sexual attraction, but also the sort of nostalgia we have for our own adolescence. "With every glance I see memory forming in Anne, in Marie, in Floriane," writes Autostraddle's Drew Gregory. "I see moments they're not old enough to understand that will be revisited again and again until they do."
The Way He Looks (Hoje Eu Quero Voltar Sozinho) (2014)
Based on writer and director Daniel Ribeiro's 2010 short film I Don't Want to Go Back Alone (Eu Não Quero Voltar Sozinho), The Way He Looks is a coming-of-age story set in Brazil. Leonardo (Ghilherme Lobo), a blind high schooler, is frustrated with his overbearing parents and lamenting the fact that he hasn't kissed anyone yet. Leonardo tells his best friend, Giovana (Tess Amorim), that he's afraid nobody wants to kiss him.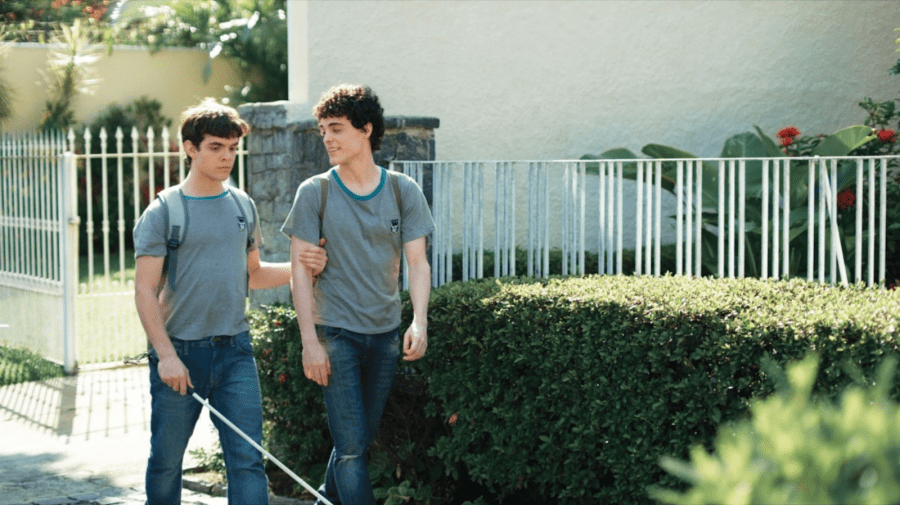 And then, one day, a new student shows up at school. Pretty quickly, Leonardo bonds with this newbie, Gabriel (Fábio Audi). The tentative, slow-burn romance that follows is cute — and there's an exhilarating scene with the teens on a bike that really captures all the bluster of young love.
The Miseducation of Cameron Post (2018)
Based on emily m. danforth's coming-of-age novel of the same name, The Miseducation of Cameron Post was written and directed by Appropriate Behavior's Desiree Akhavan. Set in 1993, the film follows Cameron Post (Chloe Grace-Moretz), who's involved in a secret same-sex relationship with her best friend Coley Taylor.
Cameron is outed when her beard boyfriend discovers her hooking up with Coley at the homecoming dance, which, in turn, causes Cameron's aunt to send her to God's Promise, a gay conversion therapy center run, in part, by a guitar-toting J​​ohn Gallagher Jr.
Sure, this film isn't the most "full of unbridled joy and only joy" pick on this list, but, despite the heavy material, Cameron Post isn't without some real biting humor and warm moments. Much of that can be attributed to the queer pals Cam meets at God's Promise, Jane Fonda (Sasha Lane) and Adam Red Eagle (Forrest Goodluck). The trio make it through because they have each other, underscoring the importance — and power — of their chosen family.