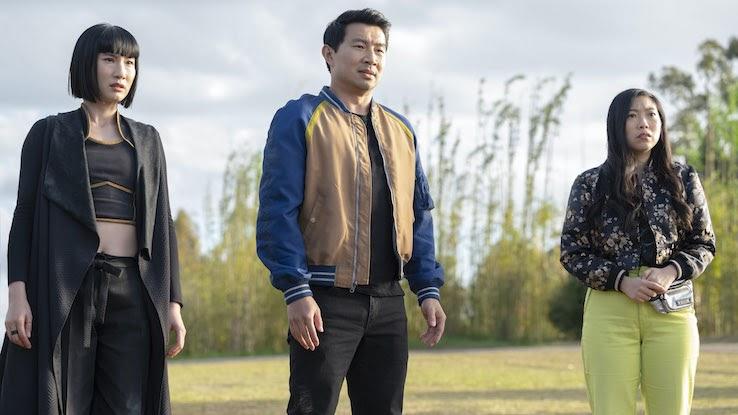 Rating: 6/10
Call me film buff blasphemous, but I think I would have enjoyed Shang-Chi and the Legend of the Ten Rings a lot more had I watched it from the comfort of my living room. The new Marvel Cinematic Universe (MCU) installment opens exclusively in theaters on September 3. Unlike what happened with Black Widow, Shang-Chi won't be released simultaneously on Disney+, but it is expected to hit the streamer after a 45-day cinematic run.
I'm not sure I see the rationale behind Disney's decision. I caught an evening press screening of the 132-minute film and the whole double masking and social distancing from colleagues felt a bit stressful with novel coronavirus cases on the rise once again. Plus, at some point during the pandemic, I became unaccustomed to getting home after 9 p.m.
But platform of choice aside, the movie is a must-watch for those who've been following the last 13 years of MCU's increasingly interconnected features and TV shows. Directed by Maui-born Destin Daniel Cretton (Just Mercy), whose mother is Japanese American and whose father is white, Shang-Chi marks Marvel's first Asian-led superhero film. It stars Chinese Canadian actor and stuntman Simu Liu as Shang-Chi and rapper and comedian Awkwafina (The Farewell) as his best friend Katy.
They both live in San Francisco and regardless of their promising pasts — he speaks four languages, she has a degree from a top university — they work as valets. They argue that theirs is actually the most challenging of professions: you need people skills, driving skills and the ability to parallel park. I must admit they have a point. They live hedonistically, seizing the day and partying together at karaoke dives by night. It's suggested their self-indulgent ways may have been caused by the Blip. Also, notice that when an MCU property titles its action as taking place in "Present Day," they actually mean sometime in or after 2023 — which is when Avengers: Endgame ended and WandaVision took place.
Awkwafina and Liu make for the perfect acting duo; they have great friendship chemistry and comedic timing. Pretty early on in the film, they share the infamous fight sequence aboard a moving Muni bus in San Francisco. They're an ideal team. She does the hilly driving, he does the kicking of ass. By the end of the ride, all passengers are safe because of their teamwork.
Shang-Chi's Calculated Formula
Awkwafina's Katy is not the only character sharing the screen on equal terms with the film's protagonist. The cast is rounded out by Meng'er Zhang playing Xialing, Shang-Chi's sister; Tony Leung as Wenwu, Xialing and Shang-Chi's dad; and Michelle Yeoh as Ying Nan, their aunt. There are also guest appearances by Benedict Wong and Ben Kingsley.
Veteran performers Leung and Yeoh steal pretty much every scene they're in and they certainly supply the movie with a lot of gravitas, while Liu and Awkwafina are more in charge of the comedic portions. Zhang, on the other hand, makes for the perfect younger sister to Liu. Both performers share a wrestling scene in which they fight like only a couple of siblings could do — a couple of siblings with martial arts training and perfect six-packs, that is. And MCU fans will be delighted with Wong's cameo, which has him reprising his role from Doctor Strange (2016), Avengers: Infinity War (2018) and Endgame (2019). While Kingsley resumes his work as Trevor Slattery, the jester hired to pretend he was the Mandarin in Iron Man 3 (2013).
But Shang-Chi and the Legend of the Ten Rings is not only an ensemble; it also tells two stories in one. Besides Shang-Chi's contemporary quandaries, you'll learn about the legend itself and how Shang-Chi's dad met his mom (Fala Chen) and abandoned his Wenwu days, in which he led the criminal syndicate the Ten Rings.
Even though Shang-Chi and the Legend of the Ten Rings is quite exposition-heavy — a thousands-year-old legend takes time to explain — you won't immediately feel that the movie could use more dynamism. Shang-Chi follows quite the elaborate recipe: action sequence with perfectly choreographed hand-to-hand combat scene in slow motion, which is followed by a dialogue sequence that introduces new things about the characters, interspersed with a couple of jokes, which in turn is followed by a flashback sequence about Shang-Chi's parents' past and the tale of the Ten Rings. Repeat.
Shang-Chi's Brand of Humor and Fighting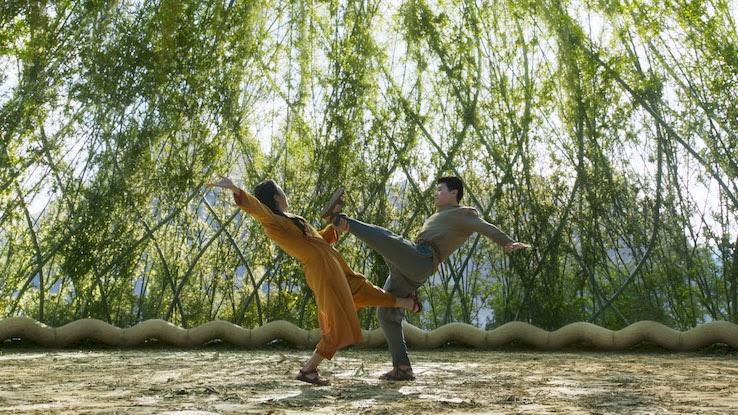 The movie's boredom-proof structure — I only felt its rhythm faltering by the end, before the classic "big long final battle sequence" — benefits from smart humor and sophisticated fights.
Shang-Chi's brand of humor almost reminded me of Taika Waititi's Thor: Ragnarok (2017). Katy — confidently dressed in fluorescent yellow pants, a patterned bomber jacket and a silver fanny pack — does most of the heavy-lifting when it comes to jokes. She receives some help from an acolyte of Xialing, played by comedian Ronny Chieng (Crazy Rich Asians), who the gang meets in Macau. He's fast to reassure Katy that even if her local brogue isn't good, he speaks "ABC" (American-born Chinese). Kingsley's Trevor also supplies a fair amount of laughs.
Then there's the action. I'm no fan of fighting sequences but I enjoyed most of the ballet-like style Cretton devised for his movie. Guns are almost absent and there's a preference for hand-to-hand combat and martial arts. I literally felt vertigo watching a chase-turned-fight scene atop the scaffolding of a skyscraper. I didn't appreciate some of the more CGI-heavy sequences in the movie though. Even if a portion of the plot takes place in quite an extraordinary place, there was no need for so much digitalization. Especially considering the production took place in Australia.
I don't think I need to tell you this — but stay for the credits. All the credits. There's a mid-credits sequence with a couple of welcome cameos I don't want to spoil. And a post-credits sequence that can give you an idea of what the future of the Ten Rings holds.
I mentioned Shang-Chi is a must for MCU fans. But it may prove difficult for the movie to make a box-office impact with the Delta variant being such a cause of concern. Disney's CEO Bob Chapek qualified the 45-day exclusive theatrical release window of the movie as an "interesting experiment" in a recent earnings call.
Star Liu tweeted "We are not an experiment," in a move that's been interpreted as a reaction to Capek's comment. It's easy to understand the frustration. Shang-Chi is the 25th feature in the MCU and only the first one led by an Asian character. This indeed wasn't the time for experiments.