Nothing says "summer" like being shipped off to camp. At least, that's what the summer camp movies tell us.
Younger kids, teens, adults playing teens — no matter your age, summer camp and all of its trappings are quintessential fare. Summer camp movies may all share similar touchstones, like cabins with bunk beds, a bustling cafeteria, the woods, but they also encompass many genres. Here, we've rounded up 11 classic summer camp movies, from comedies like Wet Hot American Summer (2001) to slashers like Fear Street Part Two: 1978 (2021). 
Plus, we're delving into the controversial mixed bag that is They/Them (2022). Now streaming on Peacock as of August 5, the movie tries to blend commentary on the horrors of LGBTQ+ conversion therapy with summer camp slasher tropes.
Comedic Summer Camp Movies
Wet Hot American Summer (2001)
It's not really an exaggeration to say that Wet Hot American Summer changed comedy movies — and for the better. The non sequiturs and blunt delivery of some truly unhinged lines may seem like the norm in the comedy world now, but in 2001 it felt incredibly bizarre. So much so that the film kind of flopped when it hit screens. Of course, these then-divisive comedic stylings are also part of what help the film hold up today.
Set at the fictional Camp Firewood on the last day of summer camp in 1981, Wet Hot American Summer spoofs the sex comedies of the '80s and '90s, all with deft satire and a penchant for embracing absurdity. The characters are all played by adult cast members who are very clearly not teenagers, which is, in and of itself, a great joke. Speaking of, the cast of this cult classic is absolutely stacked with comedy giants.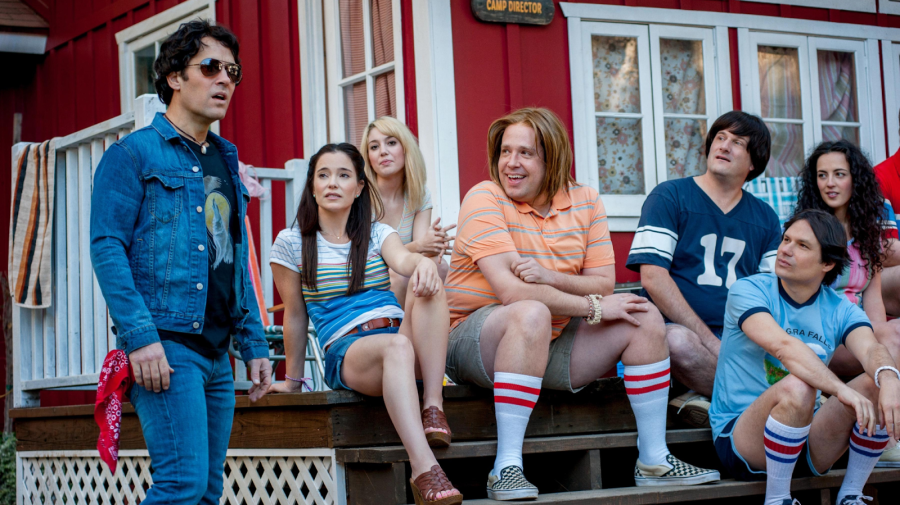 The list of greats includes: Janeane Garofalo (Romy and Michele's High School Reunion), David Hyde Pierce (Frasier), Molly Shannon (The White Lotus), Paul Rudd (Avengers: Endgame), Christopher Meloni (Law & Order: SVU), Michael Showalter (The Big Sick), Marguerite Moreau (The Mighty Ducks), Ken Marino (Burning Love), Michael Ian Black (Insatiable), Amy Poehler (Parks & Rec), Bradley Cooper (The Hangover), Elizabeth Banks (Pitch Perfect), Joe Lo Truglio (Brooklyn Nine-Nine), Judah Friedlander (30 Rock) and (the iconic voice of) H. Jon Benjamin (Archer, Bob's Burgers).
Without a doubt, Wet Hot American Summer took summer camp movies "higher and higher," even spawning two Netflix miniseries, Wet Hot American Summer: First Day of Camp (2015), and its follow-up Wet Hot American Summer: Ten Years Later (2017). Both series saw most of the original actors reprising their roles.
Troop Beverly Hills (1989)
Much like Wet Hot American Summer, Troop Beverly Hills bombed in its day. Now, though, it's as much a cult classic as Romy and Michele's High School Reunion (1997) or Clueless (1995). Part of the contemporary cult following for the film stems from its refreshingly feminist message.
The comedy centers on Phyllis Nefler (Shelley Long), a Beverly Hills housewife who becomes the leader of a local Wilderness Girls troop to prove to her husband that she can follow through with anything she wants.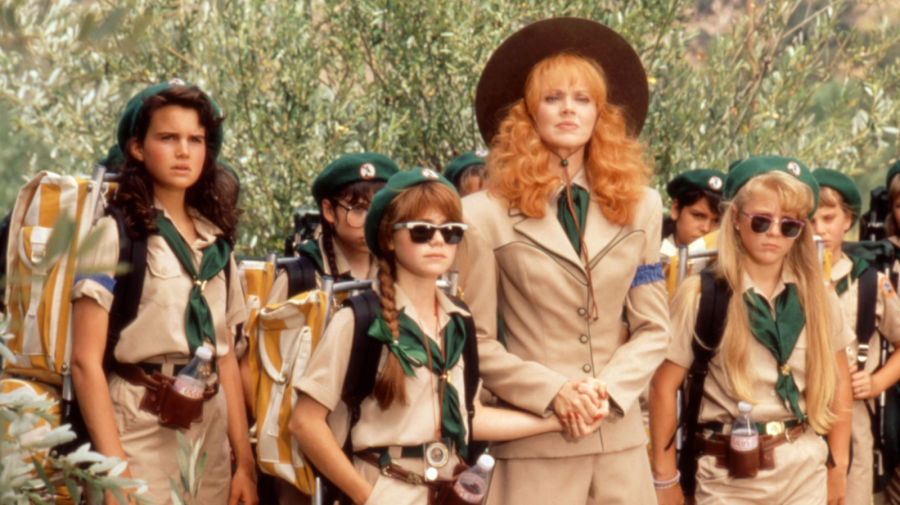 Of course, Phyllis isn't taken seriously by anyone. Betty Thomas (Kidding) plays the leader of a rival troop who makes it her mission to dissolve Troop Beverly Hills. To prove their ability as scouts, the troop, and their unlikely den mother, end up having to prove their skills at the annual jamboree. Despite not really featuring a camp, Troop Beverly Hills makes our list for having the spirit (and aesthetic) of summer camp movies.
Meatballs (1979)
More wholesome than the raunchy (and landmark) comedy Animal House (1978), Meatballs is one of the quintessential summer camp movies of all time. Again, it didn't quite "wow" everyone when it hit theaters, but it was a huge commercial success, becoming the highest grossing Canadian film at that time.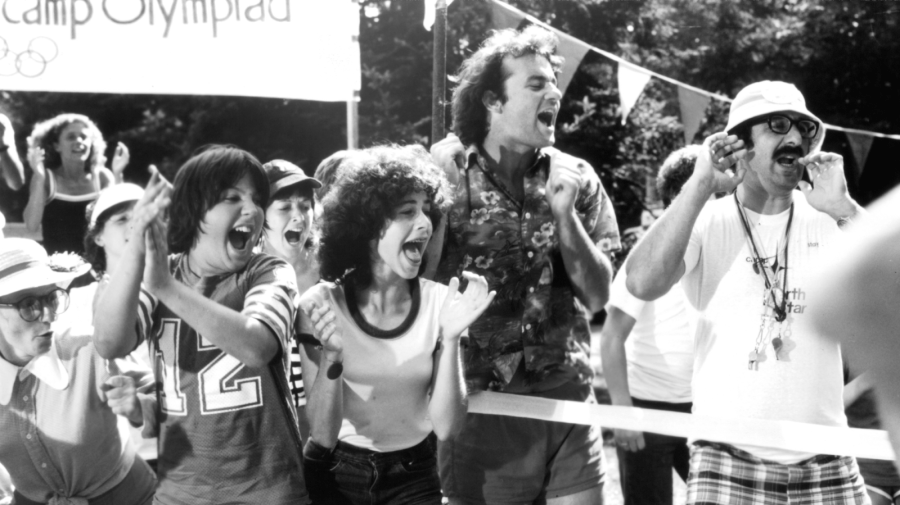 But we definitely owe the comedy classic something. Not only did it launch Bill Murray's movie star career, but it also gave director Ivan Reitman some footing in Hollywood, allowing him to make later hits like Ghostbusters (1984).
In Meatballs, Murray plays Tripper Harrison, a camp counselor who's tasked with training the new hires at Camp North Star. Tripper also bonds with would-be runaway camper Rudy (​​Chris Makepeace) and, in one subplot, partakes in a sports contest against the rival camp. 
Moonrise Kingdom (2012)
This coming-of-age dramedy by acclaimed stylist and director Wes Anderson (The Grand Budapest Hotel) has been dubbed one of the best films of the 21st century. It's also one of those classic summer camp movies — just with a colorful, quirky twist.
Set on a fictional New England island, Moonrise Kingdom centers on Sam Shakusky (Jared Gilman), a 12 year old orphan who attends Camp Ivanhoe for the summer. Nearby, Suzy Bishop (Kara Hayward), a fellow 12 year old, lives with her family in a house called Summer's End.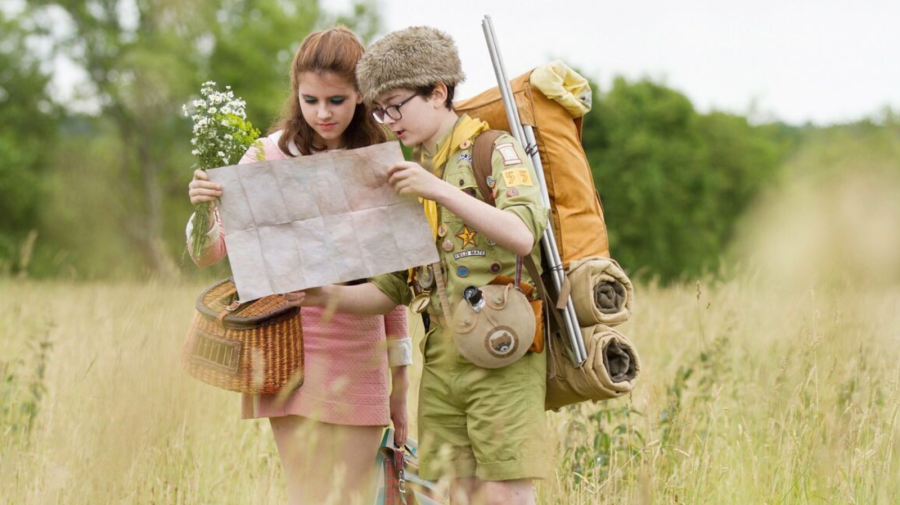 After the introverted and mature-for-their-age preteens meet, they become pen pals. When romance blossoms, they plot to run away together, causing some alarm for the adults on the island, including Khaki Scout Master Randy Ward (Edward Norton), Captain Sharp (Bruce Willis) and Social Services (Tilda Swinton).
La llamada a.k.a. Holy Camp! (2017)
La llamada, a Spanish film known as Holy Camp! in its wide release, adapts a musical of the same name that's been running for several seasons in Madrid. The musical comedy film took home the award for Best Original Song at the Goya Awards (the Spanish equivalent of the Oscars) a few years back, and, once you hear some of the tunes, you won't be surprised that Javier Ambrossi and Javier Calvo's adaptation is a cult hit.
Set at the Catholic summer camp of La Brújula, Holy Camp! centers on two rebellious teens, María (Macarena García) and Susana (Ana Castillo). One night, they sneak away from the religious camp to attend a concert — they both love reggaeton, which isn't exactly openly lauded at La Brújula. The film also dips into the lives of the nuns who run the camp, the seemingly strict Mother Bernarda (Gracia Olayo) and her sidekick, Sister Milagros (Belén Cuesta).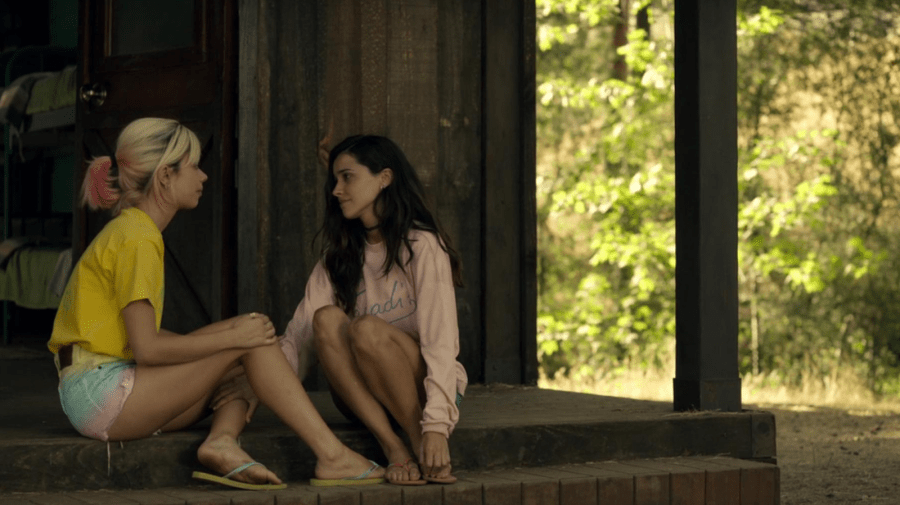 We won't spoil where this one goes, but we will say several of the characters start rethinking their lives. María, for one, thinks she's being visited by God — a version of God that The Hollywood Reporter aptly describes as "a middle-aged guy, beardless, who stands on steps dressed like Liberace and belts out soul ballads like 'I Will Always Love You' for all he's worth." Sister Milagros, meanwhile, likes to ditch her habit and sing '80s pop ballads.
Yes, it sounds ridiculous, but Holy Camp! really is a fun time, and one of the best summer camp movies out there.
Summer Camp Movies for the Whole Family
The Baby-Sitters Club (1995)
While we're still salty over Netflix's unjust cancellation of the two-season Baby-Sitters Club series, revisiting some summer camp movies is the perfect way to stay in touch with a version of the beloved characters. Based on Ann M. Martin's long-running series of books, the film is set in the fictional Stoneybrook, Connecticut. There, Kristy Thomas (Schuyler Fisk), the Baby-Sitters Club president, hopes to open up a daycare camp for their clients' children.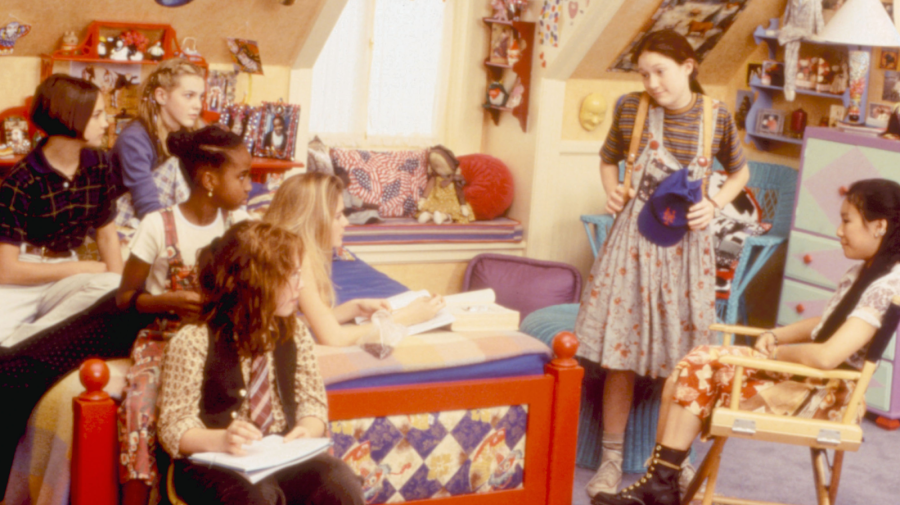 Of course, that's easier said than done. Although a pristine New England backyard serves as the backdrop for this "campsite", the coming-of-age tale, silly hijinks and growing pains all make this summertime story feel like a real camp movie. Plus, it stars Ellen Burstyn as (honestly very relatable) Mrs. Haberman, a neighbor who becomes increasingly annoyed by the camp's activities.
The Parent Trap (1998)
Technically only the opening chunk of The Parent Trap takes place at a summer camp, but this unrivaled cinematic masterpiece from the one-and-only Nancy Meyers (The Holiday) deserves a shoutout. After all, Hallie and Annie — identical twins who were split up as children when their parents (Dennis Quaid and the late Natasha Richardson) divorced — discover one another's existence at camp. That's pretty pivotal.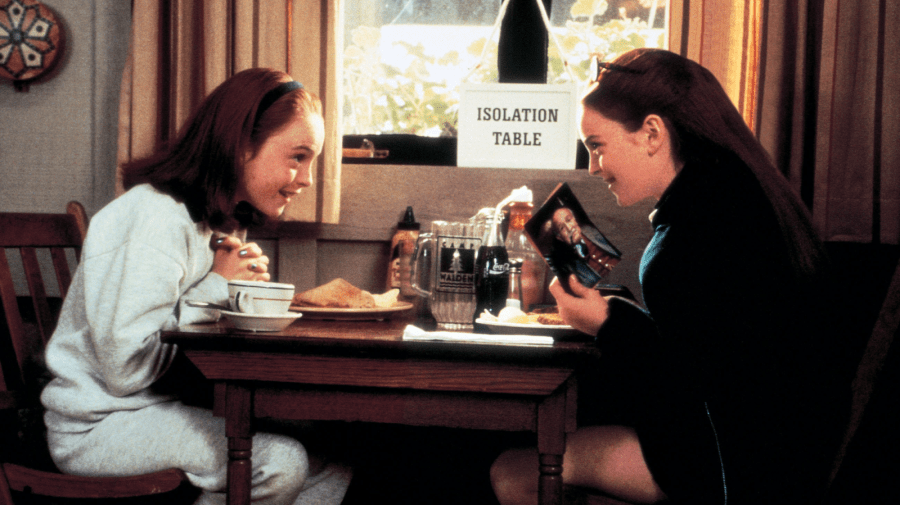 Here, Lindsay Lohan easily outdoes Hayley Mills and her 1961 version of the same story, so much so that many of us '90s kids recall being unsure if Lohan had a twin, a la Mary-Kate and Ashley Olsen. The camp touchstones are all there, too. We've got the pile of duffel bags, the eating snacks from the canteen, an isolation table in the cafeteria, a dare that involves a dock and lake, cabins that are the staging ground for pranks, Oreos and peanut butter during a rainstorm — the list goes on.
With a perfectly curated soundtrack and, in true Nancy Meyers fashion, homes to die for, this one is a feel-good classic. There's a lot to say about The Parent Trap. We could unpack it for hours — we could eat and then unpack, unpack and then eat or eat while we unpack, even.
Horrifying Summer Camp Movies
The Final Girls (2015)
The Final Girls, a horror comedy that stars American Horror Story's Taissa Farmiga and Malin Åkerman (Harold and Kumar Go to White Castle), is woefully underrated. In fact, it's kind of a meta film — but in a way that's actually good. It also features some great supporting performances from Thomas Middleditch, Alia Shawkat and Nina Dobrev.
The movie follows Max Cartwright (Farmiga) whose mom, Amanda (Åkerman), is a down-on-her-luck actress. After starring in the fictional 1986 cult classic Camp Bloodbath, Amanda has been pigeon-holed by Hollywood; everyone sees her as the film's scream queen and final girl, Nancy.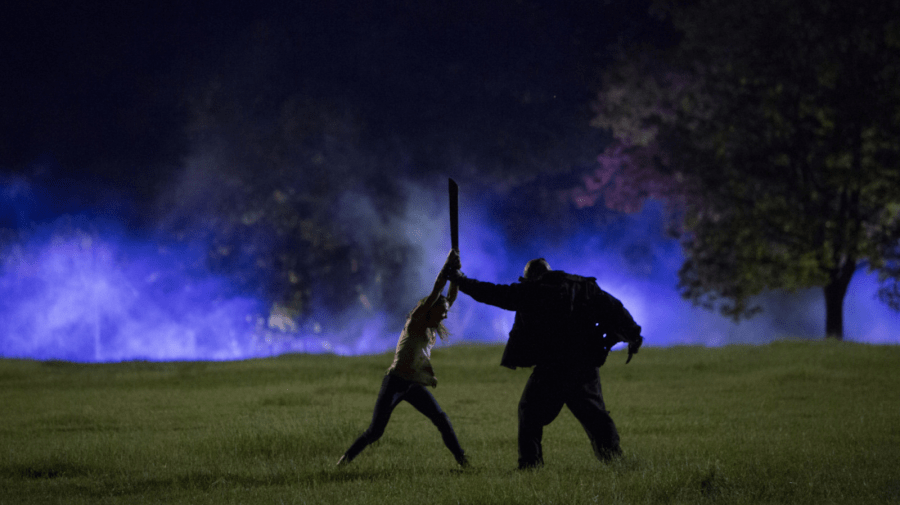 In the opening sequence, Amanda is killed in a car accident. The film picks up a few years later; Max is still grieving the loss of her mother, but is convinced by some friends to attend a double-feature showing of Camp Bloodbath and its sequel. When a fire breaks out in the theater, Max cuts a whole in the screen to get her friends to safety — but the teens find themselves transported into the movie, Camp Bloodbath.
What happens next is a sendup of summer camp movies and slasher films set at those summer camps. But, in between the laughs and the dissection of horror tropes, The Final Girls also manages to be surprisingly touching.
Friday the 13th (1980)
A classic slasher film, Friday the 13th was prompted by the success of John Carpenter's Halloween (1978). As you probably know, the movie follows a group of teenage camp counselors who are trying to reopen an abandoned summer camp. Of course, the camp was abandoned for good reason — something the teens come to realize as they're killed off one by one.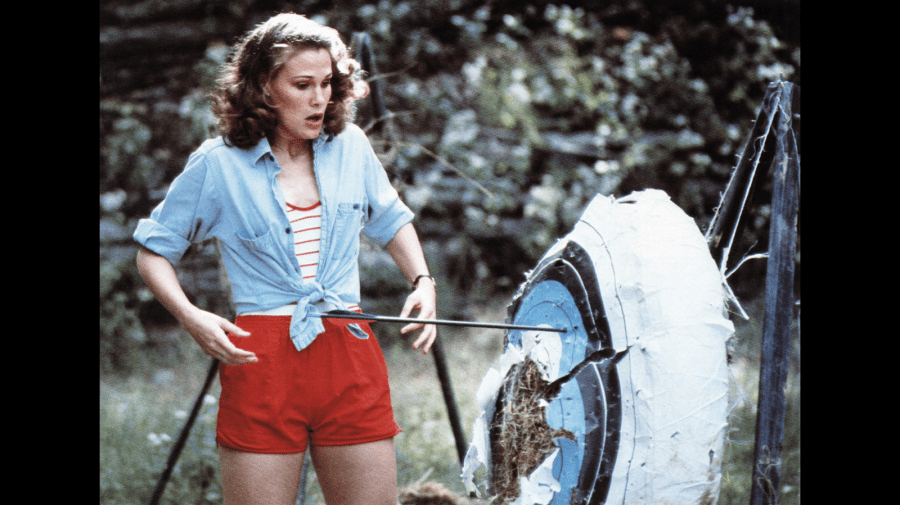 The film plays with a lot of horror tropes, but also those typical trappings of summer camp movies. The opening scene shows us Camp Crystal Lake in 1958; two counselors sneak off to hook up, only to be murdered. Friday the 13th is the origin story of Jason Vorhees — a boy who drowned in the camp's lake because those aforementioned counselors were a bit distracted. Although a bit sparse, this one is a tried-and-true classic.
The Burning (1981)
Like many of the summer camp movies on this list, The Burning has become something of a cult classic since its initial release. Much like Meatballs, it comes with some cinema fun facts: The Burning actually marks the beginning of the careers of Jason Alexander (Seinfeld) and Holly Hunter (The Piano).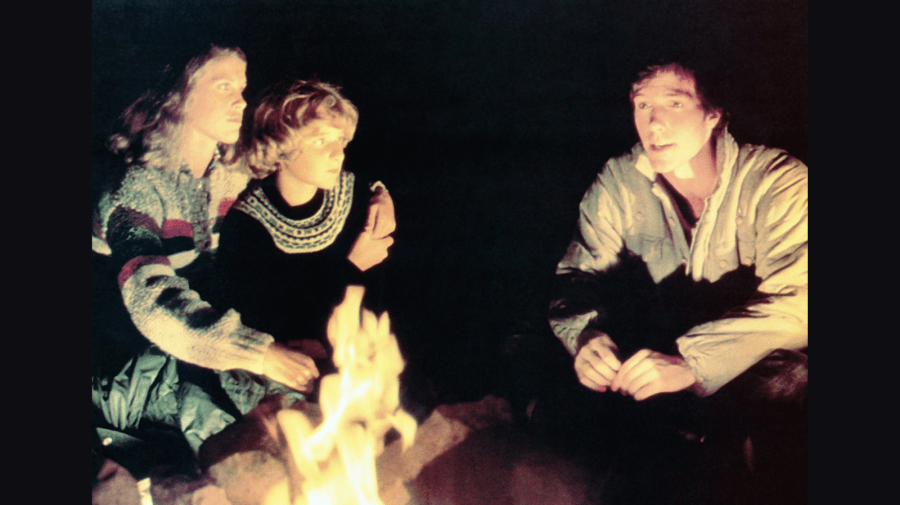 Based on a New York state urban legend, the movie centers on a caretaker named Cropsy (Lou David). When a prank by some campers goes horribly wrong, Cropsy is burned in a fire. Although he survives, Cropsy's injuries are severe; he spends five years in the hospital. After his release, he arms himself with some garden shears and, in true slasher fashion, sets out to kill some campers. While Friday the 13th is the superior '80s slasher-at-a-camp film, this one certainly has a place in film history.
Fear Street Part Two: 1978 (2021)
The second installment in Netflix's adaptation of R.L. Stine's book series of the same name, Fear Street Part Two is set in the '70s and centers on a group of teens at Camp Nightwing. The first Fear Street, which is set in 1994, ends with siblings Deena (Kiana Madeira) and Josh (Benjamin Flores Jr.) restraining Deena's possessed girlfriend, Sam (Olivia Scott Welch). Soon after, our protagonists learn the story of the Camp Nightwing massacre.
It's, of course, that massacre that Fear Street Part Two chronicles. Camp Nightwing is composed of counselors from both Shadyside — the cursed, death-filled town — and the neighboring crime-less Sunnyvale. If you've seen Part One, you'll grasp the rivalry more fully.
But our '70s-era protagonist, the Shadyside youth Ziggy Berman (Stranger Things' Sadie Sink) is accused of stealing and witchcraft by some Sunnyvale campers. From there, things go the route of supernatural possession and murder, making this a riveting middle installment in the Fear Street trilogy.
What IsThey/Them (2022) About?
And that brings us to They/Them. When the trailer for the film dropped, folks took to Twitter in confusion: was it a mishandled social commentary horror film — or an offensive attempt at a joke? The initial confusion cleared up a bit when viewers realized some openly queer actors and filmmakers were involved in the movie. Still, does They/Them hit the mark?
When the film hit theaters, reviews were decidedly mixed. With They/Them releasing on Peacock, the critical consensus has only dipped lower and lower on the Tomatometer. "So much potential is squandered when it tries to be two, even three movies at the same time," Gena Radcliffe writes for The Spool, "and only one of them comes anywhere close to working."
As mentioned above, They/Them sees a group of queer and trans teens arriving at an isolated conversion camp in the woods. And, on top of the conversion therapy horror, there's a slasher element to it. Produced by Blumhouse and starring Kevin Bacon, Anna Chlumsky (Veep) and Theo Germaine (Work in Progress), They/Them seems more akin to the social commentary-meets-horror misfire that was The Hunt (2020) than masterpiece-level horror projects like Get Out (2017).
Writing for CNN, reviewer Brian Lowry perhaps sums it up best, noting that, "[E]ven defiant moments and speeches about self-acceptance can't overcome a sense that this serious and timely issue is being employed as a device to conjure another wrinkle on the teenagers-in-peril formula."