Rating: 7/10
The first season of Ted Lasso — the Apple TV+ workplace comedy in which Jason Sudeikis plays a football college coach from Kansas who ends up training a professional soccer team in the English Premier League — has 20 Emmy nominations. And the surprise hit — it has already been renewed for a third season — shows all signs of taking home the Outstanding Comedy Series and a bunch of other coveted awards.
Its 12-episode second season debuts on the streamer on July 23 with a one-new-episode-per-week release model. And while Ted Lasso still is a feel-good series that'll keep you grinning and laughing out loud throughout, this new batch of chapters — eight of them were available for review — don't necessarily live up to the original ones.
It was a very tall order. Season one was the perfect balance of heartwarming, upbeat, entertaining and not at all timid in its wokeness. Season two tries to employ the same recipe but its jolliness and total lack of cynicism — which made season one so unique and welcome — sometimes veer into the sugarcoated. The sugar is exceedingly dispensed in a rom-com episode filled with references to Jerry Maguire and When Harry Met Sally as well as in a Christmas one that felt not only sentimental but out of place considering it'll air in August. Also, the episodes tend to be a little bit longer — all of them are well over 30 minutes long this season — and tighter tends to be better when it comes to comedy.
Don't get me wrong: if you liked season one, you'll still be able to enjoy this new installment. On the outside, Ted (Sudeikis) keeps being his usual happy-go-lucky self — albeit dealing with some personal issues — and has some of the best one-liners in the show. "I haven't seen someone that disappointed to see me since I wore a red baseball cap to a Planned Parenthood fundraiser," he quips at one moment. "I've never met someone who don't eat sugar. Only heard about them and they all live in this godless place called Santa Monica," he says when someone is inexplicably not that charmed by his homemade biscuits.
Less Ted Lasso and More Ensemble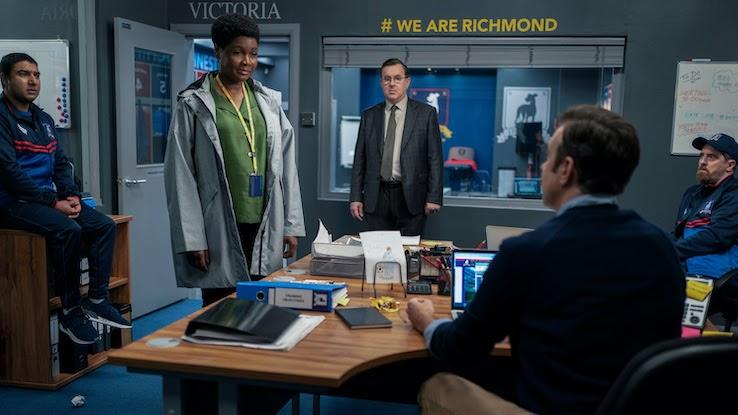 But more than the Ted Lasso show, this season feels like an ensemble effort. You'll be reunited with all the characters from the previous year. Roy (Brett Goldstein) has retired from playing soccer and is thinking about his new chapter, all while grunting a lot. Keeley (Juno Temple) runs communications for the team. Rebecca (Hannah Waddingham) is fielding romantic suitors. Coach Beard (Brendan Hunt) has an on-again-off-again relationship with chess aficionada Jane (Phoebe Walsh). Nate (Nick Mohammed) doesn't approve of the work his substitute is doing. Jaime (Phil Dunster) tries his luck on a reality show. Higgins (Jeremy Swift) doesn't know how not to be nice — he's even nicer than Ted sometimes. Dani (Cristo Fernández) keeps being the ultimate optimist, and Sam (Toheeb Jimoh) is right up there with him. And I'm even neglecting to name a few of the many characters.
And while I loved the fact that my personal favorite, Trent Crimm (James Lance) from The Independent, still asks the sharpest questions with a lot of suaveness, the show could have used fewer secondary characters and a bit more focus on its main cast: Ted, Rebecca, Keeley and maybe some Nate and Coach Beard.
Sarah Niles (I May Destroy You) proves to be the exception though. She plays the newcomer Sharon, a sports psychologist brought on by the club to deal with a particular crisis, though she ends up staying. She's a brilliant doctor who speaks English, Spanish and French, and isn't easily disarmed by Ted's exuberant personality. She's also the one who's not that delighted by Ted's baking skills and I didn't get enough of her on screen.
More Soccer and More Cameos
I think one of my favorite things about Ted Lasso when I first saw it last summer was the unexpectedness of finding such an intelligent show based on a pre-existing character and format that had been created in 2013 for two NBC Sports promotional videos meant to make soccer more attractive for American viewers. My other favorite thing, apart from its delightful wholesomeness in a particularly trying time, was that you could actually be a non-soccer fan such as myself and truly savor it.
But there's definitely more football this time around. It almost looks as if the production had more money, making it possible to depict more soccer games. And while I can see how that could please a part of the audience, all footballing demonstrations are lost on me.
Sports commentators Arlo White and Chris Powell appear once again this season, offering the play-by-play for most games. The cameos don't end there. Jaime drops by the daytime TV show This Morning With Phillip and Holly and chats with hosts Holly Willoughby and Phillip Schofield. And Roy finds a pundit spot on Soccer Saturday with Jeff Stelling and Chris Kamara. The Football Show with Ian Wright and Seema Jaswal plays at Rebecca's home. But if you're not that well-versed in British and Premier League culture, you might completely miss these details.
More soccer and British cultural references are not my main complaints about this new season. Waddingham's Rebecca doesn't get enough screen time. I would totally watch a show titled Rebecca Welton centering on her. Then there's the matter of simplified subplots that get unrealistically resolved by the episode's end, like one with the players renouncing their sponsor Dubai Air out of their willingness to do good. As much as Ted Lasso tries to aim for authenticity when it comes to guest appearances, a sudden change of sponsorship for ideological reasons mid-season sure felt make-believe, particularly in the world of professional soccer.
The show takes place in a parallel universe where COVID-19 never happened, which feels eerie at times but is also appreciated. Especially for an escapist comedy such as this one. Now, if someone can get me Ted's shortbread recipe, I'd love to watch the rest of Ted Lasso with some homemade biscuits and tea.