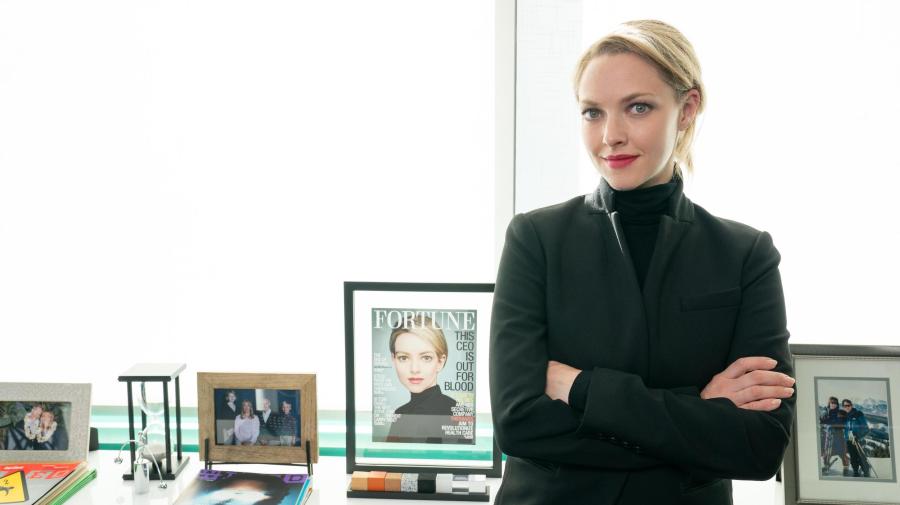 Rating: 8/10
The black turtleneck, the bright red lipstick, the platinum blonde hair tied in a knot and the deep affected voice. They've all come to define Elizabeth Holmes' brand. The maligned former Theranos CEO and founder has been in the news often lately. More recently during the almost four-month-long federal trial that resulted in her being found guilty of defrauding investors out of hundreds of millions of dollars.
Now her story of deceit is getting the Hulu treatment with The Dropout. The eight-episode limited series is premiering Thursday, March 3, with three episodes for a weekly release after that.
"My job is to have a vision and to bring in investors and make them happy," Holmes (Amanda Seyfried) says during one of the seven episodes of the show available for review. And, in a way, that sentence perfectly encapsulates the premise of the series — and where things started going very, very wrong at Theranos. The company's initial goal was to diagnose a person's health conditions through simply a drop of blood. But getting the science right to be able to do it proved to be an endeavor that would require years of research and millions of dollars in funding.
That didn't stop Holmes from making false claims, pushing trials with patients using prototypes she consciously knew didn't work and hiding information from her board and investors, among many other unethical and often illegal things. Based on the ABC News podcast The Dropout, the show portrays a behind-the-scenes story, at Theranos, where nothing was working as advertised. You'd never know it judging by Holmes' ubiquitous media appearances and her sway with business partners.
"This show is actually showing how important science is and how important the facts are, and the truth is," The Dropout's showrunner, Elizabeth Meriwether (New Girl), explained during a virtual conference in front of the Television Critics Association (TCA). "This is the perfect time to tell this story," she added. The show was actually shooting while Holmes' trial was beginning.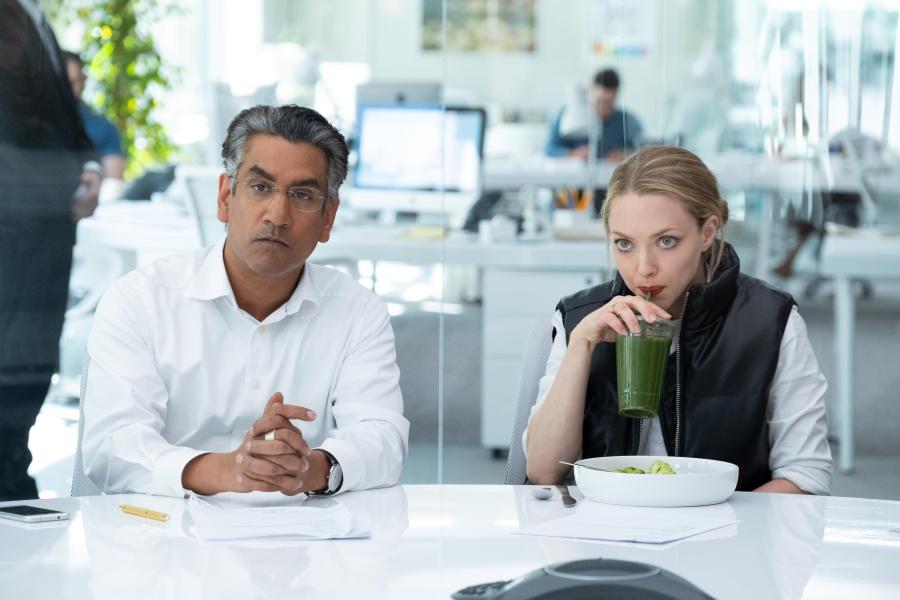 Holmes is played here by Amanda Seyfried (Mamma Mia!) at her most chameleonic. We first meet Holmes when she wasn't an especially athletic teenager growing up in Texas and see her throughout her summer abroad in Beijing, early days at Stanford, and founding of Theranos at barely 19 all the way to her days flying a private jet and running a company with 500 employees valued at $9 billion. She describes herself as mission-driven. She was on the covers of Fortune and Forbes magazines and a role model for millions of women and girls around the world.
"When this becomes a scandal, what do you think happens to all the other women who want to become CEO?" Laurie Metcalf's character asks Holmes in the show. Metcalf plays here Stanford Professor of Medicine Phyllis Gardner. She was one of the first people skeptical of Holmes' claims. Early on in the show, Gardner had already warned Holmes about how, as a woman in the scientific and medical community, cutting corners wasn't an option. "You don't get to skip any steps. You have to do the work."
The show touches on the fact that Holmes was a very young woman operating in a men's world mostly inhabited by Patagonia vest-wearing tech bros and ill-fitting-suit-wearing old white men. A whole episode of the show is dedicated to what it means to be a young woman CEO and how she was treated because of that. Part of her adopting a uniform and gradually changing her speech pattern to a deeper voice was her way of putting on the armor to play the part of a leader and visionary in Silicon Valley.
There are several moments throughout the show when we see how she was under a higher level of scrutiny just due to her age, looks and gender — an outrageous pitch in a boat, in which she's told by a venture capitalist that, as a woman leader, she has to renounce marrying or having children, comes to mind. But The Dropout never excuses Holmes' behavior.
First, there's her total disregard for science and how her methods may have mined the field for other companies and institutions trying to break ground in the minimally invasive blood-testing landscape. We witness several Theranos employees — among them chief scientist Ian Gibbons (Stephen Fry) and whistleblower Erika Cheung (Camryn Mi-young Kim) — who argue with Holmes about her inability to understand the science of what they're dealing with or reproach her when she wants them to do just plain bad science.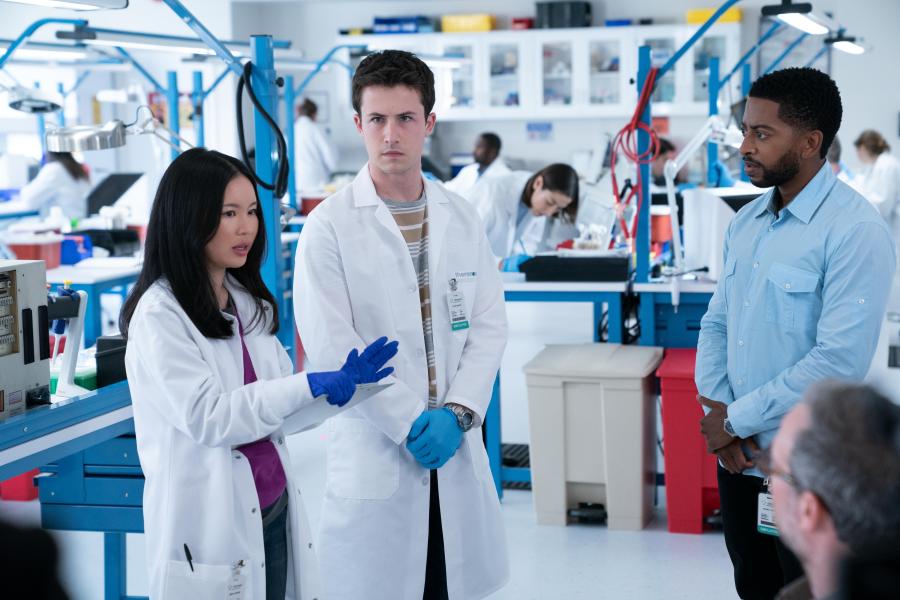 Then there's the way in which Holmes managed to lure influential people — there's an episode in the show aptly titled "Old White Men" — to her inner circle. From her weekend brunches with venture capitalist Donald Lucas to former Secretary of State George Shultz hosting her 30th birthday party and not believing his own grandson, Tyler Shultz, who was another Theranos' whistleblower. George Shultz was a member of the Theranos board. So were former Secretary of Defense General Jim Mattis and former Secretary of State Henry Kissinger.
"She could sell me sand if I ever met her. It was one of the reasons I didn't want to meet her because I knew that she had a way about her," Seyfried explained at the TCA gathering about Holmes' charisma.
"​​This series is the mystery of what was going on in her head and what led her to make the choices she made," Meriwether added. During her trial's court testimony, Holmes mentioned a sexual assault in college at age 19 that prompted her to eventually drop out and direct all her energy towards her company. The show delves into the incident and points to it as one of the catalysts for Holmes to eventually start a romantic relationship with Sunny Balwani (Naveen Andrews), a businessman whom she met in China when she was a teenager and who is 19 years older than her. Balwani would later become Theranos' COO.
During her testimony in court, Holmes accused Balwani of emotional and physical abuse. The show touches on that as well, depicting a controlling Balwani who would even supervise Holmes' food intake, instructing her to drink green juice.
I don't think The Dropout solves the mystery of what was in Holmes' head during her time at Theranos. Only she can tell. But it does a good job of showing the perils of unrestrained ambition combined with a disregard for the work needed to do good science.