Rating: 8/10
I don't particularly like biopic films — I feel miniseries lend themselves better to telling the full story of a person's life — and I'm an atheist. So the idea of a biopic movie about the real-life televangelist Tammy Faye Bakker didn't immediately hook me.
I'm partial to Jessica Chastain though — with or without Oscar Isaac kissing her arm. She's the reason why I braved a press screening of The Eyes of Tammy Faye during an ongoing pandemic (the movie opens this Friday, September 17 exclusively in movie theaters). I'm glad I did.
Chastain not only dons the over-the-top wigs, prosthetics, makeup and costumes to portray Tammy Faye throughout several decades of her life, but she's also one of the producers of the film; her company, Freckle Films, developed this story after buying the rights to Fenton Bailey and Randy Barbato's 2000 documentary The Eyes of Tammy Faye. Like Reese Witherspoon and Nicole Kidman, she's one of the leading actresses out there spearheading the kind of movies and roles she wants to see made.
The film is directed by Michael Showalter (The Big Sick) and written by Abe Sylvia (Dead to Me). It spans decades, from Tammy Faye's youth to the moment she met her husband, Jim (Andrew Garfield), and captures how they went from small-time preachers and puppeteers in the 1960s to creating the world's largest religious broadcasting network and hosting a daily show in the 1970s and '80s.
Jessica Chastain Transforms Herself into Tammy Faye Bakker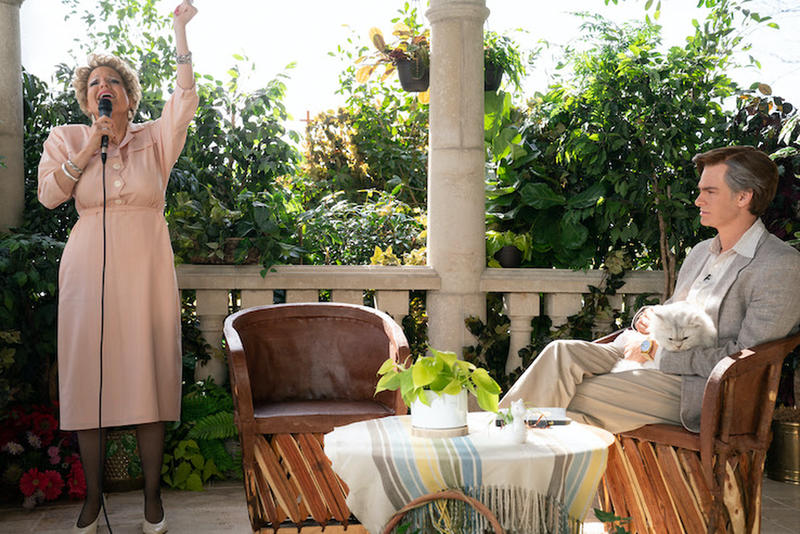 The Eyes of Tammy Faye premiered at the Toronto International Film Festival (TIFF) over the last weekend and has already garnered Chastain several accolades for her performance. She's got an Oscar nomination in the Best Actress category pretty much secured. (The other front-runner right now is Kristen Stewart for her role as Princess Diana in Spencer.)
We first meet Tammy Faye in a close-up shot of Chastain's face. She's about to be captured in a photoshoot and they want her to "remove her face." But she informs the viewer and photographer that her eyes, lips and eyebrows are permanently lined and there's no way she's going to take the fake eyelashes off — they're her trademark.
Chastain does a lot of interpretative heavy-lifting by depicting this woman throughout her life and capturing her magnetism no matter the hairstyle, fashion choice or makeup usage. You can't become a TV personality without a dash of charisma and Chastain channels a lot of that through Tammy Faye. She also grounds her portrayal in Tammy Faye's vivacious personality — at some point, the character defines her excessive shopping habits as the way she gets her exercise done — and doesn't shy away from the TV personality's attempts to dabble as a singer. The actress braves a version of Fats Domino's "Blueberry Hill" a cappella.
Garfield doesn't look as convincing or at ease as Chastain does under the layers of prosthetics, makeup and wigs. He does manage to present his Jim Bakker as pure ambition though. "God does not want us to be poor," he says when we first meet him. The whole "Blessed be the poor" verse doesn't sound very blessed to him. And even though he may have a point, Jim Bakker's final demise and conviction for fraud and conspiracy don't recommend the character's views.
The always exceptional Cherry Jones (Succession) plays Tammy Faye's mother, Rachel, and someone who doesn't necessarily believe in Jim Bakker. Through her, we learn to distrust Tammy's husband. "Saving God doesn't sound like it should be a money-making opportunity," she says, trying to reason with her daughter.
Having grown up abroad, I didn't know who the Bakkers were before watching this movie. I wasn't aware of the media scandal that ensued after Jim was charged with the misuse of ministry funds for personal benefit. I couldn't help but feel sympathetic toward Tammy Faye from the beginning of the movie and I watched it as a cautionary tale against not knowing how much money you make or where the money you're raising for supposed charitable causes is being funneled to.
Tammy Faye's Compassionate Side
When asked about it in the movie, a young Tammy Faye describes herself as the oldest of eight children and a very practical person. What you see is what you get with her. She's also someone who loves people. All people.
The movie takes a stand when it comes to showing Tammy Faye's true human side and support of the LGBTQ+ community. "Thank God for a mom and dad that'll stay with a young person," Tammy Faye says in one of the most moving sequences of the movie. She's interviewing a man who talks about coming out to his parents when he was younger. "They're still your boy, they're still your girl. […] It's very important, as moms and dads, that we love through anything. Jesus loves us through anything."
With an audience of millions of viewers, The Jim and Tammy Show provided Tammy Faye a unique platform. The film shows how she didn't shy away from talking about penile pumps or broaching controversial subjects at the time, like the HIV/AIDS epidemic. The Eyes of Tammy Faye also portrays other important church mediatic figures — like televangelist Pat Robertson and Jerry Falwell. They try to influence the Bakkers to condemn what they refer to as the liberal agenda, feminist agenda and homosexual agenda. They represent the trajectory of a part of the country toward ultraconservative values.
Tammy Faye never yields. And it dawned on me, nonreligious as I am, that compassion should be a Christian quality and something we all work toward.