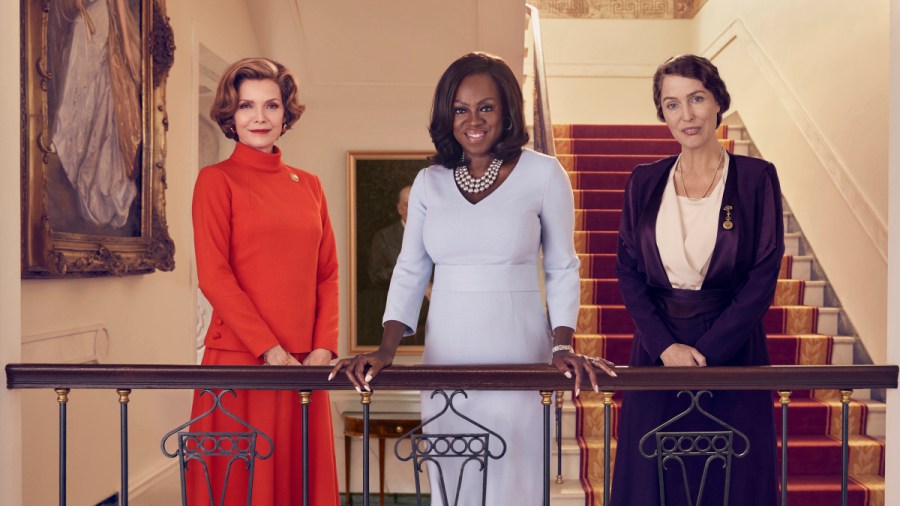 Rating: 7/10
The new Showtime historical drama The First Lady debuts its 10-episode first season this Sunday, April 17, and features Gillian Anderson, Michelle Pfeiffer and Viola Davis as First Ladies Eleanor Roosevelt, Betty Ford and Michelle Obama, respectively. The season spans 120 years, from the time Eleanor — played in her younger years by Eliza Scanlen (Little Women) — went to an all-girls boarding school in 1900 London to when Betty and Henry Ford moved to the White House in 1974 after the Watergate scandal all the way to 2019 — three years after the Obama presidency came to an end — which is when Michelle was promoting her best-selling memoir Becoming. It covers all that and everything in between in the lives of these three women. 
There are episodes dedicated to how these women fell in love with the future presidents and ended up marrying them; the events that saw them thrown into the path of becoming First Ladies; and their fights for civil rights — desegregation for Eleanor Roosevelt, the ratification of the Equal Rights Amendment for Betty Ford, and same-sex marriage for Michelle Obama. Other episodes depict their efforts in furthering some of the other causes that mattered to them — the rights of WWII refugees for Eleanor Roosevelt, breast cancer awareness for Betty Ford, health-care access for Michelle Obama. We also witness how they had to claw their way out of being reduced to the stereotype of simply smiling adoringly at their husbands.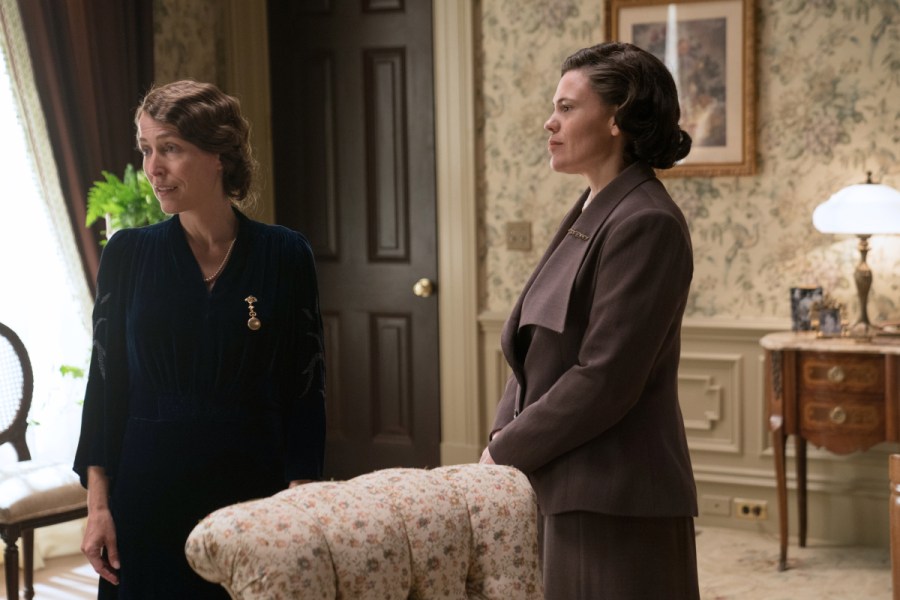 The First Lady is one of those shows that makes you want to read more about the three fascinating subjects at the center of this story — and know how much of what's portrayed on screen was fact and how much invention. "We chose the medium of historical fiction for a reason," explained showrunner and executive producer Cathy Schulman during a virtual press conference in front of the Television Critics Association (TCA). "We really did want to do our best to honor [them] in every way, but we had to imagine what happened in between the events, and the things that haven't been written about."
You may be wondering why the show's creative team chose these three specific First Ladies and not others. They started with Viola Davis, who's also an executive producer here, playing Michelle Obama, and from there they found the season's through line: voice. "These incredibly strong women [all] had [an] absolute voice before they walked through the threshold of the White House. And then the very thing that happened the minute that they got in was they were told to never open their mouths again, and that's what they shared," said Schulman of the season's theme.
What you won't get with The First Lady is stories told in chronological order or full episodes dedicated to each one of the protagonists. Instead of that, Schulman and director and executive producer Susanne Bier (The Undoing) opted to mix and match the stories of these three women, looking for parallels in their journeys. And whereas I ended up liking the dynamic structure that jumped from one character to the next and showed an array of fashion choices, decorating styles and hairstyles, I needed a couple of episodes to get used to this nonlinear storytelling. Although the three main characters have a younger actress playing their teenage and early-20s selves, with Jayme Lawson playing Michelle Obama and Kristine Froseth (Looking for Alaska) playing Betty Ford, the jumping around is significant and something to get used to. You go from one scene with Michelle Obama already at the White House to another one of her in high school meeting a bigoted guidance counselor who told her she wouldn't be a good "culture fit" at Princeton.
In telling these stories of the women, who were often in the shadows of their very powerful husbands, the show is reinterpreting history and showcasing the almost-invisible work achieved by the First Ladies. "First Ladies and their teams are the vanguards of progress in this country," reads a letter that Betty Ford sends to Michelle Obama in The First Lady. The letter was real, but its content is something we don't know.
Danish filmmaker Bier adds to that fresh outsider perspective that allows for history to be reexamined. "I don't have a history with American presidents," the director explained during the TCA press conference. "The first time reading anything about it, I was just struck by how fascinating it was being this close to power and still very remote from it."
As much as I tend to like Anderson and Davis' work, Pfeiffer's Betty Ford was my favorite performance in this show. She seemed less burdened by the layers of wigs, prosthetic teeth or extremely thin eyebrows the others had to contend with, and was completely at ease in the body and clothes of the former dancer. Although I recognize Davis' work was probably the most arduous of these three great actresses. We all have such a clear image of Michelle Obama in our minds — the way she looks, how she sounds — so it's hard to completely believe anyone in the role.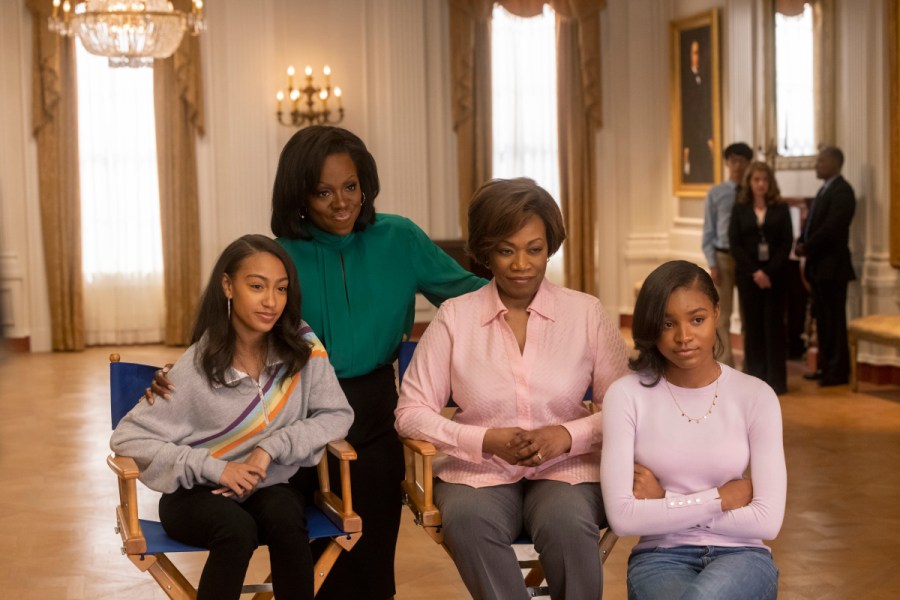 The show also writes about the relationships the First Ladies had with their mothers — especially in the case of Michelle Obama — as well as their daughters. Cailee Spaeny (On the Basis of Sex) plays Anna Roosevelt; Dakota Fanning (The Alienist) is Susan Ford; Lexi Underwood (Little Fires Everywhere) and Saniyya Sidney (King Richard) play Malia and Sasha Obama, respectively.
The great ensemble cast doesn't end there. Clea DuVall (Argo) is Eleanor Roosevelt's secretary, Judy Greer (The Descendants) plays Betty Ford's close friend and counselor, and Kate Mulgrew (Orange is the New Black) portrays Michelle Obama's Chief of Staff. Then there's Lily Rabe as Associated Press journalist Lorena 'Hick' Hickok, Eleanor Roosevelt's close friend and lover.
"There's a lot of controversy around the history of Eleanor's relationship with Lorena Hickok," said Schulman about the inclusion of this facet of Eleanor Roosevelt's life as a queer woman. "People have different theories about it. We feel that we've made a representation of what we believe was their truth. It was time to do it."
The show also delves into Michelle Obama's struggle as a Black woman who wanted to become a successful Ivy League-educated lawyer and, later, a respected, and listened to, First Lady. The series includes many of the former First Lady's takes on life, like her wise words "When they go low, we go high." It's just a shame that future seasons of this series would lack this kind of perspective since she's still the only Black woman — and woman of color — to hold the title of First Lady.
The First Lady made me think about how far we've come in the history of civil rights when it comes to equity for people of color, women, and members of the LGBTQ+ community, but it's also a reminder of the many things that we haven't achieved — or the progress that's now being threatened. It's a portrait of how much has been achieved, the small things that still count and all the battles ahead of us yet. Watching it was also a good reminder that it's time for me to schedule my yearly mammogram.