Rating: 6/10
In The Lost City, which opens exclusively in theaters this Friday, March 25, Sandra Bullock plays Loretta Sage. She's a recluse historian-turned-romance-author who gets tangled up in an international adventure that even she couldn't have envisioned. After grieving for the death of her archeologist husband and battling writer's block, Loretta's best friend and publisher, Beth (Da'Vine Joy Randolph), convinces her to get out of the house — Loretta does like living inside her bubble-filled bathtub and sipping Chardonnay on ice — and promote her upcoming novel release, The Lost City of D.
Alan (Channing Tatum), the muscled model who has donned a long-haired blonde wig for years and appeared on all of Loretta's book covers as her heroic protagonist Dash, is also along for the promo tour. Loretta's not a fan of Alan and finds him superficial. For his part, Alan simply gets tongue-tied and nervous around her, never finding the right words.
By the movie's end, he'll be the one to teach her not to judge a book by its cover. And I'm not spoiling anything here because if there's something I loved about The Lost City it's that this action-adventure romantic comedy knows how to follow the rom-com formula.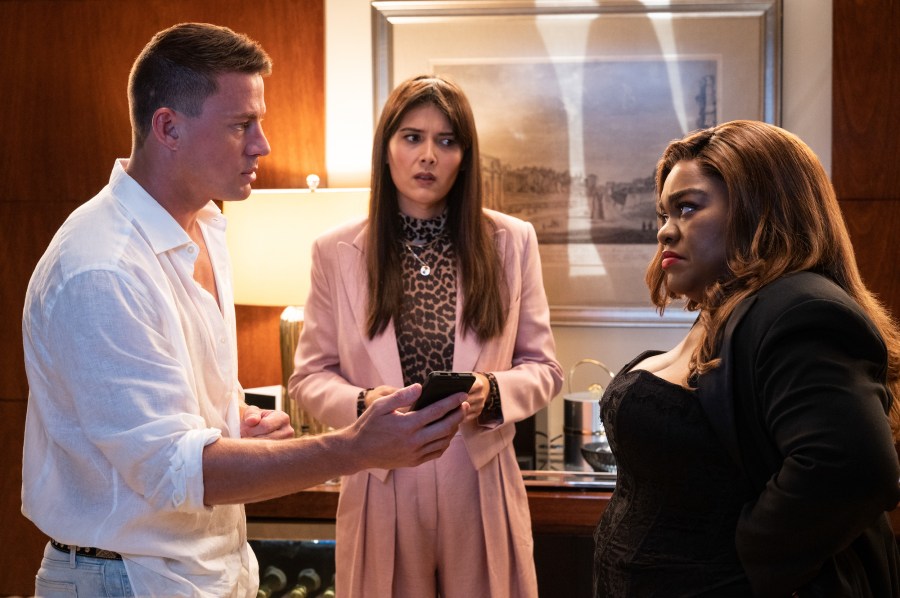 When Loretta is kidnapped by Abigail Fairfax (Daniel Radcliffe) — a billionaire, media mogul and cartoon-like villain who has a minibar inside of his own personal tank — Alan and Beth decide to take action. He calls Jack Trainer (Brad Pitt, who's having way too much fun), a former Navy SEAL whom Alan met during a meditation retreat. Jack charges in cryptocurrency, of course, and agrees to help Alan and Beth in their mission to retrieve Loretta from Isla Hundida, an island in the middle of the Atlantic where Fairfax is trying to unearth a lost treasure — with the author's help.
Jack is the type of rugged, long-haired highly-skilled man that Alan aspires to be. To Alan's dismay, Jack doesn't even need to keto to look that ripped. "Why are you so handsome?" a kidnapped Loretta asks Jack when he comes to her rescue, Alan on his tail. "My dad was a weatherman," he cooly replies.
Maybe it was because I needed the kind of escapist light action-adventure fare The Lost City provides, but the movie made me laugh. A lot. Be it when Beth puts on her publisher's hat and reminds Loretta how to speak in front of the fans: "No grumpy face, big words or academic talk." Be it when Loretta and Alan have a hilarious conversation during which he asks her not to mansplain feminism to him. "I'm a woman! I can't mansplain things," she tells him. "I'm a feminist and I think a woman can do anything a man can," he says, cluelessly.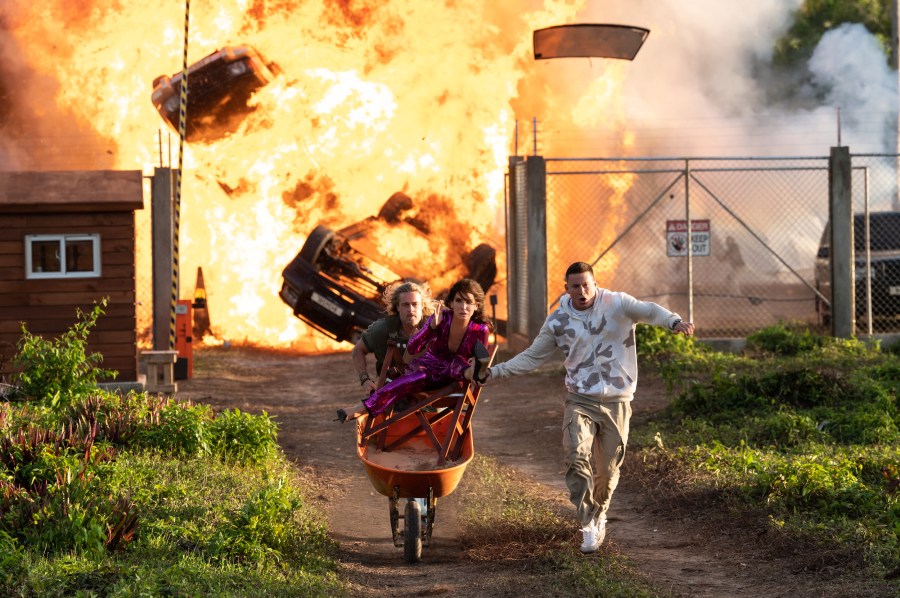 Of course, Beth won't be sitting still. She also heads to Isla Hundida garbed in the most perfect-for-tropical-weather powder blue pantsuit — throughout the movie, she masters the art of the power suit and the sexy at-home silk robe. Leave it to a very busy woman — she's been trying to take a nap for the last year and a half and never found the time — to actually get things done.
The movie, which was shot on location in the Dominican Republic (the stand-in for the fictional Isla Hundida), puts its protagonists in the midst of the same sort of exotic and dangerous adventure Loretta would write for her characters. Only Alan and Loretta realize that being chased by bad guys and sleeping in the jungle in real life isn't necessarily as seducing as one may think.
Even in all of its lightness, The Lost City delves into the idea that fictional characters are oftentimes flawless and unrealistic. "You do know you're not Dash, right?" Loretta asks Alan. "Dash is a character I made up," she adds. Alan could never compare to Dash, not because of anything lacking in his character but because no real person can live up to someone else's idealized version of what perfection looks like. In the case of Dash, it's two doctorates, a perfectly sculpted torso and a full mane of long, thick blonde hair.
Let me also add that I appreciated the fact that Bullock, who's also one of the producers of the film, is older than Tatum. It doesn't happen that often with opposite-sex couples where the woman is the one more than a decade older than her romantic interest.
You've probably already heard about how Bullock kept her cool on set even when her character was confronted with Tatum's nudity in one of the movie's more revealing sequences. And yes, you'll get to see Tatum's butt. I preferred the much more intimate scene in which the two of them danced to a sensual bolero and proved how much chemistry their pining characters share.