Rating: 6/10
Netflix's The Mitchells vs. the Machines was my favorite animated movie of 2021 and generally one of the films I enjoyed the most last year. I loved the story of that slightly dysfunctional family who, in the end, all loved each other and managed to outsmart the A.I. trying to take over the world. I also appreciated how naturally and beautifully it included an openly queer protagonist, especially when Disney has been tiptoeing around the subject, avoiding it altogether, or giving viewers crumbs after employees have complained about cuts, as was the case with Pixar's Lightyear.
Perhaps because of how much I loved The Mitchells vs. the Machines, I had high expectations for The Sea Beast, which opened in select theaters on June 24 and is available to stream on Netflix starting July 8. But those hopes weren't quite met.
Don't get me wrong — The Sea Beast is still a delightful watch with a spunky and vivacious main character to root for. Maisie Brumble (voiced by Zaris Angel Hator) lives in an orphanage. At night she reads stories written about celebrity hunters who chase away sea monsters to her friends. She dreams of becoming a hunter herself. She doesn't even believe she needs to grow up before joining the profession. The thing is, ominous beasts are looming under the sea and preying on humans, attacking their boats and killing them. Hunters provide safety, so there's no nobler profession. But it's also a dangerous endeavor.
"Live a great life and die a great death," she tells her fellow orphans while running away. And that seems to be Maisie's motto. She plans on following the crew of the famous ship the Inevitable, led by the veteran Captain Crow (voiced by Jared Harris). They're set on finding the Red Bluster, Captain Crow's longtime sea monster enemy. The day he kills that beast, he'll retire and leave the Inevitable to Jacob Holland (voiced by Karl Urban), his surrogate son.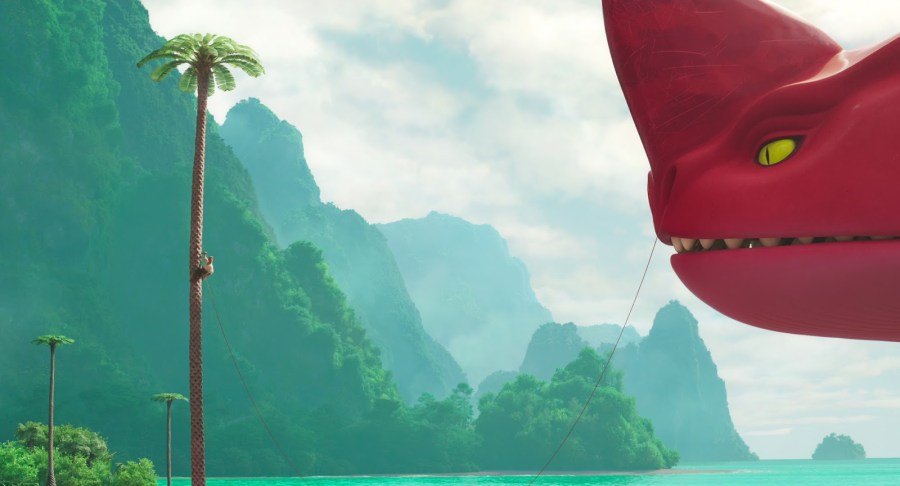 Maisie finds a clever way to stow away aboard the Inevitable. Jacob is dismayed when he finds out as he thinks they can't have a kid "mucking around." The movie only gets entertaining once all the world-establishing bits are dealt with and Maisie and Jacob finally meet and get to argue. They don't see eye to eye on most things. "The monsters, I can handle. But that one, she'll be the death of me," Jacob protests. Captain Crow is happy having her on the ship, even if she's so young. He sees in her the same fire he saw in Jacob years ago. "I like this kid. She's all vinegar," Crow says.
With its 17th-century aesthetic influence, The Sea Beast can be watched as a sort of pirate movie but where the characters who would have been the pirates have a somewhat better task than pillaging.
The movie takes a 21st-century approach though; the Inevitable's crew is more diverse than what we've traditionally seen in a pirate movie, with Marianne Jean-Baptiste (Without a Trace) rounding out the voice cast as veteran hunter Sarah Sharpe, who also becomes Maisie's role model and friend.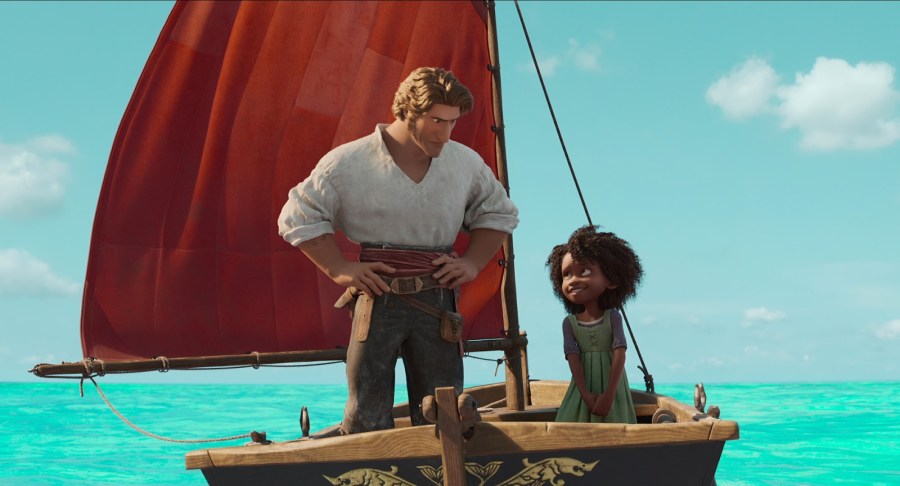 One of the problems of The Sea Beast is that it tries cramming a lot of messages in just two hours: the value of found family, the need for critical thinking, the necessity of searching for the original source of a bit of information, the perils of misinformation, and why we should never be afraid of differences.
Through Maisie's eyes, we see this world and its water creatures perhaps not necessarily as monsters but as something else. "The world is wide, Jacob, and you don't know everything," she tells the experienced hunter. "You're too young to be this mean," she'll also lecture him. And, in a lot of ways (and through her lack of prejudice), she's the wiser of the two characters, even if she's just a kid and he's the supposed grownup.
Other than Maisie, her way of looking at the world around her and her funny interactions with Jacob, the movie is simply pretty to look at. It creates a world where Maisie finds a friend and pet in Blue, a cute, noisy and goofy sea creature who looks like a puppy but in sea creature form. Blue's blue and the Red Bluster's red are bright in a way that the human world in the movie doesn't get to be.
There's also a paradisiac pink-colored beach. And the movie manages to recreate all the nuances in tone and lighting of a salmon-hued twilight on the ocean and a storm seen from underwater. Water and waves are indeed animated in a realistic way that may have proven impossible to achieve just a few years ago.
The Sea Beast makes for the perfect watch for the whole family, but it just didn't appeal to this grownup the same way The Mitchells vs. the Machines did. I still learned a few valuable lessons from Maisie though, like the fact that sometimes you can be a hero and still be wrong.