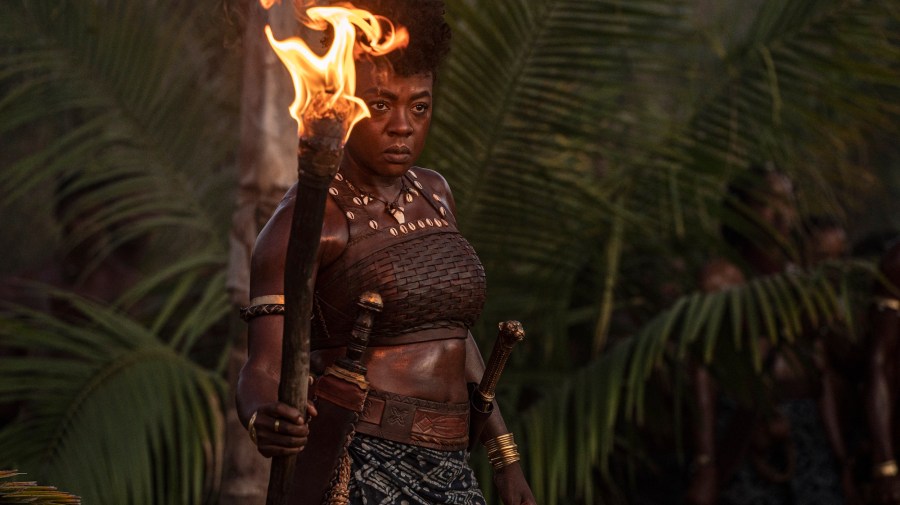 Rating: 9/10
I knew that with The Woman King I was in good hands. The movie, which debuts in theaters this Friday, September 16, and premiered at the Toronto International Film Festival (TIFF), is directed by The Old Guard and Love & Basketball director Gina Prince-Bythewood. It's written by Dana Stevens (City of Angels), who created the story alongside actress Maria Bello. And it stars not only Academy Award-winner and powerhouse Viola Davis but also Thuso Mbedu (The Underground Railroad), Lashana Lynch (No Time to Die), Sheila Atim (The Underground Railroad) and John Boyega (Star Wars: Episode VII—The Force Awakens).
The film, which is inspired by true events, is set in 1823 and tells the story of the Agojie, an elite force of African women soldiers who served the Kingdom of Dahomey (present-day Benin). They got paid and their opinions were heard. They were accepted into the fray of the found family and sisterhood that was the Agojie in exchange for their services protecting their homeland. They'd take no husband and bear no children.
With her deftness at combining action, suspense but also tenderness and even romance, Prince-Bythewood kicks off the film by showing us the fierceness of these warriors as they take a rival camp at night, offering no mercy. Prince-Bythewood doesn't shy away from the painful consequences of war throughout the movie. Even if the Europeans call them the "bloodiest bitches in Africa", the Agojie warriors are regular women — though they are highly skilled ones who have endured arduous training. Their bodies are covered in scars, the marks of a warrior. They die, they kill, they ache, they mourn — but they also laugh, dance and love. Prince-Bythewood shows it all.
In between perfectly-choreographed action sequences filled with hand-to-hand combat and sword fighting, our characters have room to breathe, replenish and just be regular, flawed women. We learn Nanisca (Davis), the leader of the Agojie, is haunted by her past. She also wants the King of Dahomey (Boyega) to stop sending enemy captives to the European slavers, even if Dahomey is profiting from the human trade. "Let us not be an Empire who sells their people," she tells her King. "Even if they're not Dahomey, they're still our people. The white men have brought immorality here."
The slave trade and the role Dahomey played in it are scrutinized in the film but it's not where this story focuses, the heart can be found in the relationship between these women. Once again, Davis gives an Oscar-worthy performance. And even though you've seen the actor crying on screen many times before, you've never seen her cry like this. She's contained. Her face wears a stoic expression. She conveys a lot by seemingly doing very little.
Davis, the best-known actor in the film, fronts most of the promotional materials for the movie and could be perceived as its sole star. But her character shares almost equal screen time with Nawi — Thuso Mbedu's character and another one of the roles of the film with trophy potential. She's a young Dahomey set on going against her family's wishes and not marrying an old man who'll beat her. She'll join the Agojie and be trained as one of them. She has a lot to learn — especially when it comes to following rules. Lashana Lynch's Izogie is not only the veteran Agojie charged with training the young recruits, but she's also one of the most good-humored characters in the movie. "First rule of training, always obey Izogie," she warns Nawi. "We need smart warriors. The dumb ones die quick." I loved how, with Izogie, The Woman King found time for levity and fun amid all the seriousness and urgency of its plot. Then there's Sheila Atim as Amenza, Nanisca's right hand and the kind of outspoken sensible friend all of us could use.
You'll be reminded of Black Panther (2018) while watching The Woman King — the Dora Milaje warriors in the Marvel movie share a resemblance with the Agojie — and it might occur to you that, for those calling the shots in Hollywood, there needed to be an extremely successful superhero version of this story before a film like The Woman King was greenlit. It's not that often that a Black woman filmmaker gets the opportunity to tell the story of a group of African women warriors — let alone one that's both undiluted and from their unique perspective.
The movie is beautifully crafted, from the many nocturnal sequences that are still incredibly warm, to the depiction of dancing to the beautiful costume design that sees all of the Agojie warriors distinguishing themselves as individuals even if they're wearing a uniform.
Perhaps The Woman King isn't a perfect movie. There's a reveal in its third act that ties things up in a too-tidy Hollywood way, but I think for most viewers it'll be a welcome turn of events. Watching this group of women nurturing each other and harboring mentorship and love was not only inspiring but an uplifting and joyful experience.