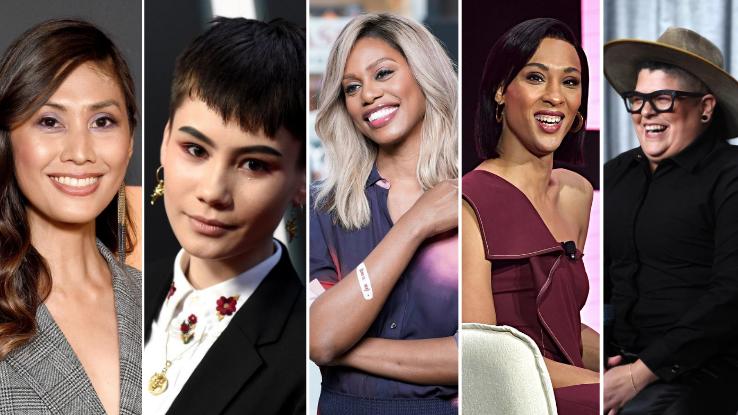 In June 2020, Sam Feder's documentary, Disclosure: Trans Lives on Screen (2020), debuted on Netflix. Featuring commentary from trans activists, historians and creatives, the doc took an in-depth look at Hollywood's depiction of trans folks over the years — and how what made it to the screen largely informed and shaped American society's perception of trans folks in turn.
From portraying how characters and TV shows reinforced ignorant, dangerous stereotypes to dissecting how cisgender actors portraying trans characters can actually do more harm than good, Disclosure made many truths apparent. But, chief among them is that trans performers, filmmakers and creatives must be given more agency when it comes to telling their stories — and they must be given the same opportunities and platforms when it comes to storytelling in general.
Increased visibility is essential to undoing the harm of Hollywood's past. Do you want to support the trans community and their creative endeavors? Here are just some of the incredible trans and non-binary creatives, actors and voices who are centering their communities' stories on and off the screen.
Michaela Jaé (Mj) Rodriguez
Best known for portraying Blanca Rodriguez-Evangelista on the acclaimed series Pose, Michaela Jaé (Mj) Rodriguez got her start in the New York ballroom scene as a teenager, and, later, attended the Berklee College of Music. Her first big break came in the form of an Off-Broadway revival of Rent, in which her performance as Angel won her a Clive Barnes Award.
Rodriguez landed a few small TV roles on big-name shows like Nurse Jackie, The Carrie Diaries and Luke Cage, her appearance on the latter marking the first time a trans actress and character appeared in the Marvel Cinematic Universe. In 2019, Rodriguez landed a history-making contract with Olay Body, becoming the first Afro-Latina trans woman to nab a partnership with the company.
Rodriguez made history again by becoming the first transgender performer to pick up an Emmy nomination in a major acting category for her work on Pose's final season. She also signed with UTA in August 2021 to bolster her music career.
Ian Alexander
Actor and activist Ian Alexander has credited YouTube videos and the trans community online with helping him understand their identity. "It wasn't until I was 13 when I met other trans people for the first time and I was like, 'Wait, you're allowed to do that?'" Alexander recalled on The Ellen Show. "'You're allowed to change your pronouns and your name?' That really gave me the courage to come out and accept who I was."
Alexander's first acting gig was on Brit Marling's The OA, an acclaimed — and very surreal and cerebral — sci-fi series on Netflix. He found the open casting call for an "Asian-American trans male actor" on Tumblr and, despite having no acting experience, they decided to go for it. Landing the role changed Alexander's life and helped their religious family accept his trans identity. "I want to see trans people every day in the film industry," Alexander told Them. "Behind the camera, in front of it, in the writers' room — everywhere, because trans people are everywhere."
Alexander voiced and provided motion capture for Lev, a character in Naughty Dog's video game The Last of Us Part II. Alexander also made history by playing Gray Tal on Star Trek: Discovery, the franchise's first trans character.
Nicole Maines
Most likely, you know Nicole Maines from The CW's hit TV series Supergirl, on which she plays the superhero Dreamer — or, as her fellow reporters at CatCo know her as, Nia Nal. Dreamer is an ancestor of the DC Comics character Nura Nal, who went by the alias Dream Girl, and both characters share abilities of astral projection and precognition. Nia is also known for being TV's first transgender superhero.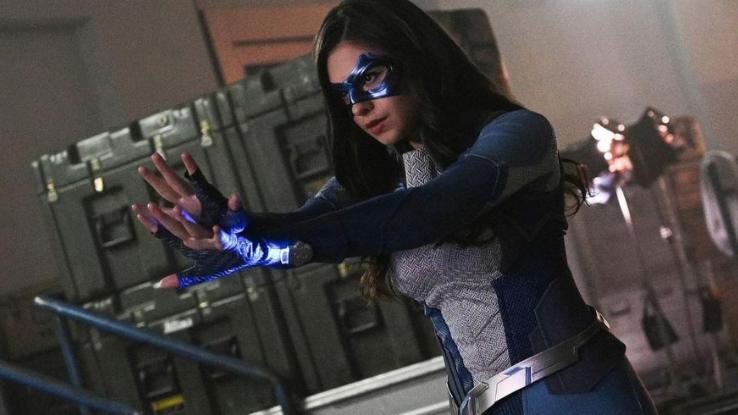 To make things even more exciting, Maines wrote Dreamer's first comic book appearance, which debuted in June 2021 as part of the DC Pride anthology.
Before her acting career took off, Maines was a then-anonymous plaintiff, Susan Doe, in the Maine Supreme Judicial Court case Doe v. Regional School Unit 26, which regarded gender identity and bathroom use in schools. Maines has a lot in common with Nia, whom she describes as having "this ferocious drive to protect people and to fight against discrimination and hatred. She's the superhero we need right now."
Janet Mock
When the Emmy-nominated show Pose premiered on FX in 2018, Janet Mock made history as the first transgender woman of color to write and direct an episode of a TV show. But, several years before that history-making moment, Mock wrote about her experiences as a young transgender girl in her coming-of-age memoir Redefining Realness.
Mock's memoir tells the story of her courageous quest for self. Expressing her admiration for the memoir, acclaimed feminist thinker and activist bell hooks notes that Mock's work is "told with a spirit of raw honesty that moves beyond confession to redemptive revelation," and that "this book is a life map for transformation — for changing minds." Mock has also written a second memoir, Surpassing Certainty, and, in 2019, she signed a three-year deal with Netflix, making her the first openly transgender woman of color to secure a deal with a major content company. Mock was also nominated for two categories ("Outstanding Drama Series" and "Outstanding Writing for a Drama Series") at the 73rd Primetime Emmy Awards in 2021.
Our Lady J
Back when Joey Soloway landed a deal with Amazon to create Transparent, they enacted a "transfirmative action program," meaning that transgender applicants received hiring preference over cisgender applicants. In the show's first season, upwards of 80 trans folks reportedly worked on the show, including Our Lady J, the first openly trans person to write for Transparent.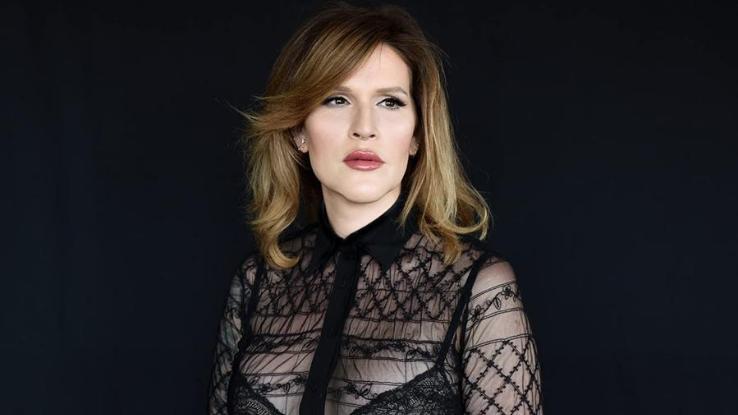 Since then, the Emmy-nominee has also played a recurring character on the Emmy-winning Transparent and written for (and acted in) FX's landmark, Emmy-winning show Pose. As a trained musician, Our Lady J has played piano at iconic venues like Carnegie Hall and for the Alvin Ailey American Dance Theater.
While working in music, Our Lady J was looking for fantasy and escape, but, once she moved into writing for TV, she shifted her creative goals, telling Interview Magazine that "[she] learned that writing to the truth of our collective pain can inspire empathy, which is the path towards connection and healing."
Leo Sheng
Actor, writer and activist Leo Sheng grew up in Ann Arbor, Michigan, where he was raised by two moms. "As one of the only Asians in school, [and] one of the only queer kids[,] I stood out from my peers, and for a while, I struggled to really embrace it," Sheng wrote on his website. He came out as trans when he was 12 and found strength in sharing his story online, through publications, and on Instagram.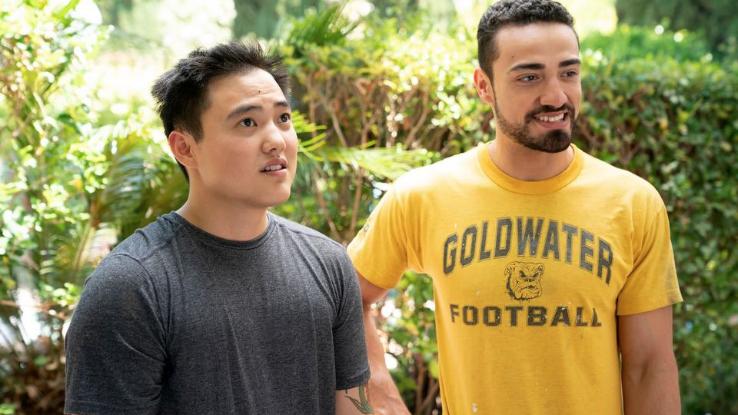 Sheng has since written for Elle, MTV News and HuffPost. In 2019, he landed his first TV series — and also his first starring role — on Showtime's L Word reboot, The L Word: Generation Q, as Micah. "We have so long seen cis women playing trans men," Sheng told The Advocate. "I think it still very much speaks to the fact that people are only recently understanding that gender isn't a costume. It may be a social construct…but the way we experience it is still very real."
D'Lo
Queer, transgender Sri Lankan-American performer, writer and activist D'Lo is perhaps best known for acting in, and producing, several short films, including Lock Her Room (2003) and Recession Lemons (2010). You may also recognize D'Lo from a commercial for Connor Smith's luxury hotel, The Shlanger, and for roles on big-name queer shows like Lana and Lilly Wachowski's Sense8, Joey Soloway's Transparent and the HBO hit Looking.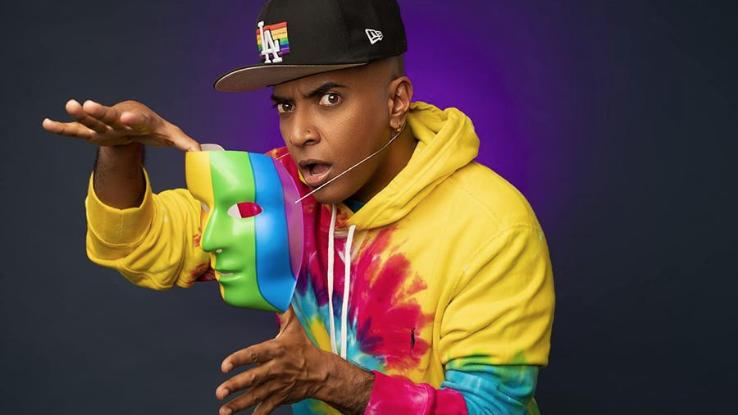 Apart from his work in film and television, D'Lo is also a hip-hop and spoken word performer, with several shows to his name, like Ramble-Ations, Minor D'Tales and A One D'Lo Show. "For me my queerness is my social justice politic," D'Lo has said. "I would rather be visible in a world that uses me to be visible than be invisible because I fit in."
River Butcher
Originally from Ohio, standup comedian River Butcher is perhaps best known in the comedy world for their albums Butcher and, most recently, Pull Yourself Up By Your Bootleg. For several years, Butcher hosted Three Swings, a podcast "about baseball and other things," which not only delved into America's greatest pastime but aimed to give a platform to sports fans and writers who don't often have the same platform as cis white men who discuss sports.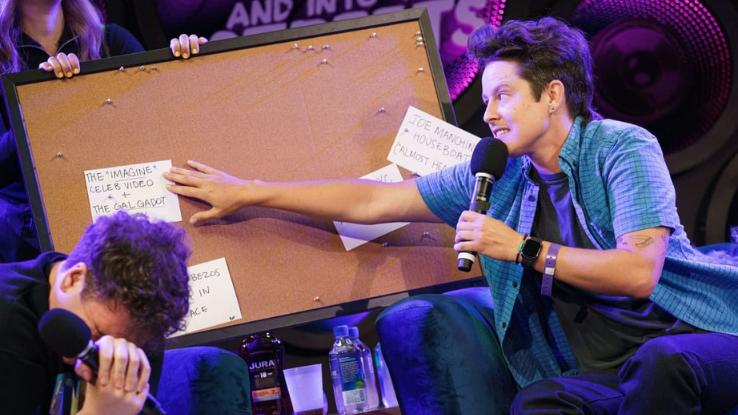 A baseball player themself, River threw out the first pitch at an Oakland A's game a few seasons back and, even though Three Swings has ended, he continues to speak on equality in sports. On the acting front, Butcher wrote, produced, starred in and co-created Take My Wife; has provided voiceover work for Netflix's hit show Kipo and the Age of Wonderbeasts; and has a recurring role on the hit show Good Trouble.
Elliot Page
Elliot Page is best known for his role as the title character in Juno, and has since run the acting gamut, playing in films like Inception and X-Men. In the past few years he has been starring in The Umbrella Academy on Netflix. After coming out, fans were excited to learn that they would continue in their role on the show. But in even more exciting news, Netflix recently announced that Page's character would also be transitioning this season.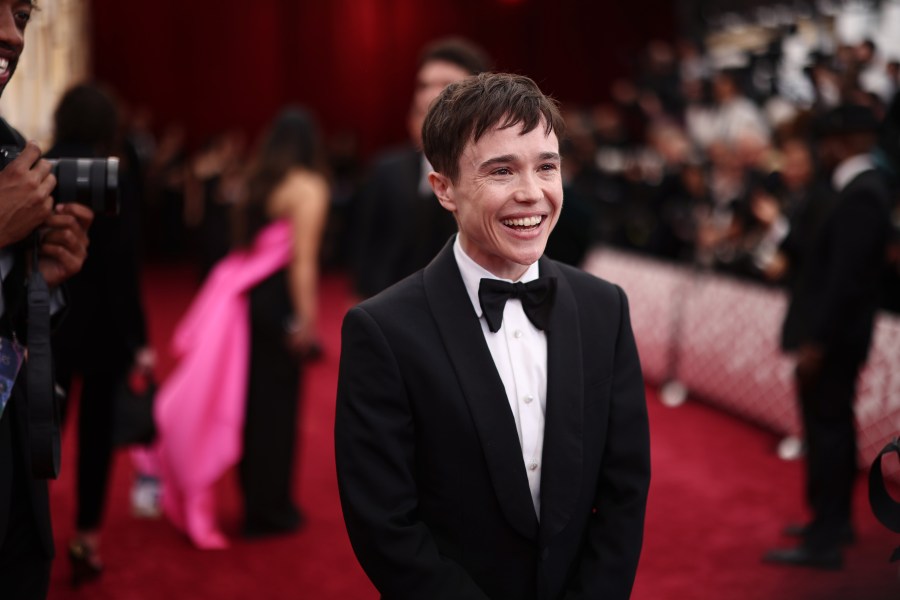 Page came out in 2020 in an Instagram post, where they wrote: "I love that I am trans. And I love that I am queer…To all the trans people who deal with harassment, self-loathing, abuse and the threat of violence every day: I see you, I love you and I will do everything I can to change this world for the better."
Alexandra Billings
Alexandra Billings is among the first openly transgender actors to have played trans characters on television. In 2005, she did so in the made-for-TV movie Romy and Michele: In the Beginning and in an episode of ER. Since then, they have played trans characters on How to Get Away With Murder, Grey's Anatomy, The Connors, and, perhaps most notably, she starred as Davina on Transparent.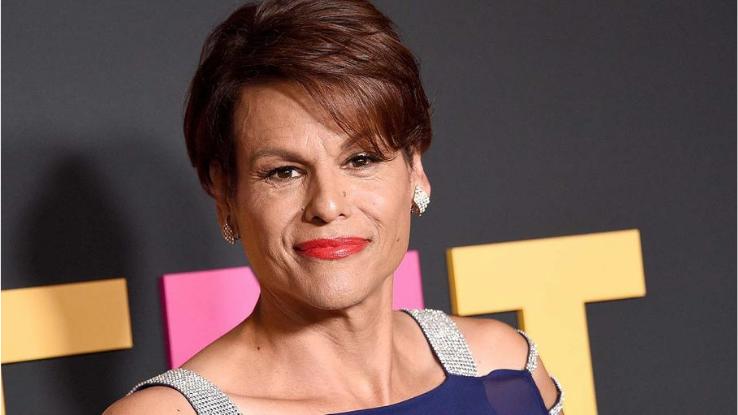 "Here's how I know immediately if I'm even going to look at the script or not: If the trans person that I'm playing is in peril of any kind, if the trans person I'm playing is sick in any way or if the trans person is merely there to make sure the cis people are OK," Billings told The Advocate. "If one of those things are true, I don't even look at the script."
Before Broadway went dark, Billings starred as Madame Morrible in Broadway's Wicked, making them the first trans person to star in the beloved musical.
Sara Ramirez
You might recognize them as Dr. Callie Torres from Grey's Anatomy, the character who came out as bisexual in 2009 in a win for bisexual representation. Seven years later, Ramirez herself would come out as bisexual after the Pulse nightclub shooting. More recently, Ramirez has shared publicly that they identify as non-binary, and told People magazine that it's "freeing to finally know myself and to understand that I live in a more fluid space."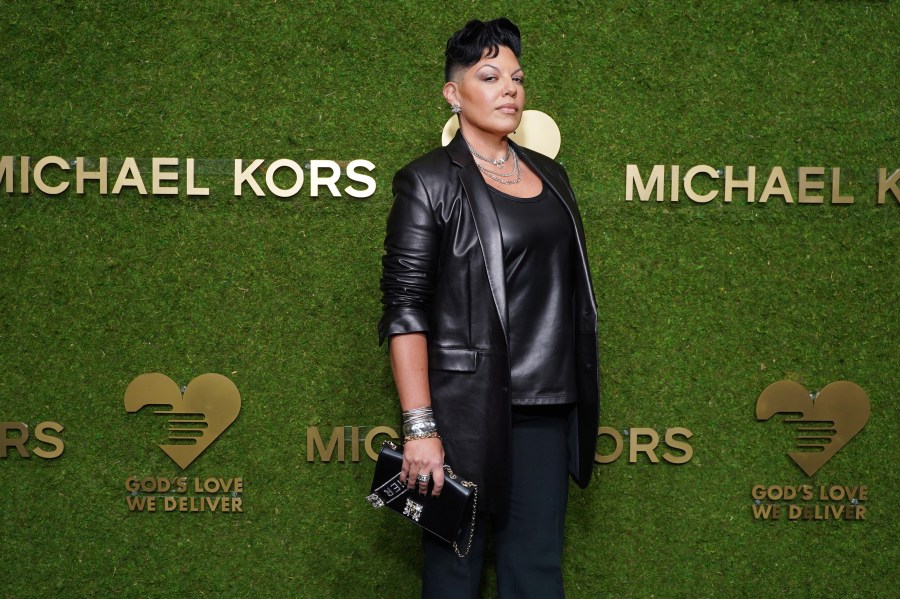 Ramirez's new character, Che Diaz in And Just Like That, a Sex And The City reboot on HBO, has been the subject of much controversy, though not necessarily because they are non-binary. Rather queer fans have expressed frustration that Che doesn't feel authentic, and at times perpetuates harmful stereotypes. Even though fans of the show are generally not fans of Che, this character has firmly cemented themself in Miranda's story arc, so we expect that we'll be seeing more of Ramirez with the AJLT crew in the future.
Indya Moore
As a teen, transgender and non-binary performer Indya Moore got their start as a model, booking shoots for labels like Dior and Gucci. After some time, they became disillusioned with the fashion industry and, in particular, the emphasis on body image. Eventually, Moore met ballroom icon Jose Gutierez Xtravaganza while doing background work for the TV series The Get Down.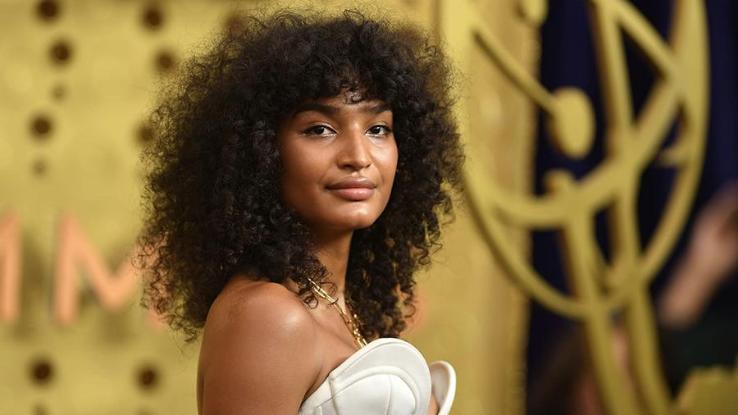 Inspired to pursue acting, Moore landed the role of Dijon in Saturday Church — and received much critical acclaim. Their breakout role happened a few years later when they starred as Angel Evangelista on the FX series Pose. In 2019, Time magazine named Moore one of the 100 most influential people in the world. Their other big-name Hollywood projects include the films Queen & Slim and Escape Room 2 as well as providing voiceover work for Steven Universe Future. Moore will also play Karshon, aka the Shark, in Aquaman and the Lost Kingdom.
Jen Richards
Transgender writer, actor, activist and producer Jen Richards stepped into the spotlight after co-writing, co-producing, co-directing and co-starring in the Emmy-nominated web series Her Story. Soon after, she became the first openly transgender person to appear on a CMT show when she joined the cast of Nashville.
Richards' filmography also includes roles on hit comedies, like FX's Better Things and the very queer Take My Wife, as well as HBO's much-lauded Mrs. Fletcher. Perhaps her most notable role has been on Netflix's reboot of Tales of the City, in which she plays the young Anna Madrigal, the role originated by Olympia Dukakis.
Richards is also incredible in Disclosure. In fact, her words in the documentary, and her work on Clarice, a spinoff that deals with the "complicated legacy" of Silence of the Lambs (1991), have cemented her as a leading voice in both entertainment and activism.
Laverne Cox
Orange Is the New Black changed the television landscape in so many ways — primarily, it helped center the stories of folks who often aren't given space on primetime television. Not only did Orange provide performers with the opportunity to tell these stories, but it also gave the actors a platform outside of the show. Oh, and it made activist (and all-around icon) Laverne Cox a household name.
In 2014, Cox became the first-ever transgender person nominated for an acting Emmy. Although Cox didn't win, her visibility certainly helped pave the way. Upon receiving her third Emmy nomination in 2019, the four-time Emmy-nominated actor told W, "Now, for my third nomination, I'm like, maybe the Academy needs to vote for me, and we can make more history."
In addition to executive producing Disclosure, Cox won a history-making Daytime Emmy for executive producing Laverne Cox Presents: The T Word and, in 2017, she became the first transgender person to play a trans series regular on broadcast TV on CBS's Doubt. Cox had roles in the Oscar-winning Promising Young Woman (2020), as well as Jolt (2021) and The Blacklist (2021).
Jacob Tobia
Writer, actor and activist Jacob Tobia describes themself as a "trans Arab socialist spunky girl" on their Twitter and, most likely, you've seen their segment on Trevor Noah's The Daily Show. In talking about their memoir Sissy: A Coming-of-Gender Story, Tobia discussed the term "gender chill," in regards to exploring one's relationship with gender, and discussed the way in which nonbinary genders can be playful.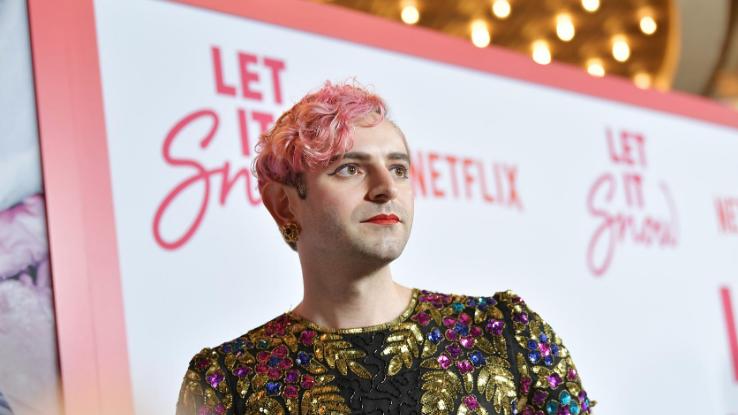 After being featured on MTV's The T Word with Laverne Cox, Tobia was profiled in an episode of True Life: I'm Genderqueer, co-produced an LGBTQ+ series for NBC News and then moved to Los Angeles to work on Transparent. In terms of on-screen performances, Tobia most recently provided the voice of Double Trouble, a nonbinary shapeshifter, on Netflix's She-Ra and the Princesses of Power.
Alexandra Grey
Trans actor and musician Alexandra Grey is perhaps best known for playing Empire's Melody Barnes, but, arguably, one of her most standout roles was on Transparent's third season. In the episode, Grey portrays Elizah Parks, a foster youth living in LA who ends up calling the LGBTQ suicide hotline where the show's protagonist works. The season went on to garner seven Emmy nominations and landed the Best Comedy Series award from GLAAD.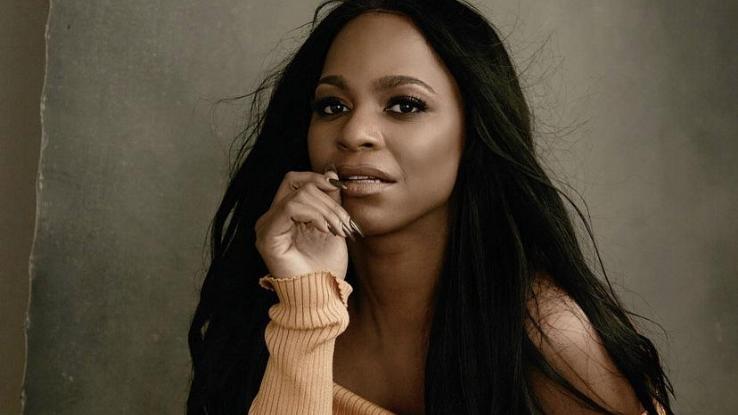 Grey has appeared on several other big-name TV shows, including Glee, Chicago Med, Code Black, How to Get Away With Murder and The Alienist. She also portrayed trans icon and activist Marsha P. Johnson on a GLAAD-nominated episode of Drunk History. In 2017, Grey was a cast member in the eight-part docudrama miniseries When We Rise. Grey also appeared in Disclosure in 2020 and as a recurring character in CBS's 2021 MacGyver reboot.
Rain Valdez
Initially, Rain Valdez began her Hollywood career closeted and worked as a producer's assistant before finally writing and starring in her first short film, Silly Games, in 2010. After some time, she decided to live openly, and, in 2017, her stint on Transparent marked her first role as an openly trans woman.
Later, she would serve as a consultant for Transparent and contribute work to a variety of publications, like Popsugar and Vice. In 2019, she created the web series Razor Tongue, in which she also stars — and ended up earning an Emmy nomination for Outstanding Actress in a Short Form Comedy or Drama Series. In September 2020, Variety announced that Valdez, and writing partner Rachel Leyco, will star in the trans-led rom-com Re-Live: A Tale of an American Island Cheerleader.
Trace Lysette
As a young adult, Trace Lysette became a respected member of the underground New York ball culture scene and, years later, made her TV debut on a 2013 episode of Law & Order: Special Victims Unit. In playing Lila, Lysette became one of the first trans people to appear in a non-trans speaking role on primetime television.
Since then, Lysette has appeared on I Am Cait, RuPaul's Drag Race and Pose — and, in 2019, she made her silver screen debut in the hit film Hustlers. Lysette was also on Transparent, where she played trans yoga teacher Shea. Unfortunately, her time on the show was marred by former star Jeffrey Tambor, whom Lysette bravely reported for onset sexual harassment.
Both on and offscreen, Lysette continues to be a role model. She executive produced the 2021 documentary Trans in Trumpland and she also voices Toluca Lake in Q-Force.
Liv Hewson
Best known for their role on the Drew Barrymore-helmed Netflix series Santa Clarita Diet, Liv Hewson came out as gay and nonbinary as a teenager. Their TV work also includes hit shows like Dramaworld, Top of the Lake, Marvel's Inhumans and Back in Very Small Business.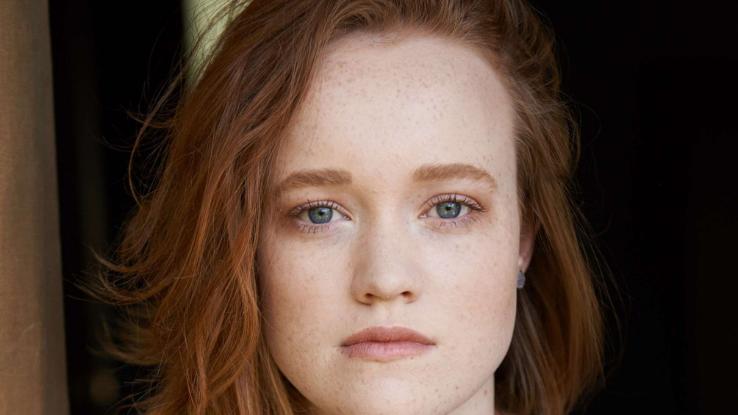 Hewson has also starred in several well-received, genre-spanning films, such as teen drama Before I Fall, exposé drama Bombshell, and the holiday rom-com Let It Snow. Informed by their own gender dysphoria, the Human Rights Campaign Visibility Award winner has stated, "One thing that I want to make very clear to people is that there's not just one way nonbinary people are supposed to look. …People have a sort of preconception as to what being androgynous means and what nonbinary people have to look like, [but] there isn't just one way to be nonbinary."
Rebecca Sugar
Before radically changing queer representation on TV, Rebecca Sugar received acclaim for their work on Adventure Time, another animated kids' show that's provided (some) queer representation, especially recently. Sugar, who says they are "pronoun flexible," is a bisexual nonbinary cartoonist, songwriter and animator — but she wasn't always super-confident in living openly. In fact, creating Steven Universe, a decidedly queer Peabody Award-winning show, helped Sugar claim their own identity.
Thanks to Steven Universe, Sugar became the first nonbinary person to independently create a series for Cartoon Network. The show tells the coming-of-age story of the titular boy (Zach Callison). Although Steven's dad is a car wash-owning rock musician, his mom, Rose Quartz, was a gem — a magical, humanoid alien from outer space. Years ago, Rose led the Crystal Gems, a rebel group, in war to protect Earth from the clutches of their alien Homeworld.
Multi-Emmy-nominee Sugar has stated that the Crystal Gems, who are all nonbinary though often femme-presenting, helped them explore her own identity — and, hopefully, the show encourages queer kids to explore, too. Sugar has also created music for Matt Braly's Amhpibia.
Amandla Stenberg
Named one of Time's Most Influential Teens in both 2015 and 2016, nonbinary actor Amandla Stenberg experienced her breakout role at an early age when they played fan-favorite Rue in The Hunger Games (2012). A few years later, they landed starring roles in Everything, Everything (2017) and in the adaptation of The Hate U Give (2018), which is based on Angie Thomas' award-winning YA novel of the same name.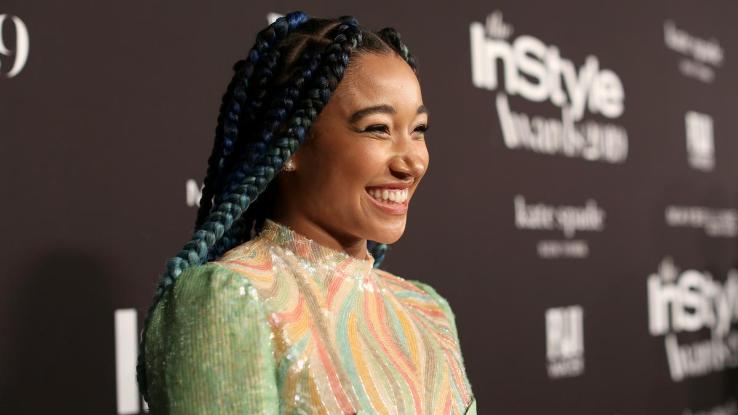 Stenberg, who came out as gay in an interview with Wonderland magazine in 2018, has been called "one of the most incendiary voices of her generation" (Dazed). In 2015, Gloria Steinem's Ms. Foundation for Women named Stenberg "Feminist of the Year" for her outspokenness and dedication to highlighting intersectional feminism.
Marquise Vilson
Actor, activist and a "man with trans experience," Marquise Vilson is a well-respected leader in the ballroom community and is currently a member of the famed House of Balenciaga. Recently, he's been featured on both the big screen, in the Tiffany Haddish- and Melissa McCarthy-helmed crime film The Kitchen, and the small screen, in shows like The Blacklist and the reboot of Tales of the City.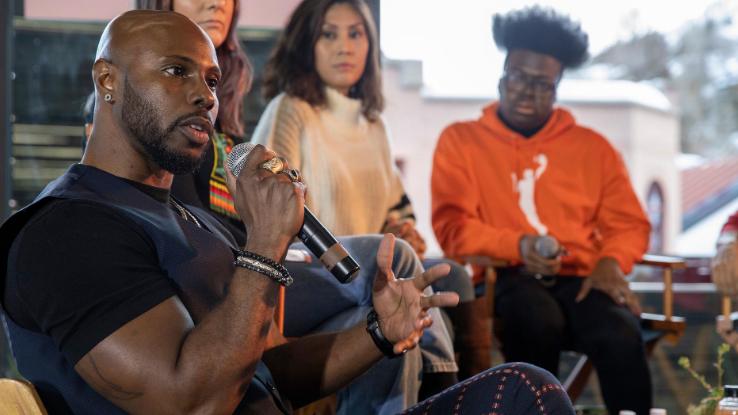 Ahead of his starring role in the Law & Order: SVU episode "Service," Vilson spoke with GLAAD about his character, Sergeant Jim Preston, a transgender man who is afraid to publicly testify and potentially jeopordize his career by disclosing his identity. "There's a lot of fear and misinformation when it comes to trans folks," Vilson told GLAAD. "Having more images in the media of trans folks can help create a shift in the way that people view us, which is helpful."
You can see Vilson in the documentary No Ordinary Man, which takes an in-depth look at the life of musician and trans icon Billy Tipton.
Bex Taylor-Klaus
Bex Taylor-Klaus landed a starring role on the crime drama The Killing back in 2013 and quickly rose to fame. Shortly after, they gained acclaim for playing Sin on The CW superhero hit Arrow. In 2016, Taylor-Klaus took to Twitter, posting, "hello my name is bex and yes the rumors are true I am gay." Two years later, they came out as nonbinary — and continued to nab incredible roles.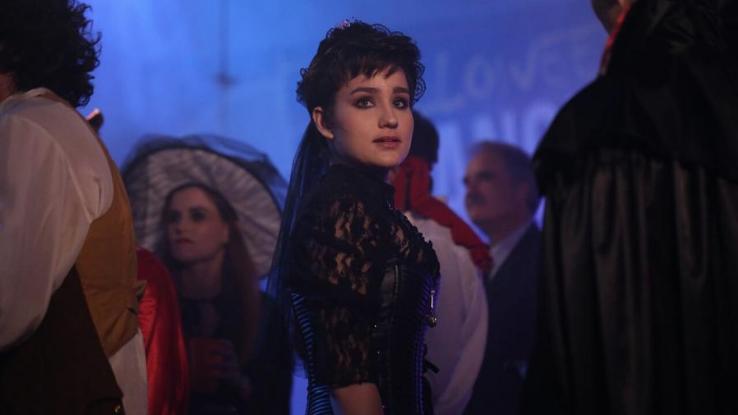 You can see Taylor-Klaus in Showtime's House of Lies, the horror series Scream, the dark comedy iZombie and Netflix's hit musical comedy film Dumplin'. They have also lent their voice to the animated series Voltron: Legendary Defender. "I like acting because I get to find different parts of myself, or at least create different parts that don't already exist, and see the world through someone else's eyes," Taylor-Klaus told Collider. Taylor-Klaus also has roles in Deputy and Star Wars: Squadrons.
Jamie Clayton
Transgender actor Jamie Clayton started out as a makeup artist — and co-host — on VH1's makeover show TRANSform Me before finally landing her first big role on HBO's Hung. From there, Clayton nabbed the lead role in the Emmy-winning series Dirty Work — and, then, her big break came thanks to Lilly and Lana Wachowski's Sense8.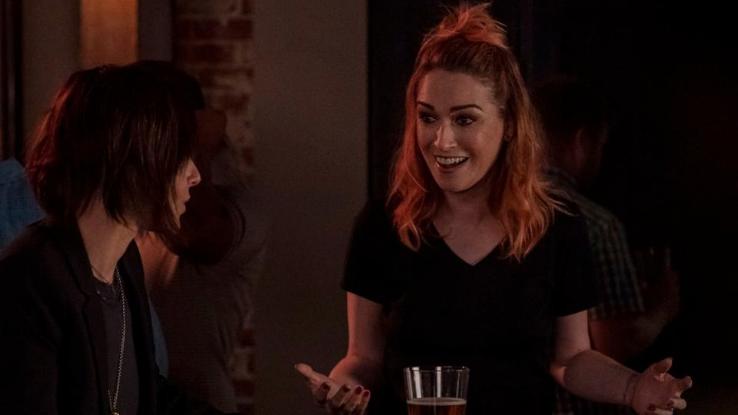 The Wachowskis' decidedly queer sci-fi hit on Netflix launched Clayton's career, and her character, Nomi Marks, became an instant fan favorite. Clayton has also appeared in Designated Survivor and nabbed a recurring supporting role in the reboot, The L Word: Generation Q.
Sandra Caldwell
Transgender actress Sandra Caldwell got her start in show biz as a showgirl, traveling the world and performing, before turning to stage work in New York. Since then, she's starred in many television movies, like Down in the Delta, Double Wedding and, of course, the Raven Symone-helmed Disney Channel Original Movie Cheetah Girls.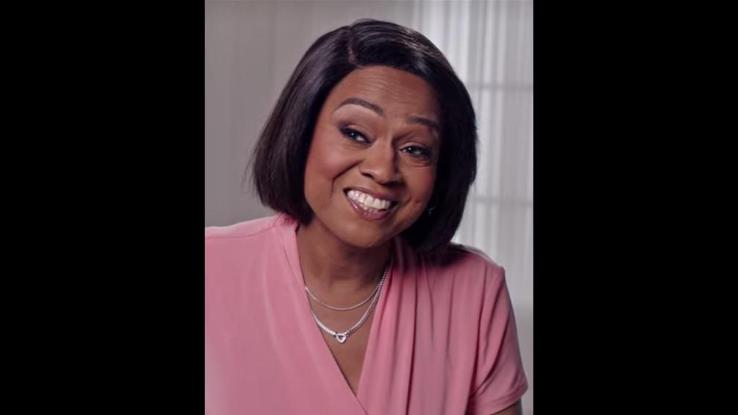 Caldwell wasn't always open about her identity. While living abroad in Canada, she starred in the one-woman show The Guide to Being Fabulous After You've Skinned Your Knee — an experience that led her to audition as an openly transgender woman for a trans character in the Off-Broadway play Charm. "My soul was jumping out the window," she told The New York Times, commenting on the audition experience. "I had no idea what was going to happen. …the monologue in the middle, I could have taken her name off and put my name in."
Angelica Ross
As a teenager, Angelica Ross was thrown out of her childhood home by her parents, who, at the time, were not accepting of her being trans. After moving around the country quite a bit, Ross landed in Los Angeles and got into acting, truly launching her Hollywood career in 2016 with the Emmy-nominated web series Her Story.
Soon after, she made appearances on shows like Doubt, Claws and Transparent and provided voice work for the acclaimed (and queer) cartoon Danger & Eggs. But Ross' breakthrough moment came in 2018 when she landed a starring role on Pose — only to team up with Ryan Murphy again for another starring role on American Horror Story: 1984. In addition to acting, Ross is a businessperson, CEO and self-taught computer coder who founded TransTech Social Enterprises, a firm that helps trans people find jobs in tech.
Candis Cayne
Candis Cayne was featured in films like Stonewall (1995) and To Wong Foo, Thanks for Everything! Julie Newmar (1995), but didn't come out as transgender until 1996. In 2007, Cayne landed her breakout role playing Carmelita, a trans character, on ABC's primetime drama Dirty Sexy Money.
The role was a landmark: Cayne was the first trans actress to play a recurring transgender character on primetime TV. Despite her visibility on Dirty Sexy Money, she has said, "I'm not trying to be a spokeswoman for the transgender community; I just want to be looked at as a living, breathing, happy human being." Now, you can catch Cayne on a variety of shows, such as RuPaul's Drag Race, Elementary, Transparent, Grey's Anatomy and The Magicians. Cayne also contributed to Disclosure in 2020 and cameoed in Erasure's music video for "Nerves of Steel".
Ser Anzoategui
When nonbinary actor Ser Anzoategui first started working in Hollywood, they presented as femme but still had difficulty landing roles. So, Anzoategui took matters into their own hands, writing the autobiographical theater shows Ser and Catholic School Daze.
In 2015, Anzoategui landed a role on East Los High, in which they played a masculine-of-center character. A few years later, they were cast as Eddy, a butch widower, on the acclaimed Starz drama Vida. Nominated for an Imagen Award for their work on Vida, Anzoategui's Eddy was called "the heart of the show" by LA Weekly.
Hunter Schafer
Actor and activist Hunter Schafer started out as a model, participating in shoots for tons of popular and acclaimed fashion houses, including Dior, Miu Miu, Vera Wang, Marc Jacobs and Versus Versace, among others. In 2017, they were named one of Teen Vogue's "21 Under 21" and, just two years later, she made her acting debut on HBO's Euphoria, starring opposite Emmy nominee Zendaya.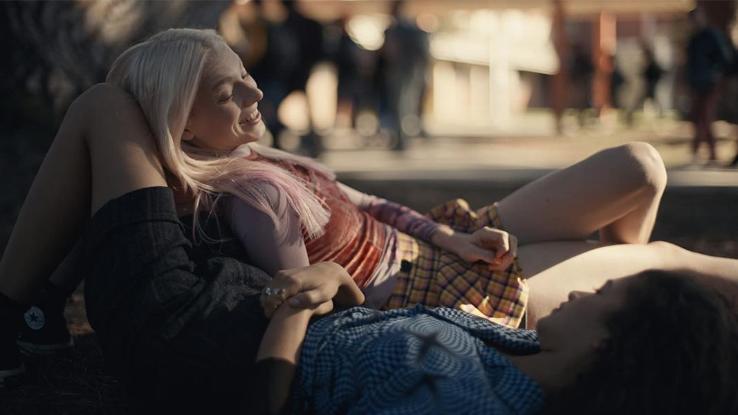 In order to bring a more authentic story to the screen, Schafer collaborated with the show's creator, Sam Levinson, and that collaboration paid off: Not only was she praised for her portrayal of Jules, but Schafer helped shape a nuanced, genuine depiction of a trans character, something not often seen on TV. "I do like people to know that I'm not a cis girl, because that's not something that I am or feel like I am," she stated. "I'm proud to be a trans person." Schafer is also slated to collaborate with John Malkovich in the upcoming project Cuckoo.
Lilly Wachowski
As one half of the Wachowski filmmaking duo, Lilly has been a Hollywood icon for decades. You likely know her best as one of the writers and directors of The Matrix (1999) — her co-creator is her sister, Lana. For those who don't know, The Matrix depicts a dystopian future in which humanity is unknowingly trapped within a simulation while intelligent machines use their bodies as an energy source. When computer programmer and hacker Neo (Keanu Reeves) uncovers the truth, he finds himself drawn into, and then leading, an uprising.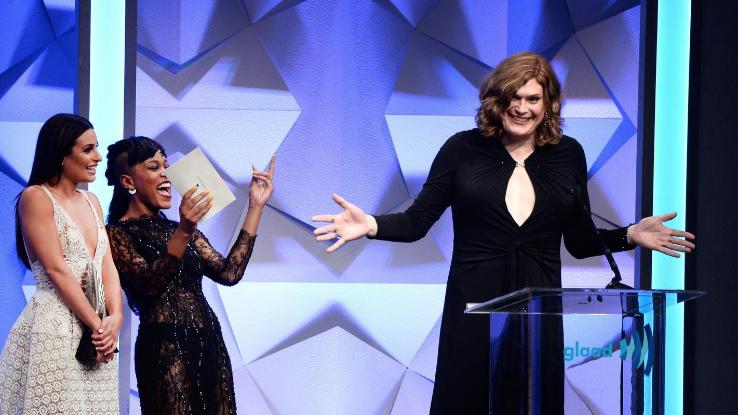 The Matrix is one of the greatest sci-fi films of all time and it's also been lauded as an incredibly deft trans allegory. Neo's mentor, Morpheus (Lawrence Fishburne), describes the Matrix as giving you a sense that something is fundamentally wrong, "like a splinter in your mind" — not unlike the gender dysphoria experienced by many trans folks. "There's a critical eye being cast back on Lana and I's work through the lens of our transness," Lilly Wachowski noted at the 2016 GLAAD Media Awards. "This is a cool thing because it's an excellent reminder that art is never static." The Wachowskis also created the beloved (and very queer) Sense8. Lilly also gave her blessing to The Matrix Resurrections, a film that Lana will direct by herself.
Brian Michael Smith
Advocate and actor Brian Michael Smith has appeared on numerous hit TV shows, including Girls, Homeland and Chicago P.D. However, it was Ava DuVernay's Queen Sugar that took his career — and trans visibility — to the next level in 2017.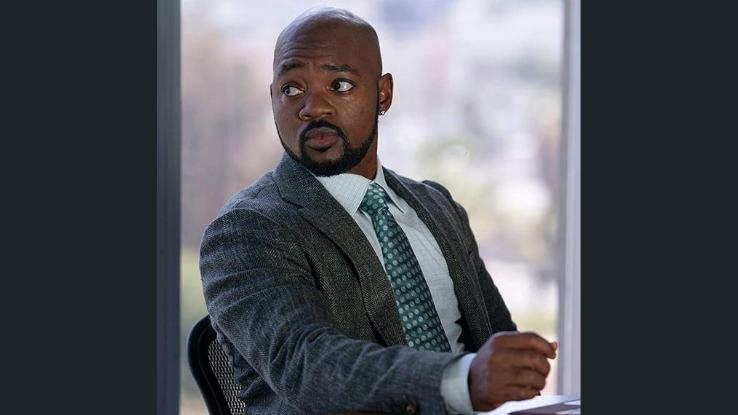 In Queen Sugar, Smith plays Toine Wilkins, a transgender police officer. While landmark, that role wasn't even Smith's most history-making performance. In 2020, he was cast as firefighter Paul Strickland on Ryan Murphy's 9-1-1 Lone Star, a role that made him the first out Black trans man to become a series regular. Smith also made appearances on The L Word: Generation Q and Disclosure.
Daniela Vega
Daniela Vega is best known for starring in the Oscar-winning film A Fantastic Woman (Una Mujer Fantástica; 2017). In the film, Marina, a young transgender woman who's working as a singer and waitress in Santiago, Chile, moves in with her older boyfriend. When said partner dies suddenly of a brain aneurysm, an upset Marina draws the suspicion of detectives.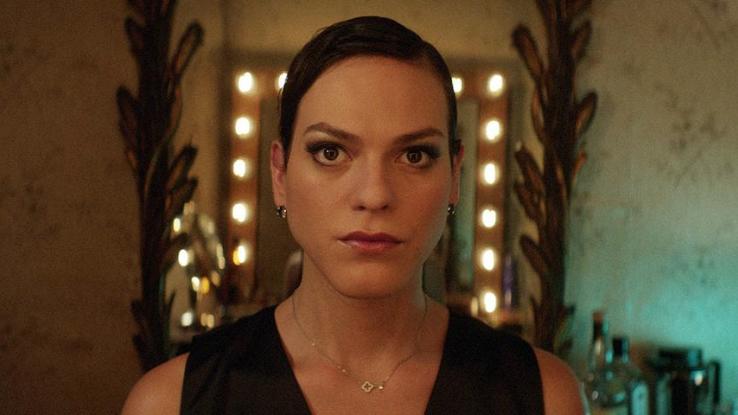 The film is gripping, but it's also notable for casting a trans actress to play a trans character — something that unfortunately doesn't happen very often in many mainstream Hollywood films. Vega's performance made a difference on and off-screen: In the wake of the film's Oscar win, Chilean LGBTQ+ activists used the film's reach and visibility to start conversations about a (successful) gender identity bill that would allow transgender folks to correct the information on their official documents. Outside of her film work, Vega can be seen in Netflix's 2019 reboot miniseries, Tales of the City.
Asia Kate Dillon
As seen in Disclosure, Asia Kate Dillon is best known for their role on Billions, with their character, Taylor Mason, openly declaring their nonbinary identity in a landmark scene. Not only was the scene itself important, but Taylor is also the first nonbinary main character on TV in North America.
The Critics' Choice Television Award nominee also landed roles in acclaimed shows like Orange Is the New Black, Master of None and The Simpsons. They also had major roles in John Wick: Chapter 3 — Parabellum (2019), The Outside Story, and Fast & Furious: Crossroads.