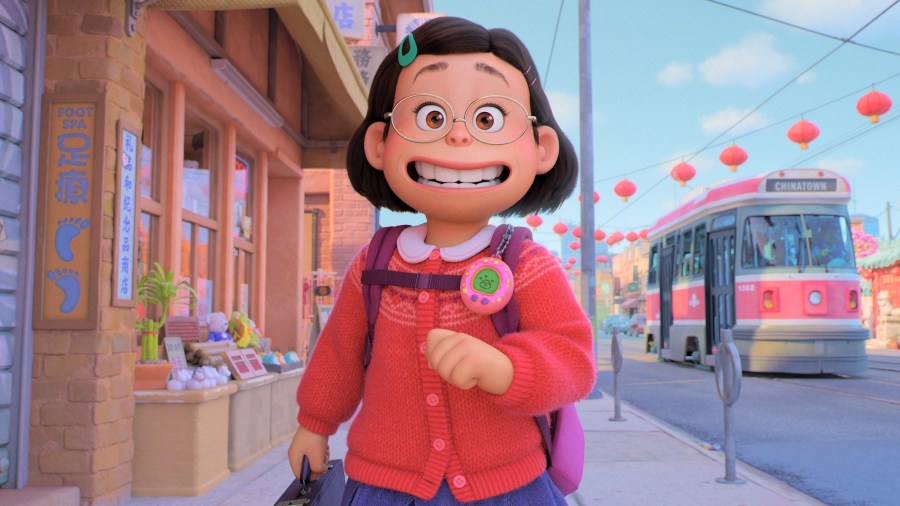 Rating: 7/10
Mastering the art of controlling your inner beast is a theme in Turning Red — Pixar's new feature film debuting on Disney+ next Friday, March 11 — and I very much relate to it.
The animated movie tells the story of Meilin (voiced by Rosalie Chiang), an overachieving and math-loving 13-year-old girl who's convinced she's already a grown-up. Fortunately, her Chinese Canadian family has taught her the number one rule: honor your parents. She does so by helping out at the family-run temple her parents own. But she also tries to look for herself and be transparent about who she is: a girl in love with books, unicorns, and the boy band 4 Town.
Her mother, Ming (voiced by Sandra Oh), could be described as a bit overbearing. She watches Meilin like a hawk and isn't a strong believer in privacy or personal space. It turns out there are reasons why Ming is so zealous about watching over her daughter, other than just doing the normal mom thing and not realizing her little girl is no longer so.
Ming is looking for signs of Meilin's "turning red". And by that, I don't mean getting her period for the first time, although menstruation is also addressed in the movie. "Did the red peony bloom?" Ming asks her teenage daughter at one point. "You're now a beautiful strong flower who must protect your delicate petals and clean them regularly," she adds in a hilarious bit full of euphemisms and metaphors.
The thing is, Meilin hasn't turned red in that sense yet. Instead, and because she's feeling extra anxious and stressed out, she's poofed into a fluffy and adorable red panda. She's all fuzzy hair, complete with a cute little nose, bushy tail and goofy paws.
Luckily there are ways of dealing with Meilin's little quirk. Her mom knows all about it. After all, she had to do it herself. Turning into a red panda when you hit puberty runs in their family.
But the resourceful Meilin also learns how to cope with her furry inner-beast manifestation in her own ways. Being surrounded by her loving friends — Abby (voiced by Hyein Park), Miriam (voiced by Ava Morse) and Priya (voiced by Maitreyi Ramakrishnan) — has the effect of sending her to her safe place and shifting back to her human state. Meilin's girlfriends neutralize the panda.
They also make her happy. They're a bunch of horny (are there any other kind?) teenagers obsessed with the members of 4 Town and the catchy tunes of their single "Nobody Like U". The band members are played in the film by professional musicians Josh Levi, Jordan Fisher and Finneas O'Connell, aka FINNEAS, perhaps better known as Billie Eilish's brother, producer and frequent collaborator. Eilish and FINNEAS wrote the music for 4 Town.
One of my only quandaries about Turning Red is that it only dares to (maybe) hint at one of the characters being queer, which isn't surprising for Disney. But a statement made by the LGBTQIA+ employees of Pixar and their allies, and published by Variety ahead of the release of the movie and after Disney didn't initially oppose Florida's "Don't Say Gay" bill, alleges that Disney corporate executives have demanded cuts from "nearly every moment of overtly gay affection… regardless of when there is protest from both the creative teams and executive leadership at Pixar." So take that into account while watching.
The movie is a throwback to 2002, the year in which it's set. There are Tamagotchis, CDs, flip phones and glossy magazines — plus not a single mention of TikTok or whatever it is teenagers are into in 2022.
This is number 25 in Pixar's list of feature films and the first one solely directed by a woman — Brenda Chapman is credited as a co-director of Brave (2012) but she was dismissed from the movie halfway through its production by the questionable John Lasseter. The Canadian Chinese Domee Shi directed and co-wrote Turning Red with Julia Cho. Shi was the writer and director of Pixar's 2018 short Bao, which won an Oscar for Best Animated Short Film. Both Bao and Turning Red share the topic of overprotective mothers.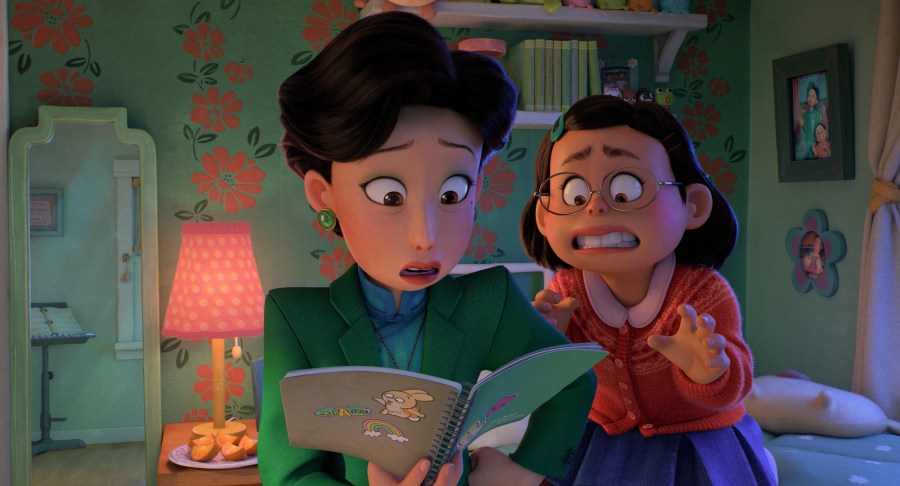 Even though the connection between Turning Red and other intimate non-franchise Pixar films is palpable — it reminded me of Inside Out (2015) but also Soul (2020) — the fact that there's a woman at the helm really shows this time. 
That's not only because of the group of friends at the center of this story and how the bond between these four girls is vital to keeping Meilin strong during her struggle. But mostly because of how specific and authentic Meilin's world and experiences feel; it made me think of my own quandaries as a dorky teenager.
You could initially think you've seen this movie before — our hero needs to confront a challenging rite of passage and by the end of the movie they'll prevail, stronger than before — and even though that's exactly what happens, you won't see some of the decisions Meilin makes coming. I'm glad Shi decided against taking a more traditional route with her protagonist's fate.
There's a strong message in the movie about maturing, making your own decisions and knowing when to say "no". There's also that idea of controlling your inner beast but being aware of when it may come in handy to let it out — I try to unleash mine only when dealing with rude people.
Editor's Note: This review was updated with information about a statement made by Pixar's employees.