Rating: 7/10
HBO's official logline for Westworld's season four reads: "A dark odyssey about the fate of sentient life on earth." Make of that what you will. And let me put it in somewhat clearer terms while still avoiding spoilers.
The eight-episode new season of this high-concept science fiction show based on the 1973 film of the same name debuts on HBO and HBO Max this Sunday, June 26, with the season's first episode and continues with weekly releases after that. The first four episodes of the season were available for review.
I've never been exceedingly charmed by Westworld's brand of unreliable narration, mind puzzles and commentary on free will, artificial consciousness and modern technology. I found it difficult to follow and violent when the show first started airing. I remained lukewarm to Westworld's hype until season three premiered in March of 2020 and made for a very fitting early pandemic watch. Maeve (Thandiwe Newton) and Dolores (Evan Rachel Wood) were finally free of the shackles and servitudes of the park. We got to explore Westworld's world from the outside. Oh yeah, and Aaron Paul (and his voice) got to play a new character, the non-host and everyday man Caleb. Plus the extremely unlikeable Man in Black — played by Ed Harris, who I have nothing against as an actor, just this character — was less present. And that's always a plus for me.
Season four returns to the female-empowering, and somewhat less violent, ingredients that worked for me in season three. It kicks off a few years after the events of the season three finale. I won't tell you much other than a very dusty Bernard (Jeffrey Wright) does wake up from a long time lost in the virtual space with a clear mission in mind. He takes Stubs (Luke Hemsworth) and a shovel on a road trip through a Joshua Tree-filled desert in search of a weapon.
Meanwhile Dolores now goes by the name Christina (or is it Cristina?). She shares a tiny apartment in a New York-like urbs. Her roommate is played by the somewhat underutilized Academy Award-winner Ariana DeBose, who's set on finding Dolores/Christina a boyfriend — there's a chance she may even achieve this goal.
Dolores/Christina works for a videogame company, writing narratives for non-player characters. She's told to save romance and humor for her diary though. What works in her line of business are sex and violence. The excessive violence and depiction of rape were actually what I despised about the show's first season. After more than two years of a global pandemic, and with everything else going on right now, I'm definitely there with Dolores/Christina: I'm here for the romance and humor — yet Westworld doesn't always deliver much of that. But I do appreciate the meta-commentary on what's considered commercial when it comes to storytelling.
The third storyline this season centers on Maeve, who's been living off the grid in a cabin in the mountains for years. Yet something prompts her reunion with Caleb. To my delight, Westworld's screenwriters have figured out how to capitalize on the profuse chemistry Newton and Paul share on screen. For some reason that escaped my attention — but that I still felt was absolutely justifiable — Caleb ends up in a tux. Maeve wears a long fitted black gown. The specifics aren't important: they get dressed up to attend a possible trap at the opera — and look very sexy while doing it. There are also a few scenes in which they're garbed in Roaring '20s attire: Maeve wears a shiny black flapper dress, Caleb a three-piece suit.
Call me superficial, but I could simply watch Westworld for how good the show looks. Costume designers Debra Beebe and Jo Kissack Folsom return to the neutral colors and favor the black and whites for almost all the characters this season. Besides Maeve, the one Westworld sentient being who gets to shine the most sartorially is Tessa Thompson's Charlotte — yes, she's also back but I won't tell you anything other than that she masters the art of the little white dress, complete with pencil skirt and corset.
The show is pretty to look at not just when it comes to costumes, hair or makeup though. If last season boasted futuristic versions of Singapore and Los Angeles, this season the show returns to la Ciutat de les Arts i les Ciències in Valencia as Delos' headquarters and to Frank Lloyd Wright's Millard House in Pasadena as Bernard's residence. Westworld's team knows how to seamlessly use real-life locations enhanced by CGI. This season it also features the Vessel at Manhattan's Hudson Yards and the Hoover Dam, among other architectural standouts.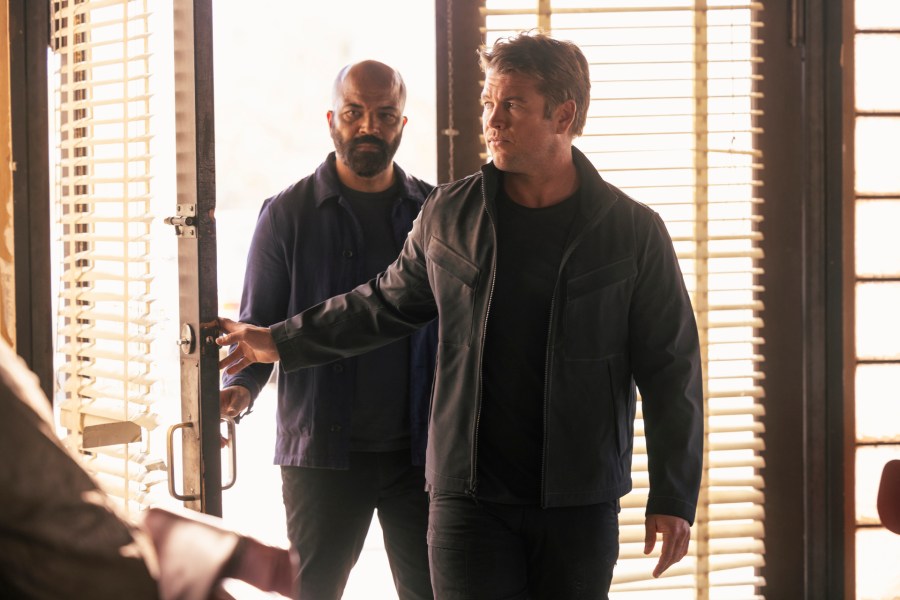 You may be wondering if you'll need a refresher of season three before tackling this new batch of episodes, but I was surprised at how easy to follow the show was — even if it had been more than two years since I last saw Maeve, Dolores and the destruction of the quantum computing system and future predictor Rehoboam. Just remember that in Westworld no one is necessarily dead-dead.
Also, by now you know not to trust Westworld's timeline. You'll get frequent reminders about it though. "The question you should be asking is not where [are you] but when," Charlotte tells Caleb at one particularly confusing moment for him. Then there's Bernard saying: "I'm trying to discern which here is here." To which Stubs replies: "You came back even weirder than when you left." And I couldn't help but feel that the show got even more meta this season. It felt like Stubs wasn't necessarily talking just about Bernard but about Westworld as a whole.
One thing is clear: If there's something that creators Lisa Joy and Jonathan Nolan and the screenwriters of the show seem to know how to do well, it's come up with interesting narratives for their characters.