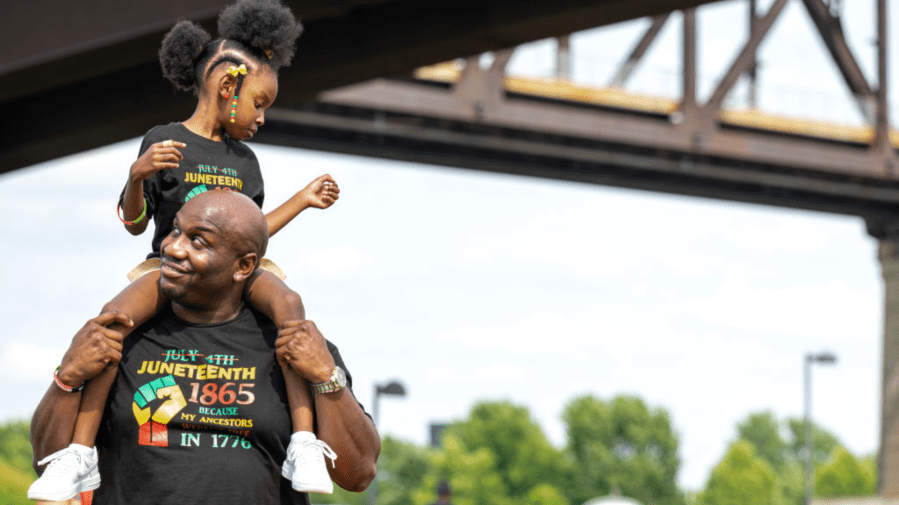 Originating in Galveston, Texas, Juneteenth commemorates the day that Union General Gordon Granger read General Order No. 3, an announcement that correlated with President Abraham Lincoln's Emancipation Proclamation, thus informing enslaved people in Texas that they were free. When folks in Texas heard the news of Lincoln's executive order on June 19, 1865, the American Civil War had been over for two months — and the Emancipation Proclamation, which was signed in 1862 and went into effect on January 1, 1863, was already two and a half years old.
Of course, the Thirteenth Amendment took Lincoln's wartime measure further, putting in place a "constitutional guarantee" of "perpetual freedom," and, thus, abolishing slavery in all states. Still, the momentous news issued in Texas on June 19 led many formerly enslaved people to celebrate with song, dance, prayer, and feasts. The following year, Black Americans in Texas commemorated the day with the first Juneteenth celebrations.
Even though Juneteenth commemorates such a key moment in history — and, in many ways, is a truer Independence Day for many Black Americans — a recent Gallup poll showed that more than 60% of Americans know "nothing at all" or only "a little bit" about the day. In fact, it only became a state holiday in Texas in 1980. In 2020, amid the historic resurgence of the Black Lives Matter Movement, some companies began instituting official days off for their employees on June 19. And, just two days before June 19, 2021, President Joe Biden signed the Juneteenth National Independence Day Act into law, making it a federal holiday.
2022 promises to be another monumental year for Juneteenth celebrations across the country. Organizations like the Aquarium of the Pacific and cities like Los Angeles and Louisville are primed to commemorate the holiday in full force. However, there are plenty of ways to honor Juneteenth no matter where you live or where you're from.
"Is Juneteenth a Federal Holiday?" Yes, Thanks to People Like Opal Lee
Known historically as both Emancipation Day and Jubilee Day, Juneteenth National Independence Day commemorates the moment when enslaved people in Texas learned they were free. Before President Biden signed the Juneteenth National Independence Day Act on June 17, 2021, Martin Luther King Jr. Day, which was established in 1983, had been the last federal holiday signed into law. Left out of history books and overlooked by lawmakers, Juneteenth's path to becoming a federal holiday was a long one.
"After taking a backseat during the 1960s Civil Rights Movement, Juneteenth made a resurgence in the '80s and '90s in communities across the country," writes CNN's Harmeet Kaur. "In 1994, leaders from around the nation gathered at Christian Unity Baptist Church in New Orleans to advocate for even greater acknowledgment of June 19's significance." As Kaur notes, many organizations sprung out of that gathering, including the National Juneteenth Observance Foundation.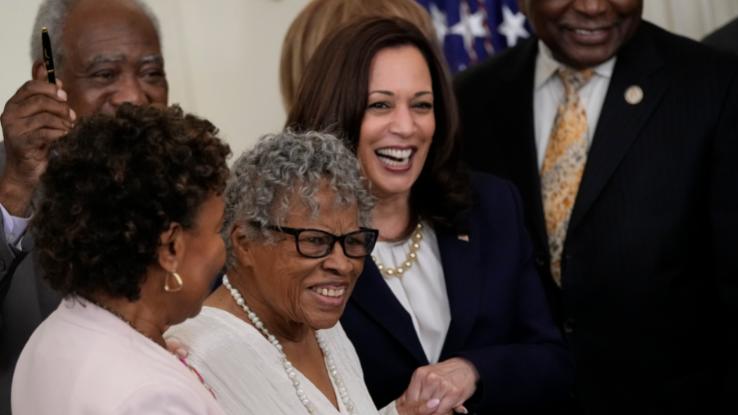 More recently in 2016, Opal Lee, who was then 89, aimed to bring attention to Juneteenth in her own way. "My idea was to walk from Fort Worth to Washington, D.C., and that surely somebody would notice a little old lady in tennis shoes," Lee told ABC7. "If I left in September 2016, I got to Washington on January 10th, 2017." As a young girl, Lee moved with her parents to an all-white neighborhood. There, a mob of white supremacists and racist terrorists threatened the family and enacted violence against them, burning down their home on June 19. This traumatic experience was confounding to a young Lee, who knew she and her family just wanted what anyone would — a safe place to call home. "I really had planned to walk that 1,400 miles," the lifelong activist told CNN. "But my team said no."
Known fondly as the "Grandmother of Juneteenth," Lee did raise public awareness for the holiday. Annually, she hosts a 2.5-mile walk in Texas to garner attention for this underappreciated moment in history. In fact, she herself penned a children's book, Juneteenth: A Children's Story. A few years later, Lee, then 94, was in the East Room of the White House on June 17, 2021, when President Biden signed the Juneteenth National Independence Day Act into law. Although overcome with feelings, the Texas resident noted that there was still work to be done. "We've got all of these disparities that we've got to address and I mean all of them. While we've got some momentum I hope we can get some of it done. We can have one America if we try," she told KTVT.
Why is Juneteenth Important?
While Juneteenth's federal holiday status is an important step in preserving America's past and recognizing the violence enacted against Black Americans since the country's founding, it isn't a substitute for substantive change in the fight for racial justice, equity, and liberation. White supremacy and systemic racism take many forms, from the racial wealth gap, disparities in incarceration numbers, and increasing police brutality to disparities in healthcare, housing and workplace discrimination, and environmental racism.
"It's Juneteenth AND reparations. It's Juneteenth AND end police violence [and] the War on Drugs. It's Juneteenth AND end housing [and] education apartheid. It's Juneteenth AND teach the truth about white supremacy in our country," Representative Cori Bush (D-MO; @CoriBush) tweeted in the wake of Juneteenth's certification as a federal holiday. "Black liberation in its totality must be prioritized."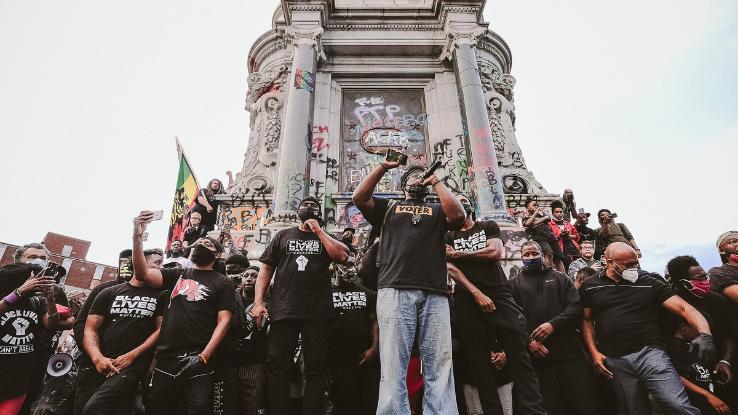 In the same way self-education won't amount to much without continued action, simply recognizing a holiday without carrying on its legacy of liberation through action amounts to performativity. For example, take the recent debate over teaching critical race theory (CRT) in schools. State legislatures throughout the country are seeking to ban the teaching of CRT to K-12 students (despite the fact that CRT isn't actually taught outside of graduate-level programs). Still, these attempts to ban critical race theory from education are mired in white supremacy — and incalculably harmful.
Put simply, critical race theory, which emerged from legal work created by scholars Derrick Bell, Kimberlé Crenshaw, and Richard Delgado, and their colleagues, states that "racism is a social construct, and that it is not merely the product of individual bias or prejudice, but also something embedded in legal systems and policies" (via EducationWeek). Critical Race Theory is a tool used by legal scholars to understand how laws create and perpetuate inequality. Proposals to ban CRT from schools are actually not about CRT at all, but are rather attempts to ban educators from teaching about true histories of racism and discrimination in America, that continue to shape the lives of Black Americans.
While Juneteenth's status as a federal holiday will no doubt raise awareness of America's history of racism and the fight for Black liberation, the fact that teaching about race is being banned in schools — that students may not be taught the "why" behind America's racist systems — underscores an undeniable disconnect. "In case you needed an example of how making Juneteenth a federal holiday is extremely performative," cartoonist and artist Robyn Smith (@RoBroSmo) tweeted, "[t]he law firm my mom works at is giving everyone the Friday off EXCEPT the administrative staff. Which includes herself and many other Black folks."
How Can You Honor Freedom Day While Centering Black Americans?
As pointed out above by Smith, alleged allies and other folks who aren't Black will no doubt take advantage of a day off while doing nothing to center Black joy or fight for liberation. Instead, these Americans will center themselves. So, if you intend to be an ally, to be anti-racist and supportive of Black Americans, don't rest on the laurels of Juneteenth being made a federal holiday — take action.
Commemorate Juneteenth While Centering Black-led Organizations and Black Artists
The National Museum of African American History and Culture: To celebrate America's "second Independence Day," the NMAAHC is hosting several events from June 11 to June 19. On the museum's website, you'll find educational resources, reading lists, access to the Freedmen's Bureau records, recordings of songs, recipe suggestions, and much, more. Additionally, you can donate to the museum and help them preserve Black American history and culture.
Step Afrika!: The first professional company dedicated to the tradition of stepping, Step Afrika! blends percussive dance styles into incredible performances. This year, the company is hosting a 19-day event to celebrate Juneteenth that runs from June 15 to July 4. Be sure to tune in — and donate to support the company year round.
The Juneteenth Foundation: "This year, we will help create the platform for the nation to come together to celebrate Juneteenth and host one of the largest Juneteenth celebrations in America," the Foundation notes on its website. In addition to the stream-able Juneteenth Freedom Concert, the virtual event will feature panel discussions about education, equity, criminal justice reform, and more. Support the Foundation's year-round efforts while you're at it.
Engage With Works That Center Black Culture and Explore Juneteenth:
Films: Two years ago, writer and director Channing Godfrey Peoples' Miss Juneteenth (2020) debuted on streaming platforms, coinciding with the 155th anniversary of the holiday. The film follows Turquoise Jones (Nicole Beharie), a single mother — and former Miss Juneteenth pageant winner — living in a suburb of Fort Worth, Texas. Turquoise wants her daughter, Kai (Alexis Chikaeze), to enter the pageant and win the scholarship money, but Kai is less than enthusiastic. Writing for IndieWire, Tambay Obenson notes that the film is "at once familiar as a story about mothers and daughters, but it also feels fresh and authentic. It breaks stereotypes and instead presents Black women who are attempting to liberate themselves and move towards greater self-awareness."
Moreover, we recommend watching 13th (2016), Ava DuVernay's documentary film that explores the "intersection of race, justice, and mass incarceration in the United States" (via The New York Times). The Academy Award-nominated film takes its name from the 13th Amendment, which formally abolished slavery in the U.S. But DuVernay shows that slavery has continued in other ways, including disenfranchisement, lynchings, Jim Crow laws, the "War on Drugs," police brutality, and, of course, mass incarceration. Clearly, there's a lot of work to do, and this film helps elucidate that.
TV Shows: Although holiday episodes of popular shows are quite common, there aren't too many series that focus on Juneteenth — at least, not yet. If you're looking to celebrate the works of Black creators who are setting stories against the backdrop of Juneteenth, both Black-ish and Donald Glover's acclaimed Atlanta feature episodes about the day. Written by Stefani Robinson and directed by Janicza Bravo, Atlanta's "Juneteenth" (season one, episode nine) sees Earn (Glover) and Van (Zazie Beetz) attending a biracial couple's Juneteenth party. "Suffice it to say," Kristen Lopez writes for IndieWire, "a lot of awkward conversations ensue that provoke in the way Atlanta usually does."
Books: The Smithsonian, the institution behind the National Museum of African American History and Culture, has also curated a list of Juneteenth reads, which includes works by Black authors as well as books for readers of all ages. Additionally, Libro.fm, an audiobook retailer that supports indie book shops, has compiled a list of audiobooks their Black-owned brick-and-mortar partner bookstores think you should be reading this Juneteenth. If you're buying physical books or ebooks, be sure to support Black-owned bookstores like Black Pearl Books, The Collective, Eso Won Books, Harriett's Bookshop, Loyalty Bookstores, Source Booksellers, and Uncle Bobbie's Coffee & Books.
Donate to Organizations and Mutual Aid Funds That Support the Immediate Needs of Black Americans
Recently, we spotlighted the need for mutual aid and community care — and not just in the immediate aftermath of a crisis. "[Mutual aid is] not community service — you're not doing service for service's sake," Mariame Kaba, a prison abolitionist and grassroots organizer, told The New Yorker. "You're trying to address real material needs." More often than not, supporting mutual aid and community-led fundraising initiatives is the most effective way to donate your money and share resources. If you're an ally who has the day off, consider donating to mutual aid for Black folks who don't have Juneteenth off or who could otherwise benefit from your support.
Additionally, donate to Black-led community-focused organizations that help dispense mutual aid and other forms of support. Some great organizations that uplift Black folks include: Color Of Change, Reclaim the Block, Black Visions Collective Movement and Legal Fund, the NAACP and NAACP Legal Defense Fund, National Urban League, LIVE FREE, The Okra Project, Black Aids Institute, Trans Women of Color Collective, Marsha P. Johnson Institute and The Audre Lorde Project.
Try finding an organization whose cause really resonates with you and set up a monthly donation. By doing so, you're committing more concretely to a cause, to supporting Black folks, and you're also helping those organizations plan for the future. For example, Therapy for Black Girls, which aims to destigmatize mental healthcare and mental illness and make resources more accessible for Black folks, is a great organization to donate to monthly, as is The Loveland Foundation.
Support Black-Owned Businesses and Black Creators
Since 2020, more businesses and restaurants have shifted gears and become accessible from afar. From Adjourn Teahouse, a Black-owned tea shop in Washington, D.C.; to BrightDyed Designs, a Black- and family-owned tie-dye shop based in California; to the Philadelphia-based Harriett's Bookshop, there are countless Black-owned businesses and Black creators to support online.
While it's nearly impossible to include a comprehensive list in this article, here are some Black-owned restaurant lists from metropolitan areas across the country, including the Bay Area (San Francisco, Alameda, Oakland, etc.), New York, Philadelphia, Chicago, Seattle and Los Angeles. Remember: Some Black-owned restaurants and businesses may be closed for the holiday, which is why it's essential to support Black business owners and creators year-round.
Engage in Activism and, in Particular, Support Reparations
While there are many ways to engage in activism that supports justice, equity and Black liberation, many activists have spoken out about the way Juneteenth can help Americans acknowledge our history — and, in turn, find ways to provide justice for past and present-day horrors. "It's a hollow gesture," activist Efia Nwangaza said of the federal government officially recognizing Juneteenth. "The notion that you can heal without justice is a fool's error."
In particular, lawmakers, like Rep. Bush, and activists, like Nwangaza, have called for the government to provide reparations to Black Americans. "We're not talking about just what happened during the holocaust of slavery. We're talking about what has happened over the past 400 years," Nwangaza, of the South Carolina Reparations Coalition, continued. According to Nwangaza, reparations can take many forms, from money and land to resources that help folks bridge the gaps — healthcare gaps, wealth gaps, education gaps — that the government is responsible for creating in the first place. By extension, we're all responsible for upholding these systems.
"Black people don't need another symbolic victory without substantive change. This week, 156 years since the end of chattel slavery in the U.S., Congress passed bills that establish Juneteenth as a federal holiday," Color Of Change said in a recent push to get folks to support reparations. "While acknowledging America's original sin is a step in the right direction, we need Congress to pass legislation that addresses the impact of slavery and the legalized oppression of our people."
Without a doubt, interpersonal reparations — money one individual gives to another — can help redistribute wealth, but Color Of Change is also pushing for government-issued reparations. Currently, a bill in Congress, H.R. 40: Commission to Study and Develop Reparation Proposals for African-Americans Act, aims to facilitate just that — but it's in need of more sponsors. This means that Americans can call their representatives, showing support for H.R. 40. If you're feeling nervous about reaching out via phone, Color Of Change provides a script and will connect you with your representative's office with ease.
In addition to supporting H.R. 40, consider interpersonal reparations. If you don't have the financial means, remember what Nwangaza said: reparations can take many forms, like providing opportunities to Black colleagues; amplifying Black business owners and creators on social media; slowing gentrification by not moving to predominantly Black neighborhoods; and looking for other ways to narrow those gaps mentioned above.
Continue to Educate Yourself About the History of Police Brutality and Systemic Racism
While some Black activists, writers and educators willingly give their time and energy, it is not the job of Black people to teach white people how to be anti-racist, nor is it their job to educate white people and allies in general about anything, including historical events or celebrations. Seek out resources yourself so that you can continue to better understand the long history of white supremacy as well as the way Juneteenth figures into that history. Doing so can help you understand how you're upholding systemic racism. Just don't let your actions stop at self-education; knowledge alone isn't activism.
At its core, Juneteenth's designation as a federal holiday provides an opportunity: in commemorating this moment in history and the people who experienced it, we are keeping that history alive, instead of erasing it or pretending it didn't happen. In a sense, it helps provide some space for accountability. Of course, that could be taken advantage of or ignored. To avoid virtue signaling or the like, it's important to think of Juneteenth's official holiday status as part of a larger push for liberation and justice. So, with this in mind, support and uplift Black Americans and liberation always — not just on Juneteenth.