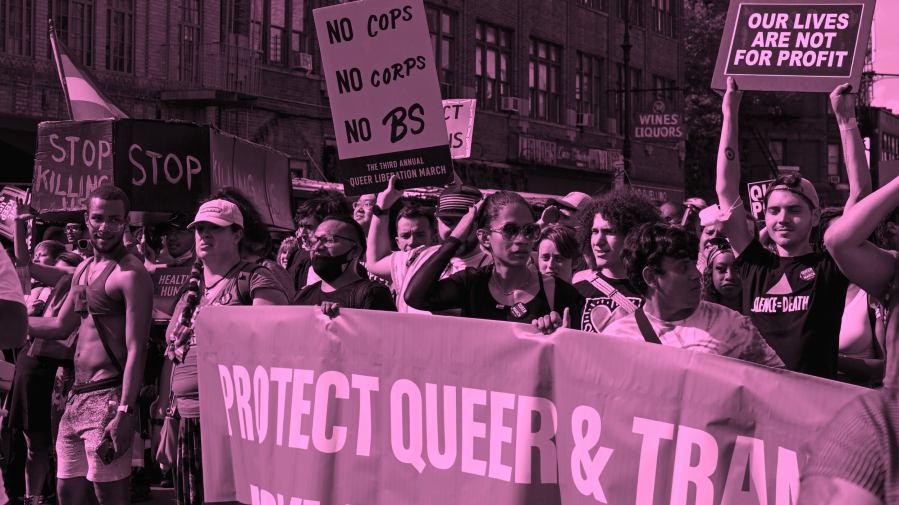 For the last 52 years, the LGBTQ+ community has celebrated Pride Month every June following the Stonewall riots in 1969. In recent years, the month has become synonymous with parades and parties as opposed to marches and protests. Even worse, corporations have taken to swathing every product, advertisement and LinkedIn logo in rainbows. And while companies rainbow-ifying their brand might sound somewhat innocuous, it has proven to be incredibly harmful to both LGBTQ+ folks and queer history at large.
In some ways, Pride Month and Pride celebrations gaining visibility in the mainstream creates wider acceptance in our communities, schools and workplaces. On the other hand, what's become known as "corporate Pride" commodifies queerness. More often than not, companies send the message that while they may not necessarily go to bat for LGBTQ+ folks when it really matters, they're more than happy to profit off of them. Most distressingly of all, this shift erases Pride's origins as a riot.
Pride's Origins: The First Pride Was a Riot
June 2020 marked the 50th anniversary of New York City's first-ever Pride march, an act that commemorated the 1969 Stonewall riots. As you may know, the Stonewall Inn, a bar in Manhattan's Greenwich Village, was raided by police on June 28, 1969. This, of course, came after years of police brutality and attempts to entrap queer patrons.
Led by Black trans activist and queer icon Marsha P. Johnson, Stonewall's patrons fought back by throwing objects at officers, trying to flip a police vehicle and setting fire to garbage cans. Protestors returned for the next three nights, and, in the aftermath of the riot, formed groups like the Gay Activists Alliance and the Gay Liberation Front.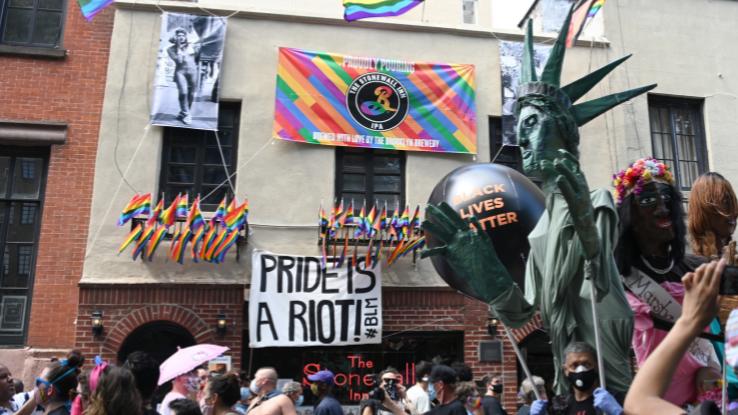 Although they weren't the first time queer and trans people fought back against police violence, the Stonewall riots created lasting change in the fight against police brutality — and in the fight for queer rights and liberation. However, Pride's origins as a riot get buried under empty slogans — we're looking at you, "love is love" — and targeted marketing campaigns. From the rainbow-emblazoned Bank of America floats at Pride parades to Target's often perplexing collection of "Pride" apparel, corporate Pride erodes not only the meaning of the month, but it de-centers activism.
After all, Pride isn't about demonstrating allyship or, you know, just partying in the streets. It can incorporate displays of allyship, for sure, and it can center queer joy — something that's revolutionary in its own right — but Pride must also be about honoring the month's origins as a force for progress and liberation in the face of police brutality and rampant discrimination.
So, instead of buying rainbow merch from companies that donate pitiful percentages of their profits to queer organizations (if they donate at all), donate to mutual aid funds and queer- and trans-led organizations that center the LGBTQ+ community instead. If you want to wear your Pride, support queer-owned businesses and artists who are part of the LGBTQ+ community. And do all of these things year-round — not just in June when it's trendy.
Support Queer- & Trans-Owned Businesses
Instead of letting corporations profit off of Pride Month, support queer- and trans-owned businesses — and businesses that center LGBTQ+ folks year-round. Whether you're looking to declare your identity or wear a more meaningful shirt to a march this June, check out these businesses and the countless others run by queer and trans folks.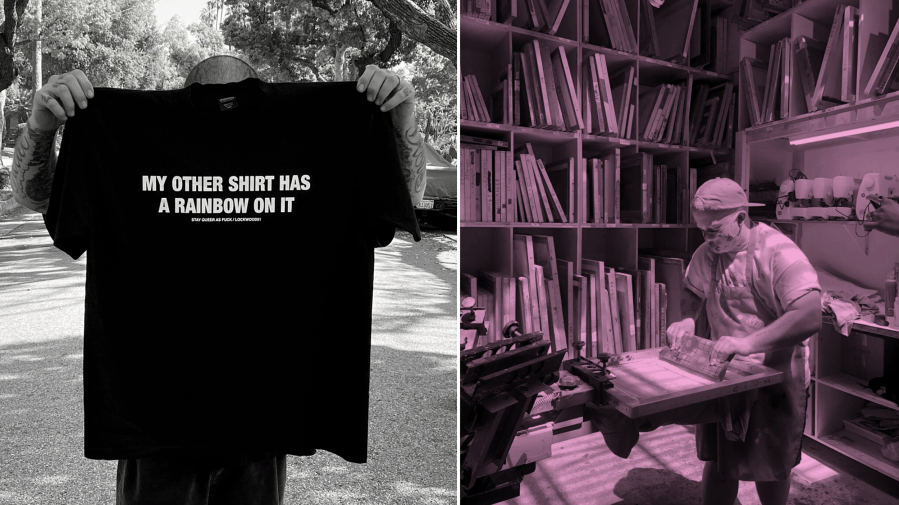 Lockwood51: The "About" page of this LA-based shop's website says it all: Lockwood51 is a movement to empower queer youth. By paying homage to queer icons and activists and taking inspiration from designs that have been historically integral to the queer liberation movement, Lockwood51 centers both queer history and our present fight. Some of our favorites? The "Support Your Local Queer Bar" shirt — 100% of the proceeds actually benefit Los Angeles queer bars — and the Baldwin Premium shirt, sales of which benefit Gender Justice LA.
Transfigure Print Co.: This queer- and trans-owned LGBTQIA+-inclusive screen-printing company has been based out of Michigan since 2017. The aim? Provide inclusive garments to folks — all while raising money for "the individuals shaping the LGBTQIA+ community."
Official Rebrand: This clothing brand combines original artwork with upcycled garments to create a "celebration of identity fluidity [by] dissociating garments from gendered categories" (via Them). One of our current favorite pieces for June? This "Pride Began With a Riot" zip-up, which pays homage to radical queer and trans history.
Stuzo Clothing: This queer-, Black- and women-owned business self-describes as "a gender free clothing company designed to invoke thought and emotion." A brand for the "non-conforming and bold at heart," Stuzo has everything from button-downs and joggers to candles and caps.
Fluide: This queer-owned beauty company produces makeup for people of all genders and skin tones. From palettes to lipstick, all of Fluide's products are also cruelty-free and chemical-free.
Wildfang: Sure, we've all been used to sweatpants and hoodies over the past few years, but there's nothing like finding that perfect-fit suit, right? If that's too much of a leap, Wildfang — a queer-owned and Portland-based clothing store that's all about breaking gender norms — also offers some incredible button-ups and has carved out a name for itself as a go-to workwear supplier. Coveralls, anyone?
Rebirth Garments: Can't find apparel in mainstream shops that feel right for your body and identity? Look no further. According to Rebirth Garments, the shop "challenges mainstream beauty standards that are sizeist, ableist, and conform to the gender binary."
gc2b: Founded in 2015, gc2b is a trans-owned company based in Maryland that specializes in gender-affirming compression garments, like binders.
Of course, there are so many other queer- and trans-owned businesses to discover and support. Our advice? Before buying anything, do your research and try to support businesses run by queer and trans folks — as well as people of color — as much as possible.
Donate to Mutual Aid Funds & Organizations That Center LGBTQ+ Folks
As we've discussed, supporting mutual aid and community-led fundraising initiatives is the most effective way to donate your money and share resources. Another great way? Supporting organizations that champion civil rights efforts or help facilitate the distribution of those mutual aid funds.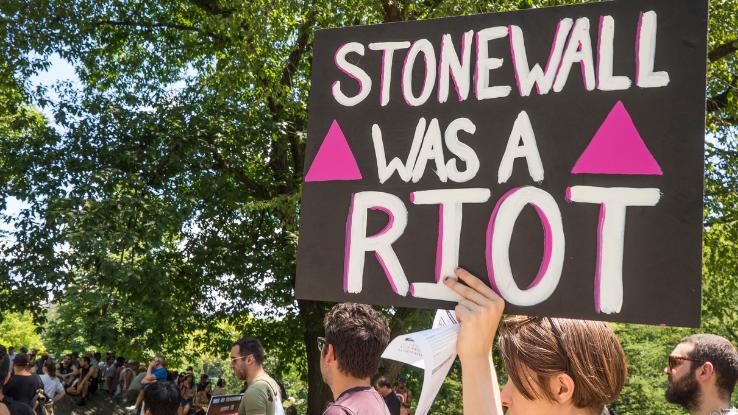 Trans Lifeline: Run by and for trans people, Trans Lifeline provides peer support for the trans community and has been divested from police since day one.
The Trevor Project: The leading national organization in providing crisis-intervention and suicide-prevention services to lesbian, gay, bisexual, transgender and queer youth.
The Sylvia Rivera Law Project: "[We work to] guarantee that all people are free to self-determine their gender identity and expression, regardless of income or race, and without facing harassment, discrimination, or violence," the collective organization states on its website. "We believe that in order to create meaningful political participation and leadership, we must have access to basic means of survival and safety from violence."
For the GWORLS: This Black, trans-led collective raises money to help Black transgender folks pay rent and receive gender-affirming care and surgeries. Funds also support doctors' visits and travel assistance.
Black Trans Travel Fund: As mentioned above, this grassroots organization is a "Black Trans led Collective, providing Black Transgender Women with financial and material resources needed to remove barriers to self-determining and accessing safer travel options."
The Okra Project: Self-described as a "collective that seeks to address the global crisis faced by Black Trans people by bringing home cooked, healthy, and culturally specific meals and resources to Black Trans People wherever we can reach them."
Marsha P. Johnson Institute: MPJI "protects and defends the human rights of BLACK transgender people. We do this by organizing, advocating, creating an intentional community to heal, developing transformative leadership, and promoting our collective power." Moreover, the Institute aims to "reclaim Marsha P. Johnson and our relationship as BLACK trans people to her life and legacy."
Reclaim Pride Coalition | Queer Liberation March: "In the city of New York, home to the Stonewall Inn, a group of Queer activists decided the Parade in NYC had gone too far — too far from the spirt of the Stonewall Rebellion, and miles away from achieving societal equity for queer and trans people," Reclaim Pride Coalition, the organizers of the annual Queer Liberation March, explains.
In 2019, the Coalition and 45,000 marchers reclaimed Pride for LGBTQIA2S+ communities, following the same route as the Christopher Street Liberation Day March. This year, the Queer Liberation March will take place on Sunday, June 27 — and there won't be corporations, cops, or any of the other things that have harmed Stonewall's legacy. Even if you aren't based in NYC, you can support the Coalition and the March with donations.
Other organizations that center queer folks include the Black AIDS Institute, Trans Student Educational Resources, TransWomen of Color Collective, Transgender Law Center and Transgender Legal Defense & Education Fund — but there are many, many more queer- and trans-centering organizations that can benefit from your support. Our advice? Find mutual aid funds and organizations that resonate with you personally. And, if you can, try to make monthly or recurring donations.