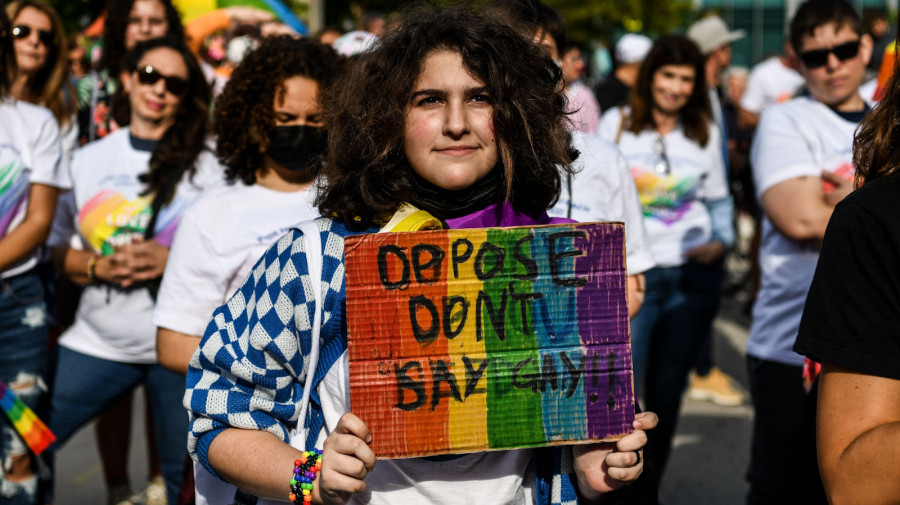 If you've been paying attention to the news recently, you probably heard about the "Don't Say Gay" bill that Governor Ron DeSantis signed into law on March 28 2022. The troubling vagueness of the bill means lawmakers could impose enormous restrictions on how educators talk to children in kindergarten through third grade about sexual orientation and gender identity.
News of this bill comes in the midst of what has already been a disturbing trend of anti-LGBTQ+ and anti-trans legislation over the past couple of years. The recently passed Texas law preventing trans kids from participating in school sports is a good example of how states are harming children and negatively impacting their mental health. Beyond that, many of these bills are devastating to the possibility of having honest conversations with kids in educational settings across the board.
In honor of International Trans Day of Visibility, beyond encouraging you to read up on these issues, we wanted to provide a list of resources aimed at supporting queer kids across the country, as well as local resources in places like Florida, Texas, and Arizona. Without far-reaching federal legislation, like the Equality Act, on the books, mutual aid and community resources are more important than ever. There are, of course, many more organizations than those we've included here, but all of them can use your support so that they can do the incredibly important work of being there for kids in the face of hateful laws that curb their freedom to learn and — most importantly — to be themselves.
National Resources
Trans Lifeline is an organization run for and by trans people. They offer direct emotional support and financial support to trans people in crisis, and they are mostly funded by individual donations. They run a hotline, provide microgrants for folks who need financial resources to correct their names and identifying information on legal documents, and help link people with other support resources.
The Trevor Project supports LGBTQ+ young people by offering 24/7 crisis services, supporting research projects into suicideology and suicide prevention, providing education for allies and educators working with young people, and in lots of other ways. They've also created TrevorSpace, "an affirming, online community for LGBTQ+ young people between the ages of 13–24."
The LGBT National Help Center offers free and confidential support and resources to "the LGBTQ+ and questioning community," and has been doing so since 1996. Their Youth Talkline is a place kids (actually anyone under 25) can go for "telephone, online private one-to-one chat and email peer-support, as well as factual information and local resources for cities and towns across the United States" from highly trained volunteers who identify on the LGBTQ+ spectrum.
Florida Resources
Zebra Coalition supports LGBTQ+ youth (ages 13–24). Their materials say that the coalition "assists young people facing homelessness, bullying, isolation from their families, and physical, sexual and drug abuse with individualized programs to guide them to recovery and stability." Specifically, they offer individual and family counseling as well as housing support and resources.
Sunserve provides "critical life assistance and professional mental health services with an emphasis on economically disadvantaged, marginalized youth, adults and seniors in the greater South Florida metropolitan area." They have specific programs for transgender services and youth services, too.
Texas Resources
Out Youth is a Central Texas organization that "promotes the physical, mental, emotional, spiritual and social well being of sexual and gender minority youth so that they can openly and safely explore and affirm their identities." They've been around for over 30 years, and offer tons of resources for kids, including a "Pre-Teen Drop-In" for kids ages 9–12.
TxTransKids.org provides resources for trans youth in Texas, and they also encourage folks to sign up to be advocates to further provide community-based support to trans youth. They provide helpful educational tools on students' rights, and a "help" resource section of crisis and support lines in addition to other useful information.
Arizona Resources
one•n•ten is a Phoenix-based organization with satellite locations throughout Arizona. Their site says: "Our mission is to serve LGBTQ+ youth and young adults ages 11–24. We enhance their lives by providing empowering social and service programs that promote self-expression, self-acceptance, leadership development, and healthy life choices."
The Southern Arizona Gender Alliance compiles social and community support resources as well as support for finding doctors and other health information. They also provide resources for folks who need name and/or gender marker change support as well as helpful crisis intervention links.
As we mentioned, outside of this list there are many more LGBTQ+-led organizations worth supporting, from empowering youth-led groups like Trans Student Educational Resources (TSER) to organizations like the Transgender Law Center (TLC) and the Transgender Legal Defense & Education Fund (TLDEF), which aid trans and gender non-conforming folks and their families with any legal challenges they might face.