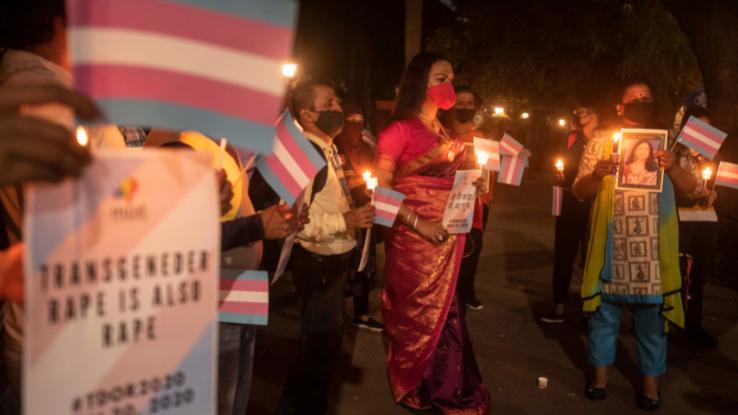 For over two decades, the trans community and their allies have observed Transgender Day of Remembrance on November 20. With social media raising our collective awareness of the annual observance, it has gained more widespread support and acknowledgment in recent years. Here, we're delving into the origins of Transgender Day of Remembrance and outlining several ways you can support the trans community — during Transgender Awareness Week and all year long.
Content Warning: Please be aware that there are mentions of instances of anti-trans violence in this article.
The Origins of Transgender Day of Remembrance
Every year, Transgender Awareness Week concludes with Transgender Day of Remembrance (TDoR). While this observance isn't necessarily new — it's been commemorated for just over two decades now — Transgender Day of Remembrance has certainly gained more support in recent years from the wider queer community and allies.
Started by San Francisco Bay Area-based writer and trans activist Gwendolyn Ann Smith, the first Transgender Day of Remembrance was held in 1999 to honor Rita Hester, a Black transgender woman who was murdered the year prior in Allston, Massachusetts. At the time, mainstream media coverage of anti-trans violence was scarce — even scarcer than it is today — and, when there was coverage of Hester's death, it was often transphobic and disrespectful.
While the trans community in Allston and the greater Boston area came together for vigils immediately following Hester's murder, the grief for Hester — and other trans folks who lost their lives as a direct result of anti-trans violence — permeated the community. In addition to memorializing those whose lives were taken, Transgender Day of Remembrance aims to raise awareness about the longstanding pandemic of anti-trans violence that exists in the United States — and throughout the world. As we've seen with 2021's onslaught of anti-trans legislation and rhetoric, transphobia still needs to be dismantled; cisgender people need to confront their prejudice and understand the harm it's causing so many, both directly and indirectly.
"Transgender Day of Remembrance seeks to highlight the losses we face due to anti-transgender bigotry and violence. I am no stranger to the need to fight for our rights, and the right to simply exist is first and foremost," Smith said of the observance (via GLAAD). "With so many seeking to erase transgender people — sometimes in the most brutal ways possible — it is vitally important that those we lose are remembered, and that we continue to fight for justice."
Before founding the observance, Smith ran one of the first public online forums for trans people; the Transgender Community Forum (also known as The Gazebo), which was hosted on AOL, was active from 1993–98. But the forum isn't Smith's only form of online activism. In addition to reporting for a local Bay Area publication and managing the online community Genderfork, Smith founded Remembering Our Dead, a website that memorializes people who have died or been murdered due to transphobia and gender-based prejudice. Now, the list, which spans roughly 50 decades, can be found on the official Transgender Day of Remembrance website.
2021 Marks the Deadliest Year on Record for the Trans Community
Over 20 years since its founding, Transgender Day of Remembrance has gained incredible support; not only is it observed throughout the U.S., but over 200 cities in over 20 countries hold vigils and events on November 20. While this increased awareness and support is something to celebrate, it's also essential to recognize just how much transphobic rhetoric and anti-trans violence trans people have to endure in the U.S. alone.
In 2021, state legislatures across the country have introduced more than 100 bills aimed at discriminating against transgender Americans and restricting the rights of trans people. According to the Human Rights Campaign (HRC), more than 250 anti-LGBTQ+ bills have been aimed at the wider LGBTQ+ community in states across the country.
All of this political rhetoric has no doubt emboldened transphobes. Not to mention, there's been a disturbing uptick in the sheer amount of trans-exclusionary radical feminist (TERF) stances from high-profile celebrities with immense platforms; everyone from J.K. Rowling to Dave Chapelle to Gina Carano has felt the need to disclose their transphobic views publicly — and then make themselves out to be the "victim" once their bigotry is pointed out.
Remembering Those We Have Lost in 2021
All of those hateful words translate to more physical harm and violence, too: 2021 is now the deadliest year on record for the trans community, surpassing the previously most deadly year, 2020. Black transgender women and transgender women of color face the largest threat of anti-trans violence, underscoring the way systemic racism and anti-Blackness further compound transphobia.
In 2014, the National Coalition of Anti-Violence Projects found that 80% of the LGBTQ+ people murdered that year were people of color, while 55% were transgender women and 50% were transgender women of color (via GLAAD). Still, there is simply no way of knowing with certainty just how many instances of violence trans and gender non-conforming people experience.
"The rhetoric and stigma aimed by anti-equality political leaders and public figures at transgender and non-binary people have led to an unprecedented level of horrific violence against our transgender community," Joni Madison, the interim president of the Human Rights Campaign, announced in light of the HRC's annual report on anti-trans violence. "We must fight for change. We must dismantle this stigma. We must bring this epidemic of violence to an end."
As reported by the HRC, there are 46 known trans and gender non-conforming people who were killed as a direct result of transphobia in 2021:
Today, and every day, we remember them — and we hold space for those names and people we don't know, but who we lost too soon.
Here's How You Can Support the Trans Community on Transgender Day of Remembrance — and During the Rest of the Year, Too
In an interview with Vogue on the 20th anniversary of TDoR, Smith noted that the continued support the day has received is "mind-blowing," but she also expressed some mixed feelings. "At the same time, there are times that I feel like, What did I unleash? Did I do the right thing? Was this the event that our community should have?" Smith wondered. "A lot of TDoR [events] are, for obvious reasons, focused around our deaths and our dying. And can we be something more than our deaths?"
So, as a cisgender ally, how can you support the trans community? In addition to attending vigils and other local (or virtual) TDoR events as a show of solidarity, always look for other ways to support the trans community by giving both your time and/or resources. Look for events and organizations that center some of the most vulnerable people in the transgender community — trans people of color, Black trans people and trans sex workers.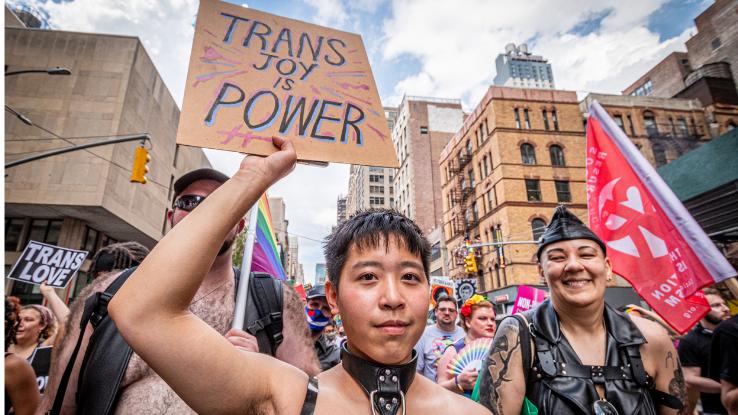 Supporting mutual aid and community-led fundraising initiatives is the most effective way to donate your money and share resources. Another great way? Supporting organizations that champion civil rights efforts or help facilitate the distribution of those mutual aid funds. Find mutual aid funds and organizations that resonate with you personally. And, if you can, try to make monthly or recurring donations to these (or other) organizations and mutual funds:
Of course, education is also an instrumental part of the process. As Transgender Awareness Week's name suggests, TDoR (and the lead up to it) aim to raise awareness and knowledge, not just of the violence and bigotry the trans community faces, but of trans folks' varied experiences, too — of their lives, of their joy.
Part of being a good accomplice is understanding history and folks' present-day lived experiences. Start by acquainting yourself with trans and queer activists, like Cece McDonald and Miss Major Griffin-Gracy. Learn about the history of queer and trans liberation-centered activism; some of the most landmark events in queer history, from the Compton's Cafeteria riots to the uprising at Stonewall, were helmed by trans people, like Marsha P. Johnson and Sylvia Rivera.
And, as we've mentioned above, representation does matter. Support trans creatives by watching shows that center trans and non-binary characters, such as Pose, P-Valley, Feel Good and Sense8. Additionally, tune into documentaries and interviews, too. From portraying how characters, TV shows and film have reinforced ignorant, dangerous stereotypes to dissecting how cisgender actors portraying trans characters can actually do more harm than good, Disclosure, a 2020 documentary on trans representation in the media, made many truths apparent — and, if you haven't watched it yet, do so now. This year, Oprah's interview with Elliot Page (Umbrella Academy), who bravely shared his experiences as a trans person in the spotlight, is not only reaffirming for many trans folks, but a way for cisgender allies to hear a first-hand account.
However you choose to support the trans community on Transgender Day of Remembrance, keep in mind that the work doesn't stop here — it starts here.