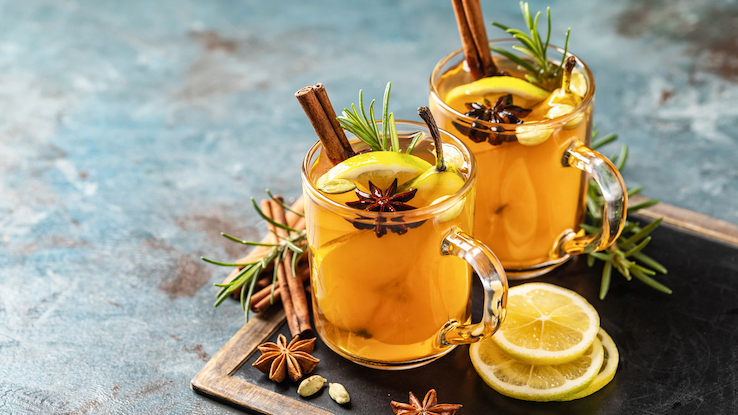 If you're quitting drinking for Dry January — or just looking to drink less in general — mocktails can be a nice addition to your beverage rotation. They offer all the great taste and festive fun of an alcoholic cocktail without the hangover and other pesky health effects.
So when you're raising a toast or unwinding after work and plain old sparkling water just won't cut it, break out the cocktail shaker and martini glasses and give these wintery mocktail recipes a try.
Zero-Proof Twists on Feel-Good Winter Favorites
On a cold, grey winter day, a classic wintertime drink can really pep you up. Check out these recipes for a non-alcoholic hot toddy and a twist on the white Russian that may be even better than the original.
Non-Alcoholic Hot Not Toddy by The Spruce Eats
As this recipe notes, hot toddies are like the beverage version of chicken noodle soup — they just seem to chase the winter blues away. They're a great cocktail for the holiday season and beyond. And as a bonus, they can soothe a sore throat from all that dry winter air! This non-alcoholic version provides the same warming effect without the liquor. Best of all, you can make it with any tea you have on hand.
To make the magic happen, you simply combine the tea with honey, lemon juice, cinnamon, cloves, nutmeg and a lemon garnish. The result is the stuff that cozy winter nights are made of.
Salted Caramel White Russian Mocktails by Tablespoon
Want to enjoy the bold, creamy flavor of a white Russian with a surprise that may be even better than booze? Simply ditch the liquor and add in espresso instead. Coffee lovers, prepare to fall in love.
This seasonal pick-me-up is made with salted caramel sauce, espresso powder, unsweetened baking cocoa, ice cubes and whipped cream. Complete with a salted caramel garnish, it's sweet enough that you can skip dessert and sip this instead.
Festively Fruity Drinks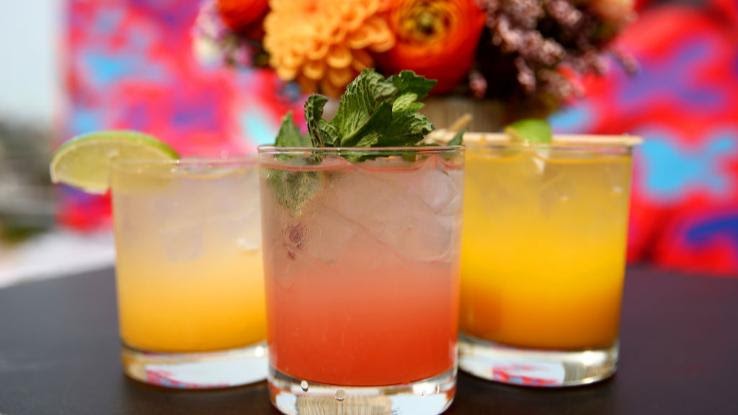 Looking for some fun, fruity flavors without the hangover? Look no further than these fruit-filled twists on apple cider and Derby cocktails. Fruity drinks aren't just for summer — they're a refreshing choice for the winter months, too. And rather than leaving you worse for the wear like their alcoholic counterparts, they can give you a boost of healthy antioxidants.
Cran-Apple Cider and Rosemary Mocktail by The Zero Proof
Nothing says cozy winter (or fall) evenings quite like cider, and the rosemary garnish brings a nice herbal flourish to this mocktail. This recipe is super easy — you just need cranberry juice, apple cider, sparkling water and fresh rosemary to keep things festive.
Leave time to start the process a few hours ahead — you'll need to muddle some rosemary in the sparkling water and let it infuse in the fridge. Other than that, it's as simple as combining the rest of the ingredients and giving it a good stir.
Derby Dry Mocktail by Eating Well
If you're in the mood to sip from a chilled martini glass, then look no further than this booze-free twist on a derby cocktail. Unlike its traditional cousin, which uses bourbon and vermouth, this feisty little cocktail gets its flavor from cranberry juice, grapefruit juice, lemon juice, simple syrup and ginger ale.
You can still enjoy all the fun of busting out your favorite cocktail shaker. And after you garnish the rim with a festive slice of orange, you'll be ready to sip your way through Dry January and beyond.
Citrusy Sips with a Dash of Vitamin C
Want a little vitamin C with your faux-cocktail treat? Citrus fruits are a wintertime classic, and we've got you covered with these orange-infused beauties. Both are perfect for enjoying some bittersweet goodness that's even better than your favorite alcoholic go-to.
Winter Spiced Orange Mocktail by Simply Recipes
This spice-filled favorite makes for the perfect aperitif before dinner. The syrup base uses a blend of Seville oranges, cinnamon sticks, cloves and allspice berries — just about every amazing winter flavor rolled into one.
A bit of club soda and a dash of orange bitters round out the mix. You can even garnish it with orange slices if you're feeling festive. The whole process takes about half an hour, but the heavenly scent and taste will make the effort totally worth it.
Sparkling Blood Orange Mocktail by Marisa Moore
Prepare to meet the most gorgeous mocktail of all with this refreshing, vibrant-hued spritzer. All you need to whip up a batch is four simple ingredients: blood oranges, honey, vanilla extract and lime-flavored sparkling water.
The great thing about this one, aside from its obvious tastiness, is the health benefits of the fresh-squeezed fruit. Blood oranges and other citrus fruits are a great choice during the winter season.
All the Boozy Taste — None of the Actual Booze
If you're someone who genuinely enjoys the taste of liquors like gin and rum, even without the alcoholic effect, then these two recipes are for you. That said, if you think the boozy flavors may tempt you to ditch your Dry January resolution, then you may be better off exploring some of the other delicious options above.
Zero-Proof Hot Buttered "Rum" by The Zero Proof
If you can't bear the thought of winter without hot buttered rum, then check out this alcohol-free option. The trick of maintaining the rum-like taste lies in substituting alcohol-free rum extract for the typical spirit.
The rest of the ingredients feature a who's who of the best winter flavors. You'll combine the rum extract with softened salted butter, cinnamon, nutmeg, cardamom, cloves and heavy cream to produce the tastiest winter drink since full-proof hot buttered rum.
Non-Alcoholic Negroni (NAgroni) by Simply Recipes
If you're a fan of the famous Negroni aperitif, then check out this zero-alcohol recipe that's an amazing match for the real thing. The trick is using non-alcoholic versions of the three key Negroni ingredients: gin, Campari and vermouth.
You'll combine the alcohol-adjacent ingredients with simple syrup and garnish with an orange slice. A dash of blood orange bitters kicks the citrus flavor up a notch. The result tastes remarkably like the alcoholic original, with a rich aroma and full citrus taste. Cheers!