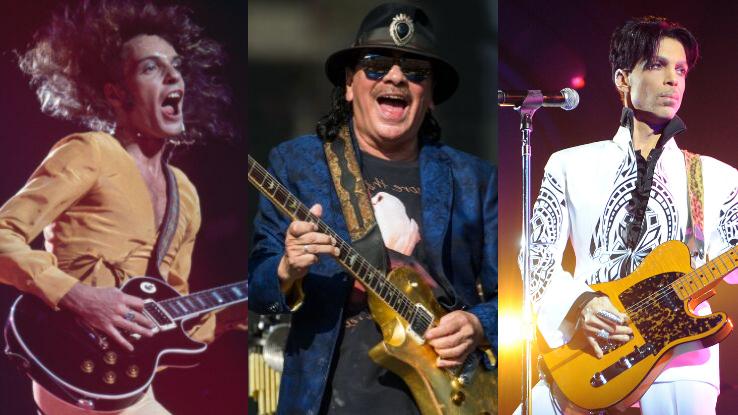 A simple chord progression or an epic guitar solo can make a song memorable. But it takes a truly gifted guitarist to develop a sound that's uniquely their own.
These guitar prodigies stand out for pioneering or exemplifying the power that a guitar can give a genre. Music wouldn't be the same without these talented artists, and in some cases, the world wouldn't be the same without their artistic achievements.
40. Stevie Ray Vaughan showed the world his blues/jazz guitar prowess at the Montreux Jazz Festival in 1982. Immediately following the festival, Vaughan got calls to release an album. Five glorious guitar-heavy albums later, Vaughan's life was tragically cut short in a helicopter crash.
39. Kaki King brings an otherworldly blend of genres to her unique style of guitar playing. She's a composer, a fingerpicking virtuoso and an improvisational mastermind. Each piece quickly weaves through jazz, classical, trip-hop, flamenco and pop right before your eyes.
38. Buddy Guy combined his Louisiana roots with Muddy Waters' Chicago sound. It's a unique blend of free jazz, soul and avant rock. Even at 83, Guy continues to perform at least 130 nights a year. You can catch him in Chicago at his own club – Buddy Guy's Legends.
37. George Harrison was the Beatle in the studio, constantly exploring the latest technical innovations. But no matter how far their experimentation went, Harrison stayed true to the Beatles' sound. Even as a solo guitarist, his work with the slide guitar is what legends are made of.
36. Freddy King was an American blues legend. He based his unique guitar style on influences from Texas and Chicago. His best guitar work incorporated vocal nuances by using Texas' open-string sound. He also stood out for avoiding the popular '50s style blues and played more innovative, youthful music.
35. Robert Johnson's past is a mystery. Historians speculate he sold his soul to the devil to achieve musical success. It was a good deal, because Johnson is regarded as a pioneer of Delta blues. His life was cut short at 27, but his recordings built the blueprint for blues.
34. Kurt Cobain's contribution to guitar playing goes beyond "grunge". With Nirvana's release of Nevermind in '91, Cobain slaughtered '80s hair metal. His aggressive use of feedback, fuzz and distortion furthered alternative rock's sound. It wasn't quite punk, blues or pop-rock, but a mix characterized by force and urgency.
33. Thurston Moore is a veteran of alternative music who pushed boundaries from the start of his prolific career. As a founding member of Sonic Youth, Moore and bandmate Lee Renaldo composed complex melodies using unusual guitar tunings. By modifying their instruments, Sonic Youth established their unusual, droned out sound.
32. Tony Iommi is a founding member of the heavy metal band Black Sabbath. Many guitar aficionados have credited Iommi with creating heavy metal music. His aggressive riffs and compositions pioneered the genre's bombastic sound. Other genres, like goth, industrial, death and doom are all composed of elements Iommi created.
31. Jeff Beck was a rock pioneer by launching bizarre solo attacks at full volume. His imagination let him explore his unique approach to playing the guitar. His range between blues and hard rock helped albums made by some of rock's legends, including Stevie Wonder, Rod Stewart and plenty more.
30. Bill Frissel pioneered the next generation of jazz guitar from his start in the late 80s. Frisell blended the pure, clean sound of jazz guitarists with the distortion and sound manipulation of rock and soul players. His sound is eclectic and versatile in the world of jazz guitar.
29. Keiji Haino use of silence influenced his guitar playing over his forty-year career. His work is influenced by psychedelic music, free improvisation and minimalism among countless other genres. "Ma", the Japanese musical concept of silent spaces in music, has been a key factor in Haino's work.
28. Peter Frampton is synonymous with his guitar playing, particularly with his signature talk box. Frampton famously made guitar solos using a talk box that sounded like his own voice. His solo work was critically acclaimed, particularly his record-shattering Frampton Comes Alive! album from 1976.
27. Tom Morello is best known for his music with rock bands Audioslave and Rage Against the Machine. He more than earned his spot on this list for his atypical incorporation of feedback noise, tapping, picking and heavy use of guitar effects throughout his career.
26. Ry Cooder has been a top-notch blues guitarist since his start in the '60s. His catalog is a diverse array of music that always incorporates his American roots sound. His fondness of world music later in his career led to the formation of the Cuban Buena Vista Social Club.
25. Glenn Branca's blend of avant-garde and classical orchestrations was far from normal. As a 15-year-old, Branca practiced the guitar while creating a series of sound collages for fun. He later evolved into one of the most eclectic guitar composers of all time.
24. Jack White represents the guitar icon for the modern era. His signature, modern garage sound helped launch the rock revival of the early 2000s as a member of The White Stripes. He has since taken his signature sound to other bands, including The Dead Weather and The Raconteurs.
23. Kevin Shields pioneered the shoegaze movement in the late '80s as the vocalist and lead guitarist of My Bloody Valentine. By detuning the guitar's whammy bar, Shields used it in a new way, taking the sound in and out of tune.
22. John Lee Hooker is the "father of the boogie" for a reason. He took Delta blues, one of the earliest styles of blues music, and brought it to a new age. His strumming was a new approach to blues in the '40s, incorporating rhythm into his talking blues tracks.
21. Duane Allman achieved legendary status for his electrifying slide guitar playing and outrageous improvisational skills. Even though Allman died at 24 from a motorcycle accident, his contributions are far from forgotten. His slides and improvisations exemplified the magic of the Allman Brothers band.
20. Chet Atkins also known as "The Country Gentleman" is widely recognized as the creator of the pop-heavy "Nashville sound". At a time when country music was facing a slump, Atkins' distinctive picking style became his signature move. It reinvigorated country music and created new generations of country music fan.
19. Lou Reed first caught people's attention as the lead guitarist of the rock band the Velvet Underground. His signature style of experimental guitar playing and laid back delivery made for a glamorous, ethereal combination. Reed, the smart cynic, the rebel, will go down as guitar's coolest performer.
18. Django Reinhardt, the Belgian-born guitarist, was a jazz talent from France in the '30s. His band, Quintette du Hot Club de France, was unique at its time for featuring guitar so prominently as a jazz act. But with a visionary like Reinhardt, it was hard to hide his expertise.
17. Paco de Lucía was an incredibly gifted and influential flamenco guitarist from southern Spain. He's often credited for incorporating classical and jazz influences into his sound during the 70s. His fast, fluid picados (fingerstyle runs) are a dazzling display of precise craftsmanship.
16. Les Paul's name is synonymous with the solid-body electric guitar, but Paul was also a wildly innovative guitar player in the '40s and '50s. His licks, trills and fretting techniques came to define the jazz, country and blues music of his era.
15. "Mother" Maybelle Carter was the queen of country guitar. As a member of the historic Carter Family act in the '20s and '30s, she dazzled the folk scene with her techniques. Her creative touch pioneered the thumb brush style, the church lick and her famous 'Carter Family' picking.
14. Prince had the versatility of Hendrix mixed with the delicacy of Santana. He could play a power ballad like no one else with "Purple Rain," get funky like Nile Rodgers on "Kiss" and shred on "Get Off." It's this blend of versatility and beauty that makes Prince so legendary.
13. Yngwie Malmsteen is a rare performer from the rock genre to blend neoclassical metal with heavy metal. His lightning-fast fingers conducted speedy classical symphonies while shredding his Stratocaster. It makes sense that he credits Bach and Paganini as his musical influences.
12. Peter Townshend doesn't earn his spot on this list because he was the first to destroy a guitar on stage. No, that's an added bonus. But it is a testament to the punk mentality he brought to his guitar playing for The Who.
11. Elizabeth Cotton taught herself the guitar in Chapel Hill, North Carolina. She learned using her brother's, which was strung for a right-handed player, but Cotton was a leftie. As a result, she taught herself how to play upside down, creating her own unique style of guitar playing.
10. Jimmy Page is the guitar prodigy from the '60s English rock band The Yardbirds and the hard rock '70s band Led Zeppelin. Drawing inspiration from blues, psychedelia and folk, Page has some of the most powerful guitar riffs in rock music.
9. B.B. King was born on a cotton plantation in Itta Bena, Mississippi, and later became the most influential blues musician of all time. A true craftsman with a Gibson ES-355, King was influential for his expert shortened bursts, always executed with a sophisticated delivery.
8. Keith Richards expert riffing is the truly legendary. Throughout his catalog of superior guitar playing with The Rolling Stones, Richards played both lead and rhythm guitar. At times, he'd often play all the guitar parts while recording some of the band's most legendary tracks.
7. Eric Clapton has the distinction of being the only person inducted into the Rock and Roll Hall of Fame three times, and it's fitting. His contributions to rock and blues as a solo artist and as a member of bands the Yardbirds and Cream are truly groundbreaking.
6. Sister Rosetta Tharpe proved that Gospel music can rock. Dubbed "the Godmother of rock and roll," Tharpe pioneered the blending of her gospel roots with blues, soul and rock and roll. Her voice had a sonic, emotional power that made it a breeze for her to dominate every genre.
5. Carlos Montoya grabbed a guitar when flamenco music played a small role for Spain's historic dance style. As he gained popularity in the '20s and '30s, his unique style caught more attention while angering purists. Although he was changing the sound of flamenco, he popularized it around the world.
4. Eddie Van Halen is widely regarded as one of the greatest electric guitar players in the world. His style includes two-handed tapping and the use of natural and artificial harmonics. Add his style to his rhythmic approach and you've got yourself a world class guitar player.
3. Carlos Santana came to prominence in the '60s and '70s with his band, Santana. His sound was a unique blend of rock and roll and Latin American jazz. His melodic, blues-heavy guitar would be the driving force in a band that blared Latin and African rhythms.
2. Chuck Berry's blend of rhythm and blues with a speedier guitar set the groundwork for rock and roll music. His slight increase in pace separated himself from any of his rhythm and blues contemporaries and solidified him as a guitar legend.
1. Jimi Hendrix's mainstream career lasted only four years, but Hendrix is often called the most influential guitarist of the 20th century. The wah-wah pedal, amplifier feedback and stereophonic phasing effects are just a few of Hendrix's many contributions. His albums continue to sell years after his sudden death.