Originally a military base, Fort Myers, Florida annually welcomes more than five million tourists from all over the world. Regularly accumulating accolades from places like TripAdvisor, Southern Living and Thrillist, Fort Myers embodies everything that makes visiting Florida great.
Located conveniently on the Gulf side of Southern Florida, Fort Myers has a lot more going on than its white-sand beaches and palm trees. Not bogged down by amusement parks or spring breakers, a Fort Myers getaway can be both an exciting and relaxing experience. 
Whether you've contemplated going to Fort Myers before or you're looking for new things to do in the "City of Palms," this getaway guide can help you get started on that vacation itinerary.
Of All Florida Destinations, Why Fort Myers?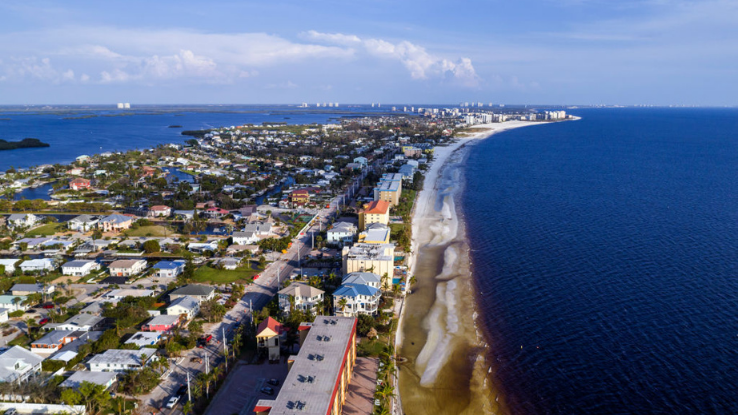 Located in Florida's southern half, Fort Myers is a great place to set up a "home base" if day trips are your thing. Just a few hours from Tampa, Miami and Orlando, visitors can get a taste of Florida's other offerings, too. Fort Myers is even closer to other popular beach destinations, like Cape Coral and Pine Island, but trust us — there's so much to do in Fort Myers that you don't have to leave it.
Fort Myers is loaded with history. Aside from its connection to the Seminole and Civil Wars, it was the winter homes of former U.S. President Henry Ford and American inventor Thomas Edison. Their homes have been preserved, making them museums that offer a window into America's past.
If you're looking to feel connected to the beautiful nature in Fort Myers, there are plenty of options. It's no secret that Fort Myers has some of the best beaches Florida has to offer, but a lesser-discussed staple is the Caloosahatchee River, which cuts through the city. There, you'll find the Estero Bay Preserve and State Park, which is filled with great hikes, boating and the opportunity to connect with nature.
Looking to learn more about the area's precolonial history? Another popular destination is on Calusa land. There, you'll find the Mound House, which provides information about the tribe's history and practices as well as environmental exploration. Calusa people once occupied land from Tampa Bay down to Florida's southern tip, so the greater Fort Myers' area is filled with ways to learn about the Calusa people.
But be warned when visiting Fort Myers — you may want to stay there forever. The beach-filled area is home to plenty of residential communities, many dedicated to folks who are retired or close to retiring age. The Pelican Preserve, for example, houses residents aged 55 and up and boasts some of the best golfing in the state.
Let's Go to the Beach! What Are the Best Fort Myers' Beaches?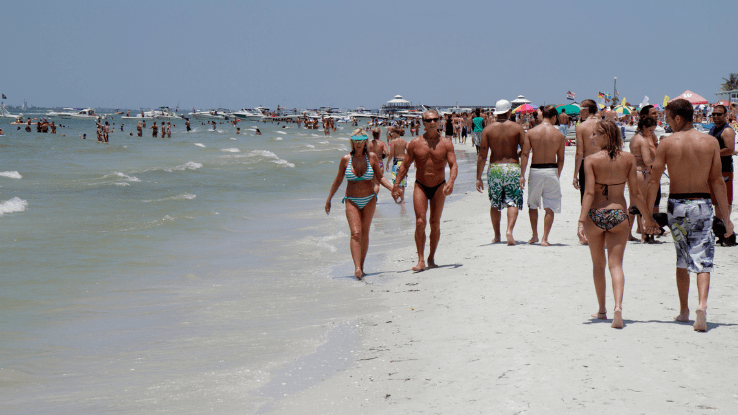 Fun fact: Fort Myers Beach is actually located on Estero Island. It's still in Fort Myers proper, just don't be confused if you have to drive over a bridge to get to the beach. The beach goes on for seven miles, so there are plenty of options in the greater Lee County area in addition to Fort Myers proper. Its soft white sand and warmer Gulf waters make Fort Myers a worthy destination for all beachgoers.
A few of the best beaches, like Pink Shell Beach and Lani Kai, are associated with resorts that own their own stretches of beach. Staying at a certain hotel can take care of the "which beach should we visit?" question, especially if the beach fee is included in your stay. The potential downside? These areas have the most hustle and bustle, so if crowds aren't your thing avoid these hotel-owned shores.
On the southern part of Fort Myers Beach, you'll find Lovers Key State Park. It's two miles long and not as crowded as other nearby beaches. Full of Instagrammable angles, Lovers Key is touted as a more romantic spot and less of a place to socialize. Another perk? If you've had enough beachtime relaxation, you can easily pivot to outdoor activities like hiking, biking and shark fishing. But, for pet owners, the best part might be that this beach has a section where dogs are allowed, which many other Fort Myers beaches lack.
Finally, Bowditch Point Park is on the northern tip of the Fort Myers Beach strip. This area is more mellow, but instead of being closer to the mainland, it's nearer to the ocean, which meansviews will be more suited for bird- and boat-watchers. It also has hiking trails for land lovers and paddling trails for those who are hungry for more watery adventures.
You may see a dolphin or two at any of these locations. Pelicans and other exotic birds fly overhead year-round. A good reminder that while you're relaxing on the beach, you should be sure to take a minute to appreciate everything around you.
Fort Myers' Best Food and Places to Stay
Fort Myers has a lot to offer anyone with an empty stomach. Vegetarian options include Green Cup Cafe and B2U's restaurant. While it can be easy to associate Floridian restaurants with food for tourists, eclectic options like Orange Pepper Sushi & Thai or Iguana Mia ensure that you won't be stuck eating french fries for every meal. Unless that's on your vacation's itinerary, in which case, we won't judge.
For more upscale dining that's geared toward adults and couples, try Firestone. The Bar & Grill/Martini Bar boasts rooftop seating, state-of-the-art screens and a mouth-watering menu. Local breweries like Point Ybel host communal happenings like live music and yoga demos, all while dishing out craft brews.
For the giant resort experience, look no further than Pink Shell Beach and Resort. With over 200 rooms and 12 acres of beachfront property, Pink Shell is a hub for weddings, work retreats and getaways of all sorts. For more lowkey lodging, we recommend Tiki on the Beach Hotel or Silver Sands Villas.
The One Thing You Can't Miss in Fort Myers
Remember how we said Fort Myers is a great way to experience as much Florida as possible? When we hold up Fort Myers' beaches against its great food, interesting history and can't-miss restaurants, it's hard to choose between them. But what people don't often associate with Fort Myers are swamplands — and they can be worth visiting, even if you're more of a beach lover.
The Six Mile Slough Preserve is a 3,500 acre stretch of swampy, protected land that's surrounded by areas of development. There's a boardwalk and an information center, but, most excitingly, it's home to otters, turtles and alligators. A visit to this sustainable site offers great photo ops and a chance to move around and shake the sand off your shoes for a bit.