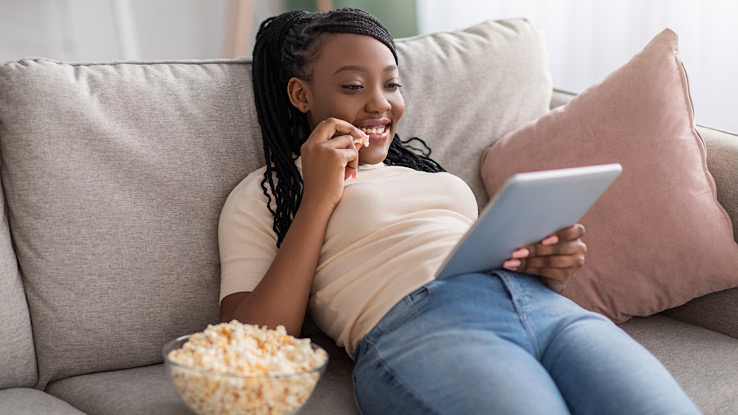 Streaming shows and movies have become an integral part of our culture. As everyone is always on the go, people cannot always be connected to cable or be available when shows are premiering live. Luckily, streaming allows us to watch almost anything anytime we want, but traveling can complicate that process. When you leave the country, you might notice that there are blocks on different apps or that certain shows are unavailable to stream. We will share tips on how to stream TV shows and movies while traveling internationally.
What Is Streaming?
Streaming is the process of watching a tv show or movie at any time on a platform that owns the rights to that show. Popular apps like Netflix, Hulu, HBO Max, Youtube TV, Paramount+, and other apps provide streaming services. With streaming, companies purchase the licensing to show whatever film or tv show and then make it available to stream on their site with a membership. Membership prices vary, but you can expect to spend around $10 monthly on service. Some services will also provide access to live TV for an additional fee, so you do not have to wait for current shows to appear on streaming. But nowadays, many tv shows and movies are released only to streaming services and never appear on cable or in the theater.
Why Can't You Stream TV Shows And Movies In Other Countries?
There are various reasons you might not be able to watch some shows and movies in other countries.
Hulu: You might notice the popular streaming service Hulu is unavailable when traveling through Europe. This is because of copyright licensing issues. You can only use Hulu when physically located in the United States unless you follow our tips.
HBO Max: HBO Max is a little more available than Hulu, with streaming allowed in some Caribbean, Latin, and European countries, with more on the way.
Disney: For Disney fans out there, you will be sad to hear that Disney+ is only available in the US, Canada, Australia, New Zealand, and Puerto Rico.
Netflix: One of the only primary streaming services widely available is Netflix. Netflix is available in over 190 countries worldwide. However, do not expect to see the same shows and movies on Netflix internationally that you see back home. Each country has its regulations on copyrights and royalties, as well as rules on intellectual properties and copying media content. This can be both a great thing and a terrible thing. For instance, Friends is not available on Netflix US but is available on Netflix Italy. The library is constantly changing, so you might find some of your favorite shows in one country but completely different shows in the next.
Top Ways to Stream TV Shows and Movies Internationally
Use a VPN
One of the most reliable and easiest ways to stream internationally is to use a VPN. A VPN stands for "virtual private network" and provides secure and encrypted access to the internet. Many people use VPNs to protect themselves online and make it more difficult to track them, but they can also be helpful when streaming. With a VPN, you can choose to disguise the country you are in as another, giving you access to that country's complete streaming profile. If your favorite shows are from the United States, you can have your VPN set up to look like you are still there. You can also use a VPN in the United States to check out different libraries worldwide.
ExpressVPN: One of the best VPNs for streaming is ExpressVPN, which allows you to unblock access to Hulu. Remember that VPNs typically cost money, but you can get three free months when you sign up for ExpressVPN, which is great to test drive the service.
NordVPN: Another popular VPN Is NordVPN, which prides itself on being one of the market's most secure and trustworthy VPNs. Streaming is a breeze on this VPN as well.
Surfshark: If you are working under a tight budget, Surfshark will be your favorite option, as it is available for less than $2.50 per month. You can trust that you will easily access your favorite libraries worldwide.
Download Before Travel
You can always download specific episodes before you travel, if you have concerns about having access to your favorite comfort shows while traveling. Most major streaming services allow you to download episodes to your device. That way, you can watch it even if you do not have access to the internet. You must ensure that you have enough storage on your phone to download.
If you cannot find your desired show to download for free on your streaming service, you can purchase it on services like Amazon Prime or Apple TV, which then automatically download to your device. You are guaranteed film access, which is also great for long plane rides.
Try Different Devices or Apps to Stream TV Shows and Movies
Try other devices or apps like Plex, Mubi, and Pluto TV, among others. You can also research other local apps with streaming access to see what locals are watching. It all depends on which country you are heading to, so trial and error will be your best bet when testing different apps. You can usually continue using the app when you return to your home country, so you do not have to worry about buying a subscription solely for a trip. If you are worried about the cost, you can sign up for a free trial to test the service before committing.
Watch New Shows
Of course, trying out new shows is always the option. International libraries on Netflix are filled with fantastic shows and films, and many are unavailable to stream in your home country. If you have the chance, you can watch many foreign movies with subtitles that you typically would not have the opportunity to see.
At the end of the day, the most important thing is to stay flexible. If you are on vacation, you will probably not watch TV much anyway. If you are moving abroad, it can be the perfect time to try out new shows that can help you adapt to the local culture.