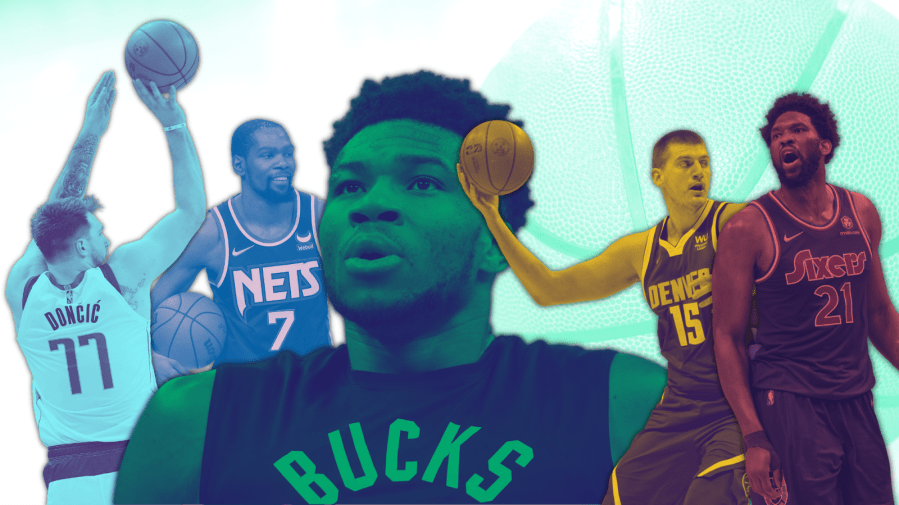 The NBA's Most Valuable Player (MVP) award is one of the most illustrious individual awards in all of team sports, but it's not exactly an unpredictable one. Since the criteria for what makes a player an MVP candidate are murky at best, it usually ends up coming down to something like this: who's the best player on an excellent team?
That's harder to determine than you'd think, actually. Every season, there are arguments about what, exactly, constitutes value. Are players penalized for having too much help? Rewarded for not having enough? Should team success even matter at all in an individual award? Let's take a look at the award's recent history and some of the favorites to win it this coming season.
NBA MVP By Year: The Recent History
There are a couple of important clues we can look at from recent history in figuring out which players are likely to win the award in the future. For one thing, while it's incredibly common to win the award twice in a row, it's also incredibly rare to win it three consecutive times.
Since the turn of the century, six different players have already won NBA MVP twice in a row: Tim Duncan, Steve Nash, LeBron James (twice!), Stephen Curry, Giannis Antetokounmpo and, most recently, Nikola Jokić these past two seasons. Meanwhile, the last player to win three in a row was Larry Bird (1983–84, 1984–85, 1985–86).
Additionally, it seems to be becoming less important to be part of a great team to win MVP. In the 24 seasons from 1979–80 to 2002–03, the MVP went on to win the Championship 12 times. In the 19 seasons since, the MVP has won it all just three times.
Keeping all of this history in mind, let's go through some of the most likely players to win the MVP in the upcoming 2022–23 season.
Luka Dončić, Dallas Mavericks
Heading into the season, the betting favorite to win NBA MVP for the 2022–23 season is Luka Dončić, the do-it-all force at the center of the Dallas Mavericks (at least on the offensive end of the floor). The Mavs surprised a lot of folks by crashing their way past the Phoenix Suns in the second round of the NBA Playoffs last season. They lost in five games to the Golden State Warriors in the Conference Finals as Dončić struggled to score efficiently.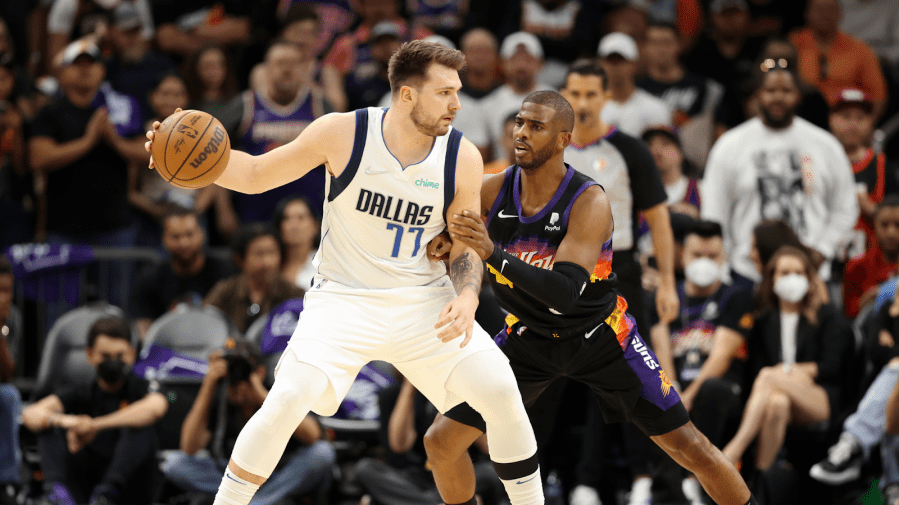 Heading into this season, there are reasons for concern, but there are also encouraging signs. As far as cons go, Jalen Brunson — Dončić's backcourt running mate — is gone after signing as a free agent with the New York Knicks. That's going to mean even more focus on Dončić by opposing defenses and even less help to deal with it.
On the plus side, the early games of the Mavs' series win against the Suns seemed, at least in the moment, to have humbled Dončić into playing a little harder on the defensive end of the floor. Dončić is not a great defender by any stretch, but he's got the size, strength and basketball IQ to be much better than he's been. If the Mavs can withstand the loss of Brunson and carve out a playoff spot, given Dončić's central role on the team it definitely makes sense to consider him the MVP favorite heading into his age 23 season.
Giannis Antetokounmpo, Milwaukee Bucks
Antetokounmpo has won this award twice already, making him one of 15 players ever to accomplish that feat. Winning it a third time would put him in truly rarified air — the complete list of players to win at least three MVPs: Magic Johnson (3), Larry Bird (3), Moses Malone (3), LeBron James (4), Wilt Chamberlain (4), Michael Jordan (5), Bill Russell (5) and Kareem Abdul-Jabbar (6).
Amazingly, you could argue that Antetokounmpo's been just as good — if not better — these past two seasons (when Nikola Jokić won the award both times) as he was during the two previous seasons when he was the winner. It's amazing, too, how young he still is: he'll be just 28 this season.
Given the fact that he's pretty much universally regarded as the best player on the planet right now — an entire world unto himself on both offense and defense — it's hard to argue that he shouldn't be the favorite based entirely on the merits of his play. But narrative is always a major factor in MVP awards, and voter fatigue is certainly part of the equation. Still, the Bucks will likely be one of the best teams in the league, and if Dončić can't push the Mavs to any improvement this season, Giannis might be the best bet yet again.
Nikola Jokić, Denver Nuggets
Jokić won MVP the past two seasons by being the most steady force in basketball. He's the best passer in the NBA, constantly making his teammates better on the offensive end of the floor. On defense, he lacks great lateral mobility, but he's positionally brilliant, and he gobbles up defensive rebounds like few other players in the league. In fact, in repeating as MVP last season, he pushed his rebounding from a career high of 10.8 per game in 2020–21 to an absurd 13.8 in fewer minutes per game in 2021–22.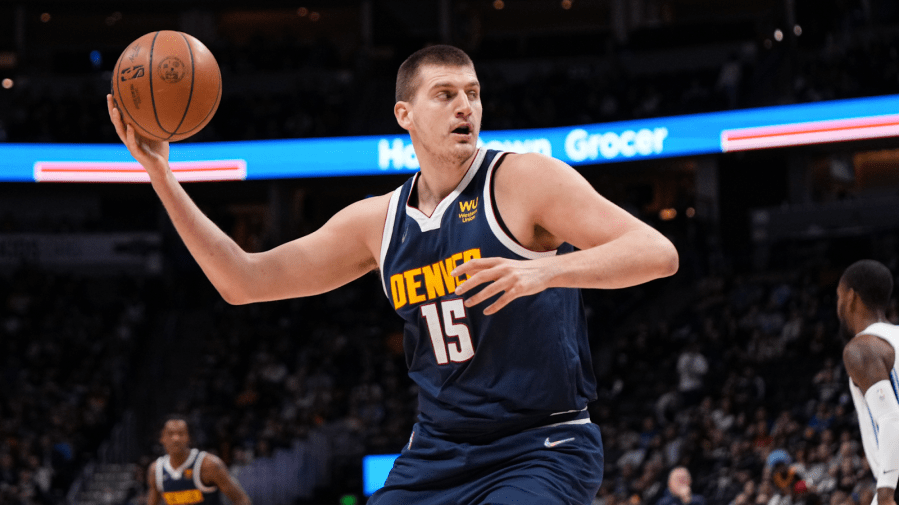 But part of what got Jokić the MVP award last season was the fact that he carried his team to the playoffs while his two best teammates — Jamal Murray and Michael Porter Jr. — missed the season with injuries. Those two guys should be back to full strength this season, and the Nuggets made meaningful additions across the rest of the roster in defensive backcourt stalwarts like Bruce Brown and Kentavious Caldwell-Pope.
Getting all of that extra help could make Jokić seem a little less valuable in the eyes of the media members who cover the sport, right or wrong. Add to that the fact that Jokić, if he won, would become the first player since Larry Bird — as mentioned above — to win three MVPs in a row, and you can see why he's not the favorite, even though at age 27 he'll play this season right at what should be the height of his basketball prime.
Joel Embiid, Philadelphia 76ers
The guy who came in second to Jokić in each of the past two seasons was fellow big man Joel Embiid. In 2020–21, many thought Embiid was the better player, but he played in just 51 of 72 games in the COVID-shortened season while Jokić played in all 72. Last season, Embiid played in 68 of 82 games while Jokić played in 74 — not a meaningful difference, really — but Jokić was just so good with so much less help around him that he got the award in spite of Embiid's greatness.
That said, Embiid has some momentum, and the fact that he's a beloved NBA character means that he'll have the narrative on his side if his 76ers get rolling this year. Like Jokić's Nuggets squad, the 76ers made meaningful upgrades this season, bringing in versatile defenders like P.J. Tucker, Danuel House and De'Anthony Melton to shore up what has, at times, been a porous defense in the moments that matter.
With Embiid, however, the concern is always his ability to stay on the floor. He takes such a beating when he plays — he led the league in free throws attempted per game last season at 11.8, which means he's getting fouled constantly. And beyond that, he's got a history of serious injuries that have cost him significant time. If he can manage to stay healthy, he's as good a bet to win the award as anyone on this list.
Kevin Durant, Brooklyn Nets
Durant is the foremost MVP candidate I can recall to be in the process of requesting a trade from his team. It's unclear how the situation will resolve itself at the moment, but the truth is that Durant is an MVP candidate no matter where he goes. He's an unstoppable force on offense who still brings it on defense, and — like Embiid — if he plays enough games to factor into the MVP race, he's got as good a chance as anyone to win it.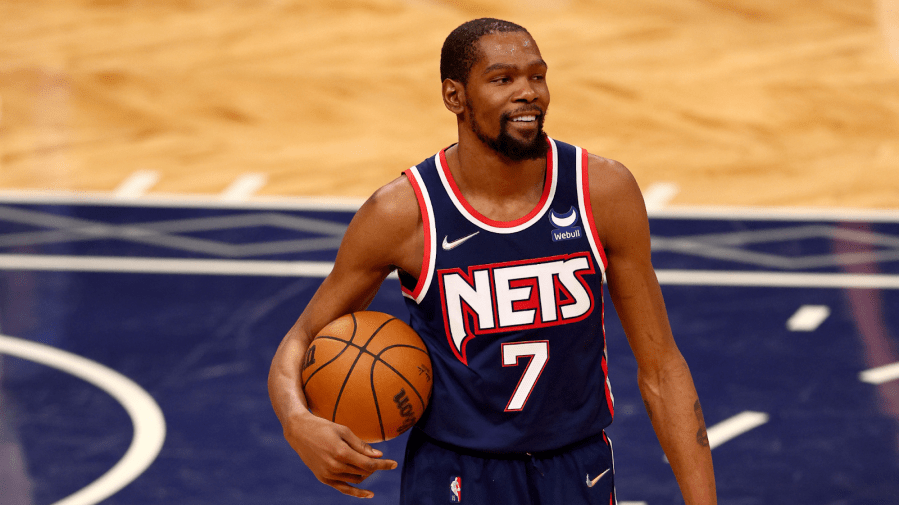 Somehow last season, at age 33, Durant set a career high in assists per game while still providing his lethal scoring prowess from every possible area of the court. Aside from Jokić, he's the most unguardable player in basketball, capable of making shots that would be nearly impossible for anyone else at such an efficient rate that you just have to shake your head.
If he does happen to get traded away from the Nets, he'll be the best player on whatever team he ends up on — even if he ends up alongside other fringe MVP candidates, like Jayson Tatum on the Celtics. So, if things break right, he's still a pretty good bet to have a shot at getting the award. Heading into the season, he's clearly behind the tier of four players previously mentioned on this list, but Durant's too good to not mention him here.