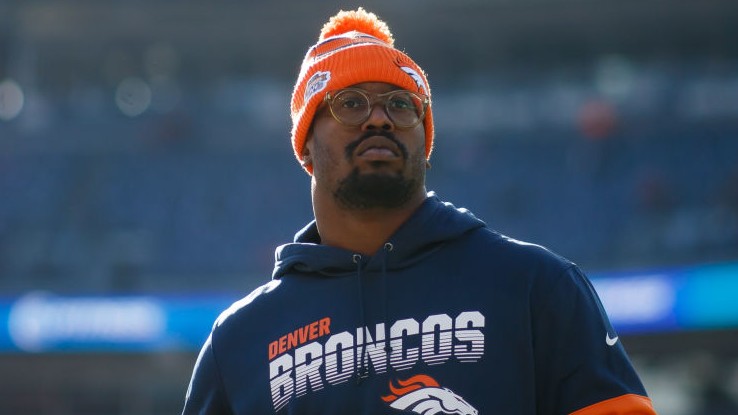 As one of the most popular and well-attended professional sports leagues in the U.S., the National Football League (NFL) is a money-making machine. But, more so than other popular sports, football goes hand-in-hand with physical risk, and a player's longevity is not guaranteed.
When an NFL team makes a high offer, you can bet they expect the player on the receiving end to be worth every penny. The following standout athletes are some of the highest-paid NFL players of all time. We're taking Active and Retired footballers into account, so expect the unexpected.
37. Calvin Johnson (WR) | $113.8 million
Although he didn't win any championship titles during his nine-season career, Calvin Johnson was selected for six Pro Bowls and was a three-time All-Pro player. In 2013, just two years before he retired, Johnson made a career high annual salary of $25 million for the season.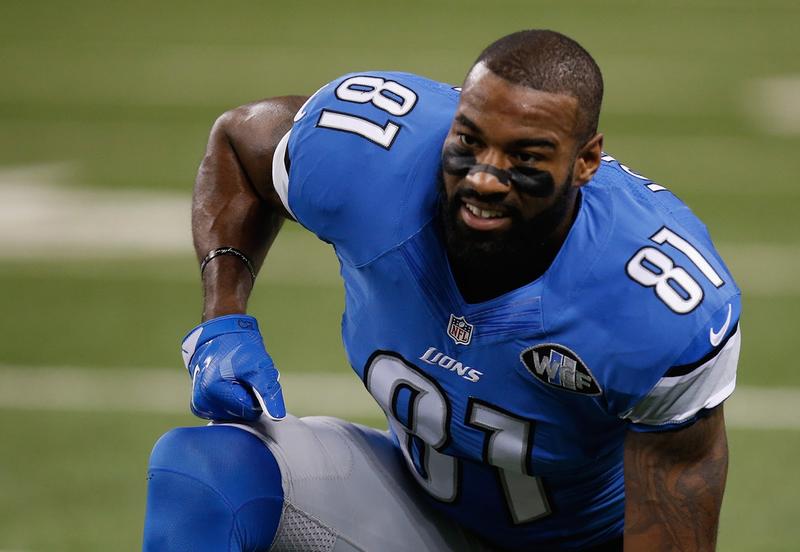 The wide receiver stunned Detroit Lions fans — and the NFL — when he announced his retirement at age 30. Johnson announced that he was simply "in pain" and valued his health more than the $67.7 million contract that he walked away from to retire early.
36. A.J. Green (WR) | $114 million
A.J. Green rose to fame as a fourth-round draft pick for the Cincinnati Bengals. Green was offered a $19.6 million contract to play with the Bengals for four years. it didn't take long for Green to start turning heads as a Wide Receiver; his first reception in the NFL was a 41-yard touchdown catch, followed by ten receptions in the next game alone.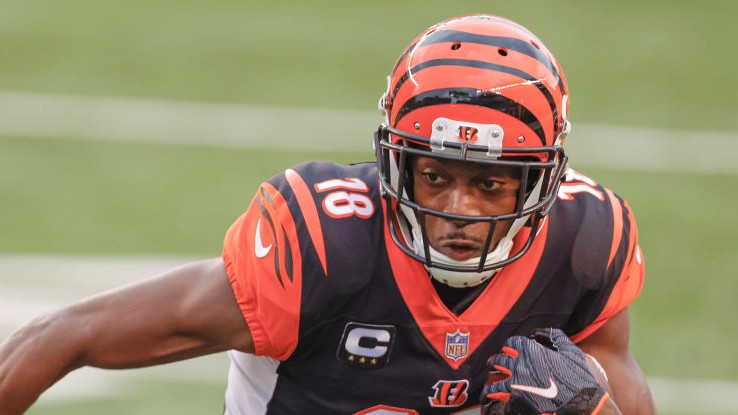 Green elapsed all other NFL rookies in terms of recorded receptions and receiving yards at the end of his first season. Pro Bowl nominations, escalating rankings in several NFL Top 100 Players lists, and increasingly lucrative contracts awaited A.J. Green in the years to come.
35. J.J. Watt (DE) | $115.2 million
Dozens of football scouts became enamored with J.J. Watt as he blazed a trail during his college football career. 2011 marked the year that Watt would participate in the NFL Combine – and eventually sign an $11.24 million contract with the Houston Texans.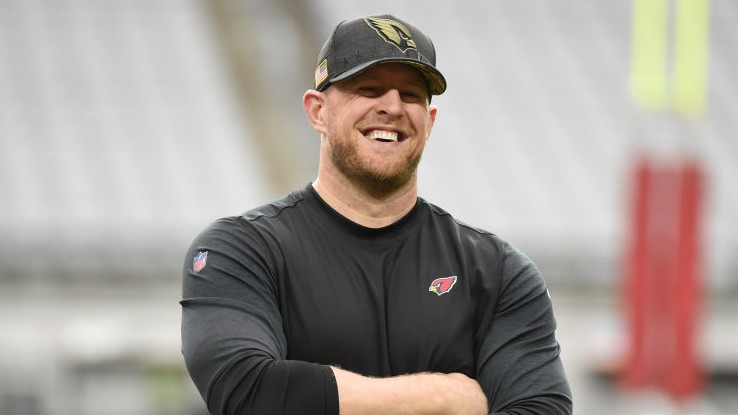 There's a reason Watt is considered one of the greatest Defensive Ends in NFL history. Actually, there are 48 – as in the 48 solo tackles Watt scored throughout his rookie year. The Texans certainly realized Watt's value, shelling out $100 million to keep him on the team for another 6 years in 2014.
34. Jason Peters (LT) | $115.7 million
At 37 years old, Jason Peters is considered "old" by sports standards — and especially by NFL standards. Nonetheless, the 15-season vet has no intention of retiring, and he signed a one-year deal with the Philadelphia Eagles ahead of the 2019 season.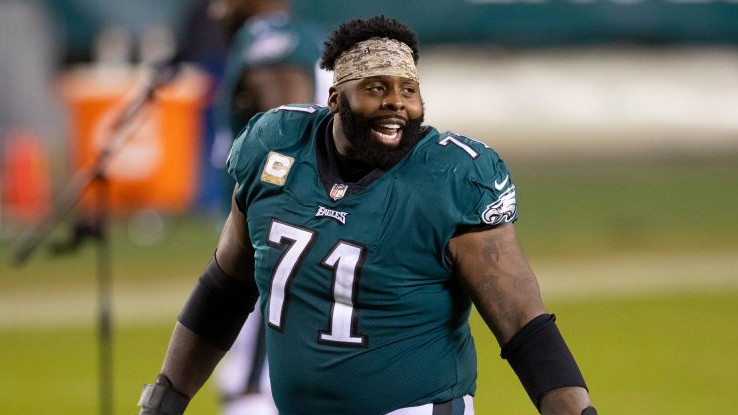 With nine Pro Bowls under his belt, it was only a matter of time until Peters added a Super Bowl victory to his list of accolades. Unfortunately, during the 2017 season, he tore both his ACL and MCL. Regardless, the Eagles went on to win Super Bowl LII against the New England Patriots, earning a benched Peters his first ring.
33. Michael Vick (QB) | $115.9 million
Although four-time Pro Bowler Michael Vick never nabbed a championship title, he still made waves. Drafted by the Atlanta Falcons in 2001, Vick also played for the Philadelphia Eagles, the New York Jets and the Pittsburgh Steelers.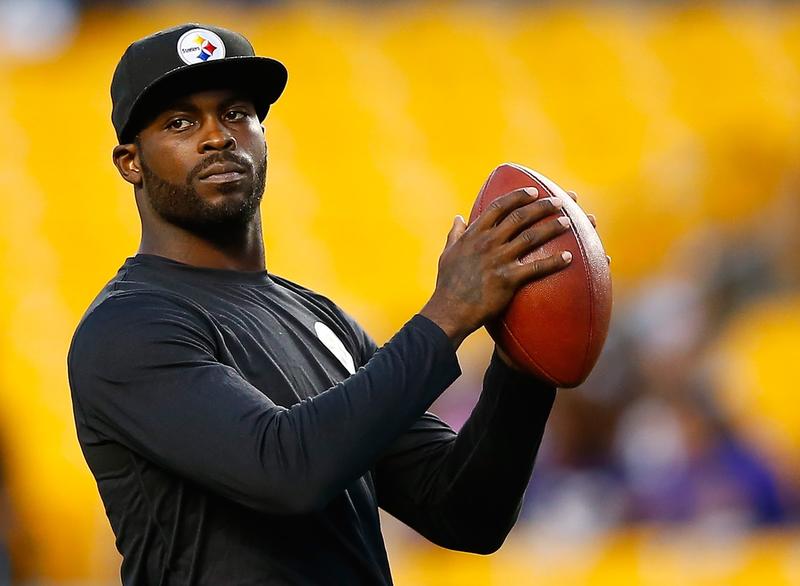 Currently, he holds the record for the most career rushing yards by a quarterback. His single-season earnings peaked early in his career when he earned $27.5 million for the 2005 season. Many analysts note that some of his best potential years were marred by his involvement with — and subsequent imprisonment for — an illegal dog-fighting ring.
32. Mario Williams (DE) | $120 million
Mario Williams went strong for 11 seasons, playing defensive end for the Houston Texans, the Buffalo Bills and the Miami Dolphins. Business Insider notes that Williams was the number one overall draft pick back in 2006 when the NFL didn't restrict the amount of a rookie's contract.
His initial deal with the Texans was a six-year contract that garnered Williams a cool $54 million. Later in his career — while playing for the Bills — the four-time Pro Bowler received a career high of $25 million for the 2012 season alone.
31. Gerald McCoy (DT) | $121.2 million
A six-time Pro Bowler during eight seasons with the Tampa Bay Buccaneers, Gerald McCoy played as a Defensive Tackle for the Dallas Cowboys before an injury cut his contract short. A contract, might we add, that was valued at a whopping $18.3 million.
McCoy also played for the Carolina Panthers in the 2019 season. When he faced the Bucs, McCoy assured reporters that it was just another game — no ill will at all. However, ESPN reported that McCoy was "initially frustrated [when] the Bucs gave his No. 93 [jersey] to free agent Ndamukong Suh," especially since the team wasted no time in doing so.
30. Joe Haden (CB) | $121.4 million
After being drafted by the Cleveland Browns in 2010, Joe Haden made a name for himself as one of the best cornerbacks in the league. Upon signing Haden, the Browns offered him a five-year $50 million contract — with $26 million guaranteed.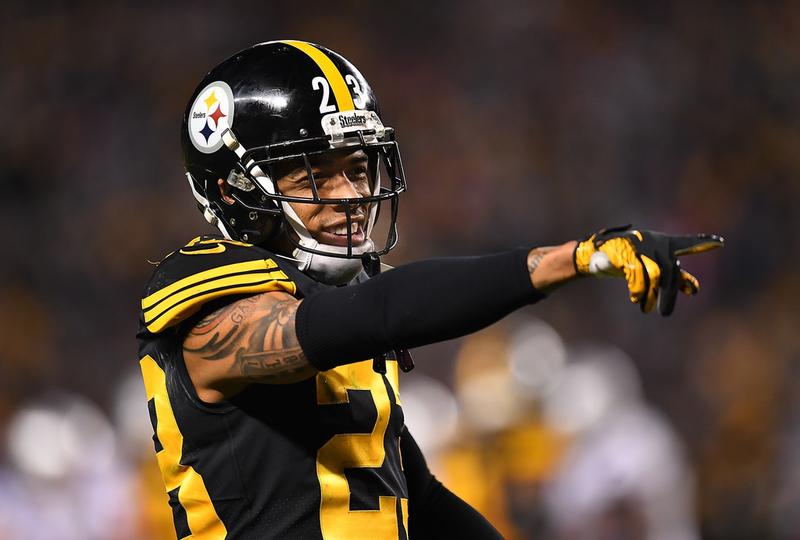 With two Pro Bowls and seven seasons with the Browns under his belt, Haden refused to take a pay cut and signed with the Pittsburgh Steelers for three years for $27 million. In 2019, he signed a two-year extension with the Steelers for $22 million, making his overall career salary one of the highest of any active cornerback.
29. Jay Cutler (QB) | $122.1 million
Although Jay Cutler was only a one-time Pro Bowler, he made significant contributions as a quarterback to several teams, including the Denver Broncos, the Chicago Bears and the Miami Dolphins. After some highs and lows with the Bears, the franchise bought out the remainder of Cutler's contract for $2 million, releasing him to retire from the NFL.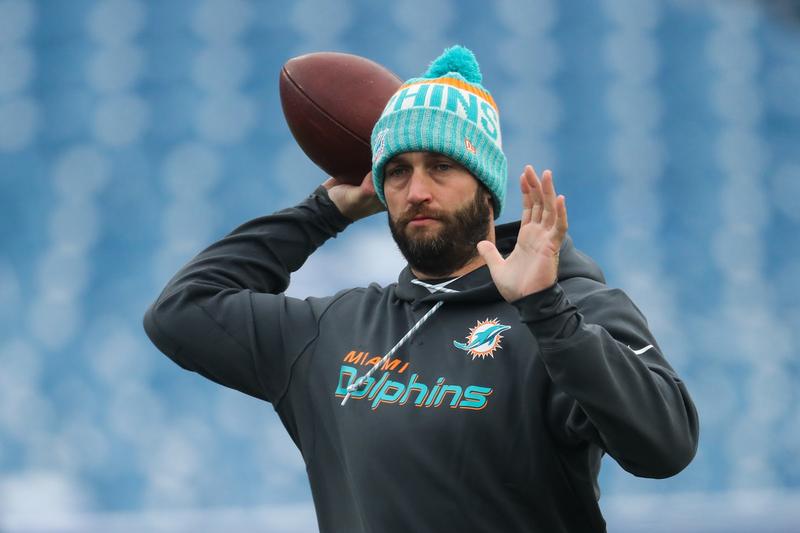 In retirement, Cutler became a sportscaster but returned to the NFL to play for the Dolphins for a year in 2017 after the team's quarterback suffered a season-ending injury. Thanks to that additional season, Cutler nabbed an extra $10 million, putting his earnings just ahead of Cam Newton's for a time.
28. Joe Thomas (LT) | $122.8 million
For 11 seasons, Joe Thomas played offensive tackle for the Cleveland Browns — the team that drafted him third overall in 2007. Regarded as one of the best offensive linemen of all time, Thomas is also one of the highest-earning players. In 2011, he made a career high of $19 million for the season.
Notably, this 10-time Pro Bowler didn't miss a single play in his career until his final season in the NFL when he sustained an injury. His 10,363 consecutive snaps played is the longest streak in NFL history.
27. Darrelle Revis (CB) | $124.2 million
Considered one of the best cornerbacks in NFL history, Darrelle Revis is probably most often associated with the New York Jets, but he also played for the Tampa Bay Buccaneers, the New England Patriots and Kansas City. Clearly, he wasn't afraid to be a free agent — and that risk paid off in high earnings.
Despite being primarily known as a Jet, Revis won his championship title with the New England Patriots at Super Bowl XLIX. His spot on the field — where he shut down countless opposing receivers — was nicknamed "Revis Island," a phrase that the cornerback went on to trademark.
26. Calais Campbell (DE) | $126 million
Defensive end Calais Campbell was drafted in 2008 by the Arizona Cardinals, playing for the team until 2016. Since 2017, he has worn a Jacksonville Jaguars uniform, but his highest single-season earnings were still with the Cardinals.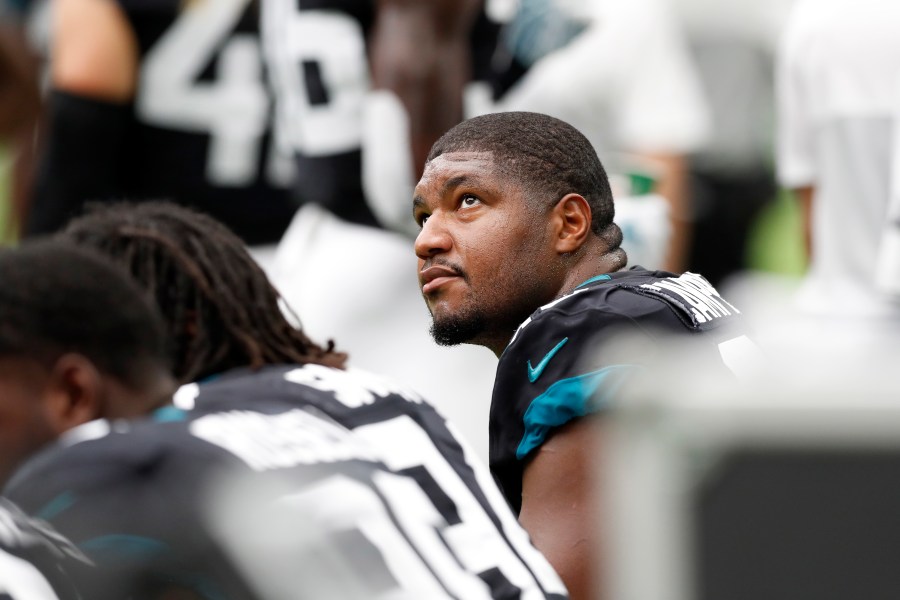 In 2012, he nabbed $17 million, including a $16 million signing bonus. Despite the Jaguars' rough 2018 season, Campbell went to his fourth Pro Bowl. Back in 2017, Campbell signed a four-year $60 million contract with Jacksonville — with $30 million guaranteed. And, despite the team's rough 2018 season, Campbell saw his fourth Pro Bowl.
25. Tony Romo (QB) | $127.4 million
Quarterback Tony Romo played for the Dallas Cowboys from 2003 to 2016. Although he began his career as a holder, Romo became Dallas' starting QB by the 2006 season and was a four-time Pro Bowler. His highest single-season earnings came in at a stammering $26.5 million, thanks to a $25 million signing bonus, for the 2013 season.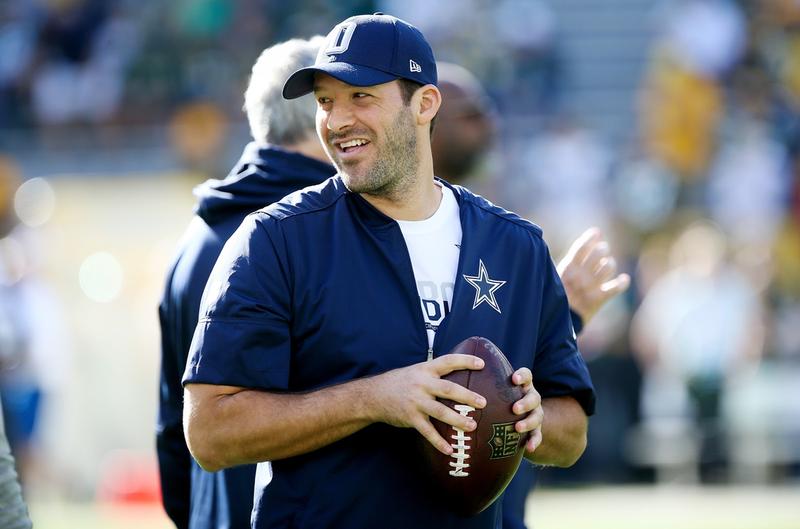 Despite holding several Cowboys franchise records — most passing touchdowns, most passing yards, etc. — he never clinched a championship title. In retirement, Romo has found new ways to involve himself with sports, both as a broadcaster and as an amateur golfer.
24. Sam Bradford (QB) | $130 million
Drafted in 2010 by the St. Louis Rams, Sam Bradford was one of the last rookies who didn't have restrictions on how much he could be paid. His six-year deal climbed to $78 million — and didn't end there.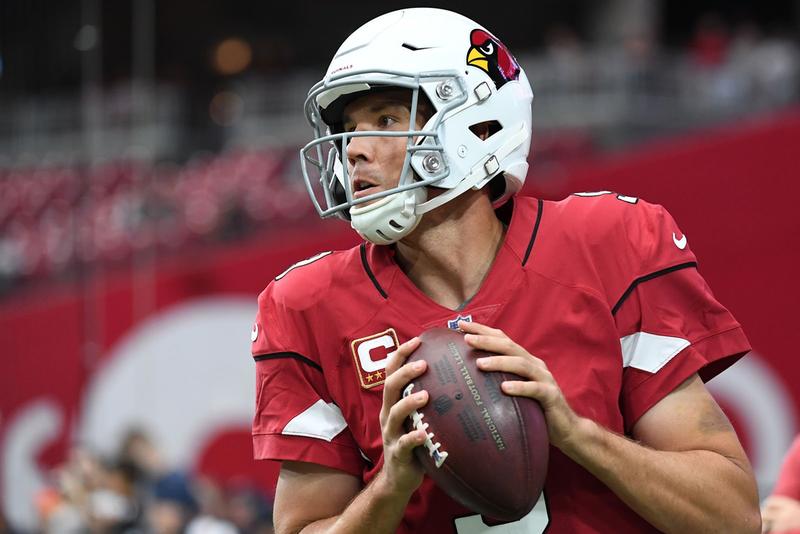 With $50 million in guarantees and a maximum value of $86 million, the six-year deal became the largest NFL contract in history offered to a rookie. Bradford went on to play for the Philadelphia Eagles, the Minnesota Vikings and the Arizona Cardinals — the latter dropping him after just three games in 2018.
23. Cam Newton (QB) | $130.8 million
Cam Newton has played for the Carolina Panthers since being drafted in 2011 as the team's first overall pick. Within a one-year span, Newton nabbed a national championship title, received the Heisman Trophy, was drafted by the Panthers and won the NFL's Rookie of the Year award — obviously a record-breaking year.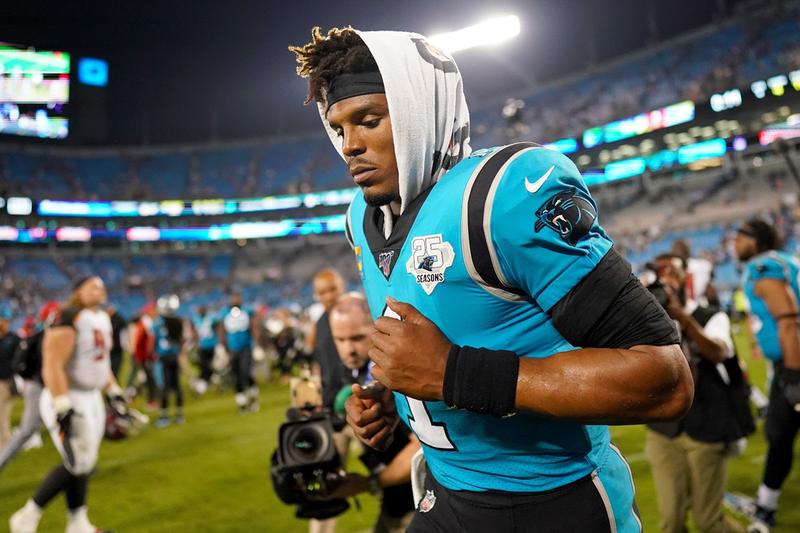 During a 2019 preseason game against the New England Patriots, Newton was injured and left Gillette Stadium in a walking boot. His multi-year contract with the Panthers ended in 2020, prompting him to experience three months as a free agent. Funnily enough, Newton would sign a one-year contract to play for the Patriots on March 21, 2021 – netting $13.6 million in the process.
22. Brett Favre (QB) | $137.8 million V
Perhaps surprisingly, Brett Favre's highest single-season earnings came in at a (comparatively) slim $16 million in 2010. However, Favre stuck around and played the game for a whopping 20 seasons, making his career earnings roughly $137.8 million.
The 11-time Pro Bowler also won a championship title at Super Bowl XXXI leading the Green Bay Packers. When he retired, Favre held all-time records in passing yards, passing touchdowns and quarterback wins, but these records have been surpassed by Tom Brady and Peyton Manning since then.
21. Ryan Tannehill (QB) | $139.9 million
Many know Ryan Tannehill as the primary starting QB for the Miami Dolphins. Makes sense, considering that Tannehill held that position for six of his seven years with the Dolphins. Tannehill earned upwards of $100 million with the Dolphins thanks to increasingly lucrative contract signings.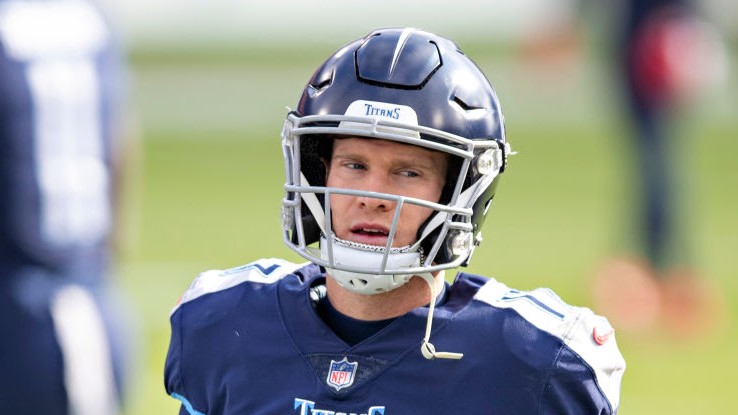 2019 would mark the year that Tannehill was traded to the Tennesse Titans. He initially signed a $7 million contract to play for the Titans for one year. However, Ryan Tannehill earned the Comeback Player of the year award that season. Naturally, the Titans offered him a four-year extension valued at $118 million ($62 million guaranteed).
20. Trent Williams $140.5 million
Drafted by Washington in the first round of the 2010 NFL Draft, Trent Williams has played every season since then with the team — until 2019. Williams didn't report for the 2019 season and chose to hold out, hoping to be traded in the wake of reported dissatisfaction with the team's medical staff.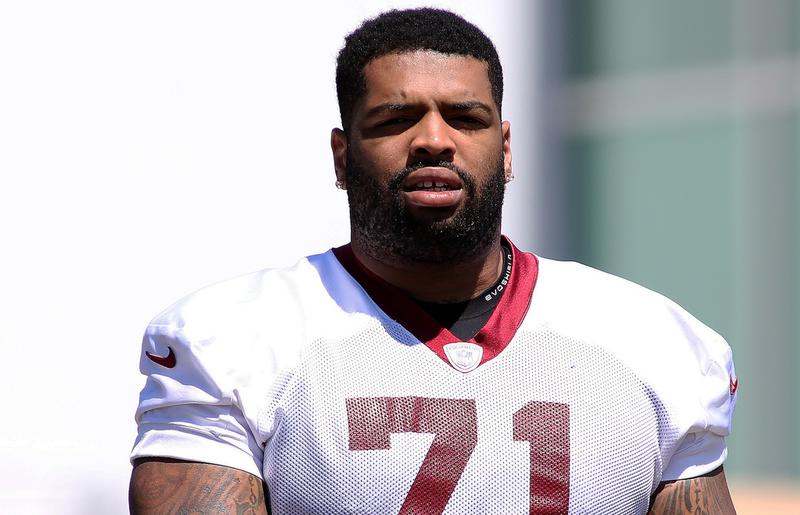 As one of the best and highest-paid tackles in the league, Williams has played in seven Pro Bowls, despite dealing with a knee injury in 2017. He was #57 on the NFL's ranking of Top 100 Players of 2018 – an accolade that undoubtedly grabbed the attention of the San Francisco 49s. In March 2021, Williams signed a record-breaking $138.06 million contract to play for the 49ers for six years.
19. Julio Jones (WR) | $140.6 million
Julio Jones, once a wide receiver for the Atlanta Falcons, signed an impressive three-year extension in September 2019 that totaled a cool $66 million. Jones was making $22 million a year — a figure that made him the highest-paid receiver in the NFL for a time.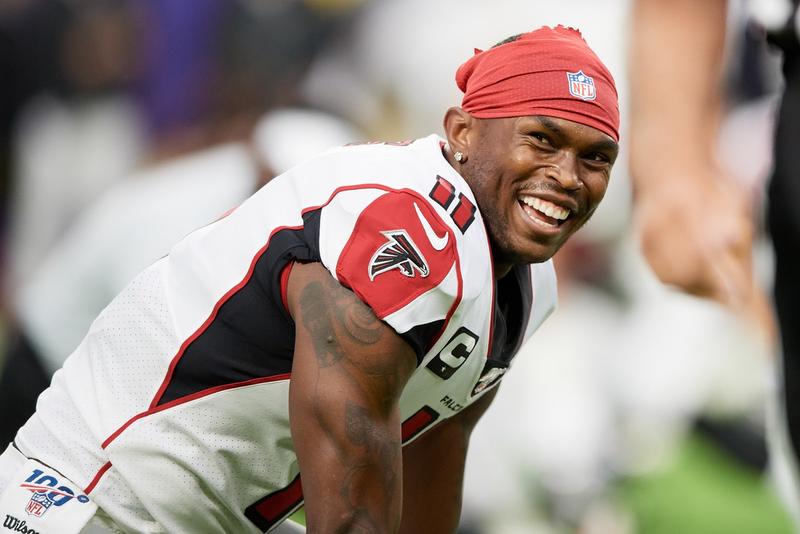 Jones' career average of 96.1 receiving yards per game is one of the highest in NFL history, so it's no wonder he's been invited to six Pro Bowls. In 2016, Jones helped lead the Falcons to Super Bowl LI, and he posted the most receiving yards in the league in both 2015 and 2018. Jones was traded to the Titans in June 2021.
18. Von Miller (OLB) | $144.4 million
Outside linebacker Von Miller has played for the Denver Broncos since he was drafted in 2011. According to Business Insider, both the total value of Miller's contract and his signing bonus are some of the largest recorded for a defensive player.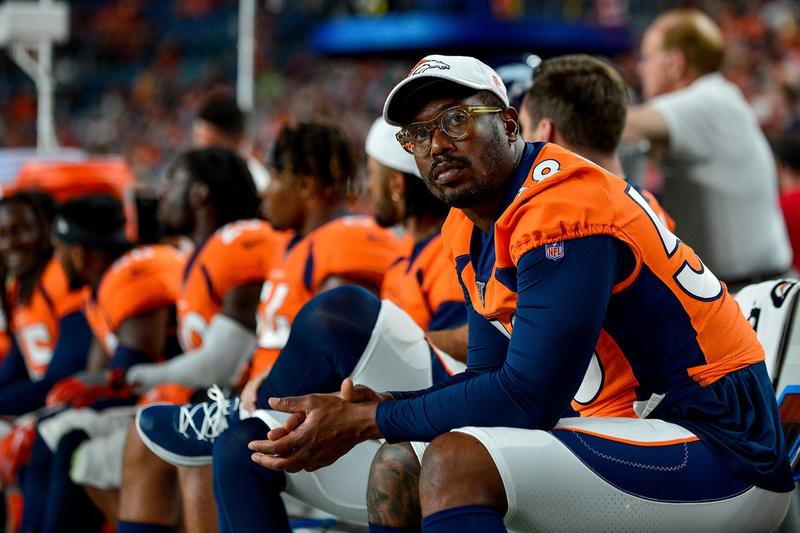 During Super Bowl 50, Miller helped lead the Broncos to victory over the heavily-favored Carolina Panthers. In the last quarter, he forced a fumble, ending any shot the Panthers had at nabbing the win and earning him the title of Super Bowl MVP. In 2018, he became the fifth-fastest player in NFL history to reach 100 career sacks.
17. Kirk Cousins (QB) | $161.6 million
Drafted by Washington in 2012, one-time Pro Bowler Kirk Cousins set several franchise records as the team's quarterback. But after a two-year struggle to come to an agreement over his contract, Cousins moved on.
In 2018, the free agent signed an impressive $84 million dollar contract with the Minnesota Vikings — but, perhaps more impressively, that record-setting three-year contract was fully guaranteed. For the 2019 season, Cousins' combined earnings, bonuses and endorsements landed him in seventh place in a roundup of highest-paid NFL players of that year.
16. Ndamukong Suh (DT) | $164.96 million V
Five-time Pro Bowler Ndamukong Suh has played in the NFL for over 10 seasons, accepting playing deals with the Detroit Lions, the Miami Dolphins, the Los Angeles Rams and, most recently, the Tampa Bay Buccaneers. Back in 2015, Suh nabbed a six-year contract with the Dolphins that totaled a whopping $114.4 million.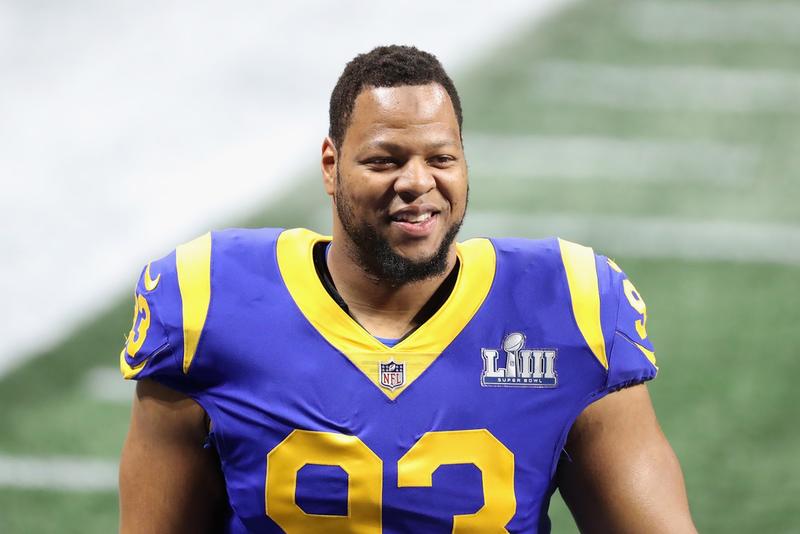 However, as Business Insider so succinctly put it, that contract was "mostly a sham." In the end, Suh made roughly $60 million before being released halfway into his contract. Nonetheless, it made Suh one of the highest-paid defensive players in NFL history.
15. Julius Peppers (DE) | $164.97 million
With 17 seasons and nine Pro Bowls under his belt, Julius Peppers retired in 2019. The linebacker hit a career high in terms of highest single-season earnings in 2010, garnering $20.2 million, with a $6.5 million signing bonus.
Despite playing in only 12 games his first season, Peppers was named NFL Defensive Rookie of the Year in 2002 after racking up 12 sacks, five forced fumbles and an interception. After being drafted by the Carolina Panthers, Peppers played for the Chicago Bears and the Green Bay Packers before returning to the Panthers for his final seasons.
14. Joe Flacco (QB) | $171 million
Joe Flacco was drafted by the Baltimore Ravens in 2008 and played with the team for a decade. In 2013, his single-season earnings hit a career high of $30 million — thanks to a $29 million signing bonus. The total six-year contract came to $120.6 million — a record high for a QB at the time.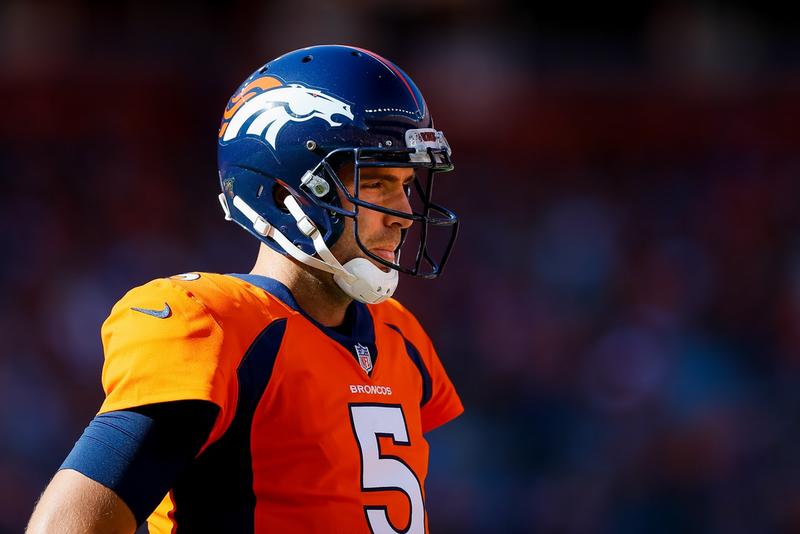 This huge financial gain came on the heels of the quarterback's victory at Super Bowl XLVII, where the Ravens edged out the San Francisco 49ers. Flacco played for the Denver Broncos in 2019, following a hip injury that ended his Ravens run. He'd go on to play for the New York Jets in 2020 and the Philadelphia Eagles in 2021.
13. Carson Palmer (QB) | $174.1 million
Snatched up by the Cincinnati Bengals as the first overall pick in the 2003 NFL Draft, Carson Palmer led his team to the franchise's first winning season and playoff appearance in 15 years. During his tenure with the Bengals, he had two Pro Bowl appearances.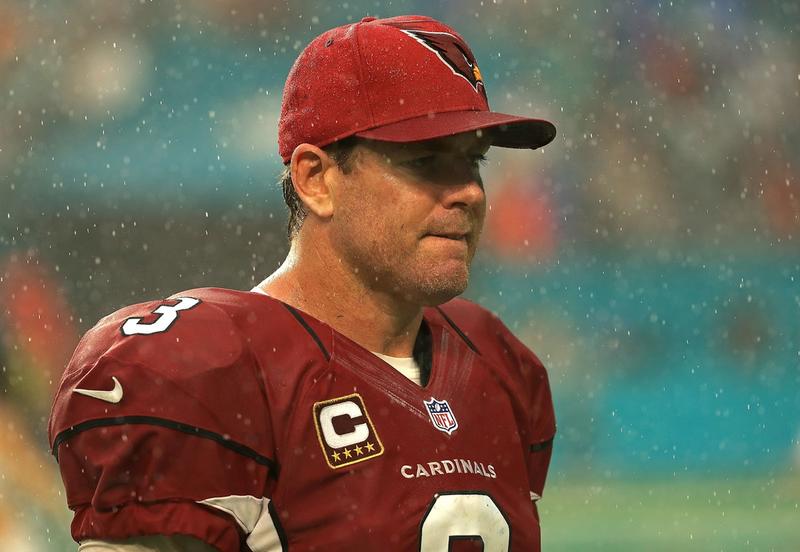 After eight seasons in Cincinnati, Palmer was traded to the Oakland Raiders but moved to the Arizona Cardinals soon after that. In 2016, he signed a $24.35 million one-year extension with Arizona but ultimately suffered several injuries. In 2018, he announced his retirement.
12. Larry Fitzgerald (WR) | $180.7 million V
Over the course of 15 seasons, Larry Fitzgerald had an impressive 11 Pro Bowl appearances. Drafted third overall by the Arizona Cardinals in the 2004 NFL Draft, the wide receiver is still playing for the franchise. Notably, he's the only non-QB in this list's top twelve players.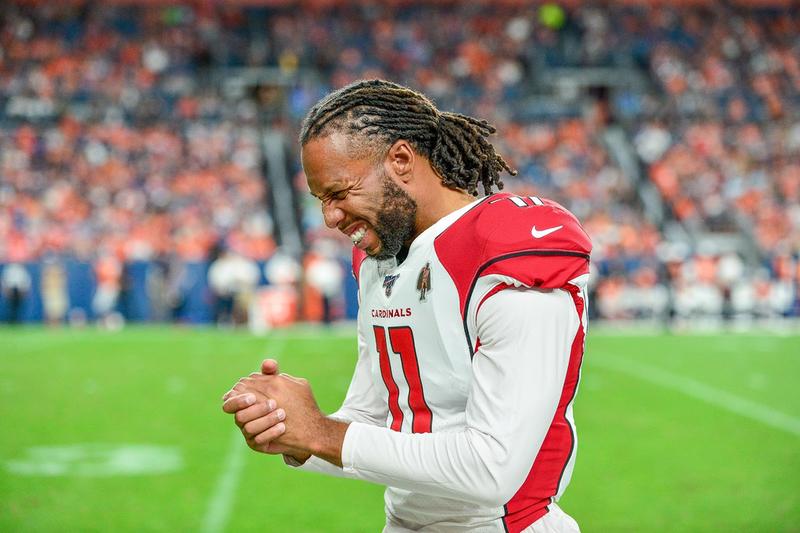 As of September 2019, Fitzgerald was second in career receiving yards and career receptions. In 2012, he reached the highest single-season earnings of his career, nabbing $26.3 million — including a $15 million option bonus.
11. Russell Wilson (QB) | $181.3 million
After signing a multi-year extension, Russell Wilson became the highest-paid NFL player in the 2019 season. He's also earned an impressive $35 million — thanks to a $30 million signing bonus.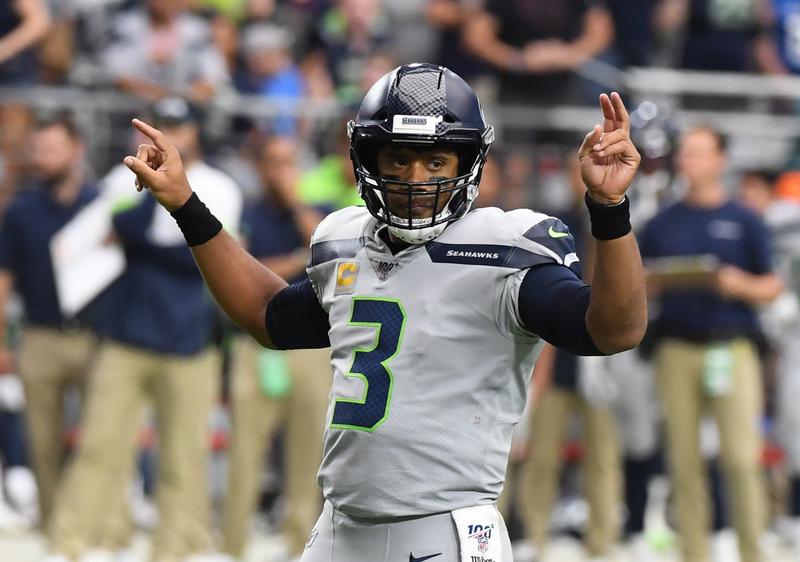 The Seattle Seahawks quarterback has five Pro Bowls and one championship title to his name, clinching Super Bowl XLVIII. Wilson also holds the record for most wins by an NFL quarterback through seven seasons, with a total of 75 victories. Wilson's earnings have continued to skyrocket over the years. Wilson signed a four-year contract with the Seahawks in 2019 valued at $140 million.
10. Alex Smith (QB) | $189.7 million
Quarterback Alex Smith has an impressive track record, leading his team to the playoffs five times in seven years. After being drafted by the San Francisco 49ers in 2005, he made a name with the Bay Area team before later signing for several seasons with Kansas City.
In 2018, Smith signed an impressive deal with Washington, earning him his highest single-season earnings ever at $40 million, due in part to a $27 million signing bonus. Unfortunately, a career-altering injury that same year left him with a long road to recovery. Smith would ultimately earn the Comeback Player of the Year award in 2020 before announcing his plans to retire in April 2021.
9. Philip Rivers (QB) | $243.9 million
Across 16 seasons, Philip Rivers has been invited to eight Pro Bowls. Despite being drafted by the New York Giants in 2004, Rivers was traded for Eli Manning to the San Diego Chargers prior to the start of the season.
In 2015, the (relocated) Los Angeles Chargers offered Rivers a jaw-dropping contract that totaled $83.25 million. But the real kicker? The guaranteed money totals a whopping $65 million. Business Insider writes that this will "likely push his career earnings close to $220 million." Rivers retired on January 20th, 2021 but has hinted that he's interested in returning to the field as a player or even as a coach.
8. Matthew Stafford (QB) | $246.5 million
Thanks to an impressive signing bonus, Matt Stafford earned a career-high of $51.1 million for the 2017 season alone. Prior to 2017, the quarterback signed a five-year $135 million contract, making his average annual salary — around $27 million — the highest in the NFL at the time.
Since 2009, he has played for the Detroit Lions, where he became the fourth QB in the history of the NFL to throw for more than 5,000 yards in a single season. Additionally, Stafford holds the record for most comeback wins in a season with eight in 2016. Stafford was traded to the Los Angeles Rams on March 18th, 2020.
7. Peyton Manning (QB) | $248.7 million
Peyton Manning's 18-season career led to 14 Pro Bowl invites and two championship titles — once with the Indianapolis Colts at Super Bowl XLI and once with the Denver Broncos at Super Bowl 50. Manning was also named NFL MVP five times throughout his career.
His highest single-season earnings came in 2004 — thanks to a $34.5 million signing bonus — and totaled $35 million. When Manning won the Super Bowl in 2015, he collected his final paycheck — a $4 million bonus — and retired, leaving $19 million on his contract with the Broncos.
6. Eli Manning (QB) | $252.2 million
Over the course of 16 seasons, Eli Manning has garnered four Pro Bowl invites and nabbed two championship titles — Super Bowls XLII and XLVI, both with the New York Giants. In both Super Bowls, Manning beat fellow QB Tom Brady. Once upon a time, he even beat Brady in terms of total earnings.
Although Manning was benched in the 2019 season in favor of rookie Daniel Jones, he still made a pretty penny. The Giants are forked over a cool $17 million, which made Manning the highest-paid player in NFL history that year. Eli has since joined his brother Peyton in retirement as of January 2020.
5. Aaron Rodgers (QB) | $263.3 million
Before the 2018 season kicked off, Aaron Rodgers signed a four-year contract extension that totaled $134 million. With this contract, he nabbed his highest single-season earnings at $66.9 million.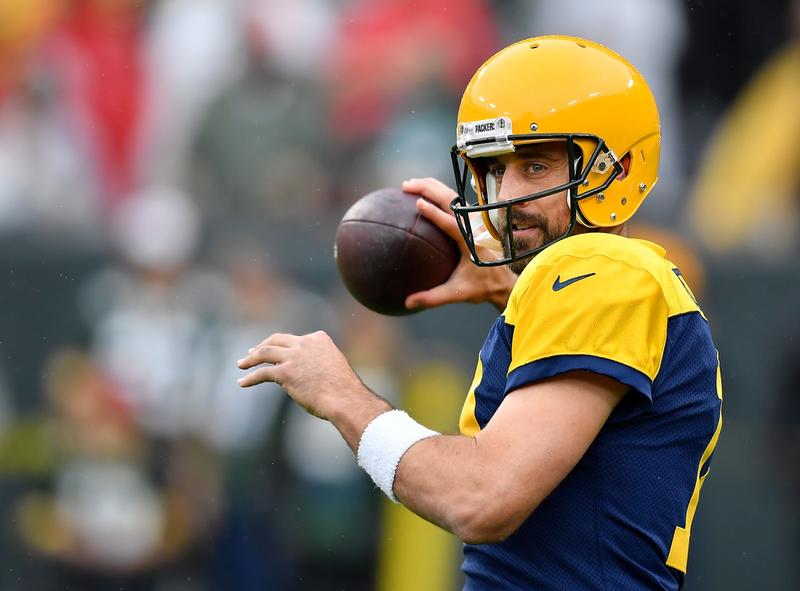 The Green Bay Packers have the quarterback through the 2023 season, and his total career earnings could eventually reach around $313 million, according to Business Insider. During Super Bowl XLV, Rodgers led the Packers to victory over the Pittsburgh Steelers, earning the distinction of Super Bowl MVP.
4. Matt Ryan (QB) | $267 million
Despite having no championship titles under his belt, Matt Ryan has raked in an impressive amount of dough throughout his career. His five-year, $103.8 million contract with the Atlanta Falcons was set to expire after the 2018 season, but, luckily, he signed one heck of an extension.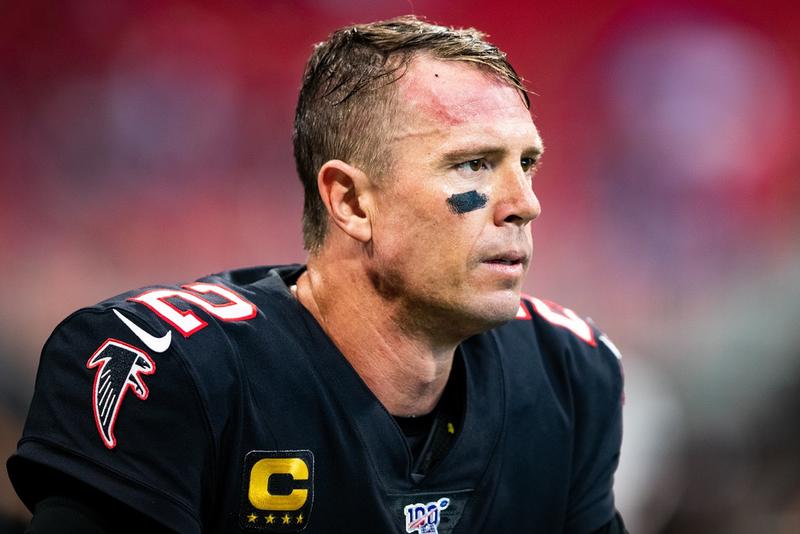 The five-year deal came in at $150 million — with a $46.5 million signing bonus and a $100 million guarantee. Until the Aaron Rodgers deal a few months later, it was the largest deal ever in NFL history.
3. Ben Roethlisberger (QB) | $267.2 million V
During his career, Ben Roethlisberger has led the Pittsburgh Steelers to an impressive three Super Bowl appearances. In his second season with the Steelers, he became the youngest QB to win a championship title when the Seattle Seahawks fell in Super Bowl XL.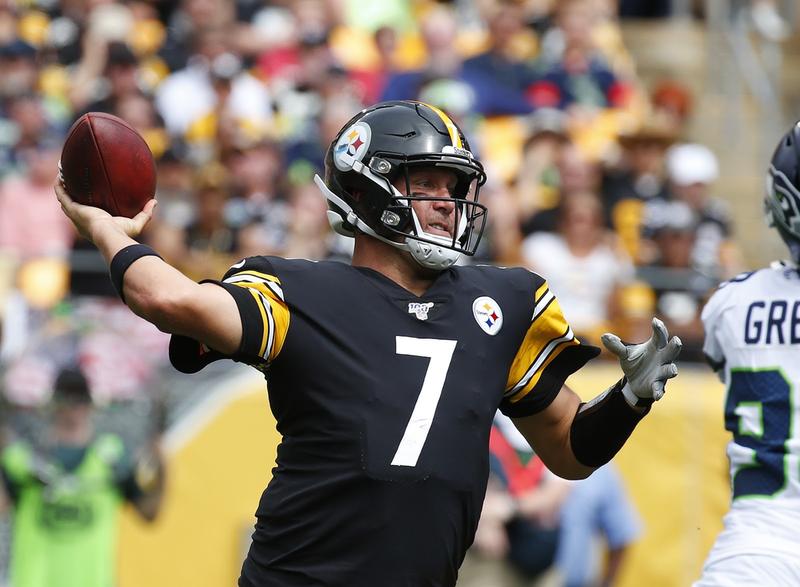 Before the 2015 season, Roethlisberger signed an $87.4 million deal, earning him more than $35 million in a single year. While that offer doesn't stack up to today's contracts, that money will certainly pay off his Apple Watch-related fine.
2. Drew Brees (QB) | $269.7 million
Quarterback Drew Brees has racked up a championship title and 12 Pro Bowl invites over the course of his 19-season career. After playing with the San Diego Chargers for several seasons, Brees hit his stride with the New Orleans Saints, starting in 2006.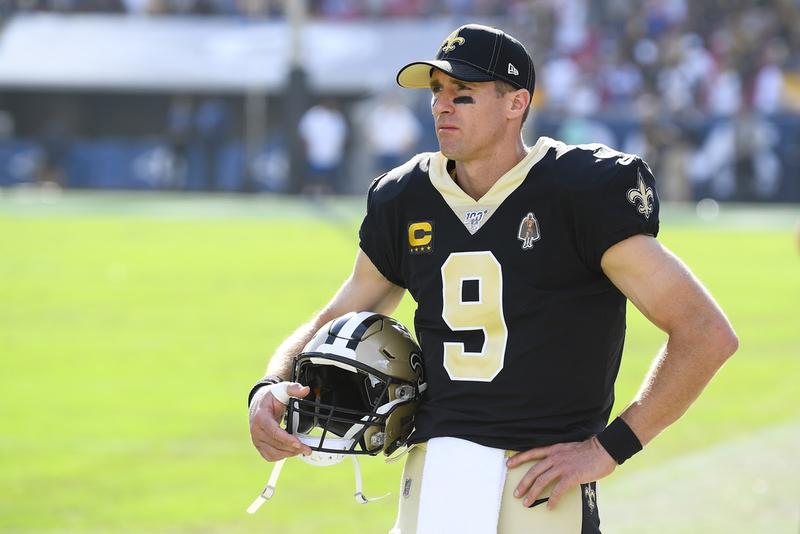 At Super Bowl XLIV, Brees led the Saints to victory over the Indianapolis Colts, becoming the game's MVP. Even after almost two decades, Brees didn't seem ready to retire. For the 2019 season alone, the 40-year-old's annual salary was an estimated $25 million, making him one of the year's top earners. Come March 14th, 2021, Brees would gracefully retire from the NFL.
1. Tom Brady (QB) | $291 million
Over 20 seasons, Tom Brady has become the face of the New England Patriots. And for good reason. The quarterback has an impressive 14 Pro Bowl appearances and seven championship titles to his name. However, Brady has also sacrificed his paycheck for the good of his team.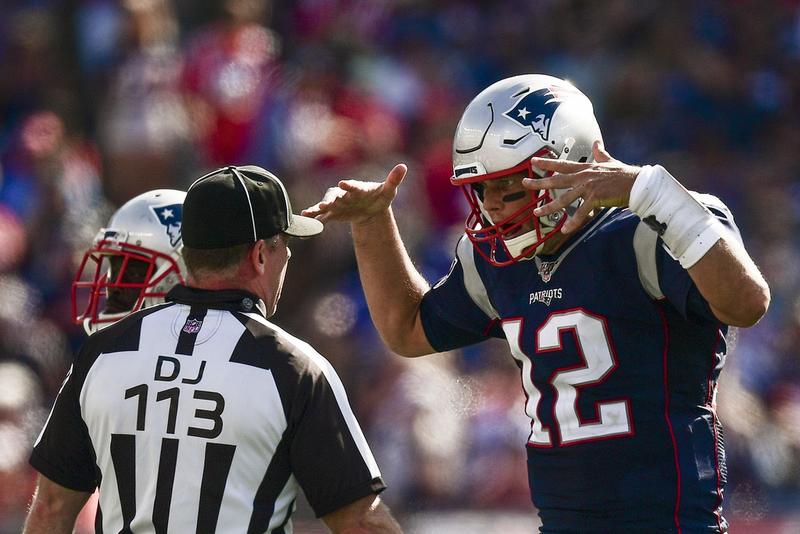 Although he may be the most decorated quarterback in the NFL, Business Insider estimates that he has given up between $60 and $100 million in potential earnings to allow the New England-based franchise room to restructure its roster. This team-player move has seriously deflated his total career earnings. Despite this, Brady has earned over $50 million as of signing with the Tampa Bay Buccaneers on March 20th, 2020.
Honorable Mention: Andrew Luck
Ahead of the 2011 NFL Draft — which the quarterback ended up not participating in — the Kansas City Star named Andrew Luck one of "the most-hyped amateurs in recent sports memory." Selected first overall in the 2012 NFL Draft, Luck went on to lead the Indianapolis Colts to several playoff appearances and division titles.
In 2016, Luck signed a five-year, $140 million extension to stay with the Colts through 2021. As you can imagine, that deal was record-setting at the time. After a shoulder injury, he was named Comeback Player of the Year in 2018, but the comeback didn't last long. In 2019, the four-time Pro Bowler announced his retirement from the NFL due to issues related to his past injury. Considered one of the best professional athletes to retire during his prime, Luck takes our pick for Honorable Mention.
Note: This list was compiled using data gathered from Business Insider and Spotrac, using figures from October 2019.