Spaghetti is one of those staple dishes that everyone knows and just about everyone loves. Whether you're a purist who prefers a light marinara and a sprinkle of parmesan or you'd gladly chow down on pasta piled high with chili con carne, sometimes there's nothing better than a heaping helping of crave-worthy carbs.
Spaghetti has rightfully attained its status as a go-to comfort food, but that doesn't mean there's a correct way to make it. In celebration of National Noodle Month — yes, it's really a thing! — we're taking a look at all the unique ways regions around the United States have adapted this beloved noodle to reflect local cultures and palates.
Cincinnati Chili Spaghetti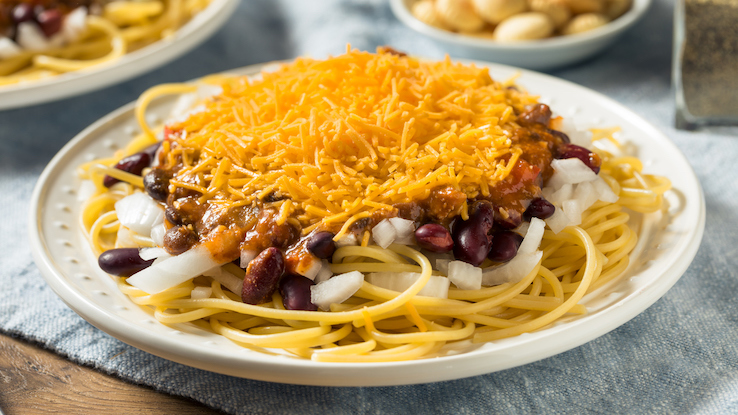 If the thought of combining chili and spaghetti sounds outrageously delicious to you, then it's time to take a trip to Cincinnati, Ohio. Unlike traditional Texas-style chili, Cincinnati chili has a much sweeter taste due to seasonings like cinnamon and clove. This is because it's a descendant of a traditional Greek noodle dish called pastitsio, which was introduced to the city back in the 1920s. 
So how did it end up on spaghetti? Much of the credit goes to a Macedonian immigrant named Tom Kiradjieff and his brother John, who opened a Cincinnati restaurant called the Empress in the 1920s. The restaurant's chili became its signature dish and was available on everything from hot dogs to, yes, spaghetti. 
Cut to 1949, when the Lambrinides family opened the first Skyline Chili restaurant in downtown Cincinnati. Featuring its own version of cinnamon-packed sweet chili, the restaurant ultimately became known as the unofficial "chili spaghetti capital" of Ohio. While the official Skyline Chili recipe remains top secret, copycat recipes abound. Why not try your hand at one the next time you're looking to shake up your weekly pasta night?
Memphis BBQ Spaghetti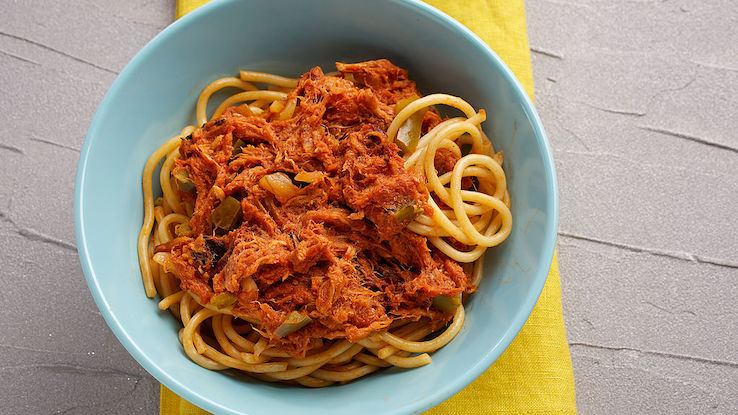 In Memphis, Tennessee, BBQ isn't just food — it's an artform with a culture all its own. Each year, the city hosts Memphis in May, which has garnered a reputation as one of the most prestigious BBQ contests in the world. Much like Elvis Presley, BBQ holds a sacred place in the heart of every true Memphian, so it's no surprise that it's ended up on all manner of food over the years. 
Brady Vincent, who owned a restaurant called Brady and Lil's, is credited with first using the smoky meat as a spaghetti topping. When Vincent eventually retired, he sold his restaurant to a couple named Frank and Hazel Vernon. Though they may have rebranded it as The Bar-B-Q Shop, they still use Vincent's original BBQ spaghetti recipe to this day. 
Texas Spaghetti Casserole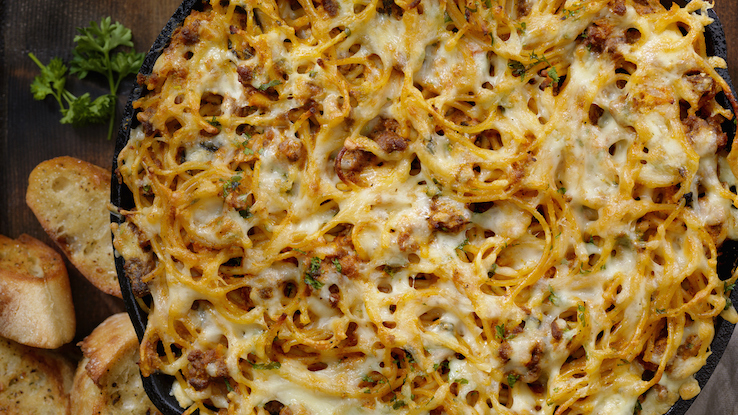 The South is famous for plenty of delectable dishes, so it's not surprising that some of the best casseroles in the United States come out of this region. Many a Southern cook can turn just about anything into a casserole — and spaghetti is no exception. When you think about it, it makes perfect sense: Who wouldn't want to make this traditionally messy food into something easier to eat, especially when you're, say, wearing a white shirt or forgot to pack your bib?
Potluck culture is big in the South, and legend has it that this dish arose from the inventive idea to turn the dinnertime staple into something portable that could feed even the largest group — but without all the cleanup. Many of the ingredients include the traditional components of spaghetti dishes everywhere, like noodles, cheese and ground beef. But the big secret seems to lie in switching out the traditional marinara sauce with cans of both tomato and condensed golden mushroom soups. How's that for an easy supper?
New York City Spaghetti and Meatballs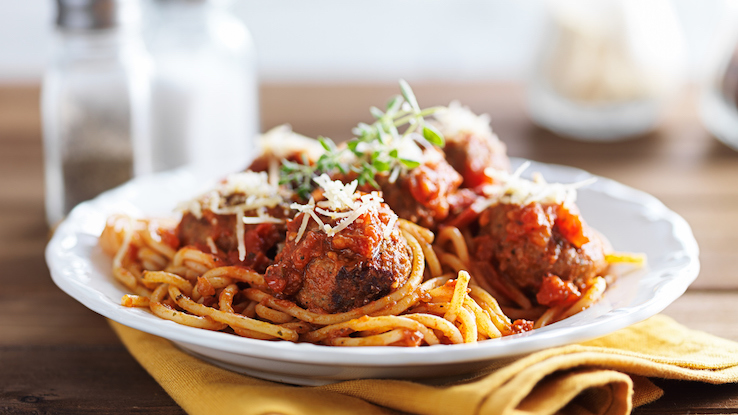 While spaghetti and meatballs may sound like an obviously Italian dish, it actually traces its origins to New York City. Back in the late 1800s and early 1900s, several million Italian people immigrated to the U.S.. After finding American food prices far more reasonable than those in Europe, many of these Italian families began incorporating more meat into their diets. 
In Italian culinary tradition, meatballs were typically pretty small and were usually served alone, without the sauces we've come to know and love. But with lower prices came the ability to create increasingly larger meatballs that made for a perfect indulgence. Spaghetti and canned tomatoes, too, were affordable and readily available. As more and more Italian families had the idea to unite them with meatballs, the iconic culinary masterpiece was born.
Colorado Spaghetti Pie
If you've never heard of spaghetti pie, imagine a sort of lasagna-esque dish that combines all the best parts of pizza and spaghetti into a delightfully gooey dinner. While the origins of spaghetti pie are a bit mysterious, a few years ago, it was dubbed the most iconic pie of Colorado. Some speculate that the spaghetti pie was first created to preserve leftover pasta and eggs, while others claim it was a more convenient way to serve pasta at church functions. 
Regardless of where it came from, this is one delicious meal. It's made of a blend of spaghetti noodles, sauce and plenty of cheese, especially ricotta. Working a few eggs and some butter into the recipe has the effect of holding the ingredients together so you can serve it in slices like lasagna. It might not be your grandma's award-winning apple crumble or that incredible cherry pie Agent Cooper can't forget, but it's a Colorado staple you just have to try.