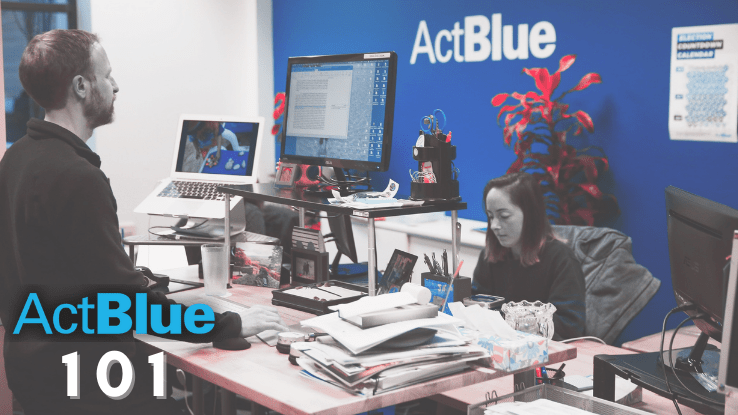 Have you donated to a local nonprofit online? Has your political candidate of choice sent you (many) a donation link in their campaign newsletters? If so, you may have donated using the ActBlue Charities platform.
Since 2004, ActBlue has aided Democratic political candidates, left-leaning nonprofits, and progressive causes by enabling them to streamline the donation process. Due to its focus on supporting grassroots efforts and charitable organizations, the platform has claimed to "empower small-dollar donors" by allowing folks with only a few dollars to give to access groups they care about. So, has ActBlue really lived up to its mission statement? 
What Is ActBlue?
ActBlue is a nonprofit organization that provides everyone from national political candidates to local grassroots causes with an easy way to collect donations online. ActBlue is also federally recognized as a political action committee, so the organization only chooses to support causes and candidates that are Democratic or progressive.
Candidates and organizations can approach ActBlue to set up an online donation page. And then the nonprofit takes care of all the technical work and, once the organization is set up, it can share a donation link with potential donors. When you donate, ActBlue forwards 100% of the money as well as a bill for 3.95% of the donations to the cause or candidate you elected to support. Due to its nonprofit and political status, ActBlue cannot pay the 3.95% fee on behalf of the organization or political candidate receiving the funds. 
Even if a person or cause has not established an ActBlue profile, members of the public who use ActBlue can donate to a charitable effort through ActBlue. Then, ActBlue forwards 100% of the donations and an invoice for its 3.95% fee to the candidate or cause.
People who donate via ActBlue can rest assured that they are using a secure and reputable website. That 3.95% fee does not go to ActBlue; instead, the receiving organization pays the fee to cover the cost of processing credit cards. If you've donated in the past, you may have been asked to leave a "tip" to cover those processing fees.
Additionally, ActBlue reports donation information to the Internal Revenue Service (IRS), U.S. Securities and Exchange Commission (SEC), and the Secretary of State; this process covers all tax and governmental reporting that the organization or candidate would be responsible for providing, so it's an added bonus to using the service. Again, as a nonprofit organization, ActBlue does not earn any revenue by processing and forwarding donations.
How Did ActBlue Charities Get Started?
In 2004, ActBlue Charities was founded by Matt DeBargalis and Ben Rahn. The pair were computer scientists who wanted to find a better way to support political candidates and local causes. Among consumers, online shopping and the widespread use of credit and debit cards were both rising, but bureaucratic red tape slowed the process of politicians creating easy online methods of donating.
There were already plenty of programs that allowed people to give and receive money online, but many of them carried hefty processing fees. Not to mention, very few of them followed the strict standards that political candidates must adhere to when it comes to reporting. So, ActBlue aimed to address all of those issues.
ActBlue allows any Democratic political candidate — no matter how small — to solicit and receive donations online. As a nonprofit, the organization offers the use of the software and platform — and even advertising consulting — for no cost to the candidate or organization benefiting from it.
That said, ActBlue makes a big difference thanks to its accessibility. For example, even if a donor lives in another state than the one their nonprofit of choice is located in, they can easily donate to that organization, thus supporting others outside of their own local community. When it comes to nonprofits that redistribute funds or resources, this can be a great avenue for supporting mutual aid efforts from afar. As an added bonus, the platform saves your information, thus streamlining the donation process for donors, too.
Does It Really Empower Small-Dollar Donors?
As we mentioned earlier, the platform was created to empower small-dollar donors. As such, it was established as a response to the perception that huge campaign contributions from corporations, political-action groups, and other wealthy organizations and people were giving certain candidates an edge. To make the process more equitable — and give donors who aren't wealthy a chance to help — ActBlue emerged as a way of centralizing the donation process and ramping up support. 
In the past, would-be donors may have needed to donate in person or via check or money order. Now, they can find causes to support all in one convenient, secure place. The platform allows millions of people to make one-time donations as little as $5. The collective impact of all those small donations makes the voices of regular citizens just as powerful as that of large, wealthy donors, who would otherwise dominate the conversation without reflecting the values of the majority. 
During the 2020 U.S. presidential election, Democratic candidates running for federal office collectively raised more campaign funds through donations than their Republican counterparts. Some experts credit the widespread use of ActBlue Charities for this result. Moreover, people who donated less than $200 made up almost 25% of all campaign donations in the 2020 election year.
So, there's no question about it: small-dollar donors have a much stronger voice in politics today than they did before this platform was established. And as ActBlue Charities focuses in on local elections, there's no question that this nonprofit political-action committee will help shape America's political landscape.