Without a doubt, we're all looking for ways to connect with one another amid the COVID-19 pandemic. For one, we've all gotten way more comfortable with Zoom than we'd ever imagined we would. (And, in some cases, the platform's gone too far.) After all, Zoom is the go-to platform for meetings, happy hours, birthdays, classes, comedy shows and everything else not worth streaming on Twitch. And short-form, creator-driven social media platforms, like TikTok, have experienced incredible booms.
Now that we're craving simple human connections more than ever, it's not surprising that other platforms geared toward fostering a sense of connectedness have emerged. One of the breakout services bridging that social distancing gap is Omegle, a site that allows you to talk to strangers at the click of a button. The sales pitch? The "internet is full of cool people; Omegle lets you meet them." This concept might sound familiar, especially for folks who dipped their metaphorical toes into Chatroulette over a decade ago.
Like anything, there are some interesting upsides to the service, like the way chatting with a stranger is mimetic of those bar experiences we're all sorely missing, or the fact that Omegle has served up some viral hits for influencers (more on that later). At the same time, there are certainly some safety concerns too — again, not unlike Chatroulette or any old-school text-based chatroom. But first: the basics.
How Does Omegle Work?
Like Chatroulette, which connected random users for webcam-based convos, Omegle banks on folks' desire for anonymity — for wanting that surprising connection with a fascinating person. Sound appealing? Well, in some ways, it's the virtual answer for those of us missing a night out at the local dive bar. But, like its randomized chatroom predecessor, Omegle's very nature can also make it extremely hit-or-miss.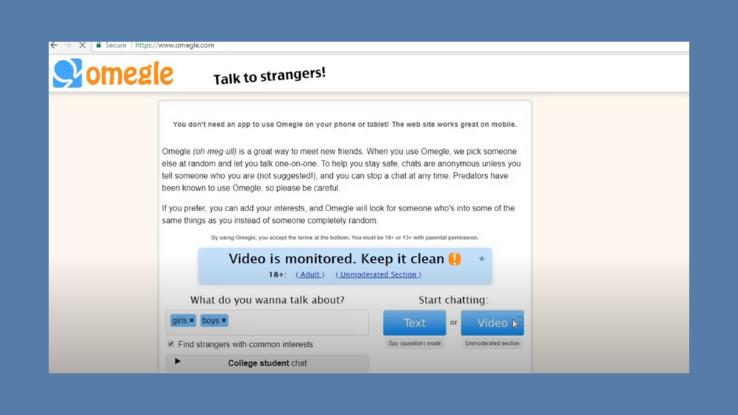 When you head over to the free site, you won't be greeted with any sort of login process. Instead, you'll see the above screen. (Or something similar: Recently, Omegle has taken to dragging the Communist Party of China — and supporting the liberation of Hong Kong — on its homepage too.) Under the "What do you want to talk about" field, you can add tags in the hopes that someone out there will tag the same interests as you. Additionally, you'll find two different chat options: text or video. Once you select one of the formats, the service chooses a user at random for you to have a one-on-one conversation with.
Yes, Omegle is a free service, but it's also extremely basic — like an old-school AIM chat window with (if you so choose) video feeds on the side bar. At any point, you can end your chat session and be automatically redirected to a new stranger, of which, at any given time, there are tens of thousands for the Omegle algorithm to choose from.
According to The New York Times, "Omegle has been a boon for Gen Z influencers, who have used the site to host impromptu virtual meet-and-greets and events." Additionally, YouTuber content creators and TikTok stars alike have generated millions of views on viral videos that feature them using Omegle — cosplaying, taking down cyberbullies, posting reactions to "adult" content, impersonating other celebs and more.
Sure, it's been a great way for creators — who are, like their viewers, stuck at home during the pandemic — to craft viral hits. For users, it's been a fun way to try and connect with these internet stars, or at least chat to someone outside their household while social distancing. Still, the question remains: Is Omegle worthwhile? One YouTuber, Soloin, decided to go on Omegle for a full 24 hours, and, in hindsight, called it "one of the most degrading things I've done to myself, my eyes need cleansing."
Is Omegle Safe to Use?
Started by then-18-year-old Leif K-Brooks, Omegle actually launched its video chat option right around Chatroulette's prime. Less than a month into its lifespan, Omegle racked up an impressive 150,000 page views per day. Since its inception, the site has always touted itself as a great way to meet new friends. Allegedly, the built-in anonymity is meant to reinforce a kind of safety, and Omegle suggests you don't tell someone who you are.
Kind of a disconnect with its "meet new friends" mantra, right? Well, as Omegle states right on its homepage, "Predators have been known to use Omegle, so please be careful." Since 2013, Omegle has started monitoring the video chat option in order to protect people under the age of 18 from harmful content, such as nudity. However, there is also an unmonitored video section for users who are looking for "adult content."
In addition to hosting graphic nudity and sexual content, Omegle is also connected to cyber-crimes like hacking, cyberbullying and phishing. This is the case with any similar service, be it Chatroulette or an old-school text chat room. Nonetheless, the ease of access — via Omegle's app or its site — can be especially harmful for teens and young children, meaning parents might want to monitor their kids' use of the service. In addition to its predator warnings, Omegle clearly states that "human behavior is fundamentally uncontrollable, that the people you encounter on Omegle may not behave appropriately, and that they are solely responsible for their own behavior. Use Omegle at your own peril."
What Are Some Alternatives to Omegle?
For some users, striking up a friendship with a stranger halfway around the world or soliciting anonymous advice might not outweigh the perils of Omegle. Similar services, like Whisper and Tinychat, have been linked to disturbing crimes too. So, is there a safe way to make connections online, especially during these times of social distancing?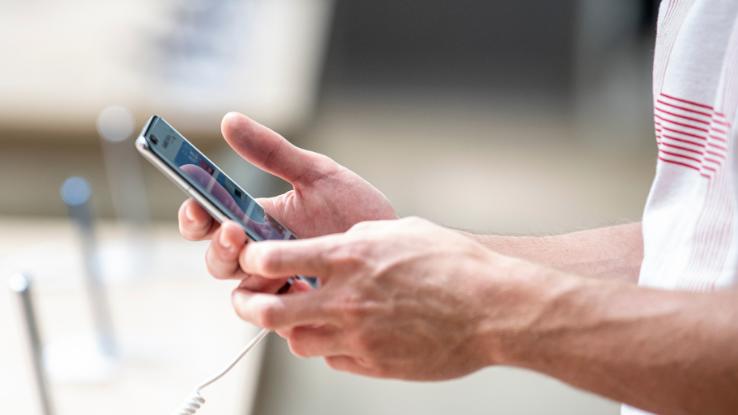 Honestly, these creative Omegle alternatives might be your best bets:
Subreddits: Reddit is a multipurpose website dealing in social news aggregation, web content rating and user discussion. Essentially, users (dubbed "redditors") create member profiles — normally kept anonymous via chat room-esque usernames — and submit content to the site, including images, text posts, links, videos and memes. These posts are organized into user-generated boards called "subreddits," and, much like virtual folders in a virtual filing cabinet, these subreddits allow users to easily access content themed around specific topics. (Want to look at pictures of gorgeous homes from around the world? Head on over to r/cozyplaces.) On most sites, the comments are a minefield — populated by "trolls" and overrun with toxicity — and while Reddit isn't immune to this vitriol, moderators have worked to make some of the most vulnerable subreddits (like advice board, r/relationships) relative safe spaces.
Bumble: Although it may be most well-known as a dating app, it actually features three modes: Bumble Date, Bumble BFF and Bumble Bizz. Want to connect with folks in a platonic way? Log onto Bumble BFF and fill out a profile. Much like the dating profile section, Bumble BFF asks you to add photos and write an "About" field. Want to give your future bestie an even better sense of your interests? Link your Instagram or Spotify account. Once you're set up, start swiping through other user profiles until you find a pal you align with. Bumble notes that, just as with the Date iteration of the app, BFF requires you to photo-verify your profile so that "your potential matches…feel confident that you are who you say you are." And you get the same no-catfishing assurance in return.
Animal Crossing: New Horizons: This Nintendo Switch bestseller offers a calming escape by mining the "everyday" for content. That is, in real-time players create an island village and complete mundane tasks like gathering and crafting items and furniture, catching insects and fish, and hunting down fossils. The achievable benchmarks are satisfying enough during these turbulent times, but Animal Crossing also offers the opportunity to virtually hang out with your buddies. Players have the opportunity to invite friends and other gamers to their islands or visit far-flung locations themselves. Translation: If you're confined to your home, you can get your fix of the everyday here. You can be social in a virtual way, share items with your pals and just explore. Without a doubt, it's both escapism and virtual socialization at its finest.
TikTok: On TikTok, users upload original content, and, by nature, whatever goes viral is crowd-vetted, much like any viral internet meme. Scroll through videos on TikTok long enough, and you'll notice certain trends, like popular music clips that lend themselves to a particular joke setup or meme structure. That's because the app thrives on users (the creators) interacting with one another: They share ideas, borrow audio clips and remix (or meme) content. "People record what they think would make them and their friends laugh," TechCrunch says of TikTok. "The algorithm monitors what you're hovering over and rapidly adapts its recommendations to your style." Although you might not become best buds with a fellow user, you'll certainly find a sense of community, whether your interest is in something as specific as Mamma Mia! TikTok or as mainstream as pet TikTok.