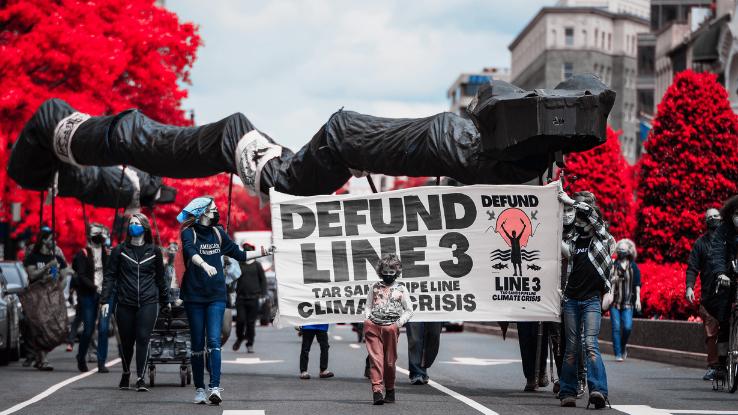 In the first half of 2021, a decade-long battle over the construction of the cross-border Keystone XL pipeline finally ended. President Joe Biden revoked a permit that would've allowed its continued construction; while he received (expected) flack from the oil industry and its supporters, climate activists, environmentalists and Indigenous activists celebrated.
But the Keystone XL isn't the only pipeline or project degrading land, destroying sacred sites and threatening access to clean water. This year, a new battle has taken center stage: the fight to Stop Line 3. To spread awareness for World Water Week and the on-the-ground work being done by Indigenous leaders and Water Protectors, we're taking a closer look at Americans' access to clean water, the Stop Line 3 protests and more.
What Is World Water Week?
This year, World Water Week begins on August 23 and runs through September 1. If you're not familiar with the awareness week, then you might not be aware of the issues it aims to highlight either. Writing for The Administration for Children & Families (ACF) — a division of the U.S. Department of Health & Human Services — Dr. Lanikque Howard points out a few things you might not know about water and Americans' access to it.
For starters, more than two million Americans don't have access to running water or indoor plumbing. Without accessible clean running water, these folks aren't able to rinse their food, clean their homes, dispose of waste or address their personal hygiene effectively. In this sense, a lack of water leads to health and health equity issues.
Those who do have access to water — or the potential to access it — may face other obstacles. Many of the water systems in the U.S. have gone decades without the proper updates or maintenance. In some instances, these crucial infrastructures are over 100 years old. As you might expect, this lack of care results in polluted water, which, in turn, poses serious health concerns.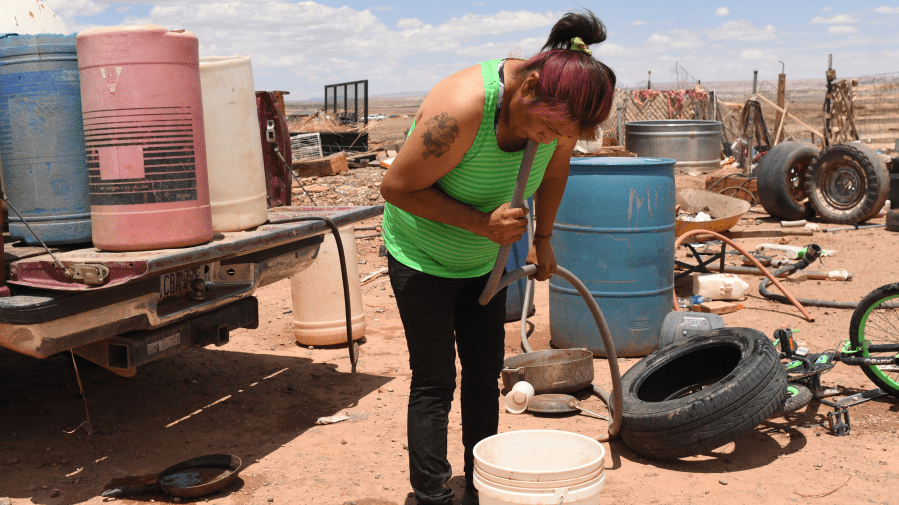 Others may face issues related to the cost of water; utility companies put their bottom line first, shutting off water to people who are unable to afford their bills. To regain access to clean running water, these folks will usually have to pay off any outstanding bills and fines, which is incredibly costly. While there are landmark federal assistance programs willing to support these Americans, it's still incredibly concerning that illness, unemployment or other setbacks can lead to these life-altering situations.
"The water equity gap in communities of color continues to be impacted by a history of racism. Native American households are 19 times more likely than white households to lack indoor plumbing, while Black and Latino households are twice as likely," Dr. Howard writes. "Nearly 30 percent of Native communities living on tribal lands and Latino communities living in low-income unincorporated areas in the Southwestern United States do not have access to clean drinking water." 
All of this to say, World Water Week aims to recognize these disparities and inequities, but also spark action. Whether you're able to support people in your local community or you're interested in the activist movements that put clean water and the environment above profits, there's so much you can do this World Water Week and beyond.
What Are the "Stop Line 3" Protests?
If you're interested in learning more about activist efforts, it's essential to take cues from Indigenous-led groups and Water Protectors. Most recently, the Stop Line 3 efforts have taken center stage. Although movement began in 2016, the ongoing series of protests has more recently been reported on by mainstream media outlets and Americans outside of Indigenous communities and Indigenous-led activist groups. The protests, which are now being held largely in northern Minnesota, aim to stop the expansion of Enbridge's Line 3 oil pipeline.
Once the pipeline's construction was approved in November 2020, Indigenous activists, namely women and two-spirit people, have steered the protests. Often referred to as Water Protectors, these Indigenous activists have created resistance camps along the pipeline's proposed route and organized marches that culminate in the occupation of construction sites.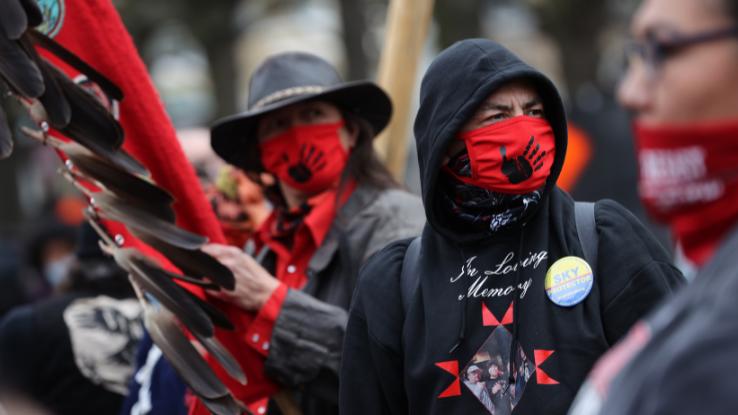 In June 2021, Water Protectors and their allies formed a blockade at a pump station. Since construction began, Enbridge has troublingly funded law enforcement efforts at the pipeline construction sites; this disturbing and threatening move didn't deter activists from maintaining their blockade, resulting in the arrests of nearly 250 protestors.
The demonstration certainly garnered attention for the remarkable efforts of the Water Protectors, many of whom received support in the form of mutual aid for their bail funds, but it also ignited more widespread support for the fight to #StopLine3 and other climate justice initiatives.
"They seem to think that [arrests are] going to deter us from protecting the land," tribal attorney and activist Tara Houska said in an interview with CNN. "They are fundamentally missing the point of what water protectors are doing, which is [that we're] willing to put ourselves, our freedom, our bodies, our personal comfort on the line for something greater than ourselves."
Line 3 Leads to Violence Against Indigenous Women, While Threatening Both Tribal Sovereignty & Access to Clean Water
The Indigenous-led protests against both the Dakota Access Pipeline, which occurred at Standing Rock, and the Keystone XL might be more widely known, but this isn't the first time Line 3 has caused concern. Sadly, Line 3 has already had a damaging impact on the lands it occupies. The pipeline dates back to the 1960s, so the fight against its construction is nothing new. About 30 years ago, Enbridge's Line 3 caused the worst inland oil spill in United States history, spilling a staggering 1.7 million gallons of crude oil into a Mississippi River tributary in Grand Rapids, Minnesota.
Harry Hutchins, who witnessed the 1991 rupture firsthand, told MPR News that, "[The crude oil] just covered [the] aspen trees, because it went up 30 [or] 40 feet. It was quite a geyser." The Line 3 expansion has environmentalists rightly concerned. The new route would see crude oil crossing over 200 bodies of water, including the Mississippi River's headwaters.
Needless to say, another spill could be incredibly damaging. If you've seen photographs or videos of the protests, you've likely seen many "Water Is Life" signs, an incredibly effective and succinct means of illustrating the threat Line 3 poses to us all.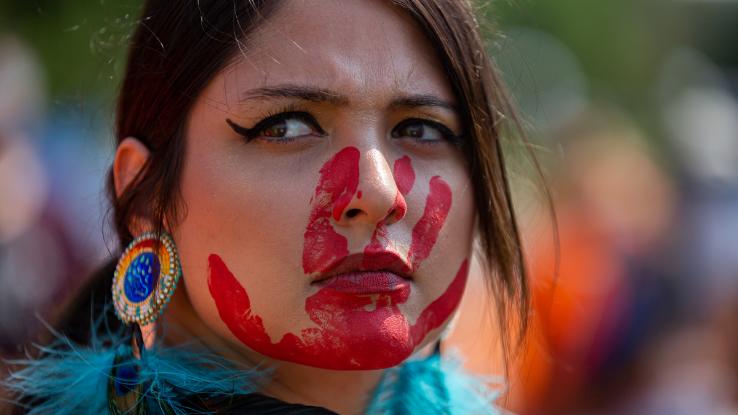 Not only is Enbridge's plan distressing in an environmental sense, but it's also an issue of respecting Indigenous communities and treaty rights. The U.S. government signed a series of treaties throughout the mid- to late-1800s with the Anishinaabe people, including the Ojibwe, but these terms are being violated. Not only are these treaty violations problematic in a political sense, but allowing Line 3 to cut through tribal land will further contribute to the loss of Indigenous cultures and practices.
One example? The way Line 3 will impact crops and water. "Manoomin (wild rice) is our most important spiritual, sacred, central part of our culture," Frank Bibeau, tribal attorney for the White Earth Band of Ojibwe, said (via MinnPost). "This is part of the American Indian Religious Freedoms Act and our rights."
In addition to threatening land and water and violating tribal sovereignty, Line 3 is also increasing the epidemic of violence against Indigenous women. The crisis of missing and murdered Indigenous women at the hands of white supremacist violence isn't just a problem at pipeline construction sites, but it certainly contributes to it. So-called "man camps" are often set up along construction sites, which leads to human trafficking, sex trafficking, drug trafficking, and sexual assault and harassment. Disturbingly, there is a well-documented connection between the building of pipelines and sexual violence.
How Can You Support Water Protectors and the "Stop Line 3" Protests?
For many supporters of Stop Line 3, traveling to Minnesota to stand in solidarity in person isn't a feasible option. Still, there are plenty of ways to get involved with this Indigenous-led movement. As mentioned above, hundreds of Water Protectors have been arrested for "standing in defense of the water, the climate, and the treaty rights of the Anishinaabeg people," as the official Stop Line 3 website puts it. In an effort to have charges against Water Protectors dropped, Stop Line 3 has created a petition — and you can sign it very easily.
Looking for other ways to take a stand? Stop Line 3's site hosts a prewritten template, allowing you to easily lend your voice to the cause by reaching out to President Biden and other officials. Additionally, the organization provides donation links for those looking to support activists on the frontlines, as well as groups like Honor The Earth.
Stop Line 3 also has great resources for those looking to educate themselves and others as well as information about divesting from the banks and other companies that are funding Line 3's expansion. Finally, always be on the lookout for mutual aid funds, like the one organized by MN350 or those organized by individuals on GoFundMe; not only can you help cover a Water Protector's bail, but you can also provide supplies and resources to folks on the frontlines.