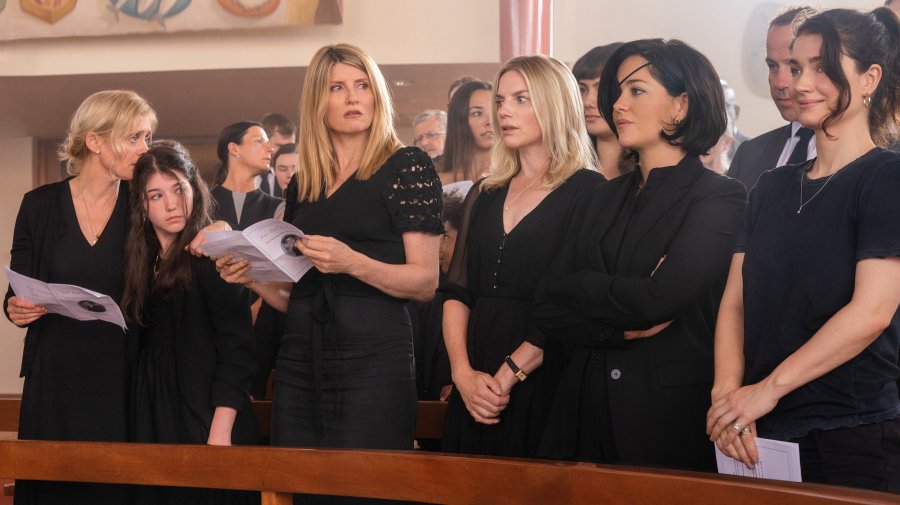 Rating: 8/10
I'm dying to talk (and write) about some outlandish stuff going on in Bad Sisters, Apple TV+'s 10-episode mystery comedy-drama that's making its two-episode debut on Friday, August 19. But when it comes to this Sharon Horgan-created show, the less I tell you about certain plot details, the better. Plus, only seven episodes were available for review and I need to know how this ends.
Horgan (Catastrophe) executive produces and writes Bad Sisters with Brett Baer and Dave Finkel, who adapted it from the Belgian show Clan. She also plays Eva Garvey, the older of the five Garvey sisters. When their parents died prematurely, the Garveys developed an even stronger sisterly bond, with Eva taking care of the rest of the Irish clan. There's the frail stay-at-home mom Grace (Anne-Marie Duff), the stressed-out nurse Ursula (Eva Birthistle), the former competitive shooting champion Bibi (Sarah Greene), and the masseuse and youngest of the sisters Becka (Eve Hewson).
The show kicks off with the funeral of Grace's much-hated husband, John Paul (Claes Bang). "No one RSVPs to a funeral. How am I supposed to know how much food to make?" a visibly distressed and clad-in-black Grace protests while dutifully preparing finger sandwiches. And that should give you a sample of this show's macabre humor.
We're told John Paul met his end in a strange way but we don't know what happened. And that's the mystery at the heart of this dark comedy. Grace is set to receive a hefty sum from the insurance company. John Paul was the sort of husband who called Grace "mammie", refused to kiss his wife in public, bought a "pro-life" pin for their teenage daughter and didn't flush the toilet — but he had the foresight to buy life insurance.
Enter here the odd couple of brothers: Thomas (Brian Gleeson) and Matthew (Daryl McCormack) from Claffin & Sons. Thomas has a pregnant wife on bed rest at home and reasons not to pay John Paul's life insurance claim. Only suicide or malicious intent would void it though, so he enlists his brother in a crusade to interrogate, harass and coerce the Garvey sisters into admitting John Paul's death wasn't accidental.
The show jumps back and forth between the present — from the funeral onward and with the Claffins "investigating" — and six months before that. The bits in the past tell the tale of how much of an abusive person John Paul was, and it gets a bit too bleak and too real in some episodes. The humoristic ingredient that tints all of the show feels weighed down when you realize that Grace is a survivor of domestic abuse. John Paul did everything to keep her at home and belittle her — and everyone else — at every turn. Episode after episode, you'll see that all the other Garvey sisters had motives to kill their brother-in-law, too.
More than a whodunnit, this murder mystery in the vein of Big Little Lies (2017–2019) with a few hints of Sofia Coppola's The Beguiled (2017) ends up becoming a story about how and when John Paul finally died as well as all the many intricacies involved in getting away with murder.
The series is set in the suburbs of Dublin and you get a more colorful and vivid portrayal of the Irish city than the urban and gloomy Normal People or Conversations With Friends managed. The sisters meet regularly to swim in the refreshing Irish Sea at Forty Foot, there's a visit to the architecturally astonishing National Gallery of Ireland, and the cinematography boasts frequent top-down shots of the rugged coast. All of the Garvey sisters — especially Eva and Bibi — have the kind of homes that invite the viewer to muse about moving in right away, looking perfectly lived-in.
And that's the thing about Bad Sisters: even if it has somewhat of a peculiar premise and its characters are wittier than most regular people, it still feels very grounded. The Garvey sisters look like real women of different ages and at different stages of life. They do dress up and wear blouses, pencil skirts and heels some days but they also don lots of sweatpants, jeans, t-shirts and flannel shirts like most of us do. Their makeup and hair are done in a put-together-for-the-camera enough way while still appearing natural.
On top of the story's intrigue and the fun of getting to know these five sisters, there's also a bit of romance in Bad Sisters. The youngest of the Garveys and the youngest of the Claffins find themselves entangled. "I'm not sure what to do with a girl like yourself," Matthew tells Becka on their first date. "It's much easier than you think," she tells him. And that relationship, of course, just makes everything else a bit more complicated — and fun.
Personally, I was rooting for the Garvey sisters the whole time. But watching the show wasn't an enjoyable experience at every moment. Its portrayal of toxic masculinity — embodied prominently by John Paul, though not exclusively — made me more than uncomfortable at times.
I need to know how this story ends to fully pass judgment on it. But I have already learned something from watching it — and it's not that you should never underestimate the power of the sisterhood. I knew that. But I was bemused when Eva wins a dildo at a work raffle. Who knew the Irish were so much more progressive than Americans?