In 2019, Arthur, the long-running PBS series about an anthropomorphic, school-aged aardvark, aired an episode called "Mr. Ratburn and the Special Someone." Colloquially, it became known as the "Gay Rat Wedding" episode, and received a swell of support from queer fans, allies and organizations like GLAAD. However, even as recently as three years ago, that episode faced immense backlash from homophobic detractors all because it portrayed a queer wedding — all because it was inclusive.
That wasn't the first time Arthur received anti-gay criticism. And it certainly wasn't the last time a piece of children's media was attacked for centering LGBTQ+ characters and stories. Much in the same way the unprecedented book bans and challenges in the U.S. are disproportionately targeting queer and trans writers and writers of color, children's shows and films that so much as feature a supporting character who's queer are subject to homophobic and/or transphobic scrutiny.
Even in 2022, for every Blue's Clues Pride parade-sized leap forward, there's a dozen more harmful tropes or boycotts — or, even worse real-life attacks on LGBTQ+ rights — that sends us so many steps back.
Why LGBTQ+ Representation in Children's Media Matters in 2022
"Until very recently, LGBTQ+ people would look to media and not have any representation or would only have a negative stereotype to identify with," wrote April Sizemore-Barber, a professor in the women's and gender studies program at Georgetown University. "This absence of stories leads to ignorance among members of the general public [who don't see LGBTQ+ stories represented] and isolation for those who identify as LGBTQ+ and are implicitly told that they don't exist."
Pretty much synonymous with children's entertainment, The Walt Disney Company has a long history of queer-coding its villains. In both contemporary live-action and animated releases, the studio reduces queer characters into blink-and-you-miss-it scenes, which are often played for laughs — or Disney just queerbaits hopeful audiences in order to make their films "more palatable" for the masses.
The bottom line? If kids don't have access to stories by, for and about queer and trans folks, then the people restricting said access are erasing people — not just the queer and trans authors and characters, but the queer and trans kids who need to see themselves in something, too. Clearly, a lot of work needs to be done — now.
How Can You Help More LGBTQ+ Stories Get Made?
With trans kids under attack in increasingly alarming ways throughout the country and the fate of the Equality Act up in the air, stories do have the power to undo ingrained biases and shape our perceptions of one another. Arthur's one-off episode, for instance, can help normalize queer families, while shows like Steven Universe and The Owl House move the dial even further on a more regular basis. As audience members, we can do our part by watching these LGBTQ+-inclusive stories all year round.
So, whether you're looking to celebrate Pride Month, diversify your kids' media intake, or find positive representation for your queer and trans kids who want to see themselves reflected in the stories we love, check out these TV shows movies that center queer and trans characters.
LGBTQ+ TV Shows & Movies for the Whole Family to Enjoy
11 Queer Animated TV Series & Movies for Kids
Steven Universe: What else can we say about Steven Universe (and sequel series Steven Universe Future) that hasn't already been said? It's probably the queerest animated show out there. There's not just one character or one relationship that's bringing LGBTQ+ representation to the screen. Instead, most of creator Rebecca Sugar's characters are queer, trans and/or non-binary.
The Gems — magical, humanoid aliens from outer space who either came to Earth to colonize it or save it — are all non-binary women. According to Sugar, "They wouldn't think of themselves as women, but they're fine with being interpreted that way amongst humans."
Additionally, Steven (Zach Callison), the show's half-human and half-Gem hero, and his best friend Connie Maheswaran (Grace Rolek) fuse to create the character Stevonnie who is non-binary and intersex. And, if all of that representation wasn't beautiful enough, Steven Universe also made history in 2018 by portraying the first same-sex proposal (and, later, a groundbreaking wedding episode) between the characters Ruby and Sapphire.
The Owl House: It's no secret that Disney has a pretty abysmal track record when it comes to queer representation — or, you know, having the guts to stand in solidarity with queer and trans kids. But since the international box office draw isn't a factor when it comes to TV shows, the company has made some strides on the small screen with series like The Owl House.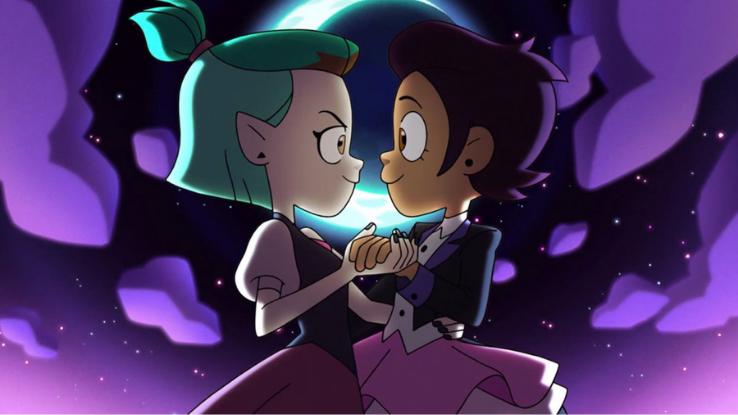 The show centers on Luz Noceda, a human teenager who stumbles through a portal to another (more magical) world and becomes a witch's apprentice. Since its debut, the GLAAD Media Award-nominated show has received praise for featuring several LGBTQ+ characters — and for depicting a romance between Luz, who creator Dana Terrace has confirmed is bisexual, and the prodigious young witch and lesbian Amity Blight.
She-Ra and the Princesses of Power: Created by Eisner Award-winning comic writer/artist ND Stevenson (Nimona, Lumberjanes), She-Ra and the Princesses of Power is a reboot of the 1985 series She-Ra: Princess of Power — a spinoff of He-Man and the Masters of the Universe. The series' protagonist is Adora, a teenager who trained alongside her then-friend Catra in the Lord Hordak's (evil) Horde army.
In the pilot, Adora gains the power to turn herself into the show's titular heroine and, together with a group of other magical princesses, vows to defeat Hordak. The show is full of queer characters, including a nonbinary, shapeshifting character named Double Trouble (Jacob Tobia) and Spinerella and Netossa, two queer women in a same-sex relationship.
Additionally, the Emmy- and GLAAD Media Award-nominated show has been praised for taking on difficult topics, such as the complex best friend-turned-archenemy relationship between Adora and Catra, which — spoiler alert! — culminates in a very clear, and very queer, declaration of love in the show's recent final season. With a diverse cast and a great mix of action, humor and feels, She-Ra is an epic romp you won't want to miss.
Kipo and the Age of Wonderbeasts: This one is Netflix's under-the-radar gem you should be watching — for many reasons. One of those reasons? It treats coming out like any other part of life. It isn't the source of drama or tension; instead, it's a sweet moment shared between friends.
Created by Radford Sechrist, the show tells the story of Kipo Oak, who traverses a post-apocalyptic land in search of her father. On her journey, she befriends both human and mutant animal pals. When Kipo tells Benson, one of her human friends, that she likes him, he shares that he likes her as a friend because he's gay — and he actually says the words, "I'm gay." It's a first for all-ages animation because, unlike in She-Ra or Steven Universe, Benson actually declares his queerness. Sometimes, telling can be as powerful as showing.
Young Justice: DC Comics' Young Justice is a great watch for a lot of reason, but one of its stand-out characters is Halo. A fusion of Gabrielle Daou, a deceased Quraci girl, and the spirit of a Motherbox, or "living computer," Halo joins Nightwing's team of heroes. Halo doesn't view themself as Gabrielle anymore, instead going by the pseudonym Violet Harper, and, while they don't explicitly use the term "non-binary" at first, they do announce that they don't know if they are a boy or a girl when misgendered by a teammate.
Although shows like Young Justice and Arthur aren't as lauded for their representation as some of the other entries on our list, these storylines and characters do reflect changing norms, not just in children's programming, but in society at large — and that's incredibly meaningful. Plus, it's always great to see more LGBTQ+ superheroes.
Craig of the Creek: We've raved about Craig of the Creek before in our roundup of Must-Watch Animated TV Shows the Whole Family Can Enjoy. Created by Matt Burnett and Ben Levin, the show is set in the fictional suburban town of Herkleton, Maryland. There, Craig Williams (voice of Philip Solomon) and his best friends, J.P. (voice of H. Michael Croner) and Kelsey (voice of Noël Wells) embark upon all sorts of adventures in the "kid utopia" that is the creek.
In addition to having a writer's room that prioritizes diversity, the show aims to put that same variety of lived experience and identities on screen. Craig, as a Black protagonist, is history-making in his own right. And there are also queer and non-binary characters, like Angel José, an agender character who's voiced by the show's queer agender storyboard artist Angel Lorenzana.
Infinity Train: This four-season anthology series' installments all revolve around a mysterious — and seemingly endless — train. Although the locomotive travels across a barren landscape, it seems to exist outside of space and time as we know it. Even more impressively, the train's cars contain wonders, from whole worlds to strange puzzles.
In the first season, Tulip, a teenager who gets lost on her way to coding camp, wakes up on the train with a glowing green number on her hand. Soon enough, she learns that her choices effect the number, and that getting the digits down to zero might just help her get off the train.
During the season, Tulip encounters a doppelgänger — a silver version of her that's known, at first, as Mirror Tulip. In the second season, this doppelgänger, who names themself Lake, serves as the main character, and while they aren't explicitly non-binary, their story really resonates that way.
Danger & Eggs: Another hidden gem of sorts, this Amazon Prime Original tells the story of D.D. Danger and her best friend, Phillip (voice of Eric Knobel) — a giant, talking humanoid egg. D.D., who is voiced by SNL's Aidy Bryant, is a real thrill-seeker. Even more thrilling? Danger & Eggs is packed with queer and trans characters — and, behind the scenes, queer and trans voice actors.
"What makes this animated series so groundbreaking is the casual openness of its LGBTQ+ characters," The Advocate notes, "which include a lesbian folk duo, a couple of gay dads, a young trans girl (voiced by teenage trans activist Jazz Jennings), and a nonbinary band member who uses they/them pronouns."
Adventure Time: Distant Lands — Obsidian (2020): For years, Adventure Time's Princess Bubblegum (Hynden Walch) and Marceline the Vampire Queen (Olivia Olson) had some subtextual romance brewing. In fact, it was strongly implied both in the show and in spin-off comics that the two were exes. After countless adventures, a lot of very sweet sentiments, and 10 long seasons, the duo finally cemented their romance onscreen with a kiss in the series' finale.
More recently, the couple starred in "Obsidian," a feature that's one of HBO Max's four Adventure Time: Distant Lands specials. In addition to filling in the gaps in the couple's long history, "Obsidian" packs an emotional punch and serves up some great new tunes. Best of all, it turns all that subtext we'd poured over for years into indisputable canon. Writing for The A.V. Club, William Hughes calls it "fan service at its finest."
The Mitchells vs. the Machines (2021): Warmly received by critics and audiences alike, The Mitchells vs. the Machines centers on Katie Mitchell (Broad City's Abbi Jacobson), an artsy, outsider teen with a talent for making short films. After feeling "weird" her whole life, Katie can't wait to head to college in California; even her group chat with her soon-to-be filmmaker classmates is labeled "My People."
The only problem? Katie's outdoorsy dad, Rick (Danny McBride), doesn't quite get her — nor does he understand Katie's films or the way she finds community through technology. After a father-daughter fight on Katie's last night home, Rick decides to cancel Katie's flight and take the family on one last road trip. As fate would have it, the Mitchells end up in the middle of a robot apocalypse.
We won't spoil the details — or the laugh-out-loud humor — but we will say that Katie's queerness is handled in a refreshing way. By the end of the film, she has a potential girlfriend but, thankfully, none of the drama or heartache revolves around her coming out or identity.
The Legend of Korra: Even though this Avatar: The Last Airbender spin-off didn't get to really delve into the titular character's bisexuality, it's a must on any list of queer cartoons. At the time, Nickelodeon didn't allow for explicit queerness in the show's fourth and final season — like, to the point where the show's creators had to confirm that all was happy and gay after the series finale debuted. In said finale, Korra — the element-bending Avatar who's brought some balance to a messy world — ventures off into the Spirit World with Asami, her romantic rival-turned-pal-turned-lover.
Not only are they wearing backpacks (gay) in that final moment, but they also hold hands and look deep into each other's eyes. And while they don't kiss on screen (homophobic), you can follow their much more queer-affirming in the LoK Dark Horse Comics graphic novels series, a continuation that picks up where the show ended.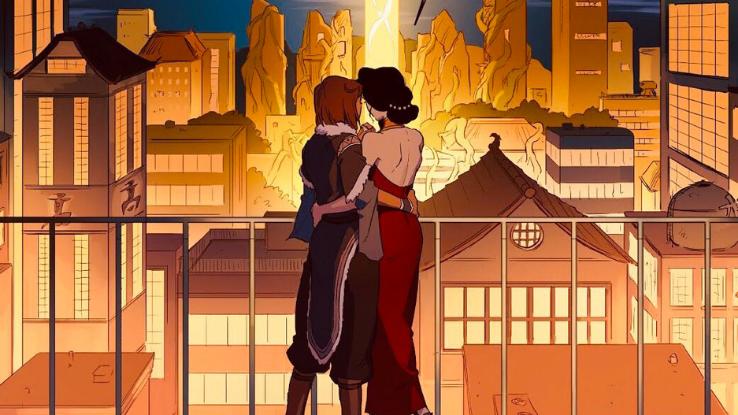 7 Queer Live-Action TV Series & Movies for Kids
The Half of It (2020): Pitched as a "different kind of love story," The Half of It is a loose retelling of the Cyrano de Bergerac story — with a queer twist. Directed by Alice Wu (Saving Face), the film centers on Ellie Chu (Leah Lewis), who, one day, meets Paul Munsky (Daniel Diemer), a well-meaning but inarticulate jock. In exchange for money, Ellie writes essays for her peers; this time, she writes letters on Paul's behalf to Aster Flores (Alexxis Lemire), his crush.
As it turns out, Aster is Ellie's crush, too. Despite being marketed as a YA romance by Netflix, it's really about friendship — a different kind of love story, one might say.
Heartstopper: Heartstopper's eight-episode first season soared to the top of Netflix's most popular shows last month — and for good reason. The live-action graphic novel adaptation taps into some of our favorite romance tropes — including the unlikely friendship between a self-identified nerd, Charlie (Joe Locke), and lauded jock, Nick (Kit Connor).
And while, yes, the rugby-playing Nick is figuring out his sexuality in real time, Heartstopper doesn't revolve around coming out, nor does it frame sharing your identity as a one-time, tear-filled moment. Full of all the sweetness and nerves of first love, Heartstopper is a must-watch series for so many reasons.
Sweetheart Dancers (2019): This short film centers on Two-Spirit couple Sean and Adrian, who are determined to rewrite the rules of their Indigenous culture by participating in the 'Sweetheart Dance' — a celebratory contest held at powwows across the country. It's always inspiring to see queer folks living proudly. And even though Sweetheart Dancers clocks in at under 15 minutes, every second is well worth the watch.
Love, Simon (2018) & Love, Victor: Becky Albertalli's 2015 young adult (YA) novel Simon vs. the Homo Sapiens Agenda skyrocketed to success, spawning a movie adaptation, Love, Simon. Simon, a closeted gay teen attending Creekwood High, is relieved — and anxious and excited — to discover that at least one other classmate, who posts anonymously on a message board, is queer and not yet ready to come out. Under a fake name, Simon embarks on a secret email friendship with the other teen — until he's blackmailed by another classmate.
Love, Simon marked a big step when it came to mainstream queer love stories on screen. Naturally, it spawned a spin-off, Hulu's Love, Victor. The well-received series centers on Victor Salazar (Michael Cimino), a queer teen on his own journey of self-discovery and acceptance, who, to fans' excitement, reaches out to Simon (Nick Robinson reprises his role) when things get difficult. The show returns for its third and final season this Pride month.
Dating Amber (2020): Originally titled Beards, this Irish dramedy is set in the '90s, and, as you might guess, follows the story of two queer teens, Eddie (​​Fionn O'Shea) and Amber (Lola Petticrew), who decide to date each other. The goal? Ward off any lurking suspicions that they're both gay — making it through high school, after all, is enough of a burden in rural Ireland. There are some real gut-punch moments, and we love that this movie also centers queer friendship.
Crush (2022): Crush is another feel-good (and queer) coming-of-age flick. It also doesn't center on coming out — because there are so many other types of queer stories to be told, after all. Paige (Rowan Blanchard), a teen artist who desperately wants to get into CalArts, finds herself being blamed for art that's graffiting the school.
To clear her name, Paige tries to figure out who the artist is, all while navigating a crush on popular girl Gabriela (Isabella Ferreira) — and a blossoming closeness with Gabriela's twin sister, A.J. (Auliʻi Cravalho).
Anything's Possible (2022): Written by Ximena García Lecuona, Anything's Possible is set to be Pose star Billy Porter's feature-length directorial debut. The trailer just dropped, and while the film is slated for a post-June release (July 22, 2022, to be exact), we're so looking forward to this trans love story, and just had to include it here.
"Kelsa (Eva Reign), a confident high school girl who is trans, as she navigates through senior year. When her classmate Khal (Abubakr Ali) gets a crush on her, he musters up the courage to ask her out, despite the drama he knows it could cause," Deadline writes of this queer Gen Z coming-of-age film. "What transpires is a romance that showcases the joy, tenderness and pain of young love."