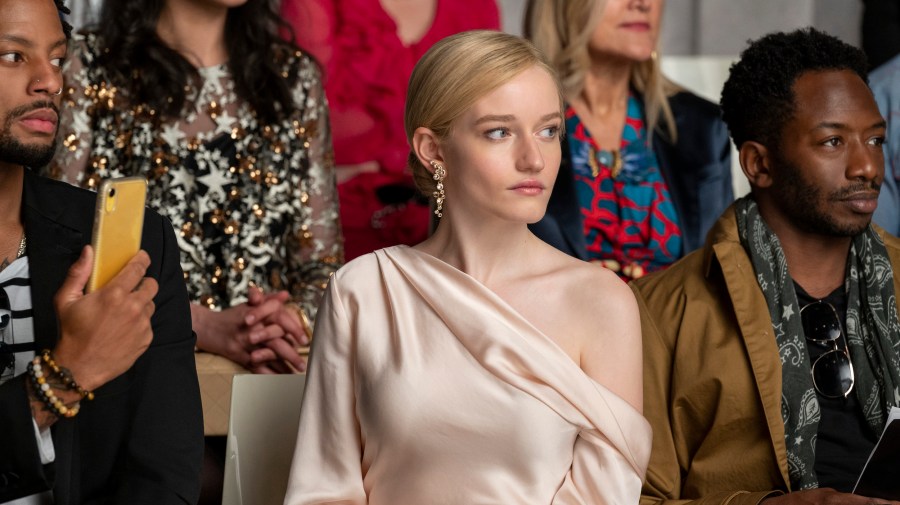 Rating: 7/10
I don't think Inventing Anna, Shonda Rhimes' second show for Netflix as a producer and her first one as a creator since Scandal, will be as hot among the streamer's subscribers as Bridgerton was — the Regency-era romance is Netflix's most popular English-language TV show. But don't take that as a negative on Inventing Anna's part. It's just that the nine-episode limited series, which debuts on Friday, February 11, has a lot less sex. It still has a lot of juice, though.
The series is inspired by Jessica Pressler's New York Magazine article, which relates the rise and fall of Anna Delvey (Julia Garner), an Instagram-savvy pretend-socialite with a mind for business, fashion and art. Delvey said she was a German heiress with a generous trust fund worth millions — and seduced New York's elite into believing it. She defrauded banks, five-star hotels and wealthy acquaintances, and she never paid for a $35,000 private jet trip. 
Anna Chlumsky (Veep) plays Vivian, a fictionalized version of Pressler who differs the most from her real-life counterpart. Pressler has defined Vivian as "very loosely based" on her. Vivian not only has the hindsight to start reporting and investigating Delvey's past once the supposed millionaire gets arrested, but she's also very pregnant with her first child and trying to get her journalistic reputation rehabilitated — you'll learn what happened to her as the show progresses. Vivian wants to break Anna's story and get her career back on track before she gives birth. She doesn't have much time.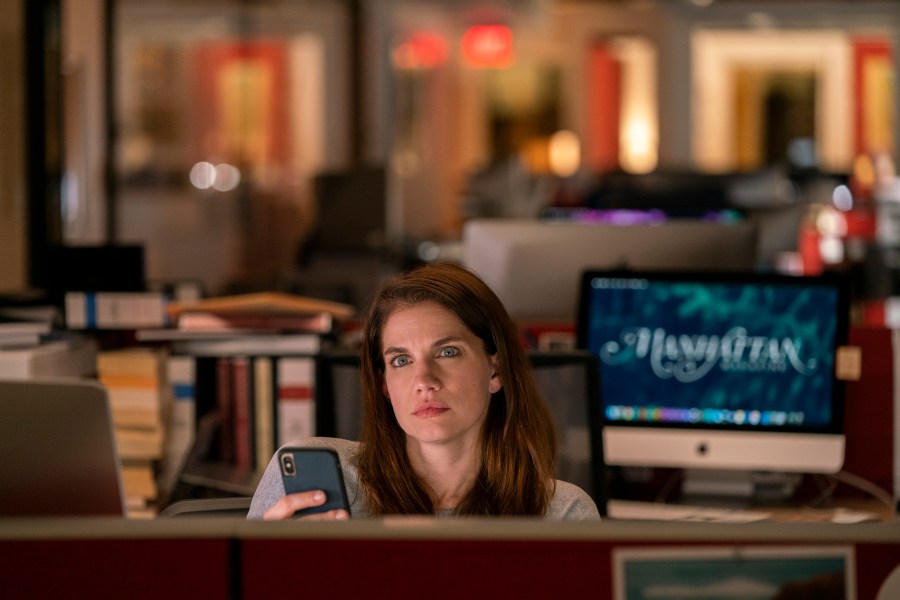 Anna's story is told through unreliable narrators, as Vivian starts interviewing Anna's former friends and a myriad of acquaintances. The journalist also tries to figure out what happened through media visits to Anna after she's in jail. The interviews are intertwined with flashbacks that relay what really took place. Episode after episode — each one of them centers on a different character from Anna's entourage — we get a clearer picture of how the social climber ended up behind bars.
We see Anna as a masterful manipulator who tips $100 bills at the Manhattan hotel she's staying at and always dresses impeccably. She's all confidence when uttering nonsense like, "I could have paid but my father can be so domineering with my trust," or "F*ck my bank! They're incompetents. My dad will wire me the money for the hotel but I can't reach him at the yacht for a couple of days." She does so in an unplaceable accent that is posh meets annoying, entitled and affected.
Watching her con her way into New York's financial and artistic elite — she almost got a $40 million loan to launch an ultra-exclusive club — I understood how former Theranos CEO Elizabeth Holmes must have been able to defraud so many investors and get big names on the board of her company. Once you get to know the right people it's a matter of looking the part and keeping the pretense up.
"Anna looked at the soul of New York and recognized that if you distract people with shiny objects, with large wads of cash, with the indicia of wealth, if you show them the money, they will be virtually unable to see anything else," says Pressler in her article. "Here, money is the one thing that no one can ever have enough of."
I watched Inventing Anna not only as a companion piece to Hulu's upcoming The Dropout, which is about the Theranos case, but also HBO's The Gilded Age. Even though the (latter) Julian Fellowes show is set in 1882 and Inventing Anna sometime around 2016–2018, I couldn't help but feel that not that many things have changed when it comes to New York's obsession with status.
Chlumsky is spot-on as the obsessive journalist who lives for her next story. And the show has some of the best insider journalism jokes I've seen on TV. "Have you looked at Chartbeat?" an editor asks Vivian when praising her work and telling her the "socials are through the roof".
Garner manages, once again after Ozark, to camouflage herself behind an accent and a hairstyle. The show also features Laverne Cox (Orange Is the New Black) as Anna's personal trainer, Kacey; Scandal alumna Katie Lowes plays Rachel, Anna's friend; and Alexis Floyd (The Bold Type) is Neff, Anna's friend and a powerful hotel concierge. Arian Moayed, Stewy from Succession, is Anna's lawyer. Terry Kinney, Anna Deavere Smith and Jeff Perry play three veteran reporters and Vivian's old and wise colleagues at Manhattan Magazine, Inventing Anna's version of New York Magazine.
There's a lot of eye candy in Inventing Anna, not only thanks to Anna's constant wardrobe changes and ability to always know what to wear, but also due to the show's locations. The limited series is a love letter to New York's luxury scene — there's an episode dedicated to the exclusiveness of shopping at Bergdorf's — in the same league as the recent Sex and the City spinoff And Just Like That…. But the series also stops by the Balearic island of Ibiza, Paris during fashion week and a picture-ready five-star hotel in Marrakech.
Even if I was hooked by Anna's story of artistry and deceit from the beginning, I felt Rhimes' new proposal could have used a bit less runtime. Episode eight in particular, which sees Vivian taking a trip to Germany to research Anna's past, felt like an unnecessary inclusion.
Then there's the matter of Anna's fate. Watching Inventing Anna, I had the impression that, in the end, a lot of people — her lawyer, the press, even the producers of this show — benefited from her fraudulent invention. Not her. (Even though she was paid $320,000 by Netflix for the rights to adapt her life story most of that money has already been spent paying off restitution and legal fees.)