Rating: 8/10
One of my favorite 2020 shows was Hulu's teen dramedy Love, Victor. It stars Michael Cimino as a Latino teenager in Atlanta embracing his sexuality and figuring out how to come out to his Catholic parents. The show is set in the same universe as the movie Love, Simon, based on Becky Albertalli's novel.
Love, Victor's complete second season arrives on Hulu this Friday, June 11, and I'm seriously thinking about adding it to my best of 2021 TV shows list. The new season composed of ten 30-minute episodes makes for the perfect summer watch while still hitting all the right themes. It certainly is my kind of fast binge-watching fare.
Season two kicks off where season one ended: Victor's parents are telling him and his younger sister Pilar (Isabella Ferreira) that they're separating. But Victor has news of his own: He's gay. Armando (James Martinez) doesn't react well. "When did you decide this?" he asks his son. "I didn't decide this. I just am it," replies Victor.
This season Victor is no longer an insecure teenager too scared to speak his mind and assert his wishes. "Gay Victor has way bigger balls than straight Victor," Pilar tells him. But Victor is still a 16-year-old figuring out a lot of new stuff. He and his boyfriend Benji (George Sear) spend the summer together in a sort of perfect bubble and just enjoy their relationship. But they aren't Instagram official or anything like that, and soon Victor will have to face the pressures of coming out in high school.
"I never knew coming out would be an invitation for strangers to talk with me," Victor tells his friend and mentor Simon (Nick Robinson) in a message, after realizing everyone seems to have an opinion about his sexual orientation and relationship status. "Everyone says that it's easy to come out these days. It's not," Benji confides in Victor at one point, summing up the show's essence.
It's also not easy for Victor to adhere to some of the stereotypes that define what a gay guy is supposed to do and not do — like being very stylish but not caring much for sports.
The Power of Representation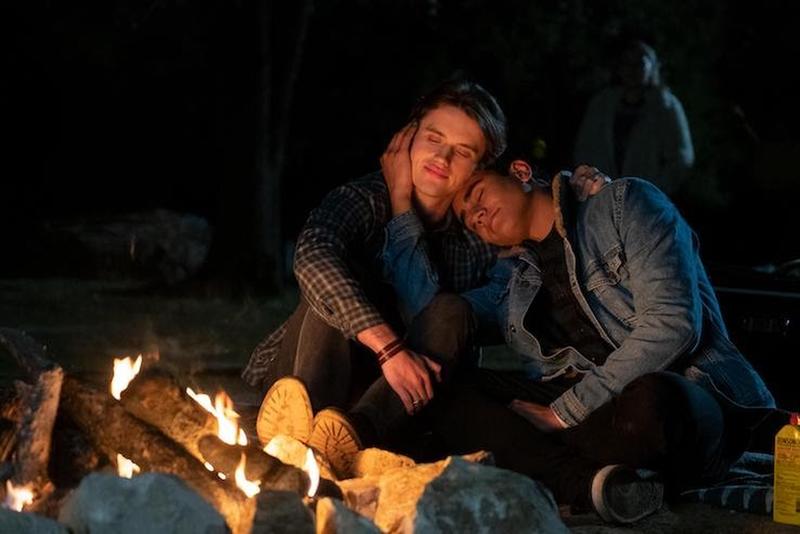 This teen drama depicts a somewhat heightened reality in which everyone is gorgeous and always has perfect hair. And even though the show makes a point of representing characters from all kinds of ethnic, religious and economic backgrounds, you still can see there is an art director and a costume designer with impeccable taste and a very specific palate behind everything that's on screen. Also, I couldn't be happier that in the Love, Victor universe COVID-19 never happened and characters just get to mingle and socialize in a carefree way.
The series follows the tradition of other classic teen dramas like My So-Called Life, Friday Night Lights and The O.C. but puts a gay lead at its center and follows the character as he comes of age. This season the show tackles first-time sex, focusing on Victor's and Felix's (Anthony Turpel) perspectives. The best friends have a very frank conversation in which they share how stressed out they are about being sexually active. Victor feels some extra pressure because Benji has a lot of experience, and Victor doesn't want his boyfriend to also have to hold his hand through their first time together. "When it's two guys, how do you know who's supposed to do what?" Victor asks.
But while showrunners Isaac Aptaker and Elizabeth Bergers have written in some steamy scenes between Benji and Victor, who still share incredible chemistry, sex very much happens off-screen in Love, Victor. This is not Normal People, after all.
The show also incorporates some other themes in this batch of new episodes, from what it means to be a queer ally to having body image issues to battling depression to dealing with alcohol addiction. But some of them are only briefly hinted at and not necessarily fully developed. The show planted some seeds in its first season that bore their fruits in this second season, so maybe we'll see some of those storylines evolve further in the future.
Before you ask, no. Love, Victor hasn't been renewed for a third season yet. And once you reach the ending of the season finale, you're going to want Hulu to make a decision about this title quickly.
Love, Victor's Ensemble
Other than Victor and Benji's romance, this season the show focuses a lot more on the big ensemble. It even adds a couple of very welcome new characters. One of them is Rahim (Anthony Keyvan), a friend of Pilar. He's also gay and confides in Victor when trying to find a way to come out to his Muslim parents.
Through Rahim and Victor's friendship and their experiences, the show reinforces its original premise. "I'm sorry that we can't all have totally supportive liberal white parents like you do," Victor tells Benji at one point. Race and religion play more of a determining factor this time around.
"From a very young age I was taught being gay was shameful," Isabel (Ana Ortiz), Victor's mom, explains about her lukewarm reaction toward Victor when she finds out he's gay. Hers is one of the most interesting arcs this season as we see how she tries to find a way of accepting her son while still preserving her Catholic beliefs. It's not easy.
Last season's sidekicks Felix and Lake (Bebe Wood) get to shine a bit more this time around. They also still have some of the juiciest lines of dialogue. "You say the word and I'll ditch these gays like a corporation after Pride month," Lake tells bestie Mia (Rachel Hilson), who at the beginning of the season feels a little bit left out because everyone is partnered up but her.
Betsy Brandt (Breaking Bad) has a guest-starring role as Felix's mother, and I wish we could see a bit more of her character. She has much more to offer than what we can see on screen.
The season also features a couple of cameos from actors in the original movie. One of them is from Simon himself, whose voice is also featured as he keeps messaging and counseling Victor. And the other appearance is from Simon's dad (Josh Duhamel), who runs a support group for parents of gay kids. The group ends up being a big help for Armando.
Music plays quite the supporting role again this season with a catchy soundtrack that's highly Shazamable. Some of the themes to make an appearance are "Ready Set Go" by Photronique, "Fool for You" by Snoh Aalegra, "Get There Soon" by Geographer and "Time After Time" by Sam Smith. Plus there's a slow dance set to "All My Life" by K-Ci & JoJo and a karaoke version of Justin Bieber's "Holy." I also feel obliged to mention Victor has a recurring dream in which he's trapped in a jail cell with Charlie Puth.
And that's probably one of my favorite things about this show: the fact that even when it's dealing with very serious subjects, it always finds room for some perfectly crafted puns. Through humor, the show finds a way of making its characters relatable. Apparently Benji has a recurring dream in which the Hemsworth brothers teach him how to surf. Who doesn't?
Want some more ideas for Pride Month? Don't miss our must-watch LGBTQ movies list and our article on LGBTQ stories for kids.