Rating: 7/10
I've had a few very satisfying days as a TV viewer lately. Not only have I devoured the entirety of season two of Netflix's Bridgerton but the six-episode second season of PBS's Sanditon as well. The show, which was inspired by Jane Austen's final and unfinished novel of the same name, returns this Sunday, March 20, to Masterpiece on PBS. You can also watch it on the official PBS streaming platform, Passport. 
I was quite torn when season one of Sanditon ended more than two years ago, leaving our heroine Charlotte Heywood (Rose Williams) in quite the precarious situation. She and Sidney Parker (Theo James) were in love and would have had their Austenian happily ever after had Sidney not decided to marry the rich Eliza Campion (Ruth Kearney) instead to save the Sanditon project and his older brother Tom (Kris Marshall), who was on the brink of bankruptcy after a fire.
Sanditon's writers intended the show to have more than one season, hence the unsatisfying finale, but the show was (unexpectedly) canceled after its first season by ITV, the channel that originally commissioned Sanditon in the UK. PBS uncancelled it, renewing it for both second and third seasons. Unfortunately, a few of the actors had already moved on to other projects, Theo James among them.
"Theo made it very clear he didn't want to come back," Sanditon's Head Writer Justin Young explained during a recent press conference in front of the Television Critics Association (TCA). "We thought we needed to make clear to the audience right from the beginning that he's not coming back, although she waits for him to come back, and we needed to let the audience grieve along with Charlotte."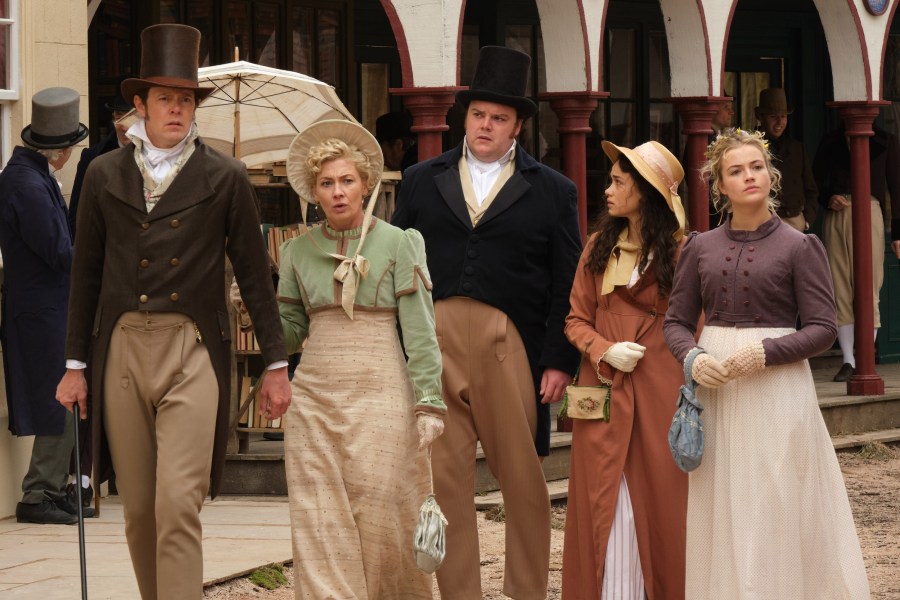 The thing is, season two's serendipitous inception may have actually played out in the show's favor. The new episodes kick off with Charlotte returning to Sanditon with her younger sister Alison (Rosie Graham). Once again, they'll be staying with Tom and Mary Parker (Kate Ashfield). Alison is set on marrying — it's the only option for a young woman like herself who doesn't have a rich family who can support her — but Charlotte thinks otherwise. "I can never again put myself in a man's power," Charlotte tells her younger sister. Her experience with Sidney has left her scarred. "I see no shame in earning a living."
She's not only very much still mourning Sidney, and disinterested in other romantic forays, but Charlotte has also realized that she doesn't want to depend on the whims of a man when it comes to her future. Her only option is to become a governess. But that wasn't the socially acceptable decision to make for a woman of her class.
"No one chooses to be a spinster," the very rich and always-sharp Lady Denham (Anne Reid) reflects, adding that an unmarried woman is a social pariah and disgrace to her family.
Charlotte is not alone in her avoidance of nuptials though. To her guardians' dismay, Georgiana Lambe (Crystal Clarke) is set on remaining single at all costs. She has her reasons: marrying would mean losing her power since her fortune would then become her husband's. "Society is not as kind or as welcoming as one would hope, Georgiana," the well-meaning Mary tells her stubborn protégé. "Your fortune leaves you vulnerable. A good marriage would offer you protection [and] acceptance."
The show tackles Georgiana's backstory in a much more earnest way this second season. She leads a sugar boycott to protest enslaving people in the British West Indies, and she also speaks openly about the fact that her mother was Black and her father was a white Brit. "You don't know what it's like to spend your whole life being gazed at. I came to England, my father's country, only to see my difference reflected in the eyes of every person I've since met," she tells her good friend Arthur Parker (Turlough Convery).
Only Arthur knows too well what it is to feel different — and overlooked. His is one of my favorite storylines this season. The character — who outed himself as gay to his beloved sister Diana (Alexandra Roach) last season with the words "I don't really know how ladies work" — proves to not only be the best of friends to Georgiana but also an inestimable help to Tom in his business endeavors. I could watch a whole show centering just on Arthur.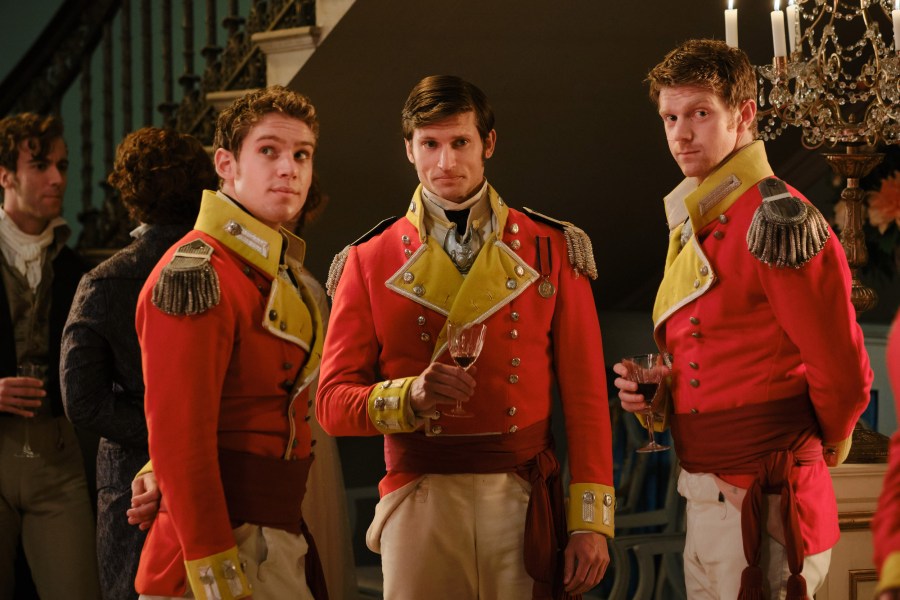 But Sanditon takes much more of the ensemble approach this season. It continues evolving the stories of Lady Denham; her scheming nephew Edward (Jack Fox); and her recently wed niece Esther (Charlotte Spencer), who is having problems conceiving but has some words of advice for Alison when it comes to choosing a husband: "Disdain his every word. If he persists, marry him."
The show adds a handful of new characters, and, in doing so, follows two very Austenian tropes. On the one hand, there's a regimen of 400 red coats who've camped near Sanditon led by Colonel Francis Lennox (Tom Weston-Jones). He takes a fancy to Charlotte. Then there's the recluse Alexander Colbourne (Ben Lloyd-Hughes), who becomes Charlotte's employer. He needs a governess for his unruly niece Augusta (Eloise Webb) and kid Leo (Flora Mitchell). He's a bit Mr. Darcy meets Jane Eyre's Edward Rochester. The dynamic between Charlotte, Colonel Lennox and Mr. Colbourne reminded me of the Lizzy-Wickham-Darcy triangle in Pride and Prejudice.
There's been an effort on Sanditon's team to make these new episodes feel more classically Jane Austen. For starters, this season doesn't include some of the controversial and explicit sexual encounters the first season depicted.
Then there's the addition of another very Austenian theme: sisterhood. It's represented here in the form of the budding friendship between Charlotte and Georgiana, but also with the inclusion of Alison. "She sort of represents who Charlotte was in season one, that wide-eyed innocence. That allows us to show how far Charlotte has evolved and it gives us a lovely contrast between the two," said Young of Alison.
But other than being a more current — it can tackle race and sexuality in a way Austen couldn't — adaptation of a 19th century novel of manners, Sanditon keeps being a great escapist show that transports you to the rugged coastal town so that you can obsess for an hour or two about balls, tea service and which is the right dress to wear to any given occasion. Plus, you don't need to fear if things end on a cliffhanger again this time. Season three is already confirmed, so we'll be able to get closure to this unfinished work after all.